San Antonio is one of our favorite dog friendly destinations. The city has history, fantastic parks, and interesting neighborhoods to explore. But it took us years to realize it.
Like most tourists, we were drawn to San Antonio's most famous attraction … the pet friendly River Walk. Now, don't get me wrong – this 13-mile, serpentine urban park has a lot to offer! And it's all 100% pet friendly. But sometimes it's important to expand your horizons, and that's what this trip was about. Fortunately, San Antonio did not disappoint …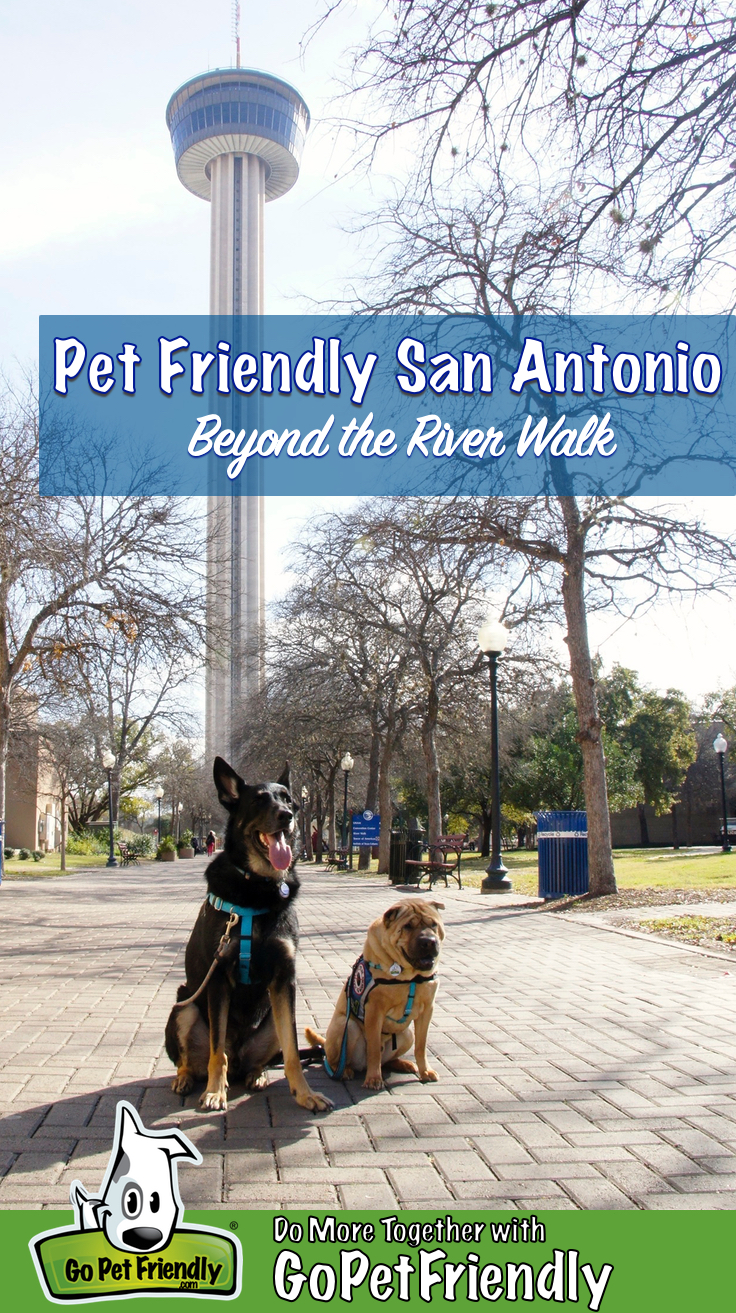 Exploring Dog Friendly San Antonio
Founded as a Spanish mission and colonial outpost in 1718, San Antonio became the first chartered civil settlement in present-day Texas in 1731. Now it's on of the nation's fastest-growing cities, with a population of more than 2.5 million people. But the downtown area is still easily walkable with your pet, and the best way to explore dog friendly San Antonio is by foot (and paw).
King William Historic District Walking Tour
For two people living in an RV, we are inexplicably attracted to residential architecture. So it's no surprise to find a tour of the King William Historic District at the top of our to-do list! This neighborhood is a lovely walk from downtown, along the River Walk, if you choose. So, grab a coffee and a leash and head for the corner of King Williams and South St. Mary's Streets.
This area was settled by successful German merchants in the late 1800s, and most of the homes are still privately owned. Pick up a walking tour map in front of the Anton Wulff House (pictured below) at 107 King William Street, and stroll the quiet neighborhood streets. The map provides a paragraph or two about the history of each of the 46 homes on the tour.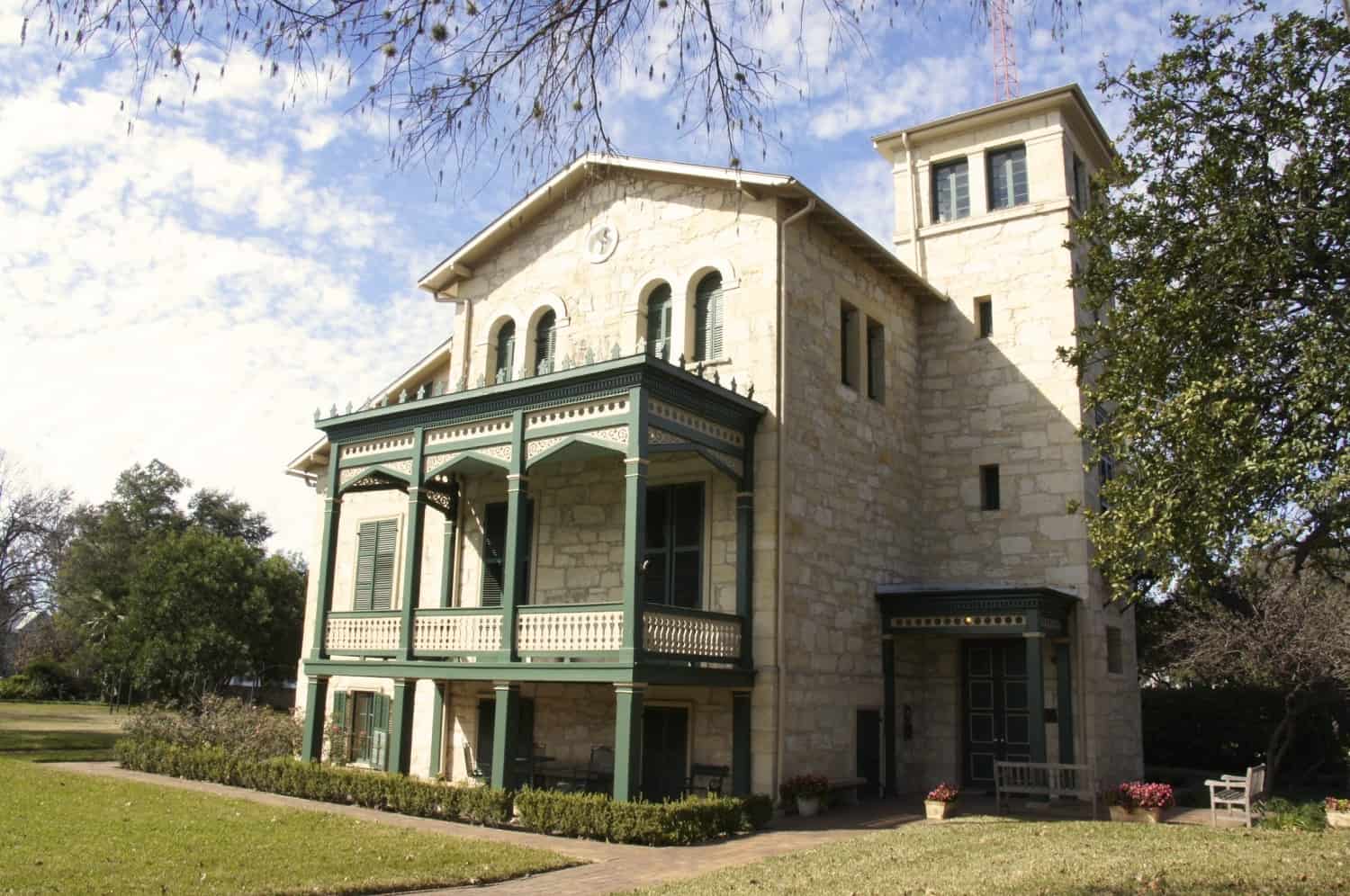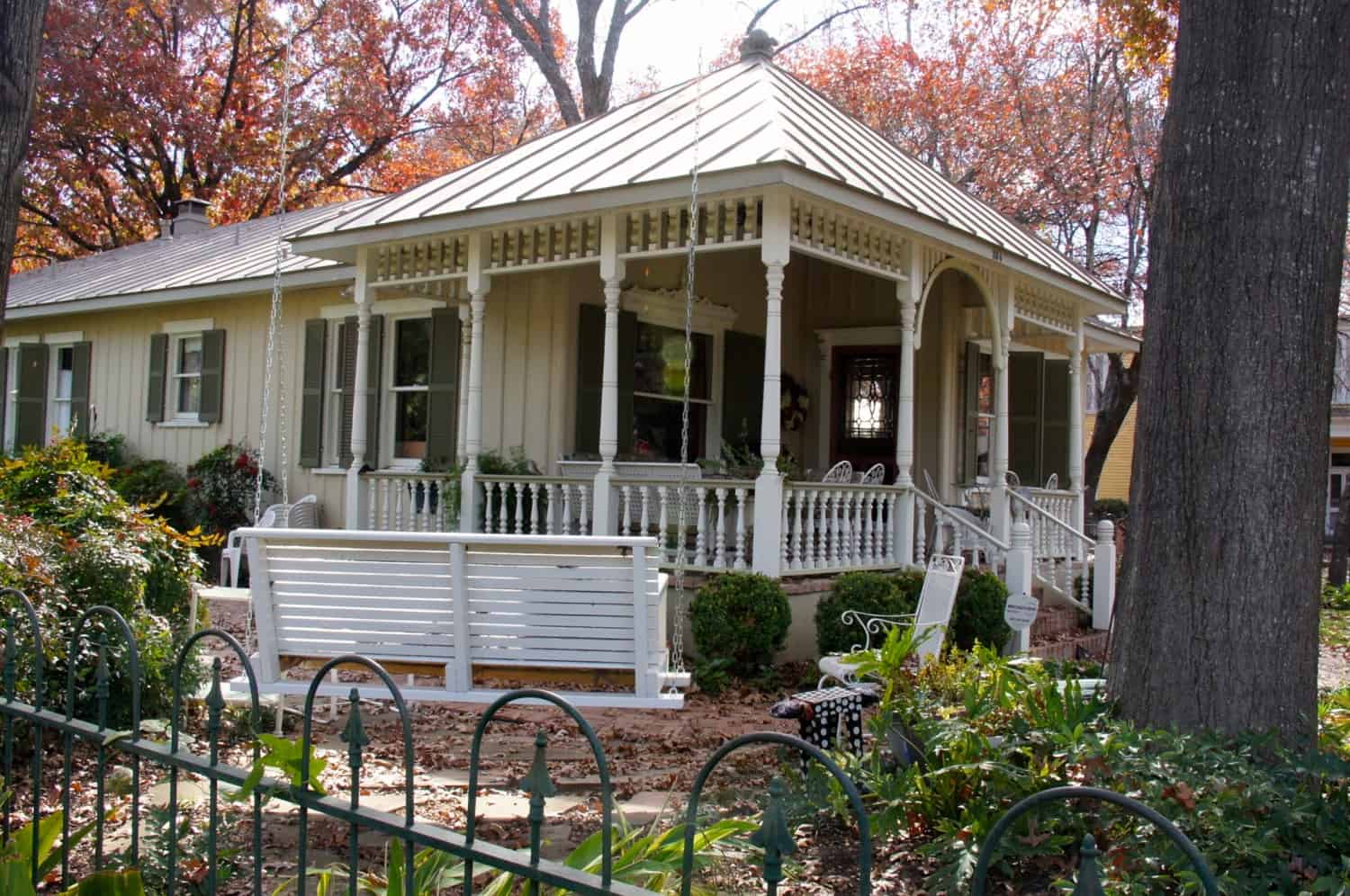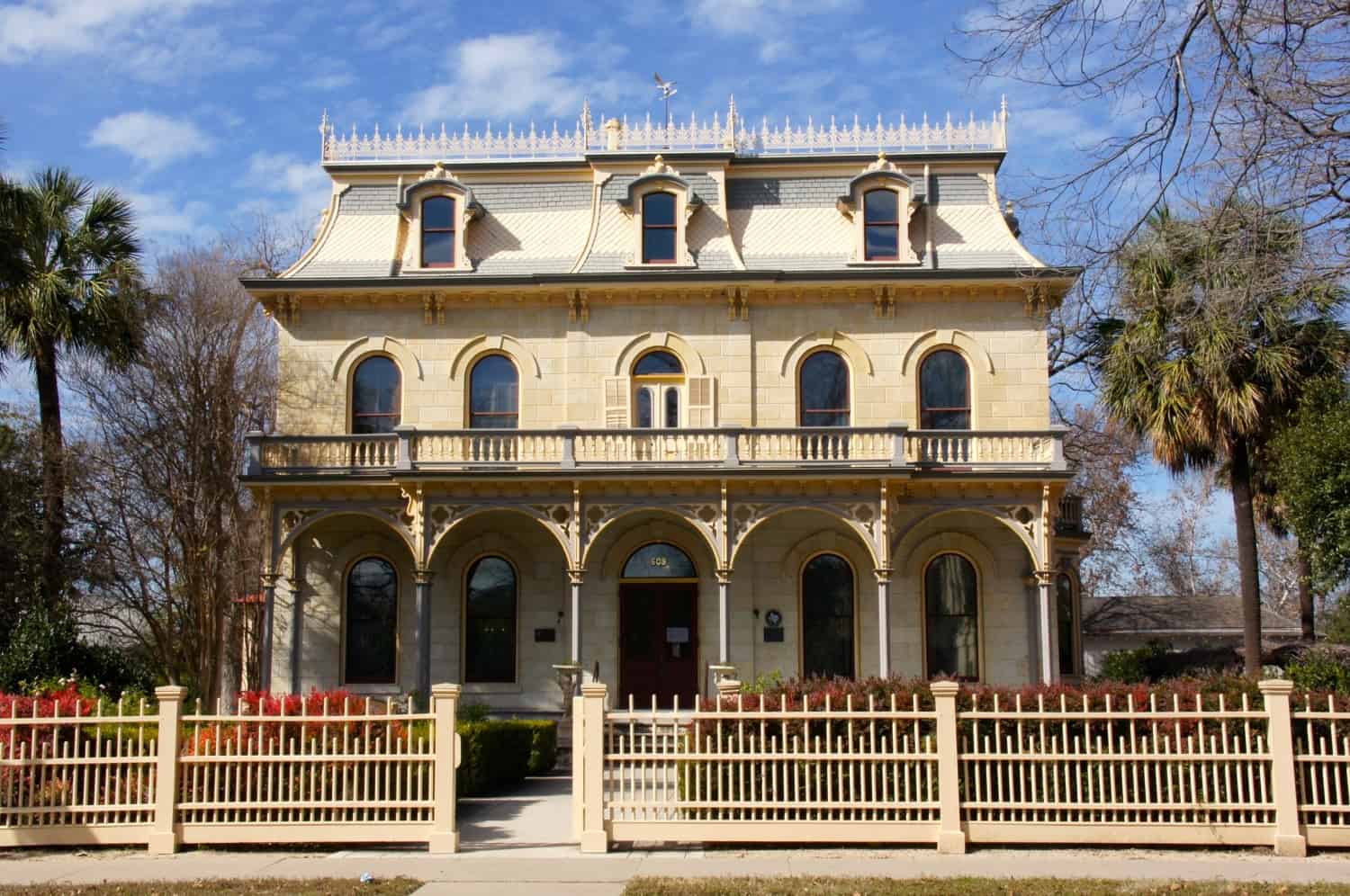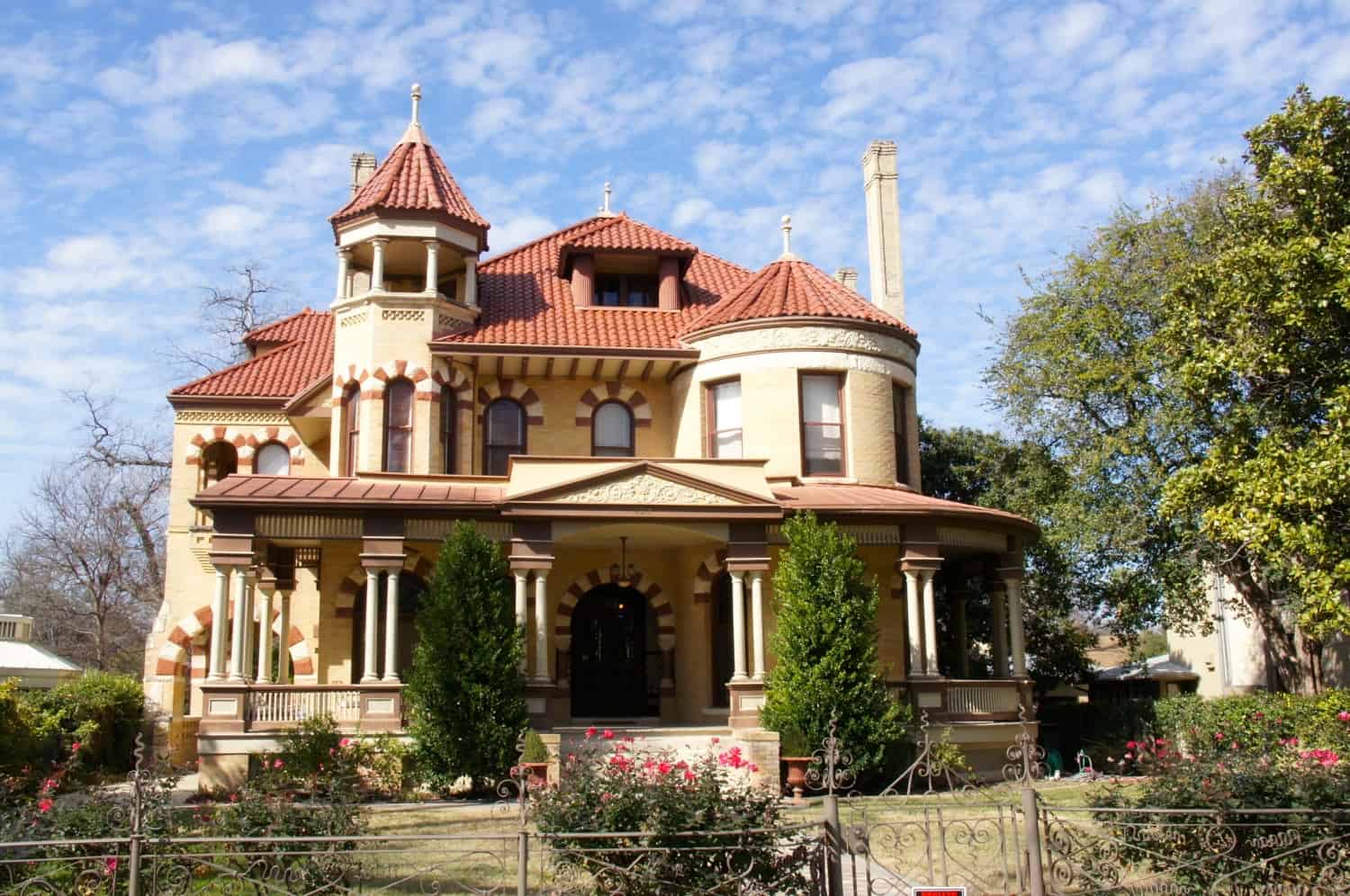 We spent a sunny morning admiring all the different design styles, and learning a bit about the area's history. If you or your pup gets thirsty, there is a doggy and human water fountain in King William Park near the bandstand.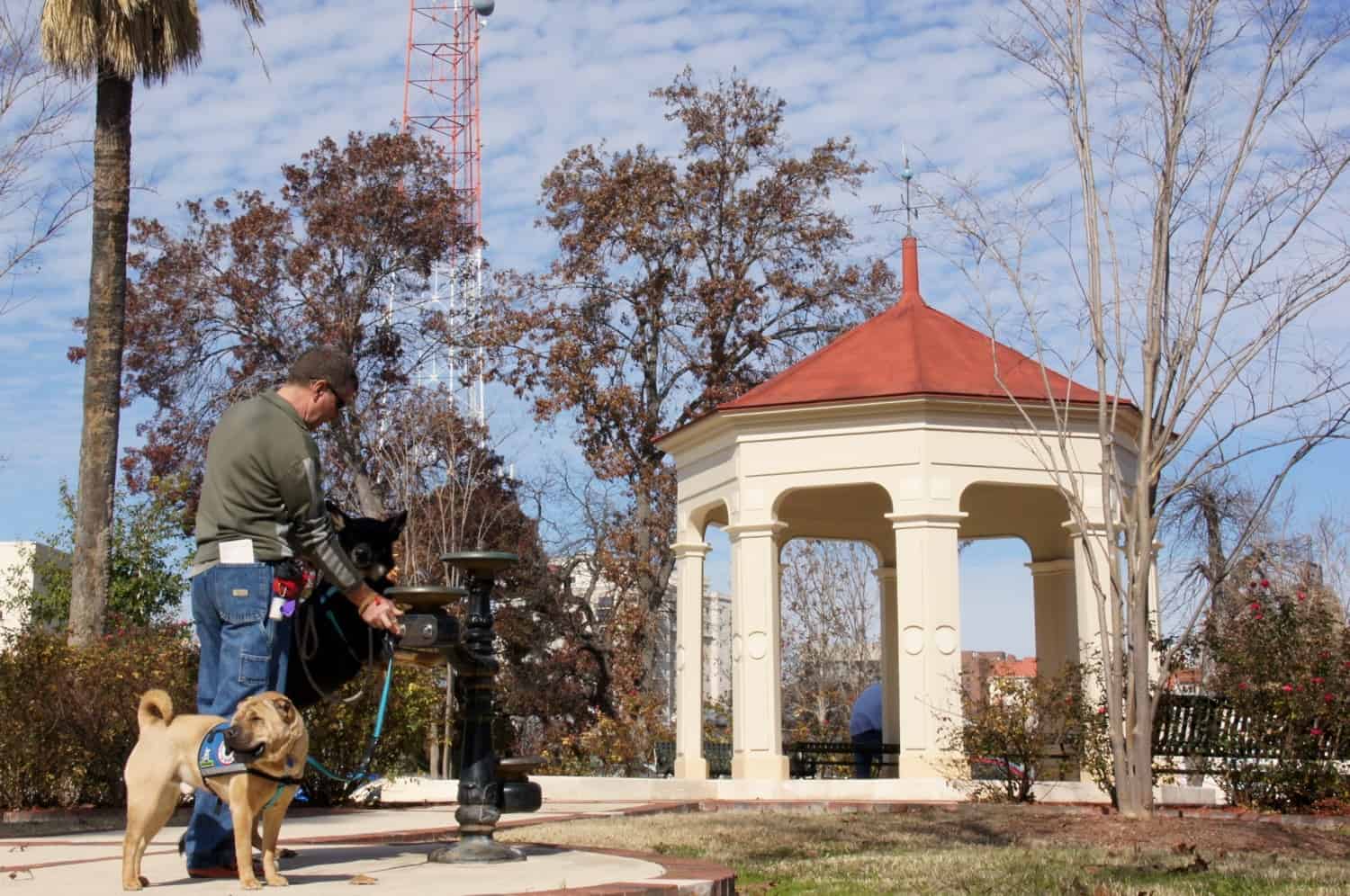 The Carl H. Guenther House and Pioneer Flower Mills, which overlook the River Walk as it winds south, are conveniently located about half way through the tour. The grounds are not pet friendly, but there is a restaurant where you can pick up something to go. We took turns waiting with the boys while the other one went inside to look around the open areas of the house and place our order. (Note: the peach tea and strudel are amazing!)
READ MORE ⇒  Exploring San Antonio's Dog Friendly River Walk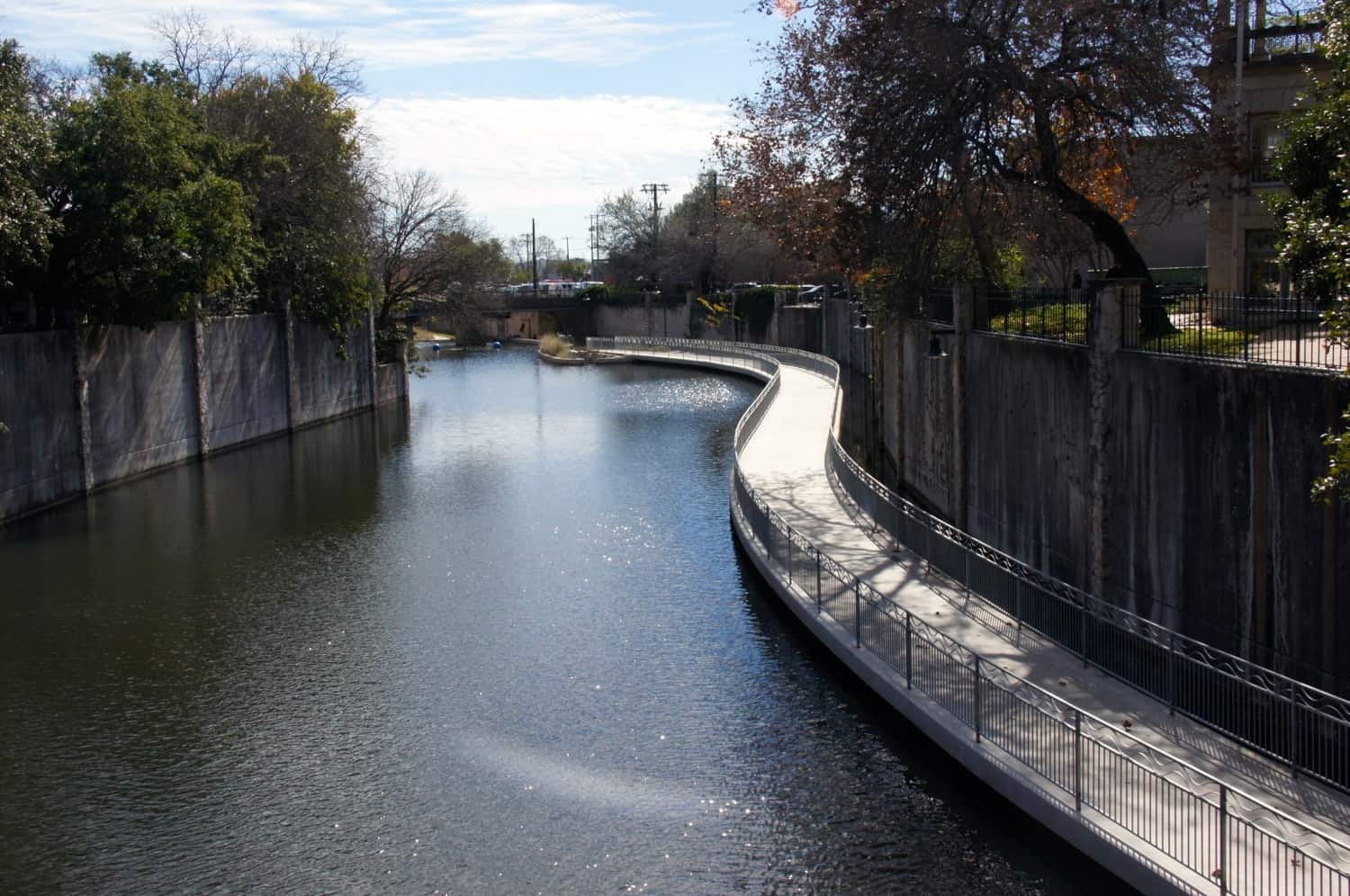 La Villita
Between downtown and the King William District is La Vallita (The Little Village). This was one of the original settlements of San Antonio and is surrounded by a thick, protective wall. The adobe houses within have been restored and now contain shops, galleries, and small restaurants where pets are welcome to browse with you. The open plazas and narrow streets offer plenty of places to rest in the shade and think about what life might have been like for those early pioneers.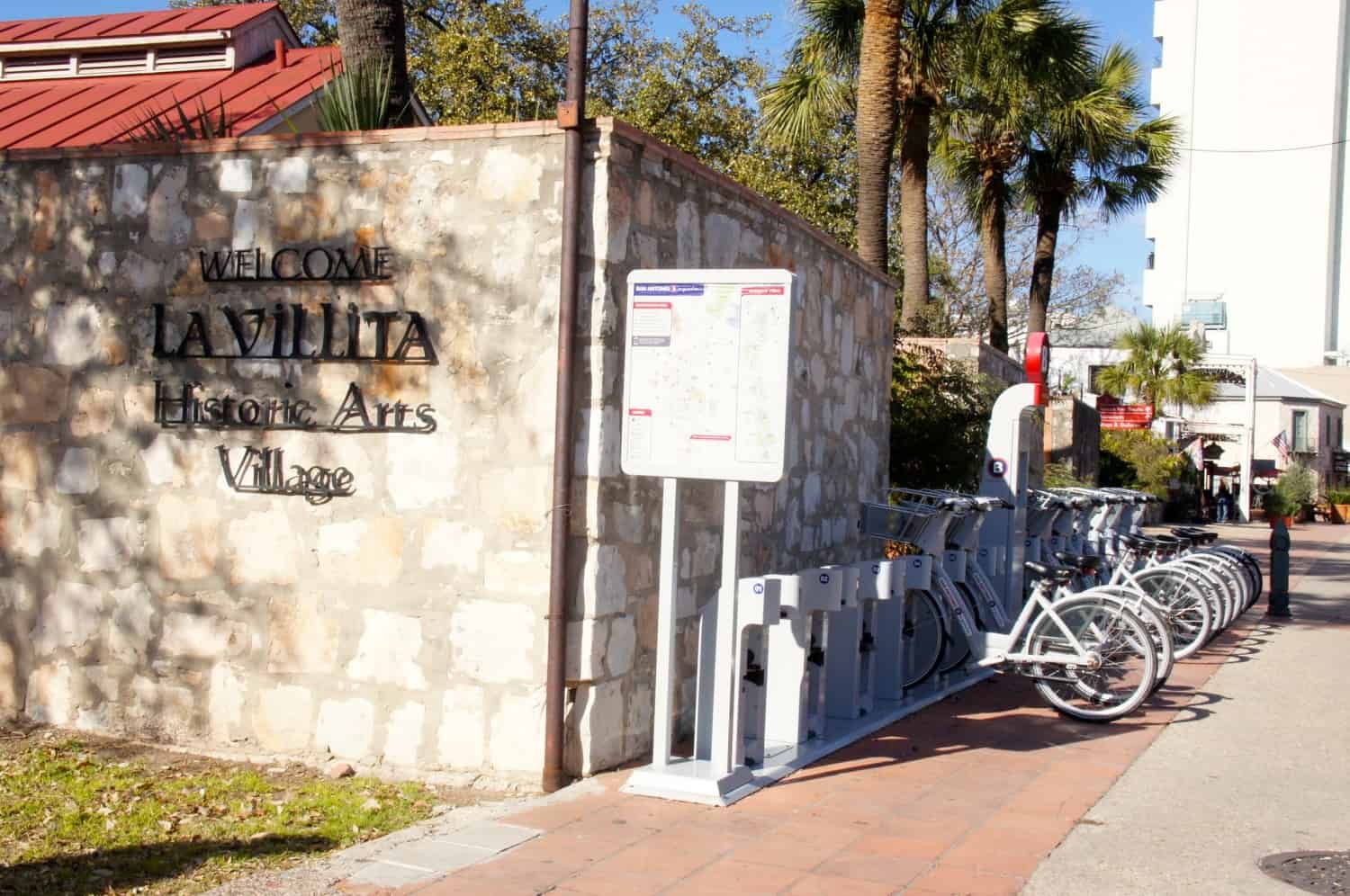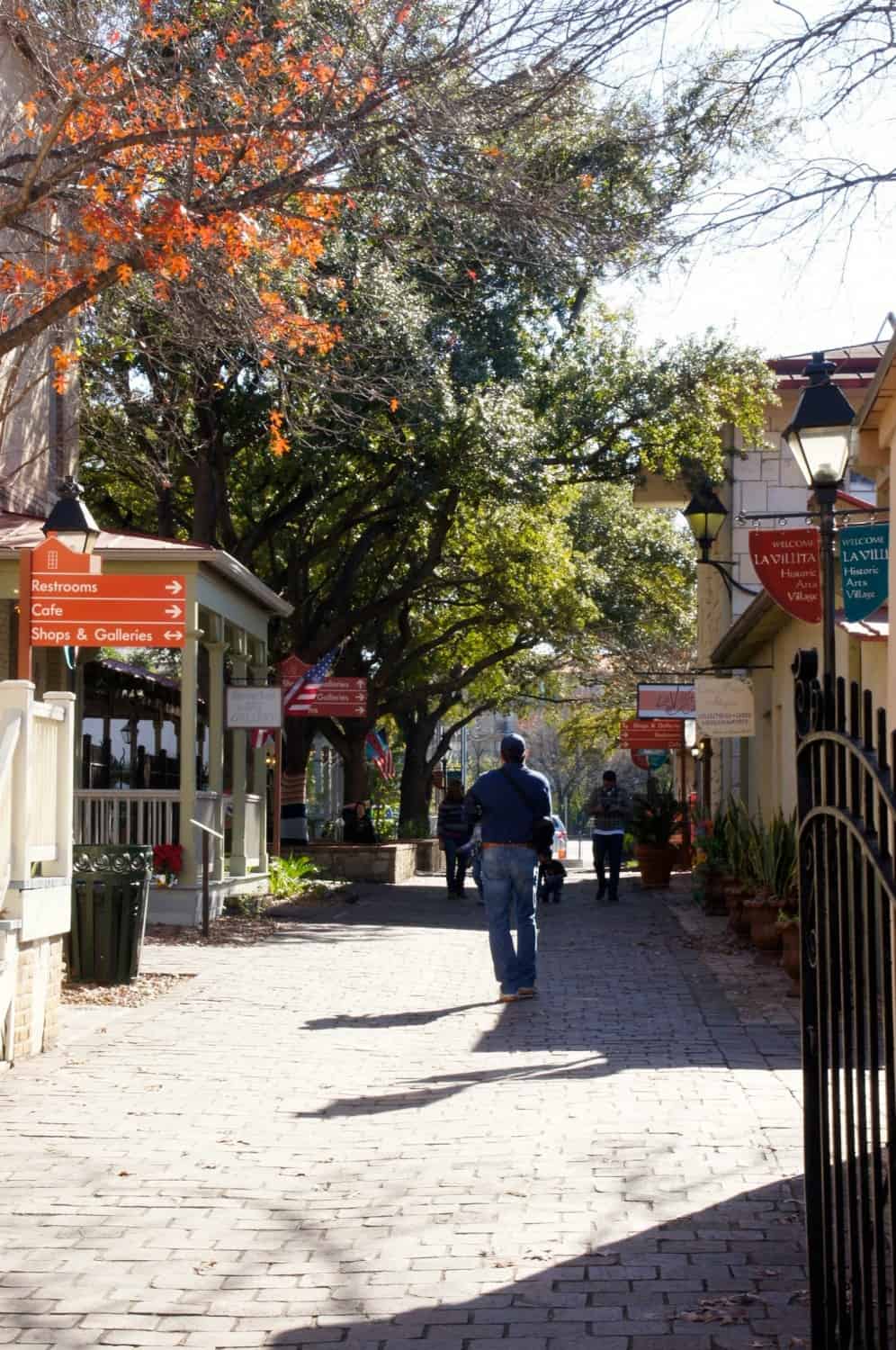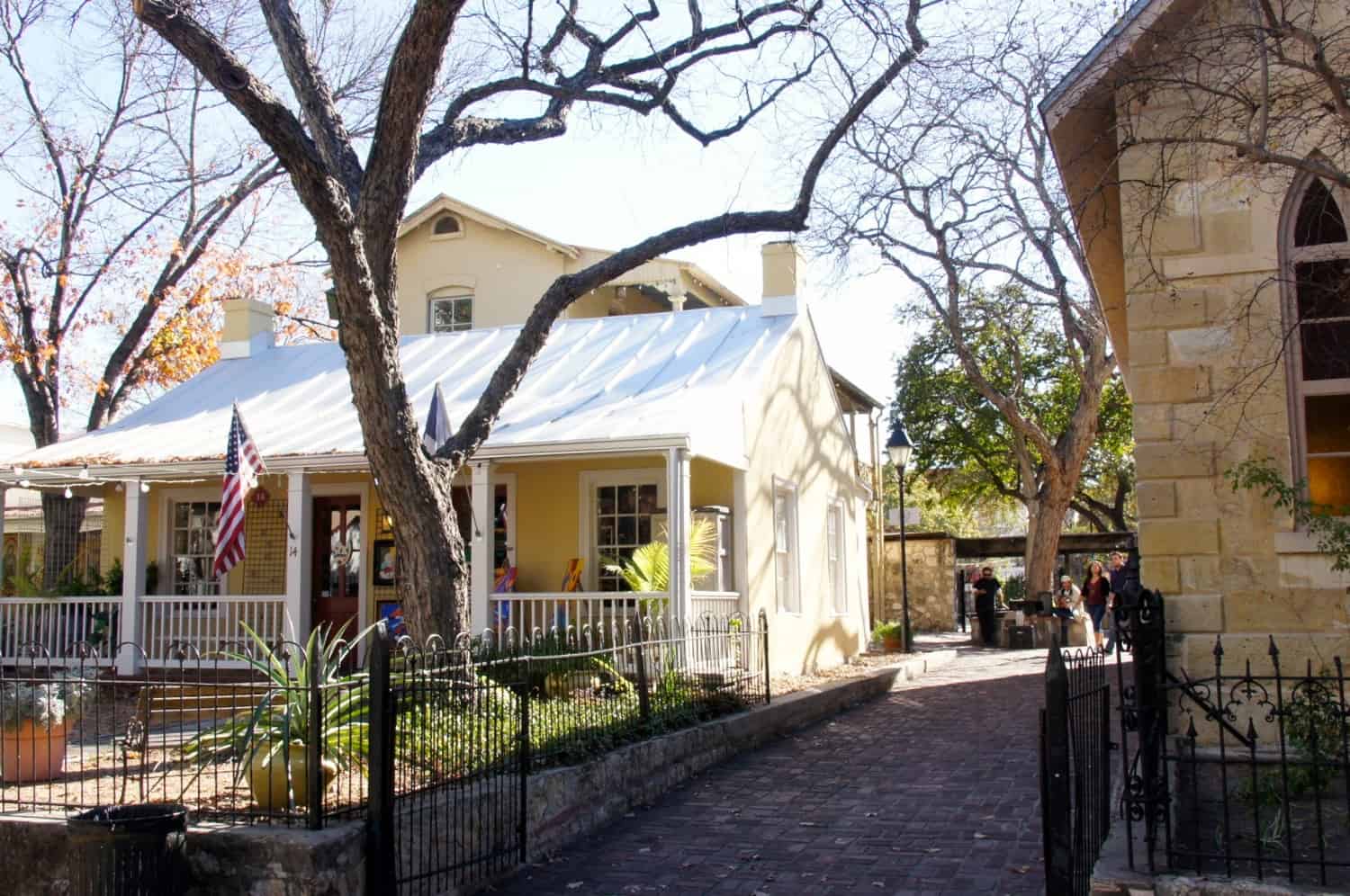 San Fernando Cathedral
Cathedrals don't usually make appearances on our blog, because they're rarely pet friendly. But the gorgeous piazza in front of San Fernando Cathedral deserves a mention. It's the perfect place to settle with lunch or a cup of coffee and do a little people watching. Or you can read the intriguing history of the oldest cathedral sanctuary in the U.S. as you rest in the shadow of its spires.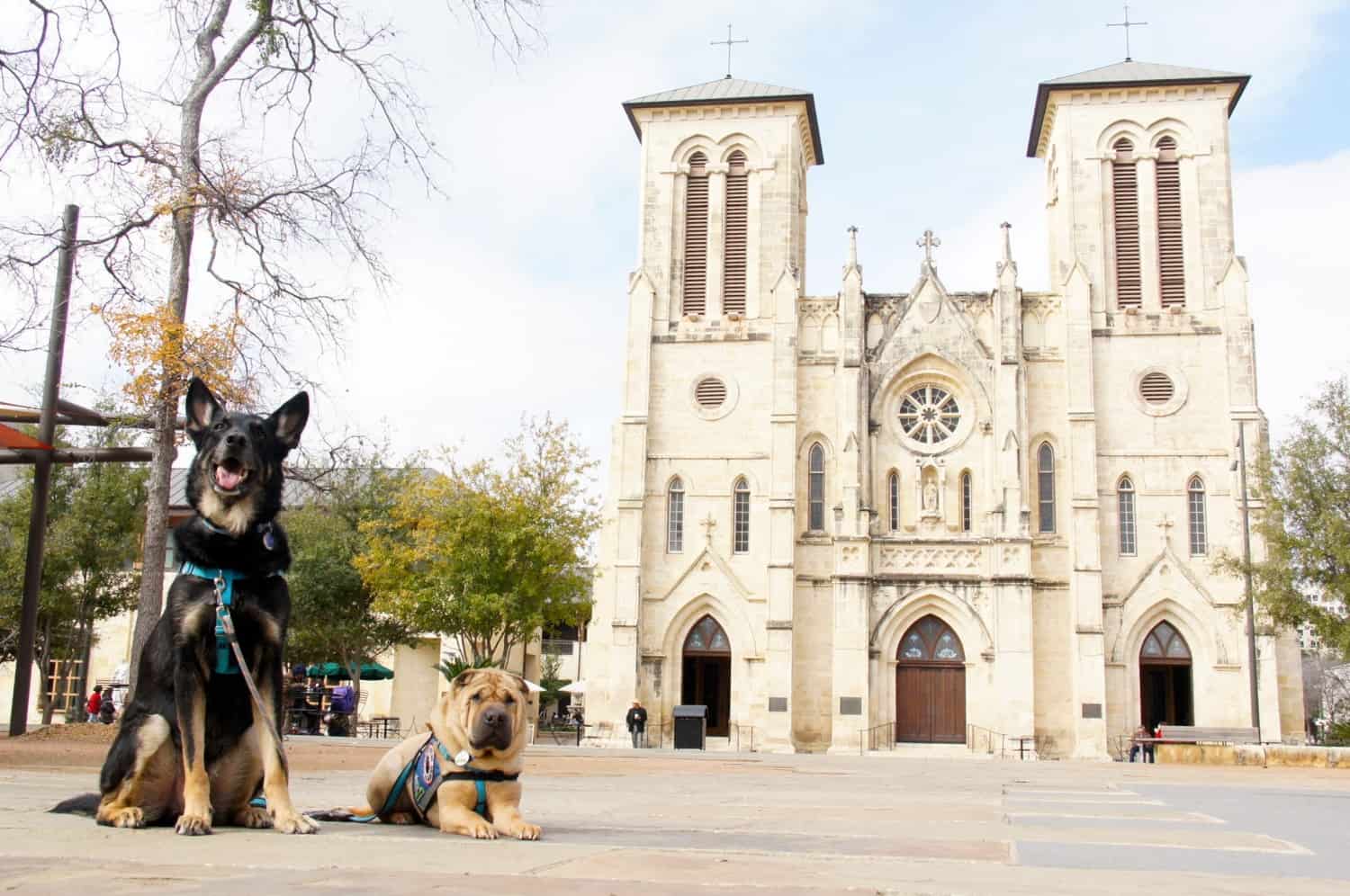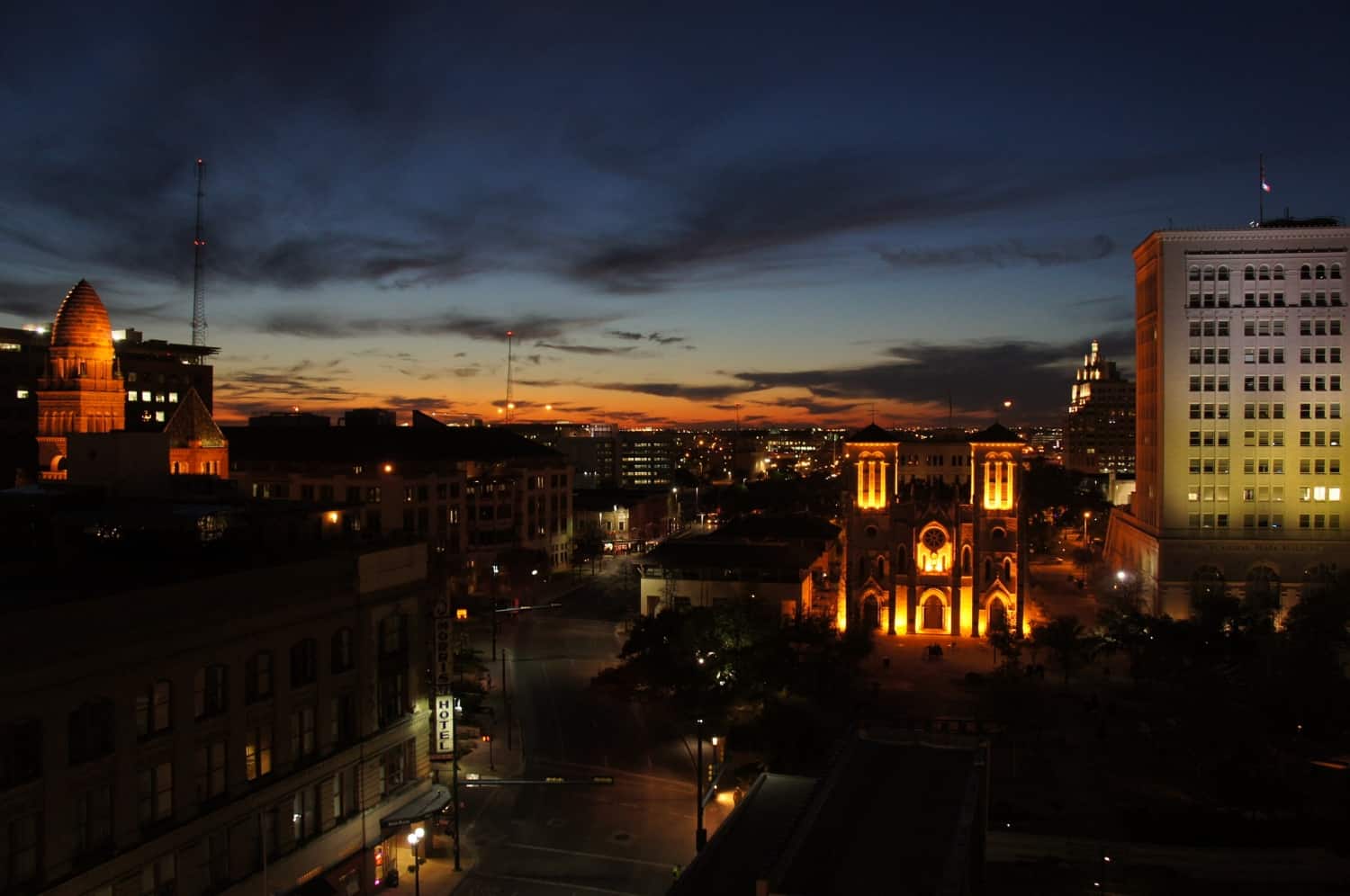 HemisFair Park
A trip to dog friendly San Antonio wouldn't be complete without a stop to admire the 750-foot Tower of the Americas in HemisFair Park. The tower makes this 92-acre park a cinch to spot from anywhere in the city. Created for the 1968 World's Fair, the views from the tower's observation deck and restaurant must be spectacular. But the tower's not pet friendly. So, we enjoyed this green oasis in the city from the ground – admiring the tower's underside and the fountain gardens around its base.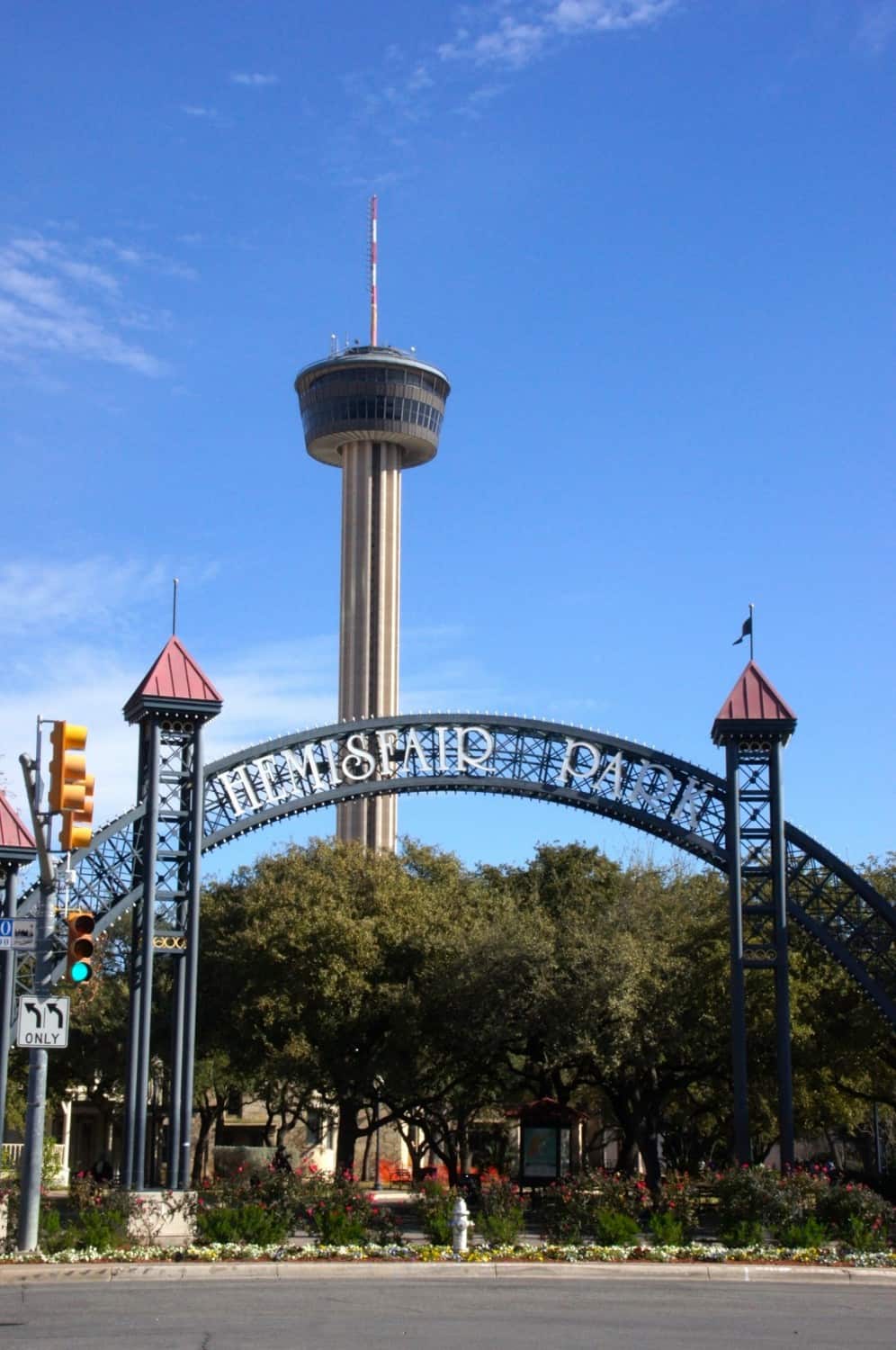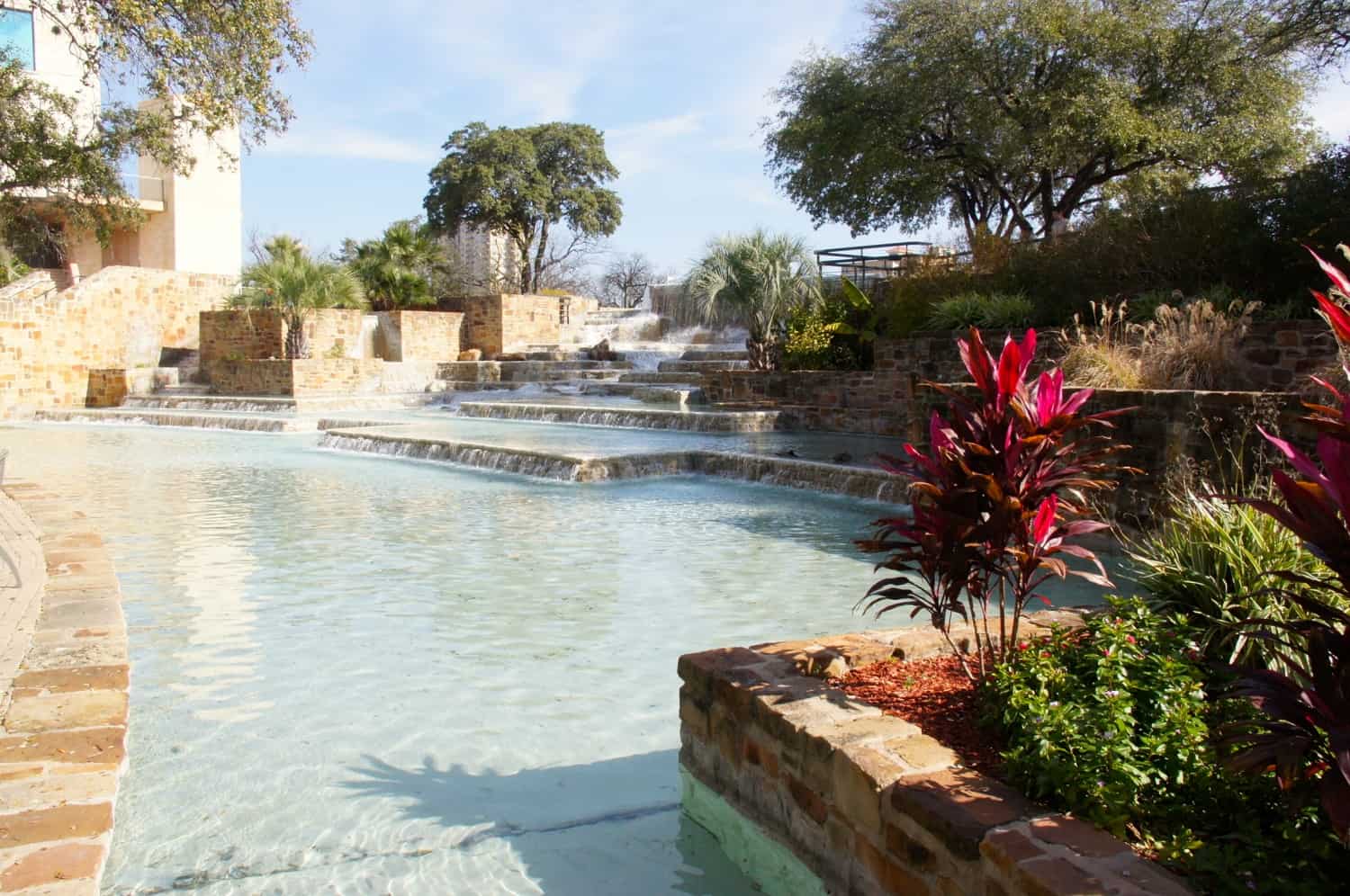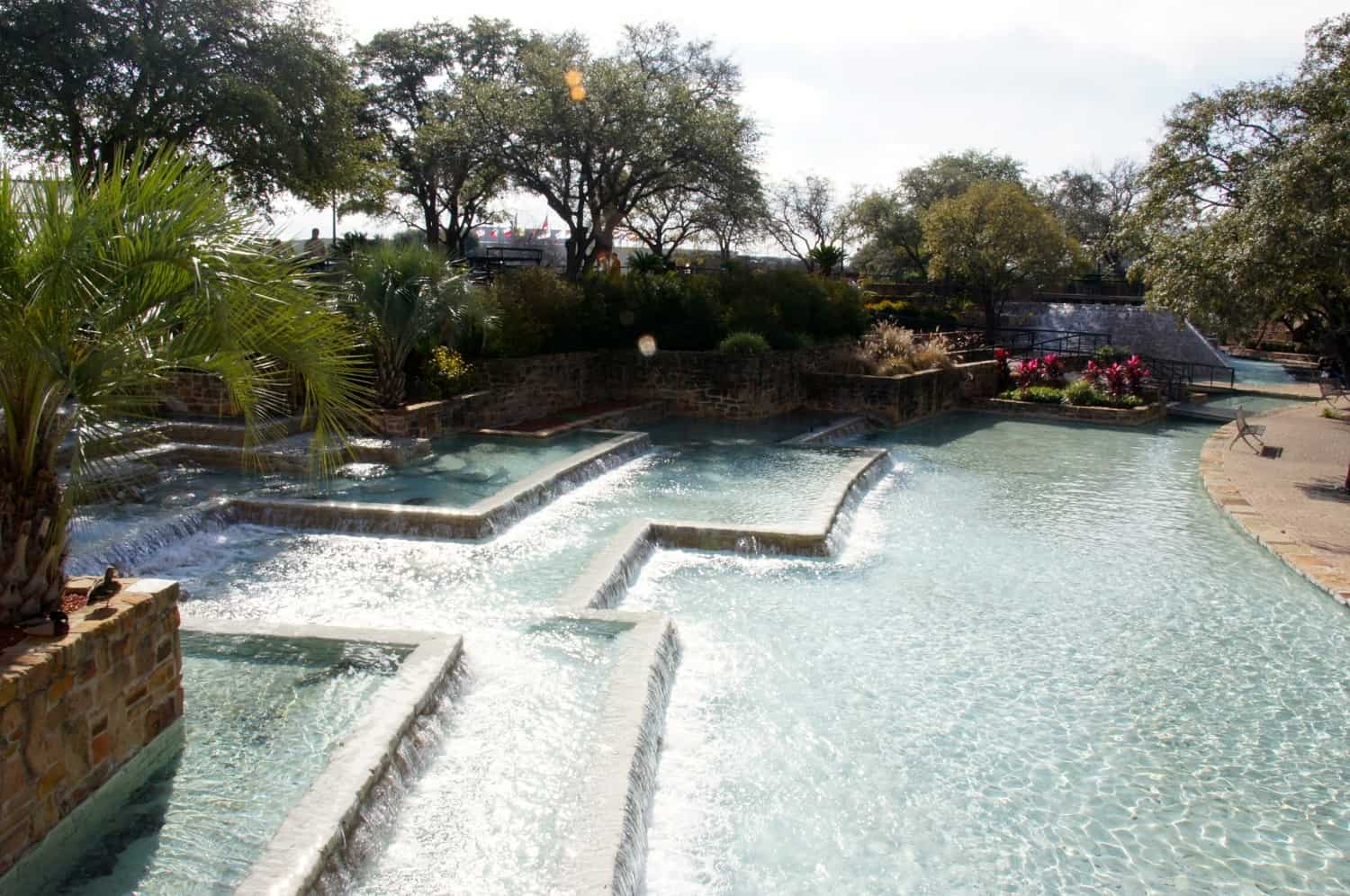 Pet Friendly Hotel Choice
The pet friendly Drury Plaza Hotel was our choice for this trip. Not only do they welcome Ty and Buster without weight restrictions, they're located right on the River Walk. That nighttime photo of the cathedral was taken from our terrace! Throw in the free breakfast and evening appetizers and drinks and you'll understand why we appreciate Drury hotels.
Converted from an old bank, this hotel has a ton of character. However, incorporating the old with the new often complicates the logistics, and that is our only complaint. The new rooms (with the terraces) are located in an addition to the old building, which means the trip to your room involves one elevator ride, followed by a trek down a winding hallway, followed by another elevator ride. If your pooch has a weak bladder, request a room in the original part of the hotel.
READ MORE ⇒  Pet Friendly Hotels Where Pets Stay Free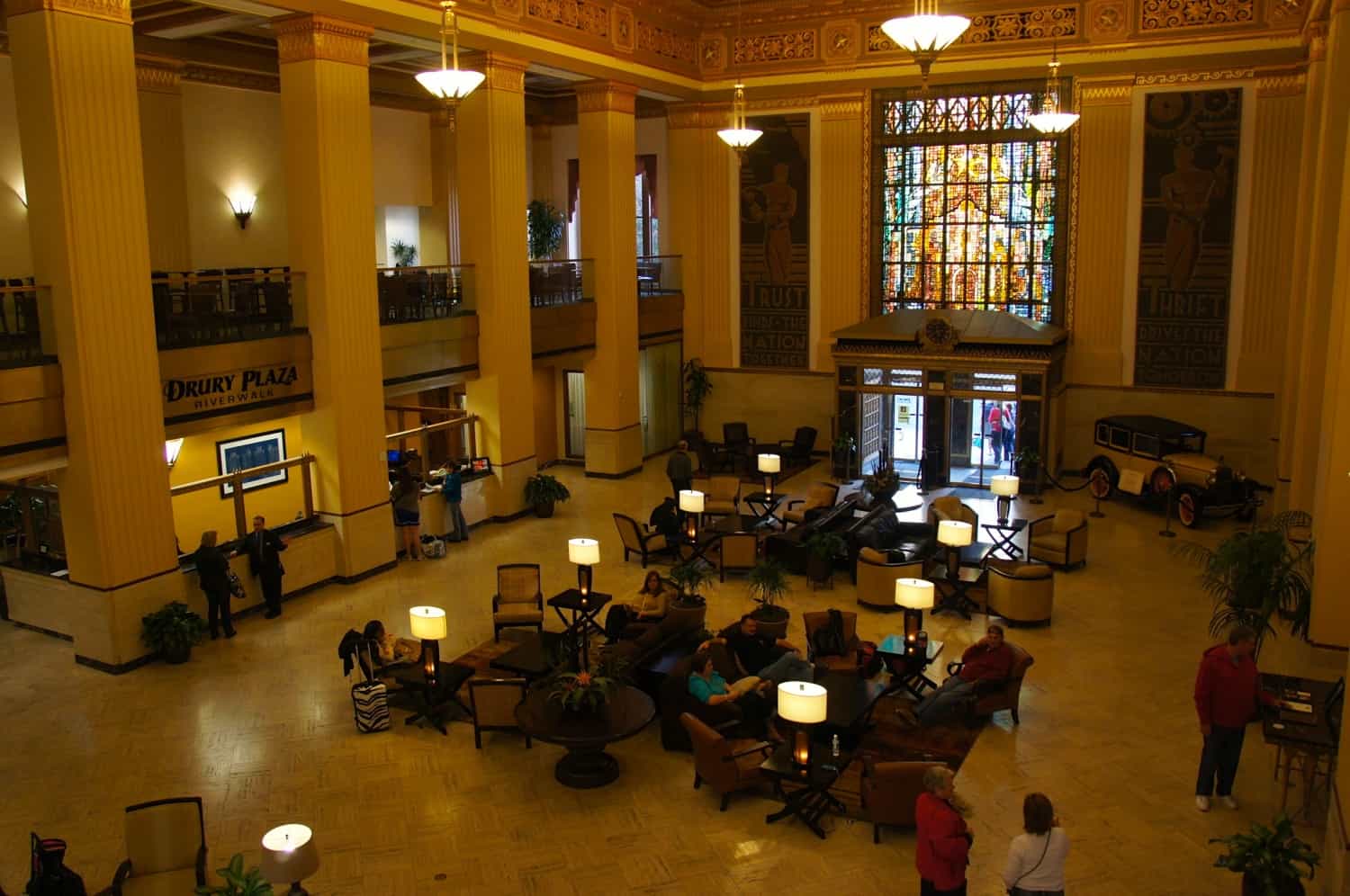 Next Time
After seeing more of dog friendly San Antonio, I'm ready to head back to the River Walk. That shot looking south from the Pioneer Flour Mills has me intrigued. Getting away from the hustle and bustle of downtown and experiencing some of the quieter stretches sounds appealing. I'd also like to get out to Brackenridge Park – it looks like it might be similar to Forest Park in St. Louis, which we loved.
If you know of a pet friendly place in the area that we missed, please leave your tips below. That will help other pet travelers find it!
Amazon Affiliate Disclosure: GoPetFriendly.com LLC is a participant in the Amazon Services LLC Associates Program, an affiliate advertising program designed to provide a means for website owners to earn advertising fees by advertising and linking to amazon.com, audible.com, and any other website that may be affiliated with Amazon Service LLC Associates Program. As an Amazon Associate, the owner of this site earns a commission from qualifying purchases.
(Visited 12,733 times, 1 visits today)