When we pointed the RV toward Far West Texas our goal was to visit Big Bend National Park. Little did we know how much we'd enjoy our stays in Marfa, Fort Davis, Alpine and Marathon! After two weeks we finally tore ourselves away and made the 48 mile drive from Marathon down to the national park gates to begin exploring Big Bend with dogs.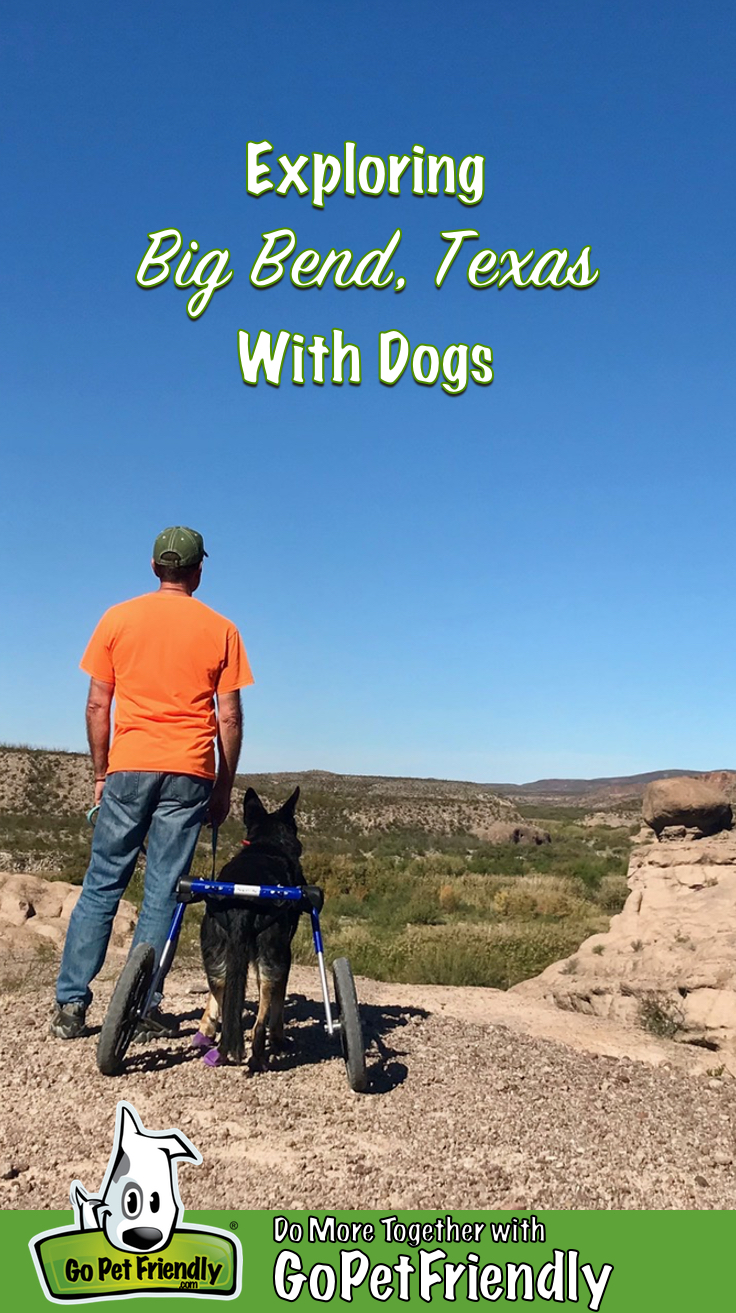 Big Bend National Park with Dogs
Big Bend National Park encompasses more than 800,000 acres along 118 miles of the Rio Grande River. Located in Far West Texas, with the river forming the border between the U.S. and Mexico, this is one of the last remaining wild corners of the country.
READ MORE ⇒  The Most Pet Friendly National Parks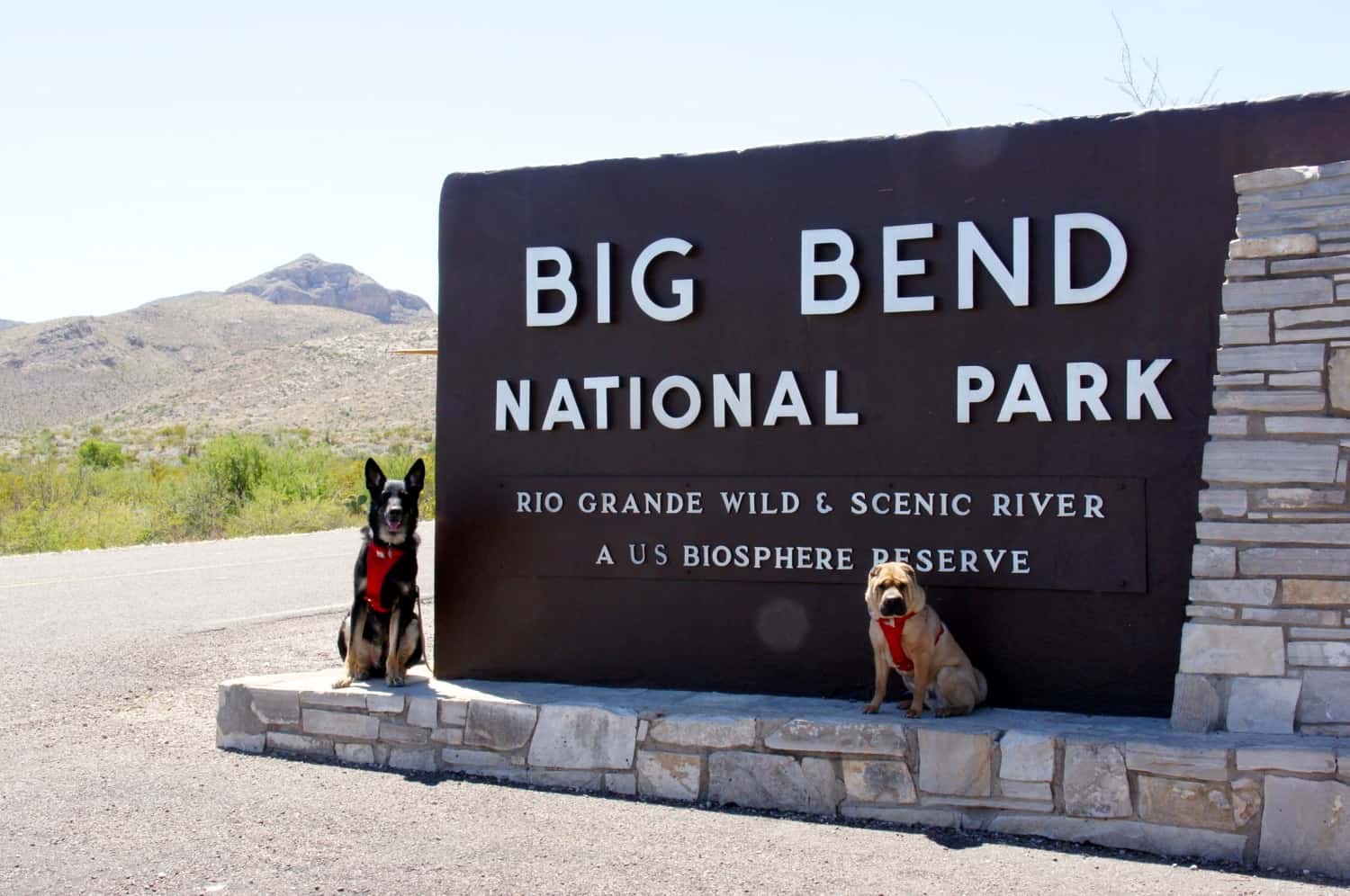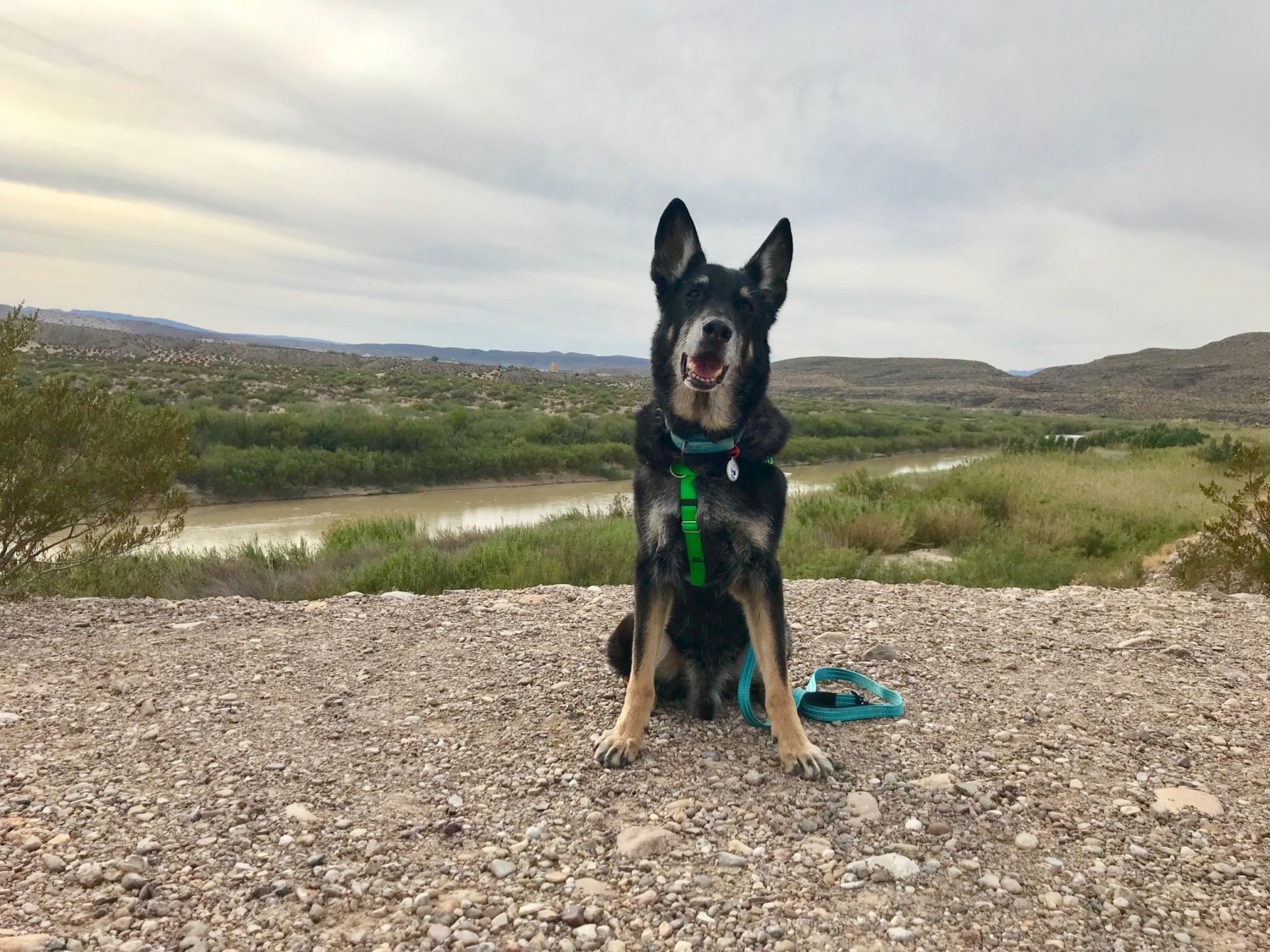 The most captivating thing about Big Bend is it's diversity. The massive canyons, vast expanses of desert, forested mountains, and ever-changing river provide a stunning variety of scenery. I've never seen a desert as beautiful as this one, and I can't even describe what makes it so different from the others we've seen. All I know is that I never get enough!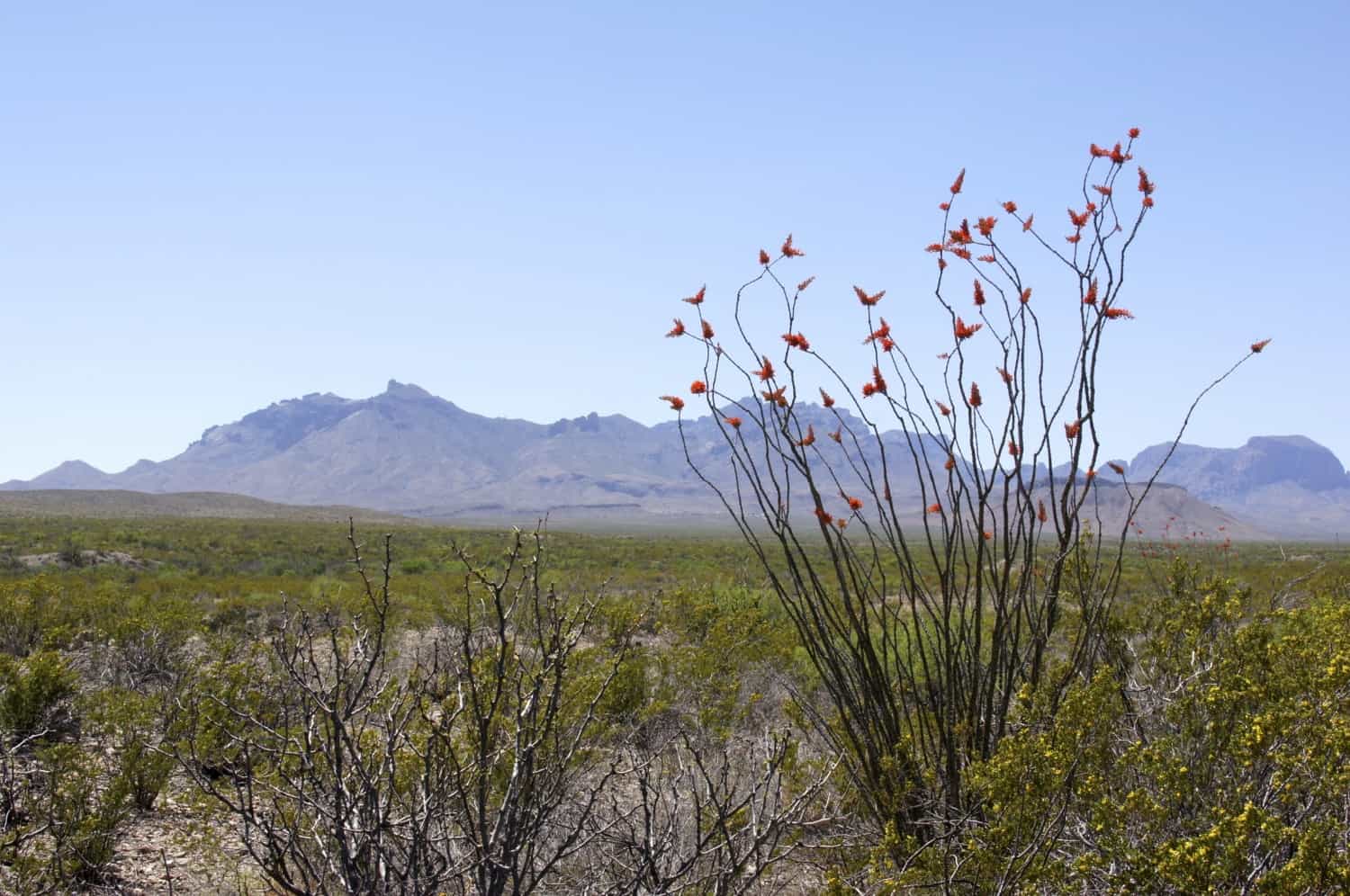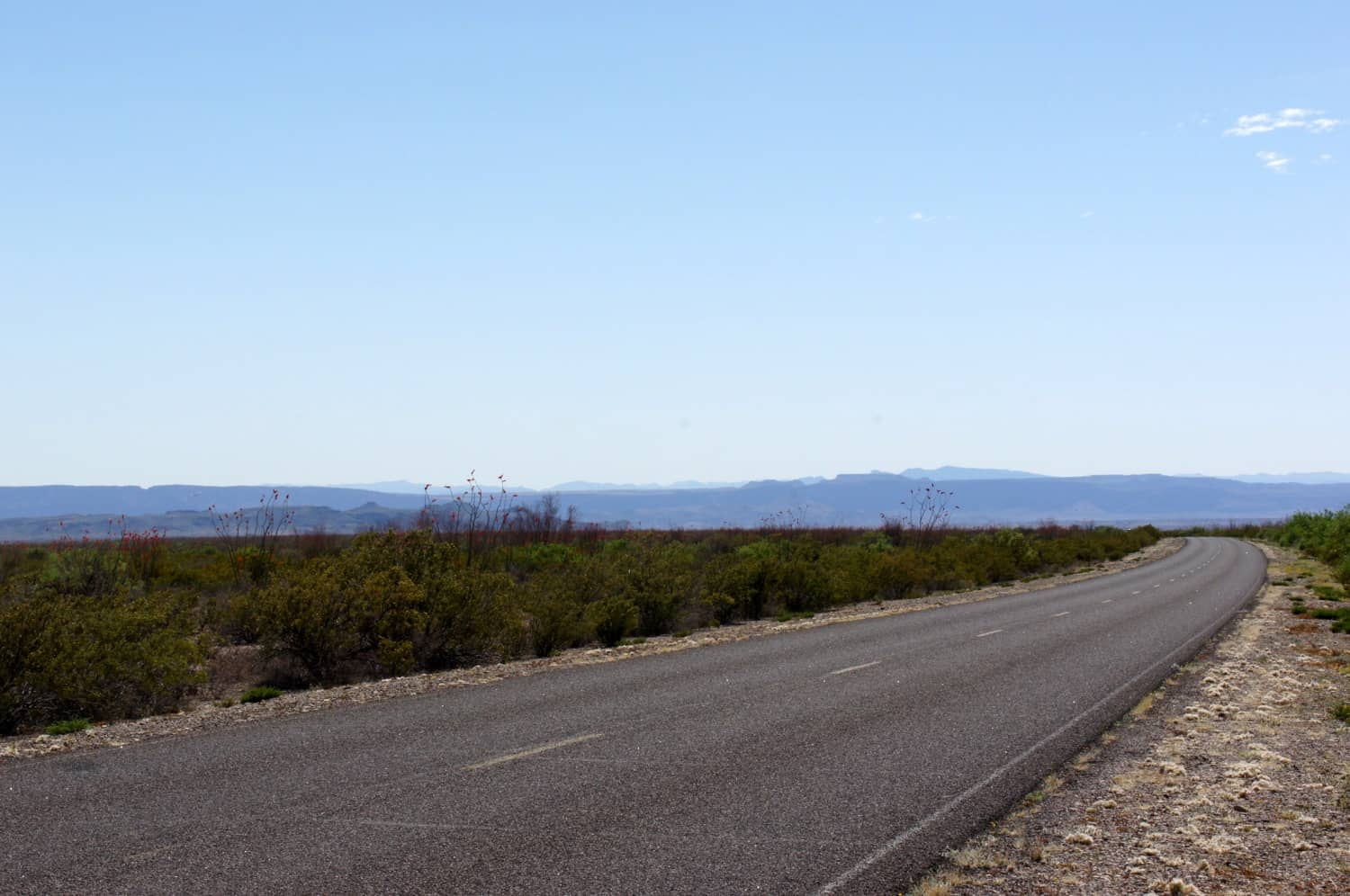 Pet Policy at Big Bend National Park
Unfortunately, pets are not allowed on any trails, on the river, or in the backcountry at Big Bend National Park. Leashed pets can walk only on roads, in developed campgrounds, and at primitive roadside campsites. So, your pet can go only where your car can go.
You might be thinking, "Why would I take my dog there?!" But there's still a lot you and your dog can do together in Big Bend! For example, there are more than 200 miles of dirt roads running through the park, and most of them get little very little traffic. Walking your pet along some of these roads is a wonderful way to enjoy the views.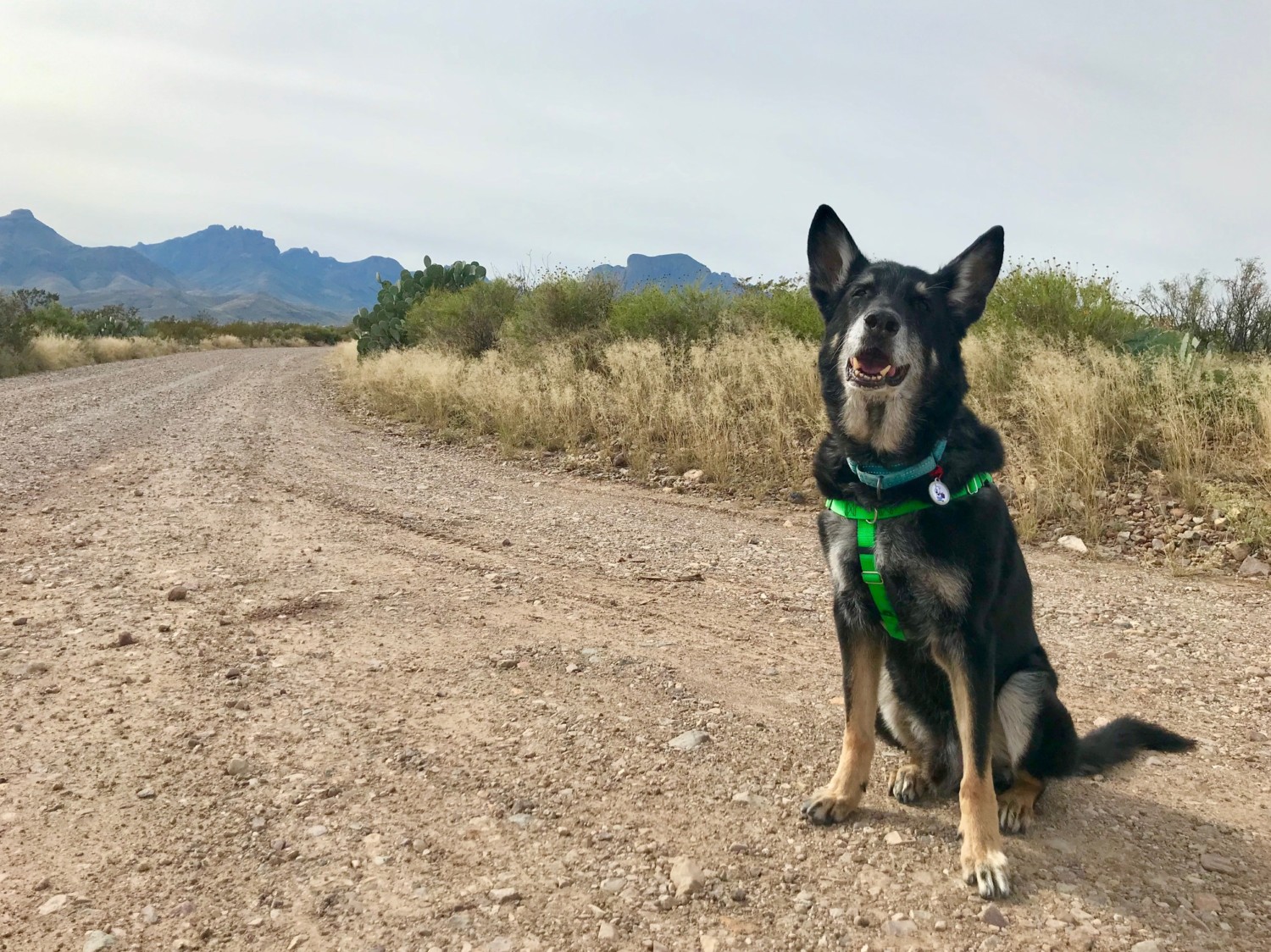 You can also enjoy some of the more popular scenic overlooks, like Santa Elena Canyon, from the parking areas. It's the perfect place for a sunset picnic!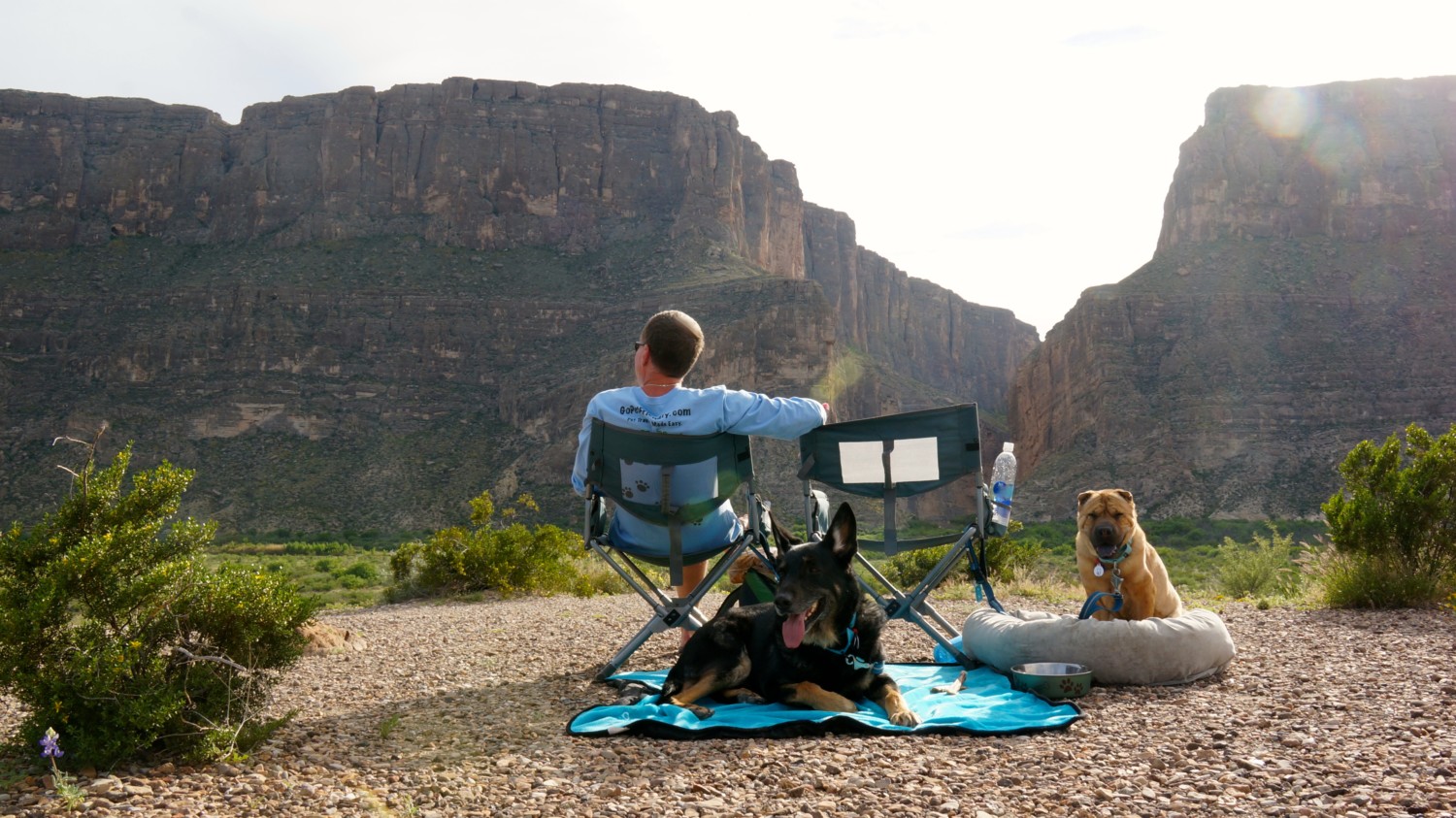 If you're planning to explore some of Big Bend's 200 miles of trails, find a local boarding facility or pet sitter for your pet. Never leave a pet in your vehicle. The temperatures – even in the winter – can climb dangerously high very quickly.
READ MORE ⇒  Is It Illegal To Leave Your Pet Alone In The Car?
Crossing to Boquillas, Mexico
Boquillas de Carmen sits on the Rio Grande across from Big Bend and is approximately 135 miles from the nearest Mexican town … as the crow flies. The little village survives on tourism from the United States – folks visiting Big Bend who crossed the river to have lunch at the taco stands or the restaurant, or quench their thirst at the village bar.
Unfortunately, the crossing is a special tourist-class port of entry were only pedestrians are allowed. If you plan to go, pack your passport and find a sitter for your pet, because he won't be able to join you on this part of the adventure.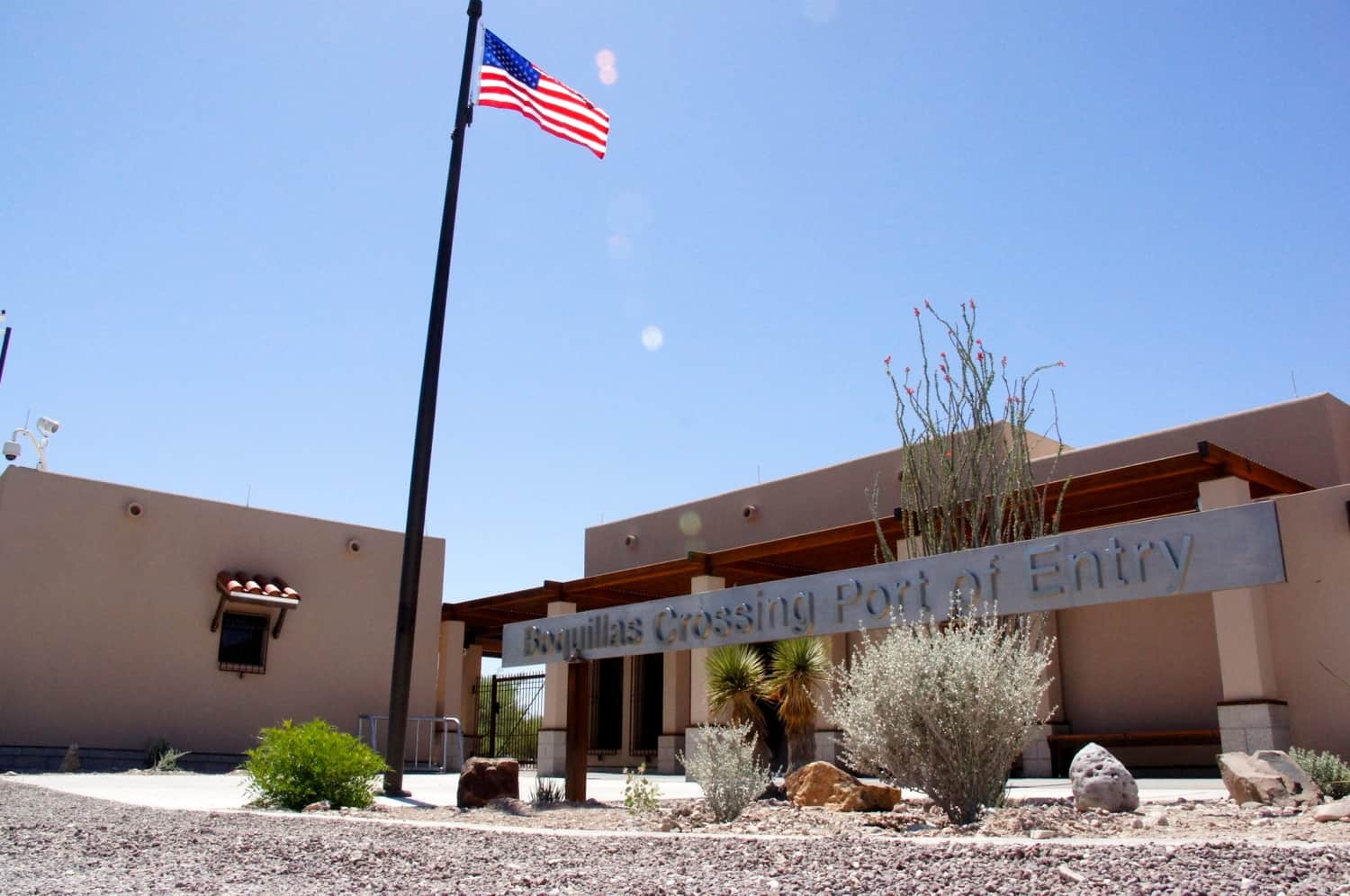 The Boquillas Port of Entry is open Wednesday to Sunday, 8am – 5pm in the winter, and Friday to Monday, 9am – 6pm in the summer. Before following the signs to Boquillas Crossing, head to the Visitor Center at Big Bend's Rio Grande Village to purchase a $5 ticket for the round-trip rowboat ride across the river. With tickets in hand, head to the immigration building and get details on the purchases you'll be allowed to carry back into the country. Then you're ready to take the short path down to the river.
Once across the river, you'll have the option to rent a horse or burrow ($8), ride in a pick-up ($5), or walk the quarter-mile into town. The folks here are also available as guides if you're adventuring into the 520,000 acre Maderas del Carmen biosphere reserve. When you reach town, fill out a visitors form at Mexican immigration, and then you're free to explore!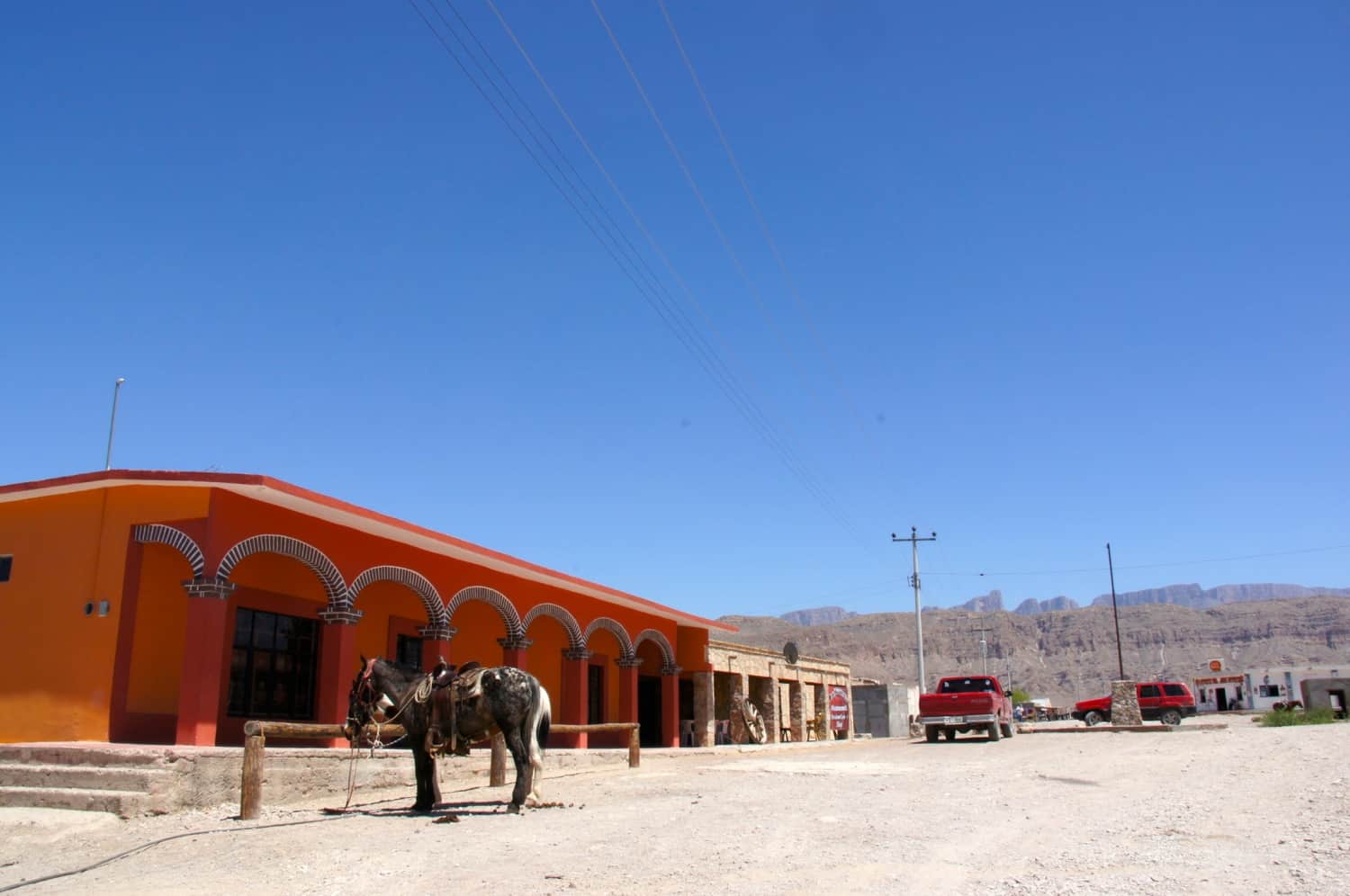 Walking around Boquillas is like stepping back in time. It's a tiny village, eking out a life in the desert. The people are kind, and speak English well. And, while no one was angling for a handout, they were clearly appreciative of the few dollars we spent. Our lunch at the little restaurant consisted of three of the best bean and cheese burritos I've ever had and a Corona … for five bucks.
While we were there we learned that the school kids really need supplies. We saw several displays in Big Bend with beaded figures crafted by the children hoping to collect some money for pencils and notebooks. We'll be sure to stock up and take some along the next time we go!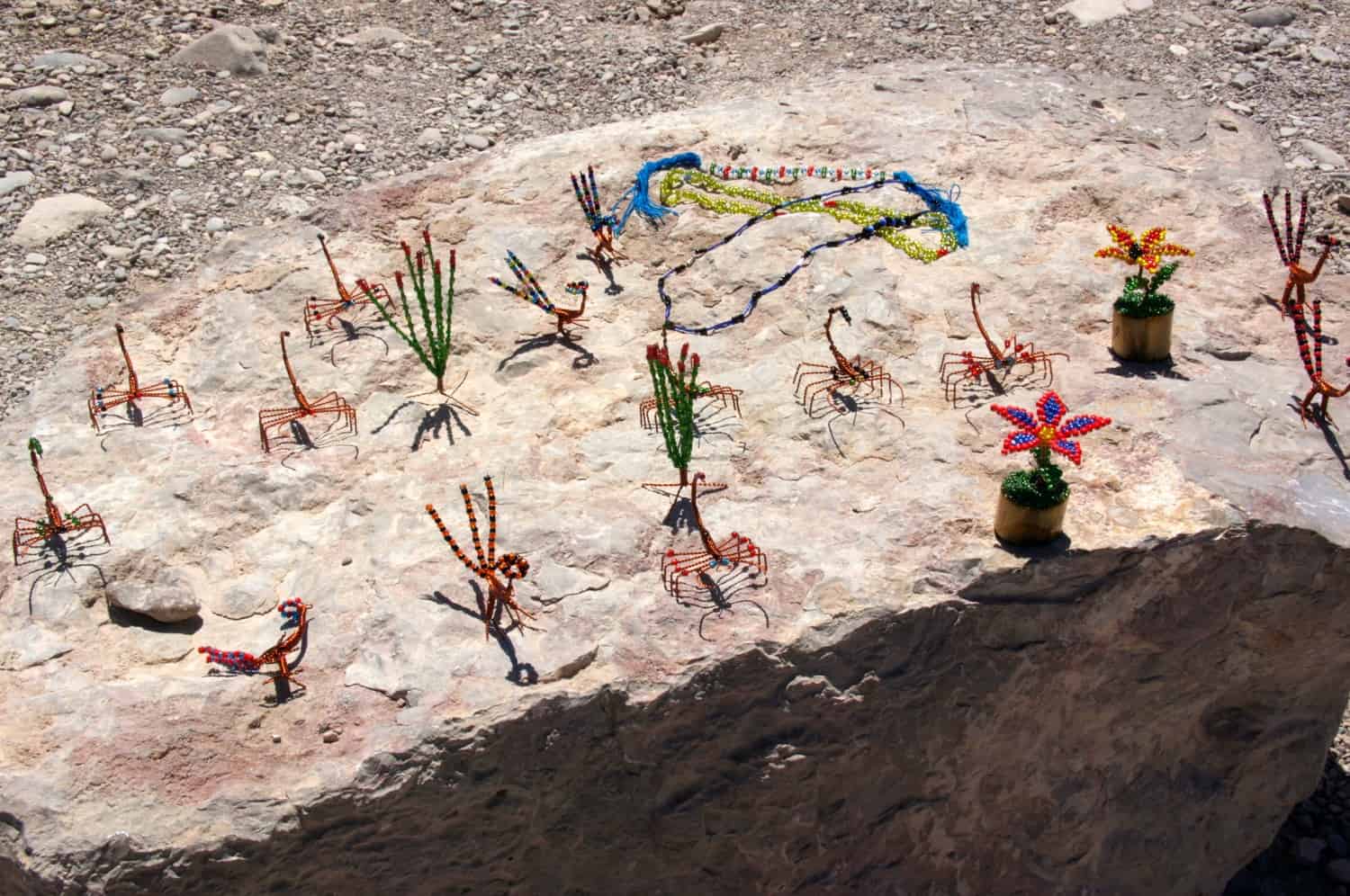 Big Bend Ranch State Park
Just down the road from the national park is Big Bend Ranch State Park. This is the largest state park in Texas at over 300,000 acres, and a must-do when exploring Big Bend with dogs. The pet policies here are slightly more pet friendly with two trails, Closed Canyon and Hoodoos, both allowing leashed pets. Dogs are also welcome within a quarter mile of all roads, trail heads and designated campsites throughout the park.
Closed Canyon Trail
Closed Canyon is a short trail meanders though a narrow slot canyon. Hiking here is nice in warm weather because the canyon walls provide shade. Even in the winter, it's best to get out early, carry plenty of water, and stay out of the sun.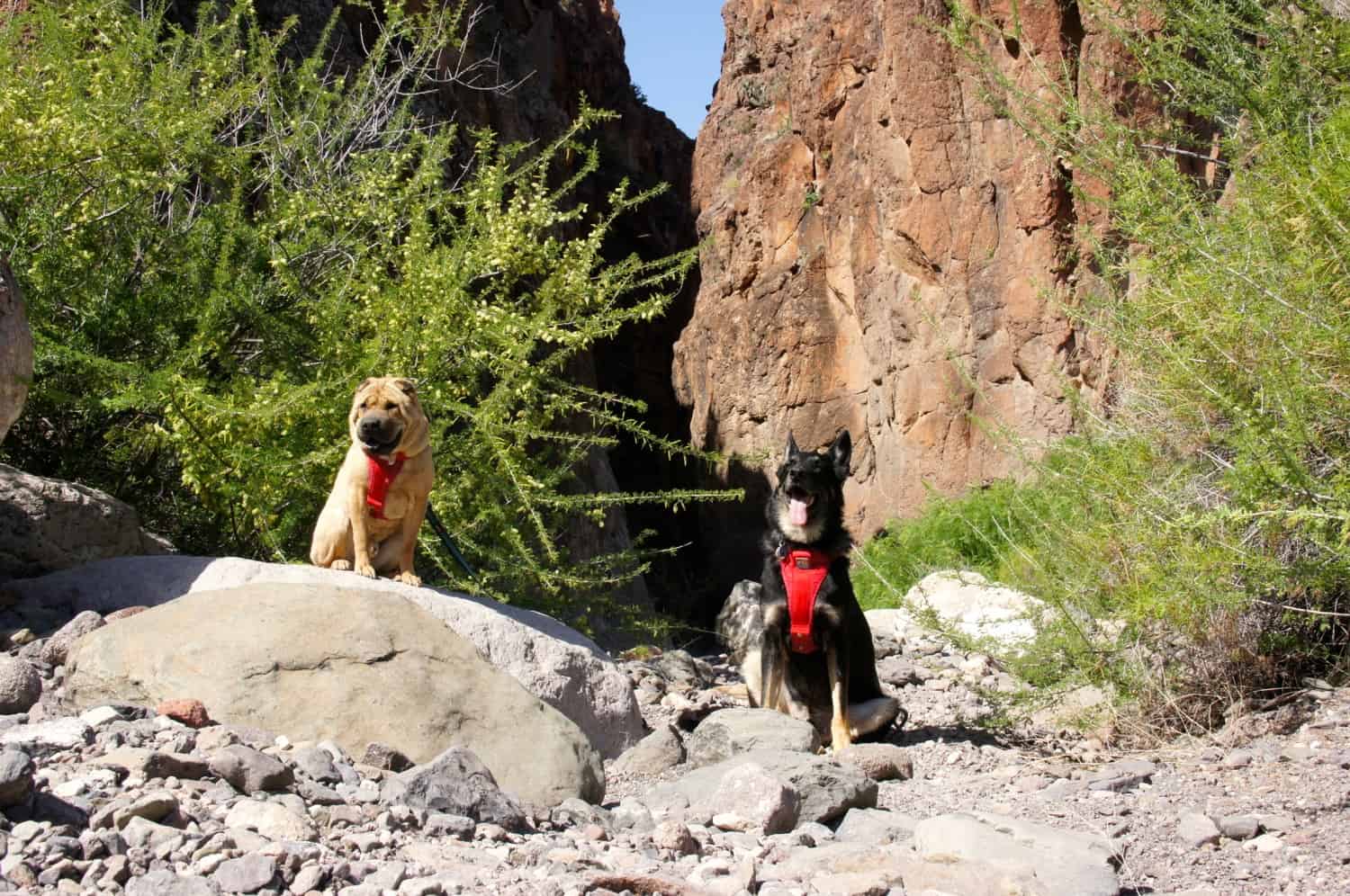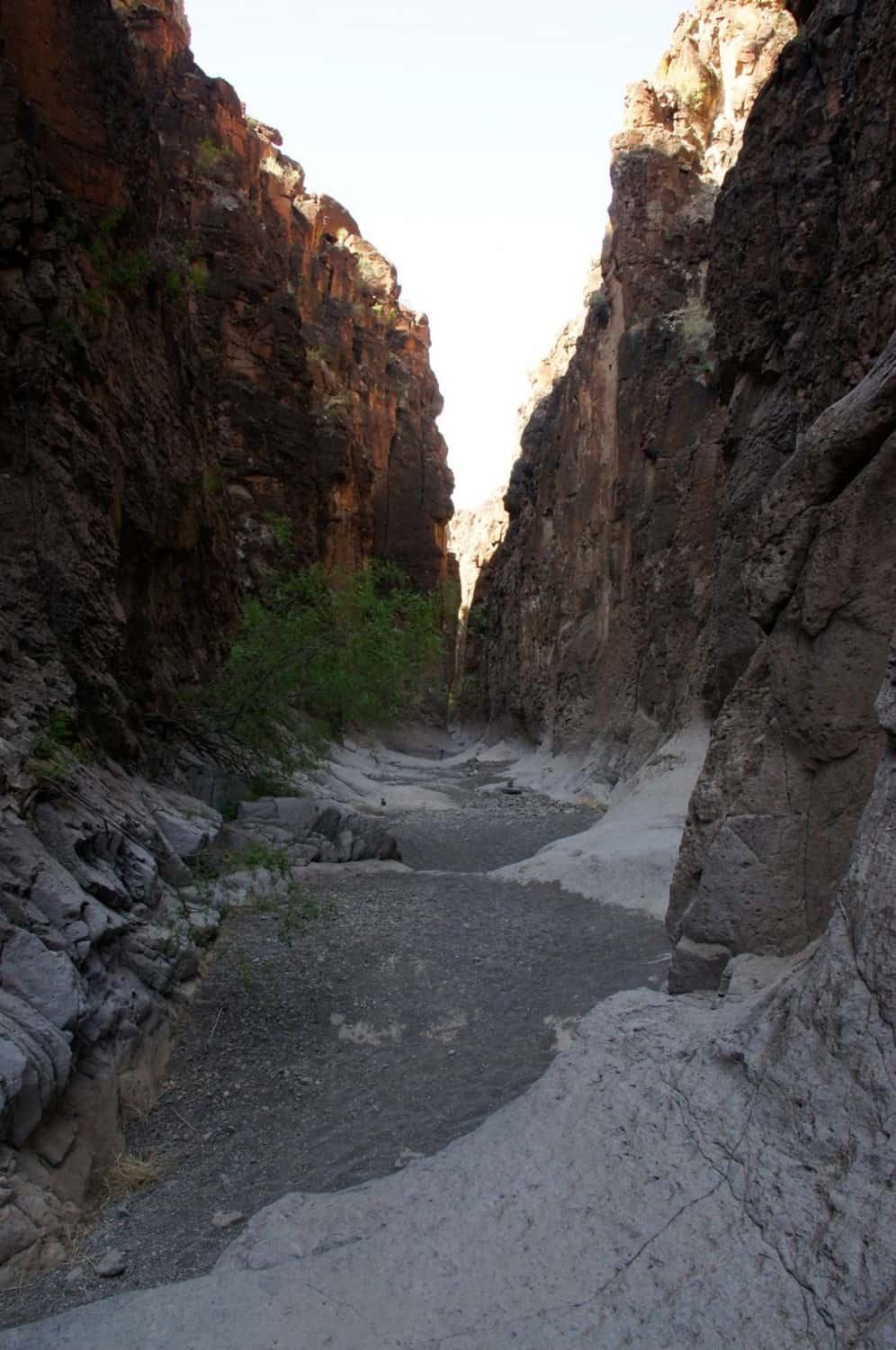 Hoodoos Trail
Named for the unique geological features in this area, Hoodoos is a short trail provides great views of the Rio Grande. However, there is no shade, and the trail is a bit rocky. Dogs with sensitive paws might appreciate dog boots.
READ MORE ⇒  Which Dog Boots Are Best For Your Dog?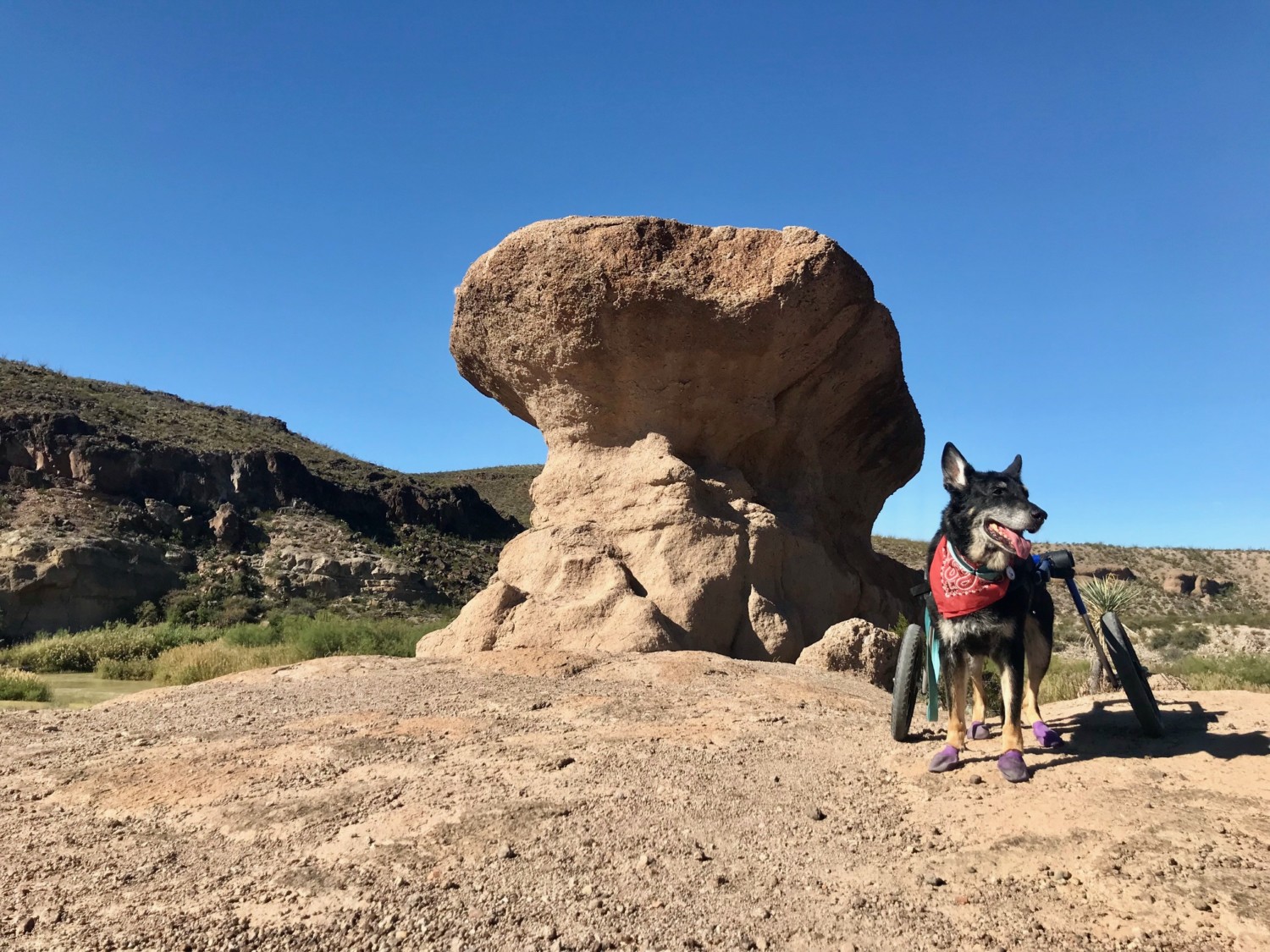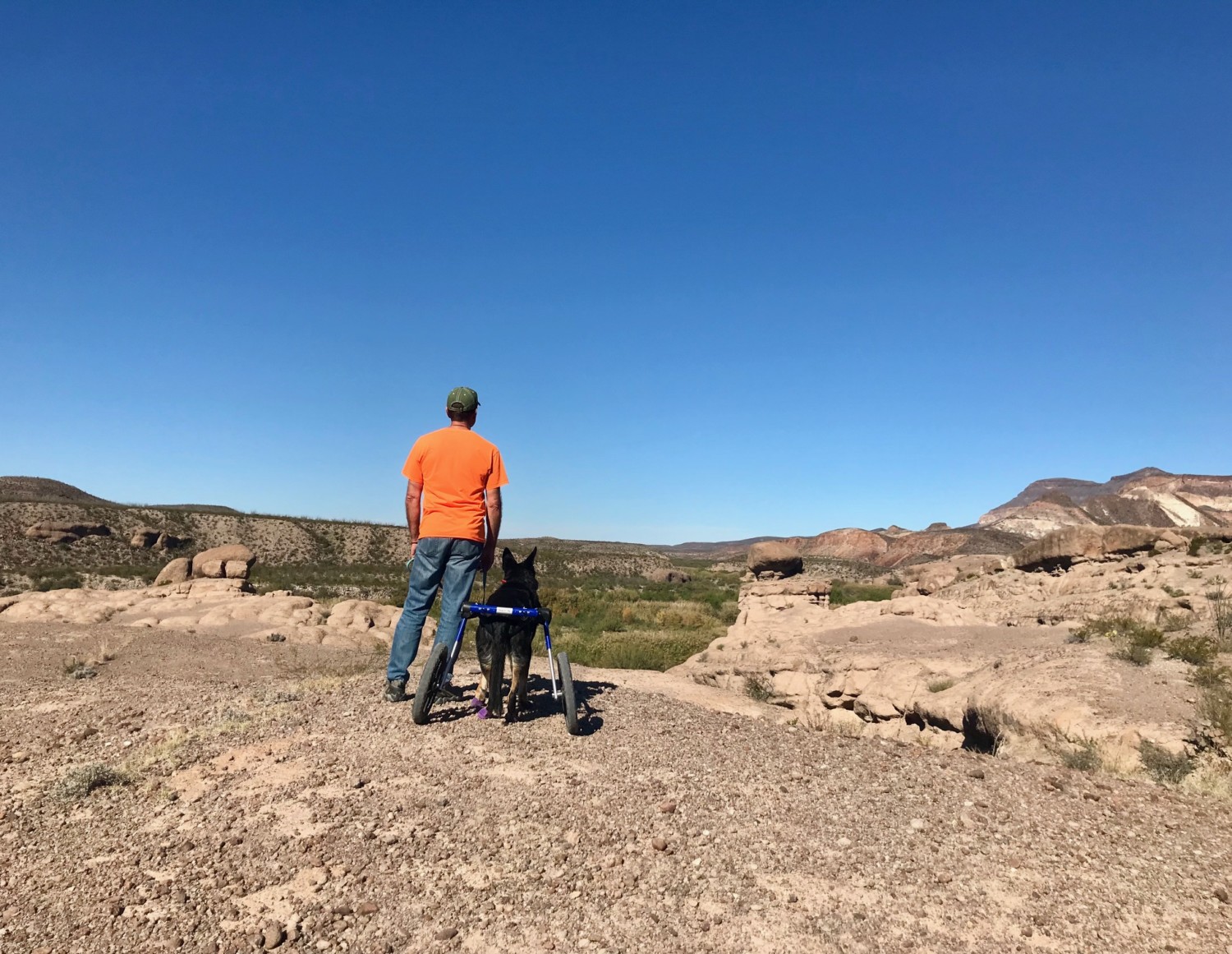 The Scenic River Road
Much of the scenic River Road from Lajitas to Presidio runs through the state park as well. And, as you might have guessed, it follows the course of the Rio Grande. But what you may not know is that it's regularly voted the most scenic drive in Texas! Watch for the turn-out, overlooks, campgrounds, and picnic areas along the way where you and your pet can stretch your legs and admire the scenery.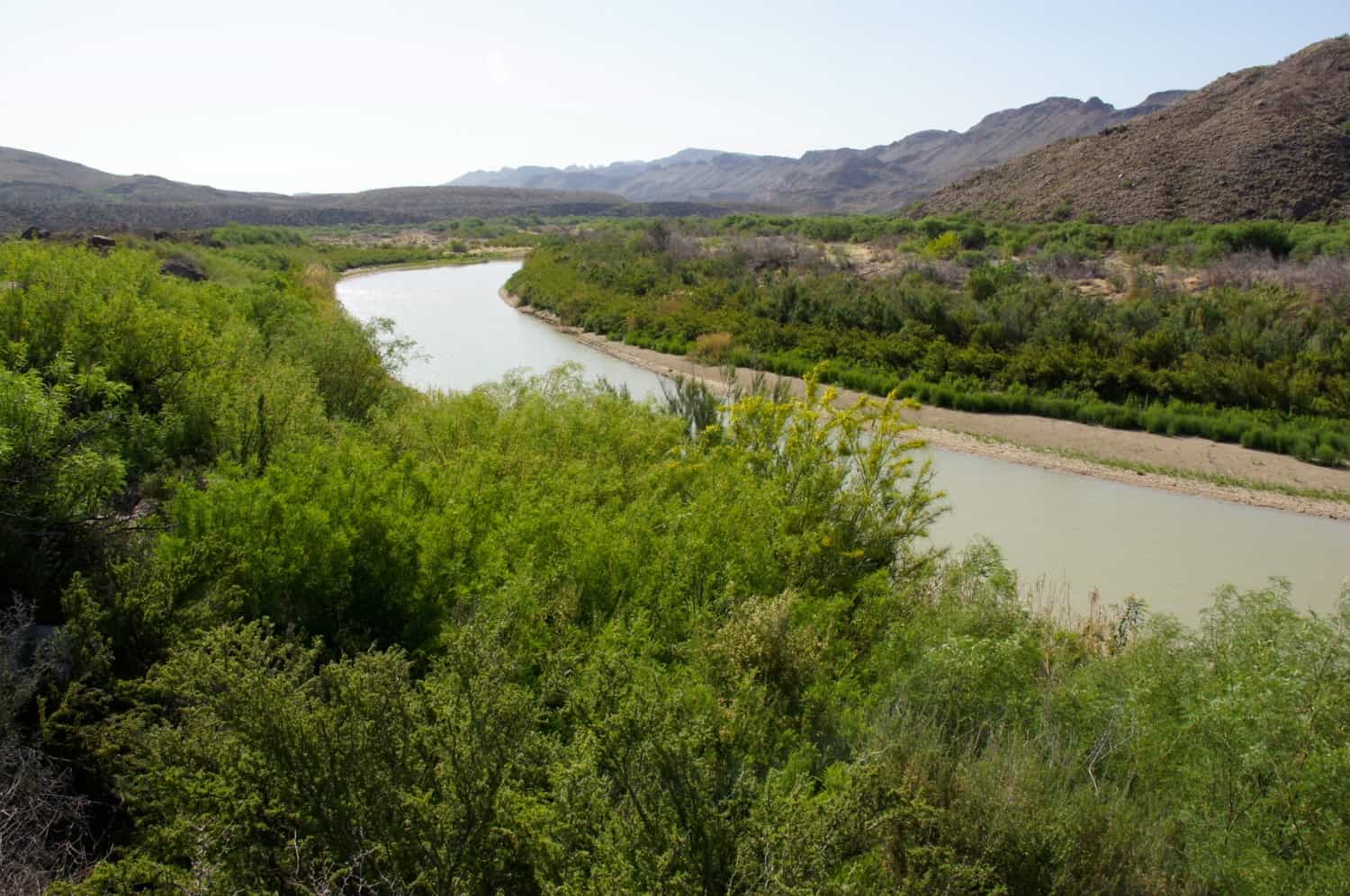 Pet Friendly Hotels In Big Bend
There are several pet friendly hotels in Big Bend to choose from. Pets are allowed in the Roosevelt Stone Cottages 101-103 at the Chisos Mountains Lodge inside the national park, for a $50 fee. However, pets cannot be left unattended in the room or in a closed vehicle, and are not allowed on the trails.
The next closest option is the Big Bend Resort in Study Butte. They have pet friendly rooms at the Mission Lodge with a pet fee of $20 per night.
The Holiday Hotel is right in the Ghost Town (very near the Starlight Theater and other restaurants). They have pet friendly rooms, which require approval and a $25-$35 pet fee. Ten percent of those fees are donated to the local animal adoption center.
The El Dorado Hotel in the Ghost Town is also pet friendly. Their pet fee is $25 per pet per night, or $15 per pet per night for multiple nights.
Down the road a little further, the Lajitas Golf Resort allows two pets of any size for an additional fee of $50 per pet, per stay. The resort also has miles of pet friendly trails if you'd like a place where you can hike together.
Just to be clear, I'm not personally recommending any of these hotels. We've always stayed in the RV, so be sure to read the reviews from actual guests.
In addition to those options, there are tons of AirB&Bs where you can stay with dogs in Big Bend. Many of these are "off the grid" meaning that they use solar (no air conditioning), have water catchment systems, and some have outdoor toilets. Just be sure you know what you're getting when making your reservation!
Where We Stay
Lajitas lies between the national park and the state park, and that's where you'll find Maverick Ranch RV Resort. This is our favorite spot to stay in Bend Bend with dogs. And if you're not into camping, the resort here also offers lovely pet friendly rooms. Most of the resort's visitors come for the golf course, but we love it for the pet friendly hiking trails!
READ MORE ⇒  7 Essentials for Desert Hiking With Dogs

When it's time for the dogs to play, we hit the off-leash dog park or head out on a hike. All the trails – miles and miles of them – on the Lajitas property are pet friendly, and staying at the resort gives you access.
Visiting Big Bend with our dogs is one of our favorite experiences. This place might be a way off the beaten path, but that's what makes it so appealing. We hope you enjoy it as much as we have.
READ MORE ⇒  Pet Friendly San Antonio: Beyond the River Walk
Gear Used in This Post:
(Affiliate Links)
Visit our Amazon store to learn about more products we rely on to make traveling with pets easier, safer, and more fun!
Amazon Affiliate Disclosure: GoPetFriendly.com LLC is a participant in the Amazon Services LLC Associates Program, an affiliate advertising program designed to provide a means for website owners to earn advertising fees by advertising and linking to amazon.com, audible.com, and any other website that may be affiliated with Amazon Service LLC Associates Program. As an Amazon Associate, the owner of this site earns a commission from qualifying purchases.
(Visited 37,797 times, 1 visits today)