When I was growing up in small-town Wisconsin, community wasn't a place on a map. It was a way of being. Everyone knew everyone – but not in the gossipy way you might imagine. As a kid, meeting a true stranger was rare. Everyone for miles knew my parents, grandparents, or at least one of my aunts or uncles. And because of that, we had an instant connection … we mattered to each other. And that's why it's a joy to take a dog to Far West Texas. Here that kind of community still exists.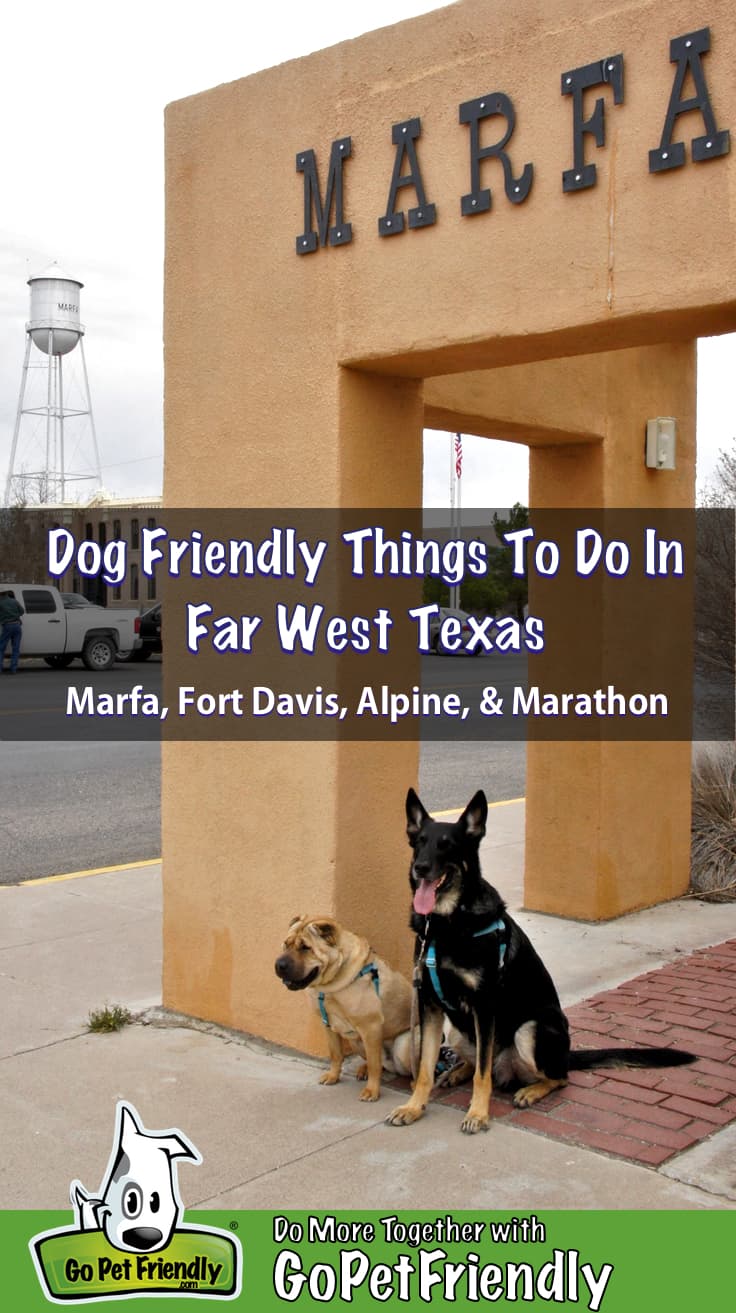 A Sense of Community in Far West Texas
Remember when people weren't in such a hurry? When no one walked around with earbuds, avoiding eye contact with their fellow human beings? I remember my dad waving as we passed other cars on the road. Whether he knew the person or not wasn't a concern. And running into a neighbor in the grocery store often lead to a half-hour discussion. I didn't appreciate it then, but those interactions are what made us a community.
Eventually I grew up, moved away, got busy, and forgot what it felt like to be connected in that way. Imagine my surprise to find it again Far West Texas!
READ MORE ⇒  Tips for Traveling Alone With Pets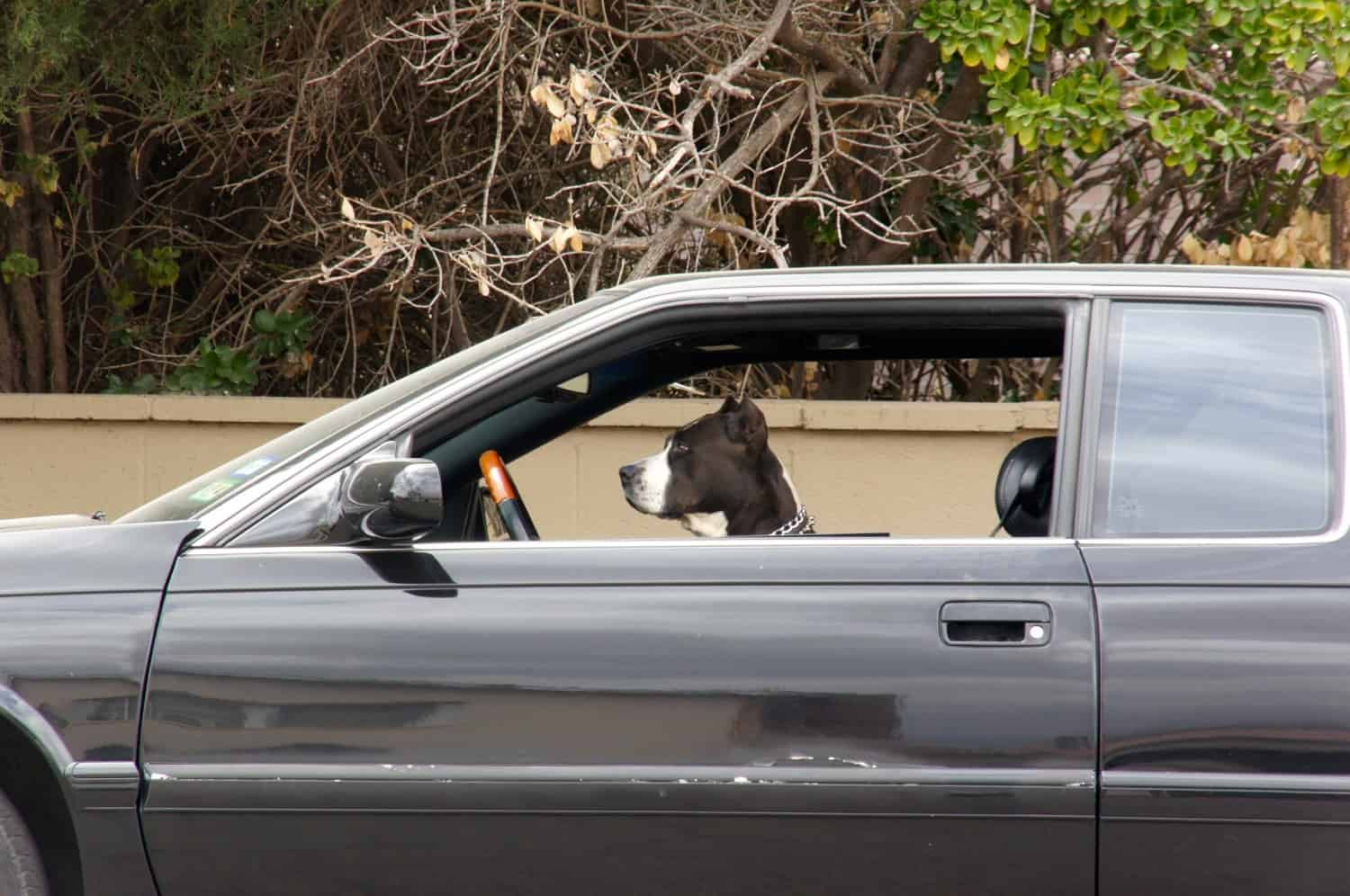 If you bring your dog to Far West Texas with the mentality of most travelers, you will miss it.
You'll take a quick look down Main Street. Dash inside a couple of galleries or shops. And maybe grab some food. It will take a couple of hours – max. And then you'll shuffle along to the next town in your traveler's guide wondering what all the fuss was about.
To get the most out of the dog friendly Far West Texas experience and connect with what makes this place special, you need to match the speed of the locals. Mosey, listen, and let yourself relax. Get in touch with the part of you that remembers that we're all connected  … and are better for it.
Marfa, Texas
We ended up in Marfa by accident. We'd just spent four months in Austin and were itching to get back on the road. The weather to the north was still iffy, so we were looking for another option. Some friends liked Marfa enough to get married there, and that made us curious. With sunny skies and delightful temperatures in the forecast, we decided to have a look.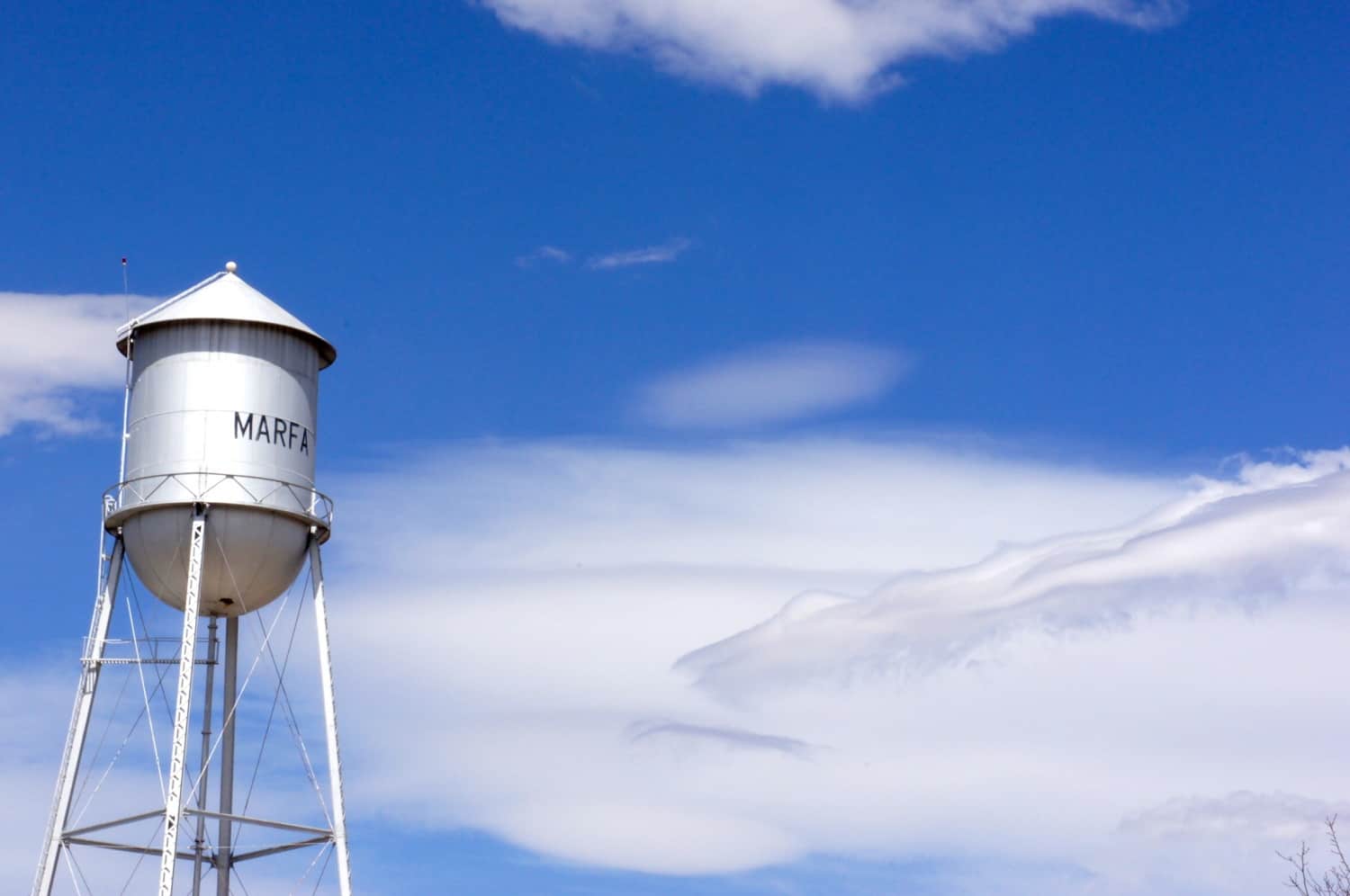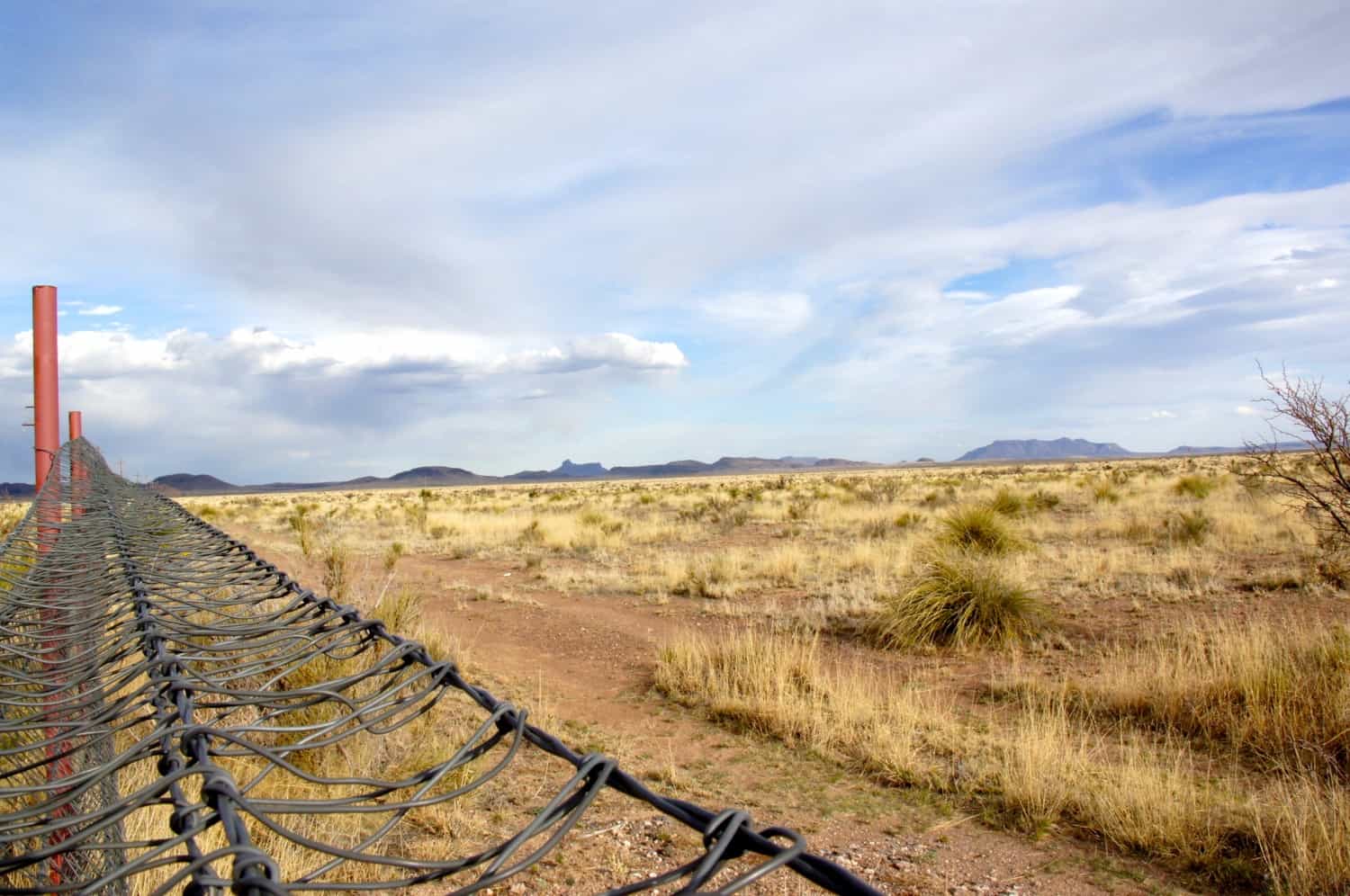 It Takes All Kinds
Marfans are probably the most eclectic combination of 2,000 people you'll ever meet. Bohemian trust-fund babies, hard-working modern cowboys, swanky artists drawn by the light and the land, all set amongst the bright colors and deep traditions of the Hispanic community.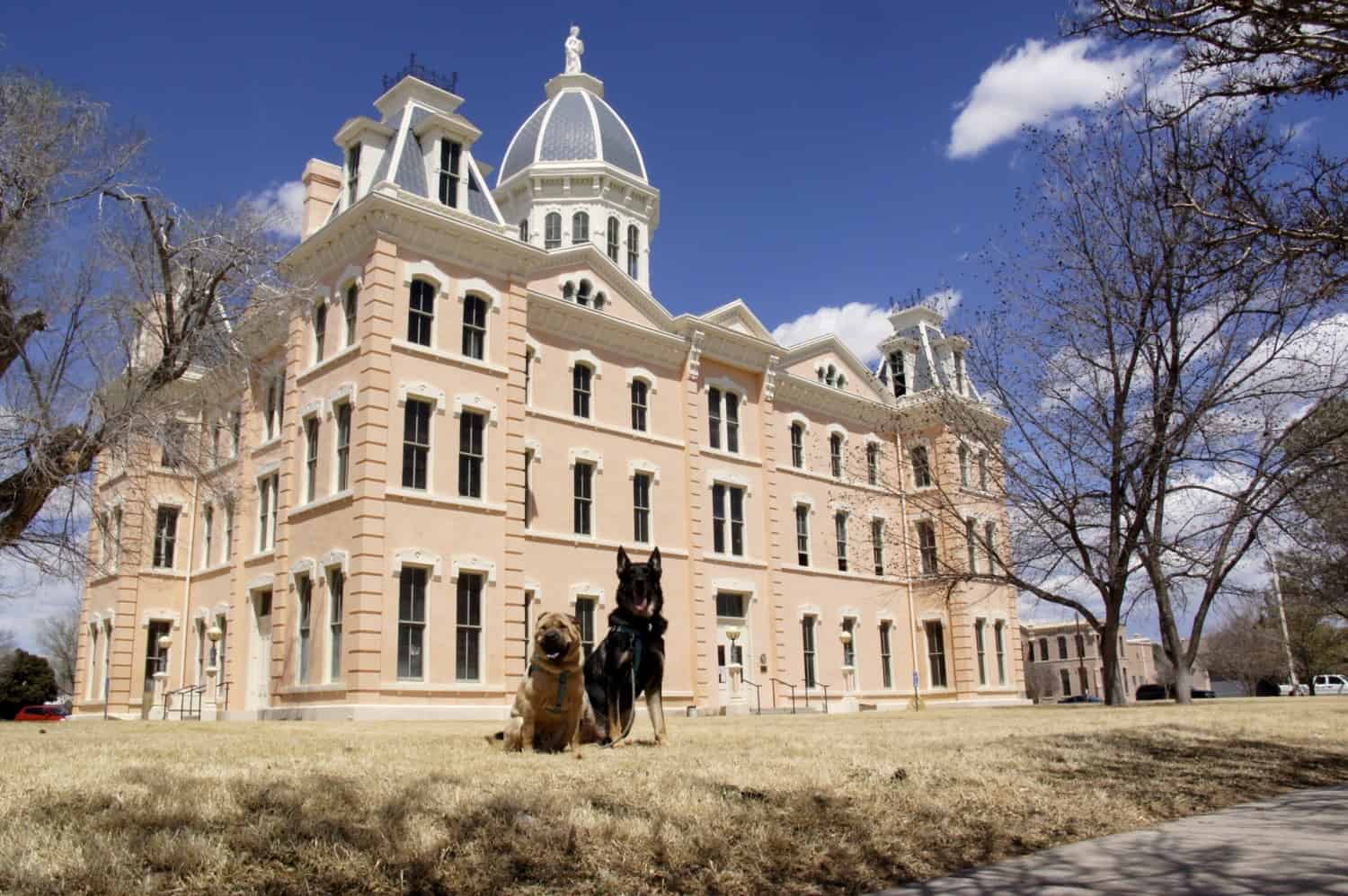 Perhaps their diverse combination of backgrounds and professions is what makes the people of Marfa so uncommonly friendly. Here's an example …
It was Friday night, and Rod and I stepped into the courtyard of the beautifully restored and pet friendly Hotel Paisano. Hoping to have dinner, we asked a waiter if we should wait to be seated or just grab a table. A gentleman sitting alone overheard our question and made a good-natured joke. Rod playfully suggested we might just join him and, to my surprise, the gentleman couldn't have been more delighted!
Generally it's outside my comfort zone to have dinner with a complete stranger. So my first inclination was to politely decline the invitation and find two empty seats. But I stopped myself. Embracing the spirit of Far West Texas, we joined Sean, a truck driver for a local ranch. After a lovely dinner and wonderful conversation, Sean insisted on paying the check. He wanted us to have a fantastic memory of our visit to Marfa. Mission accomplished!
Dog Friendly Things To Do In Marfa
Though it violates my plea for spontaneity when you and your dog visit Far West Texas, there are a few highlights that should not be missed in Marfa. The visitor's center is a good place to start. The volunteers can give you the lay of the land and fill you in on any local events.
From there, stroll the boutiques and galleries downtown. The Velvet Antler was one of my favorites, and not just because they had this adorable little figurine on the window sill. The woman who runs it is a peach. We had a great chat about life and all things dog in Far West Texas.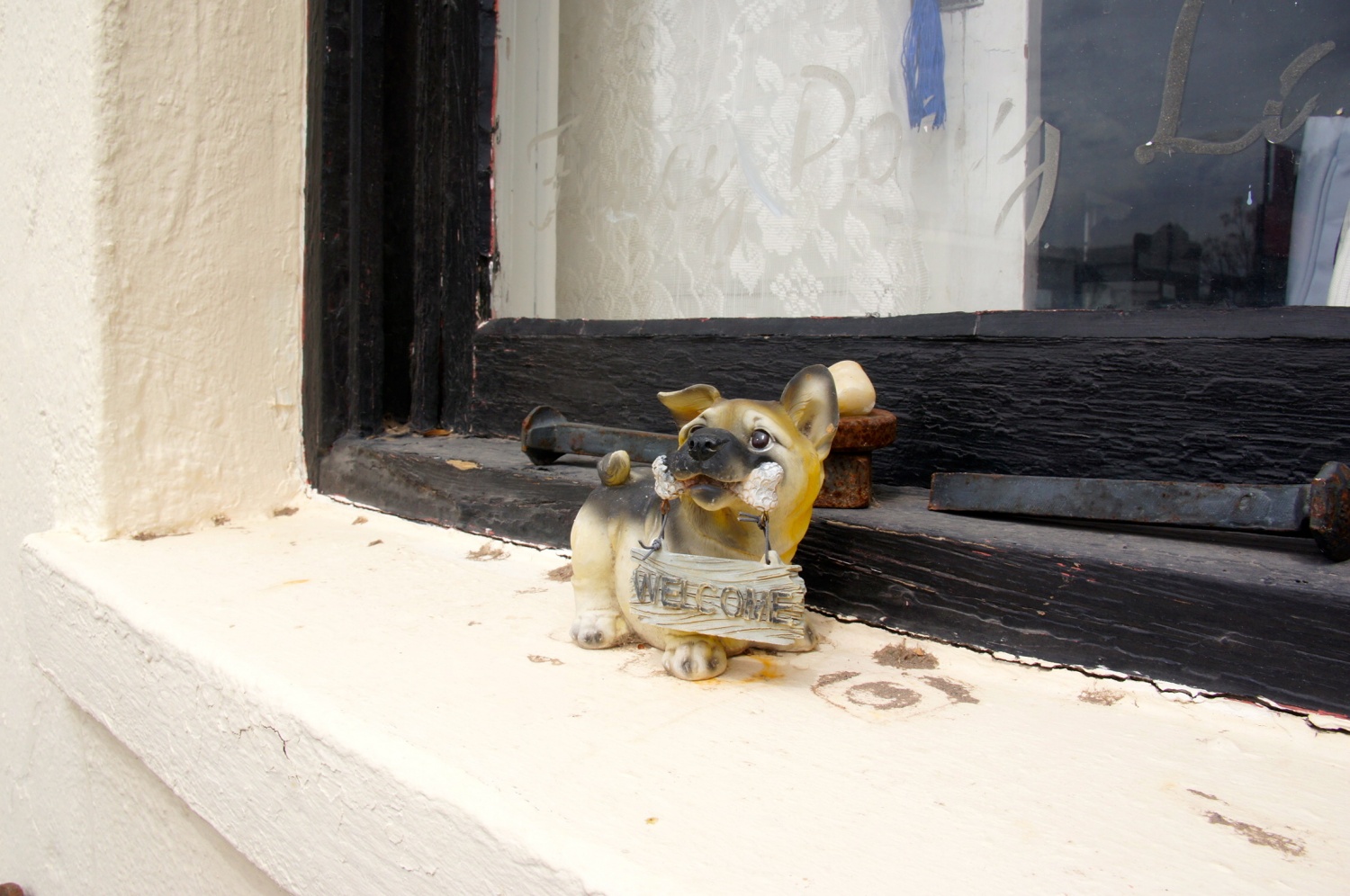 Past the public radio station and the book store where the yoga classes are held, you'll see a large pavilion next to the rail road tracks. That's where the Food Shark sets up shop and serves some of the best Mediterranean food you'll find anywhere. The community tables, shaded from the hot Texas sun, provide another opportunity to connect with your fellow man … or dog.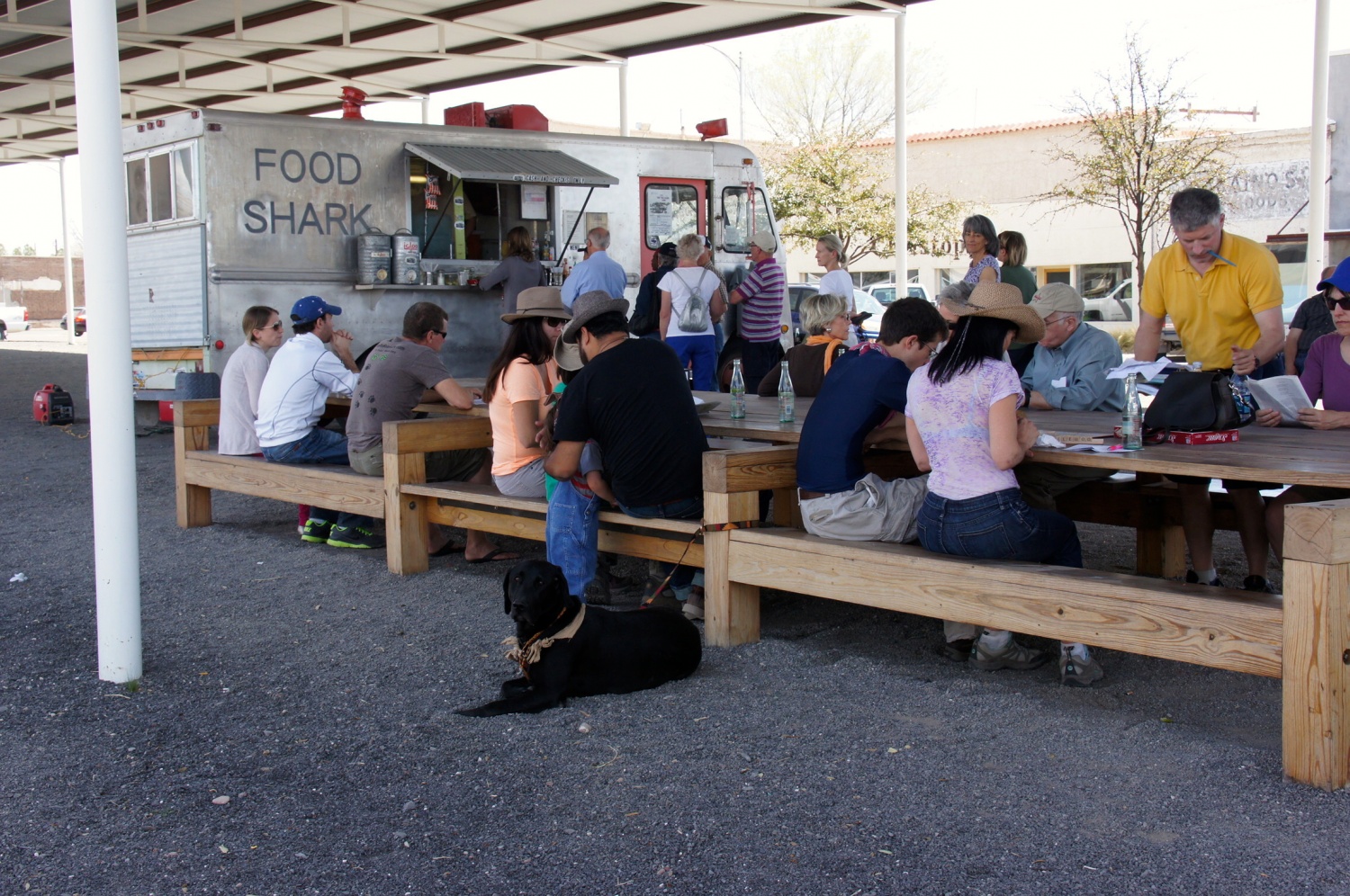 If you're feeling like pizza for dinner and would like to avoid an hour or more wait, stop by the Pizza Foundation in the afternoon and order your pizza in advance. The outdoor seating area is dog friendly and the pizza and salads won't disappoint.
If you're in the mood, check out Planet Marfa, the only beer garden I've ever seen with a teepee seating area. Planet Marfa welcome dogs in the outdoor seating areas, so there's no reason to leave them behind!
The Marfa Lights
When the sun starts to drop, make your way eight miles out of town to the Marfa Lights Viewing Area. Marfa's "Mystery Ghost Lights" were first documented by rancher Robert Reed Ellison in 1883. There are many theories about what causes the lights, but no one has ever been able to fully explain them. Pull into the roadside park and prepare yourself for a breathtaking sunset, spectacular stargazing, and … perhaps … the lights. Restrooms, picnic tables, and binoculars are provided.
READ MORE ⇒  Pet Friendly Ghost Towns Across North America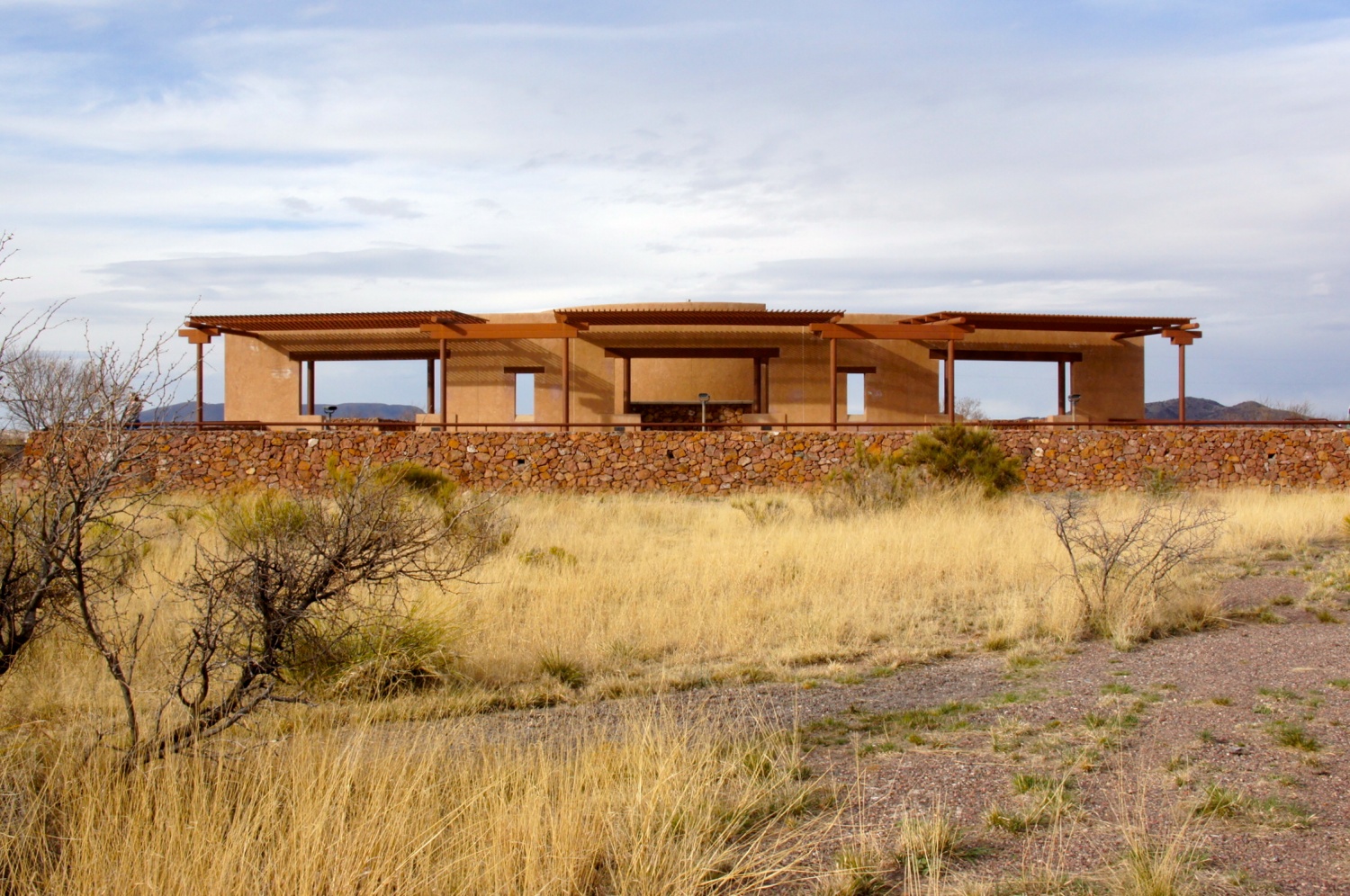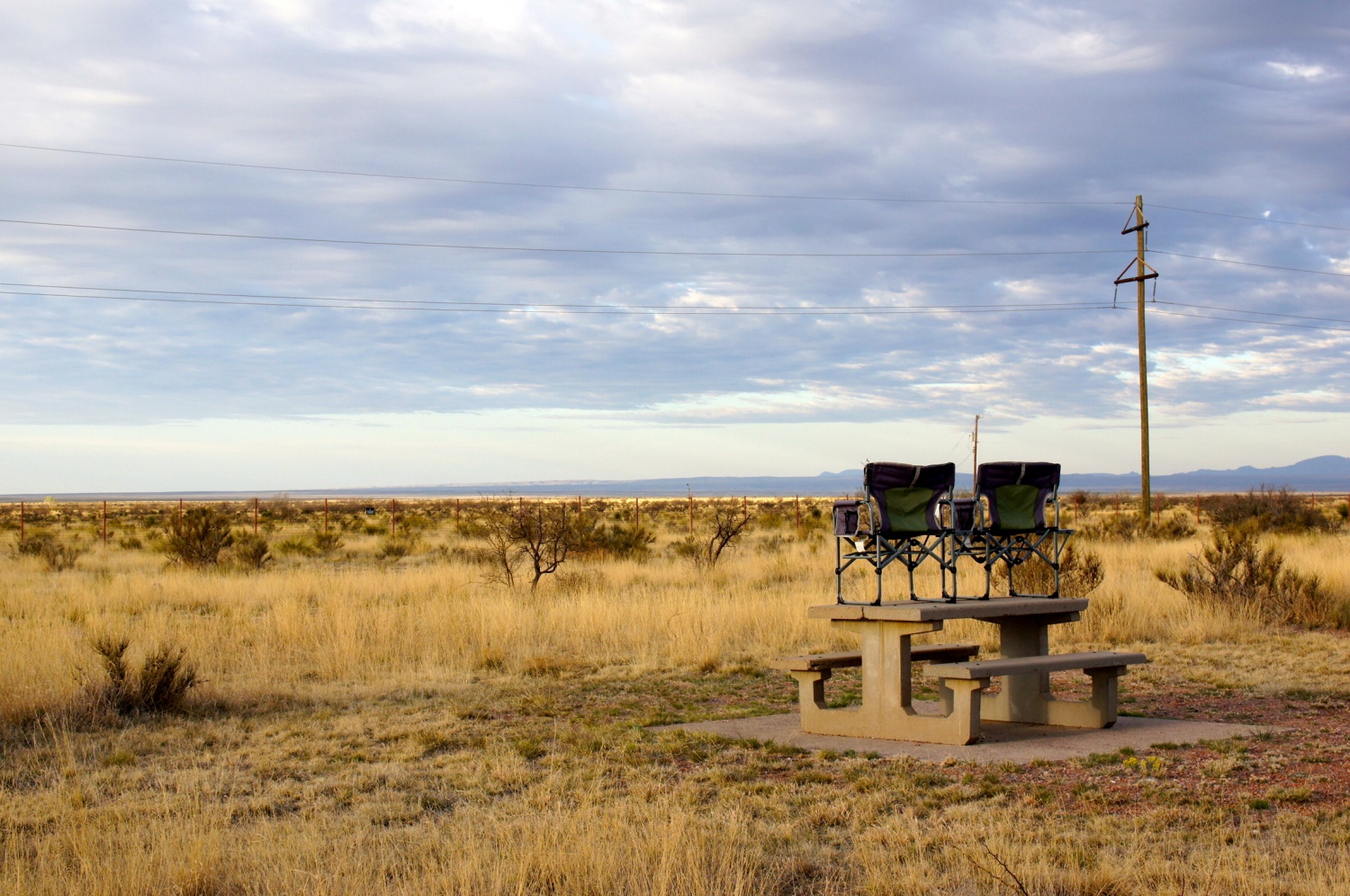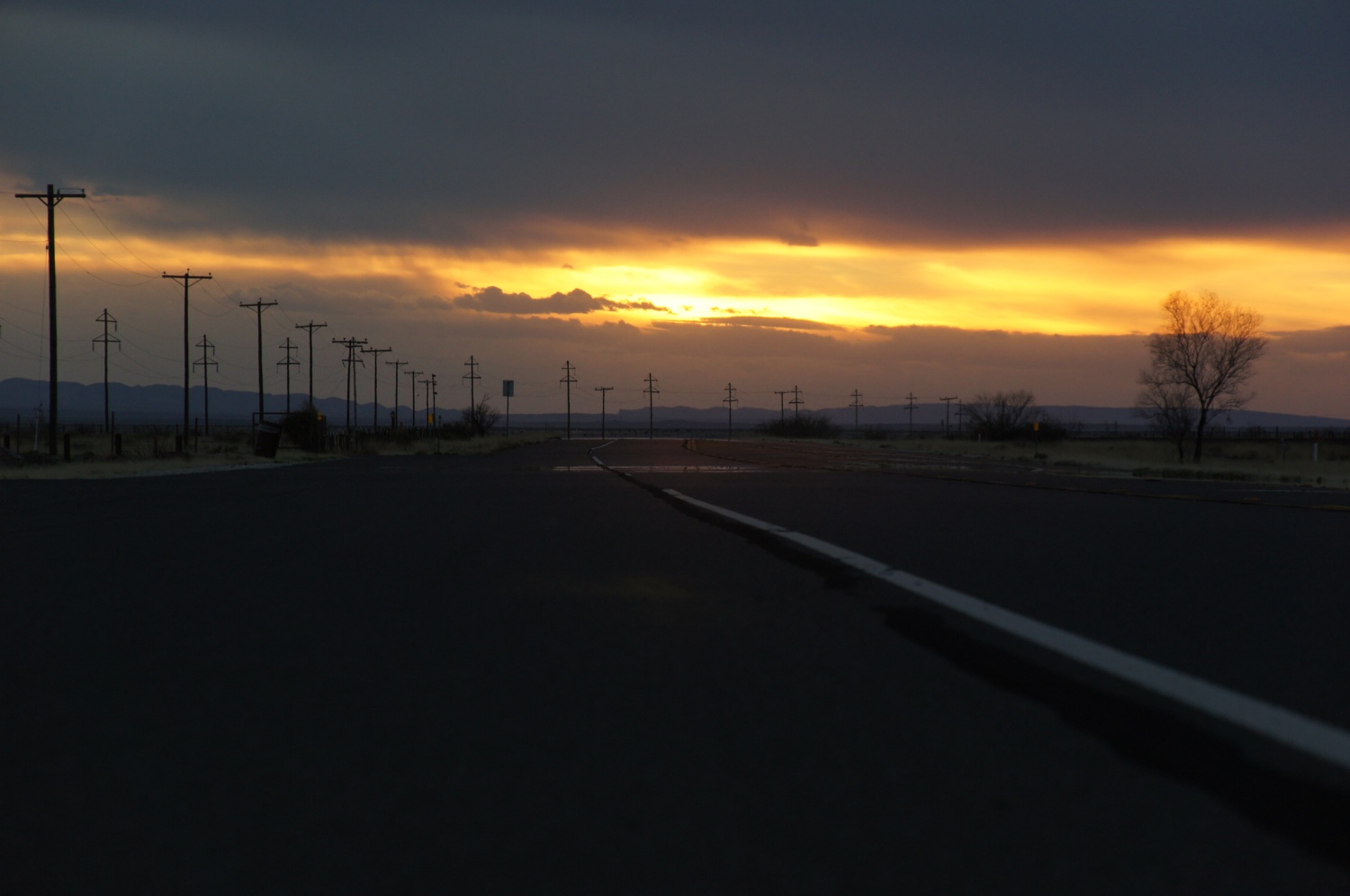 Fort Davis, Texas
You could easily spend three of four days overindulging at Marfa's eateries, chatting with the locals, and enjoying the nightlife. The next stop on your dog friendly Far West Texas road trip is Fort Davis. Twenty-one miles north on Highway 17, or turn on Route 166 just south of Fort Davis and catch Highway 118 into town. This 75-mile scenic loop is definitely worth the drive. Not only do you get fabulous mountain vistas, but there are also spectacular views of McDonald Observatory.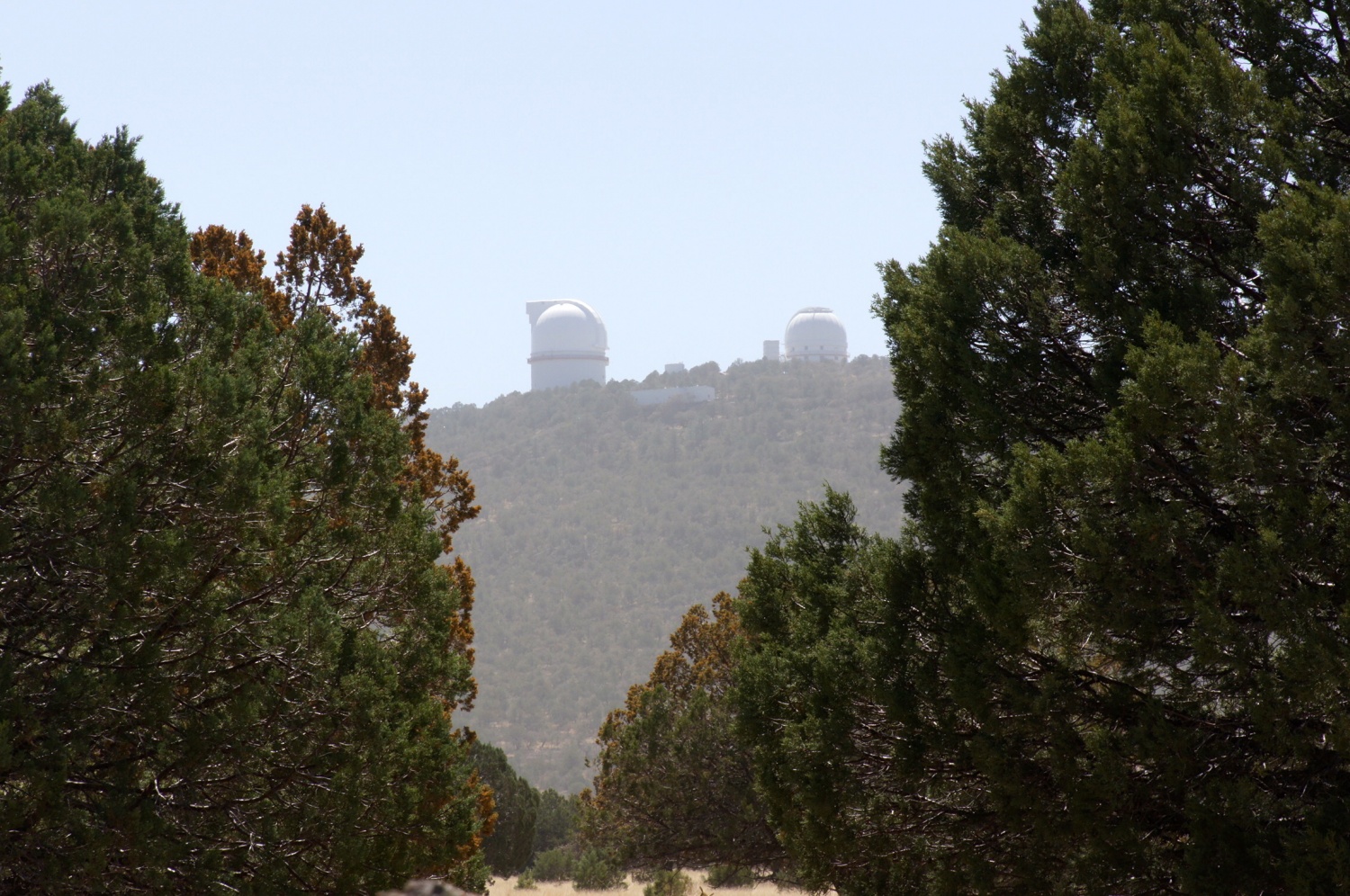 Perched at 5,050 feet in the Davis Mountains, Fort Davis takes its name from the military post established here in 1854. Stretching just one mile from one end to the other, this quaint little town offers plenty to keep you busy for a few days.
Strolling down Main Street, past buildings dating back to the late 1800s and early 1900s, you can imagine what life might have been like a hundred years ago. There's an appealing practicality and authenticity about the place. Clearly tourism contributes significantly to the economy – and travelers will find everything they need, from accommodations and restaurants, to a natural foods market. But the souvenirs are a little different than you see in most places …
The Best Souvenirs
Making our way past the hat maker's shop one morning, we wandered into the building where Ron Cox crafts 1800's style brooms and walking sticks. With one arm in a sling from recent surgery, Ron showed me around and encouraged me to test the merchandise by sweeping the the floor. Did I mention he's very clever?
We chatted about the differences between round brooms and a flat ones. Even after all these years, he and his wife still differ on which style is better. When I couldn't decide which broom I liked best, Ron used his good hand to make the oval broom that now sweeps the floors of our Winnebago, and cleaning has been more fun ever since!
Walking Tour
Tourism has always been the focus in Fort Davis, and many historic buildings are still in use. Stop in at the Fort Davis Drugstore for a walking tour map of downtown and learn a bit of history as you admire twenty-two of the town's architectural gems.
The Fort Davis Drugstore is right in the heart of downtown and is now a hotel, gift shop, restaurant, and old fashioned soda fountain.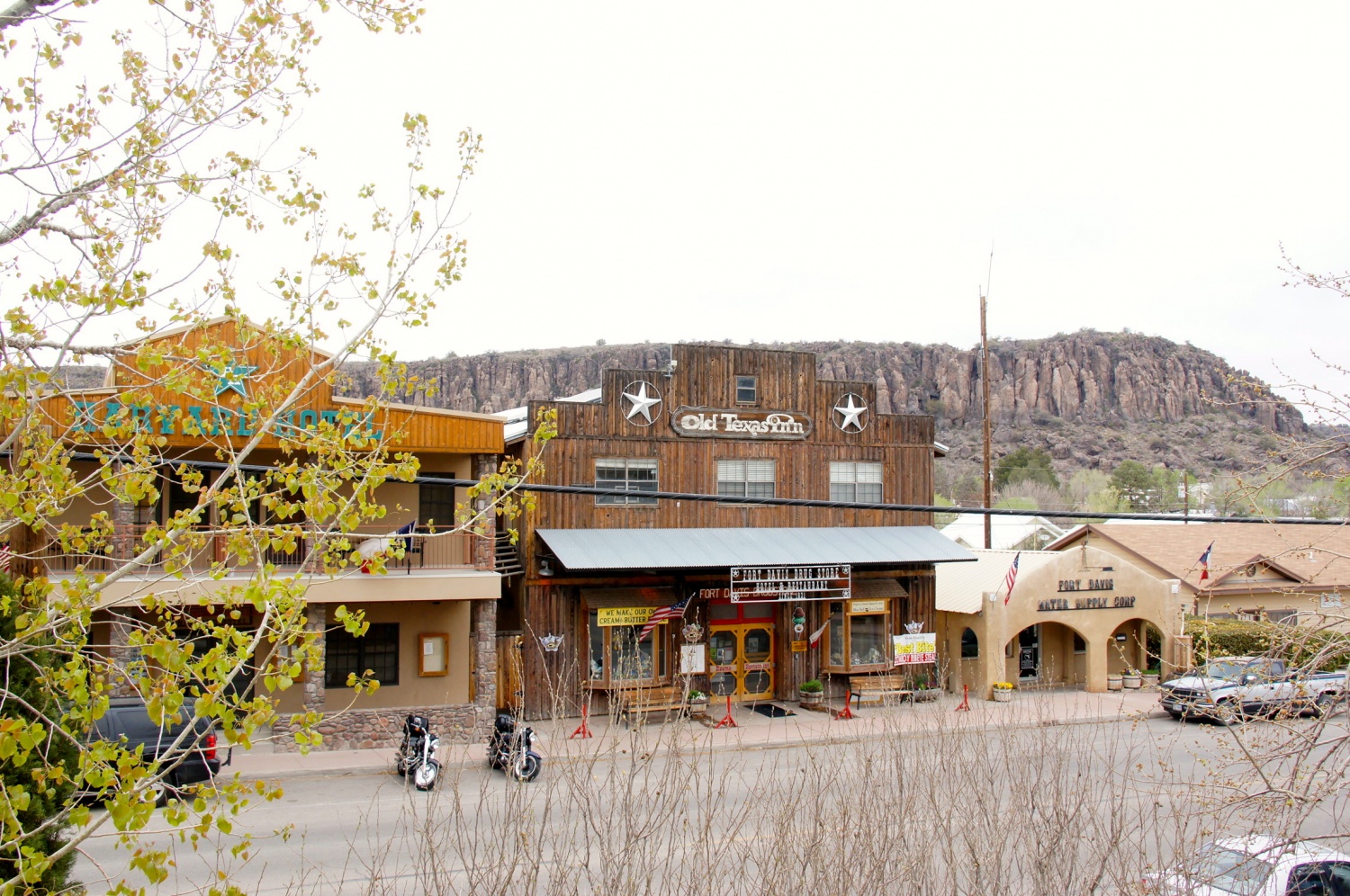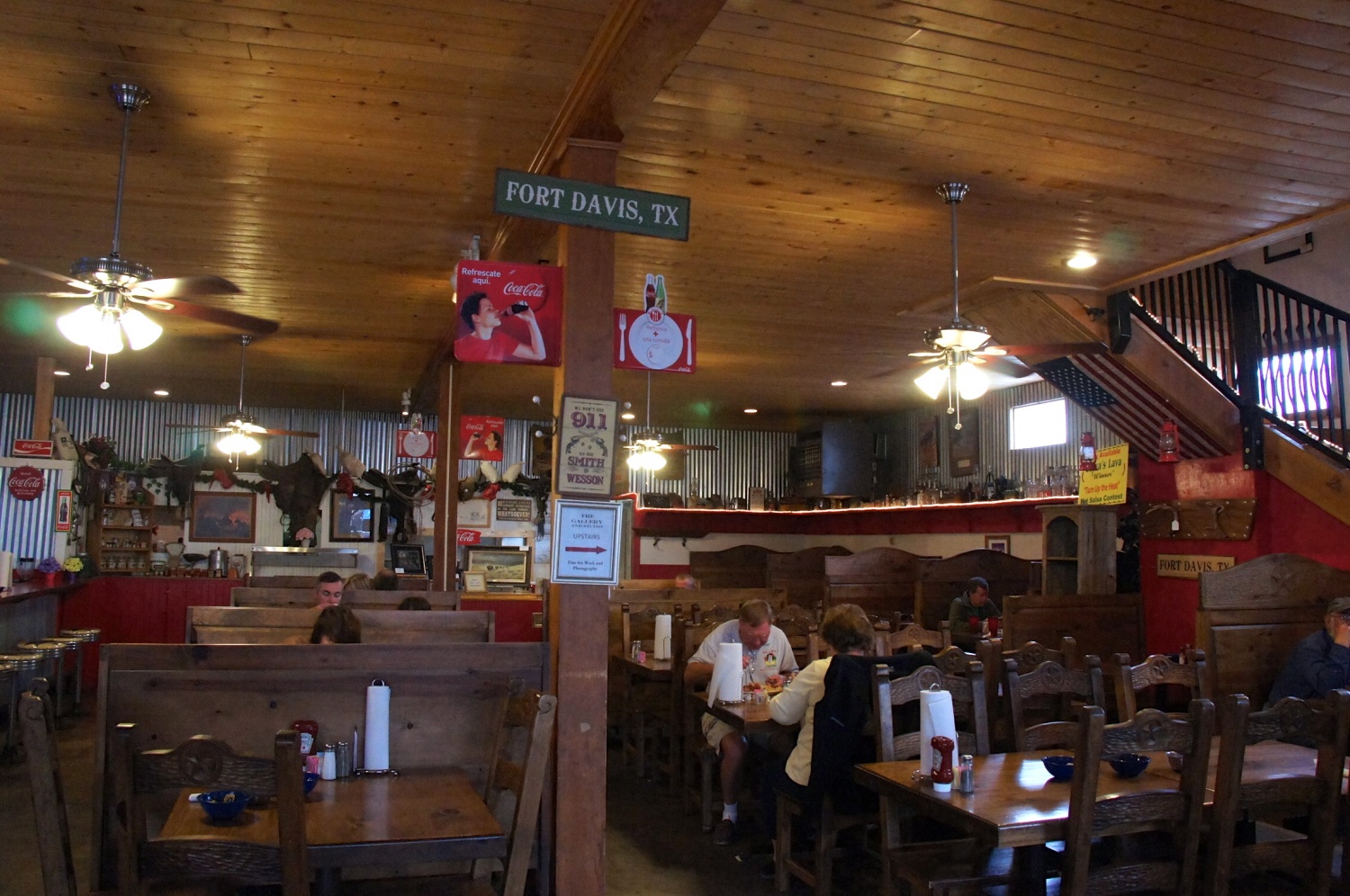 For pet friendly dining, cross the street to Blue Mountain Bistro's gorgeous courtyard. Connected to the historic and pet friendly Hotel Limpia, which was built by the Union Trading Company in 1912, the bistro serves lunch and dinner.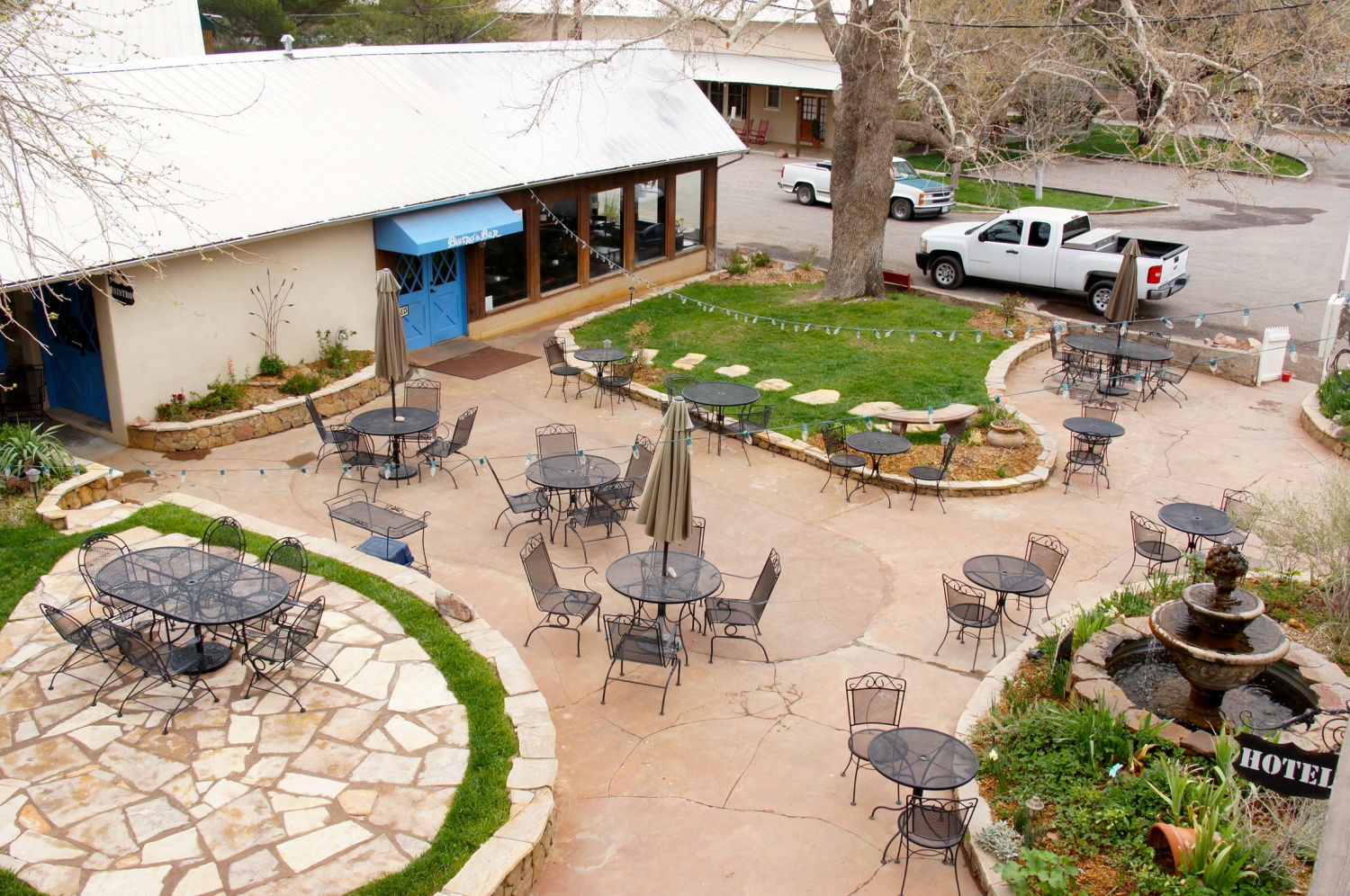 The Fort at Fort Davis
A trip to Fort Davis wouldn't be complete without stopping to see the fort! Leashed pets are welcome to join you for a walk around the grounds and trails as long as you clean up after them.
At it's peak, Fort Davis had more than 100 structures and quarters for over 400 soldiers. Today it is one of the best remaining examples of a frontier military post. Some of the buildings have been restored and furnished with period appointments, and there are plaques describing what life was like for the men that served here.
READ MORE ⇒  Why My Dog Wears Boots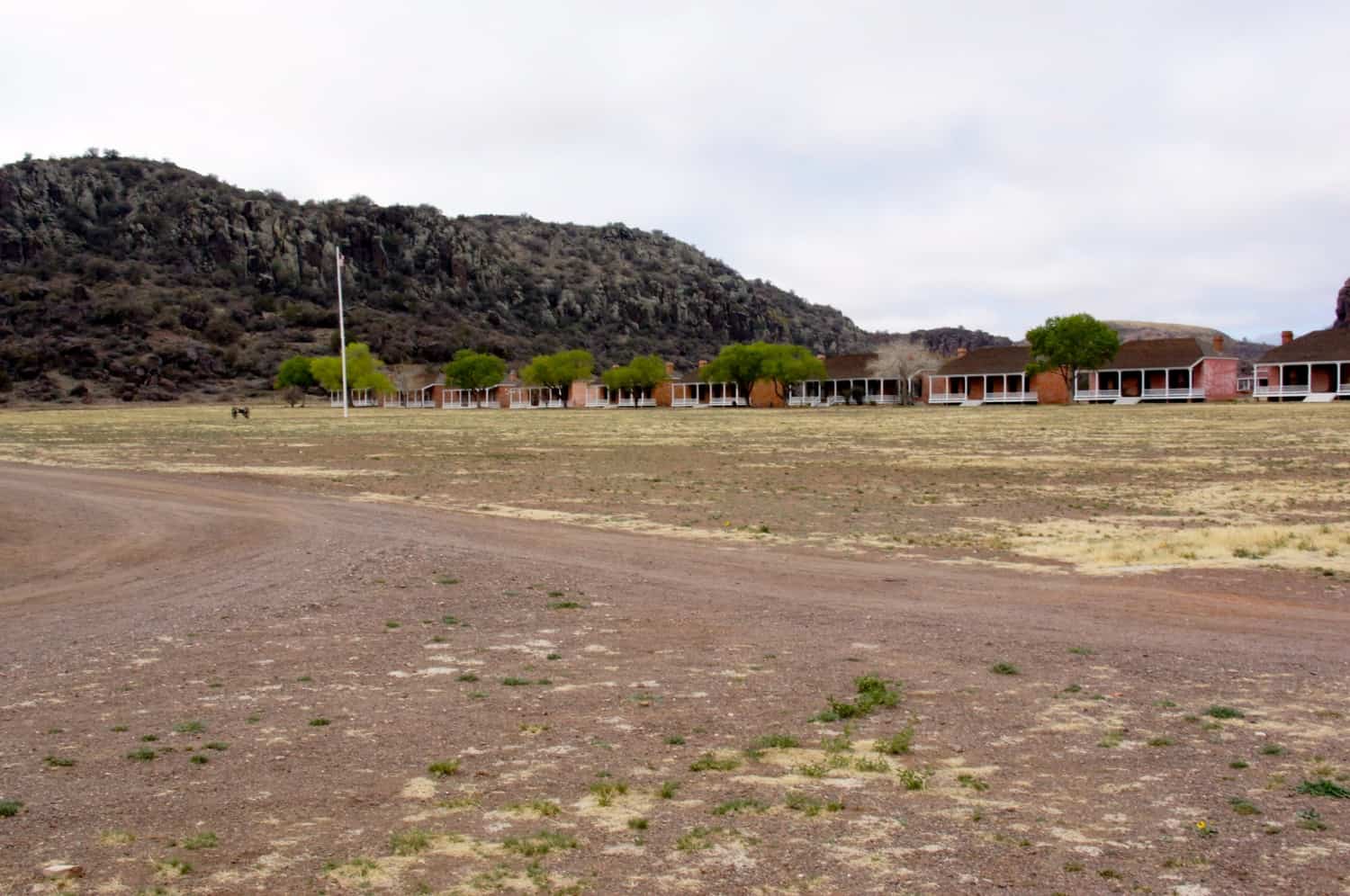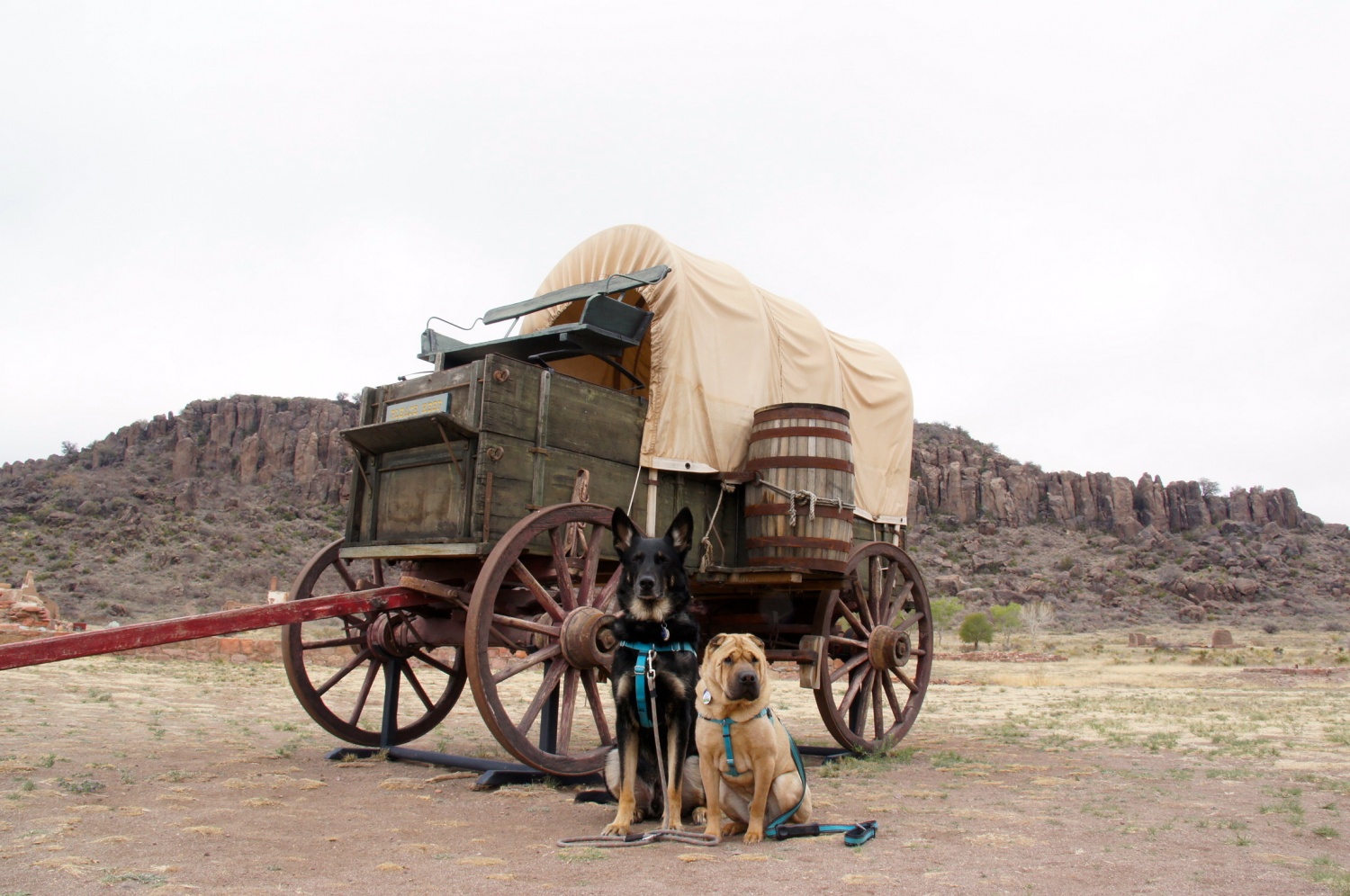 Davis Mountain State Park
Four miles outside Fort Davis you'll find the 2,700-acre Davis Mountains State Park and Indian Lodge. Though the rooms at the lodge do not allow pets, all nine miles of park trails, the campground, and the RV park are pet friendly.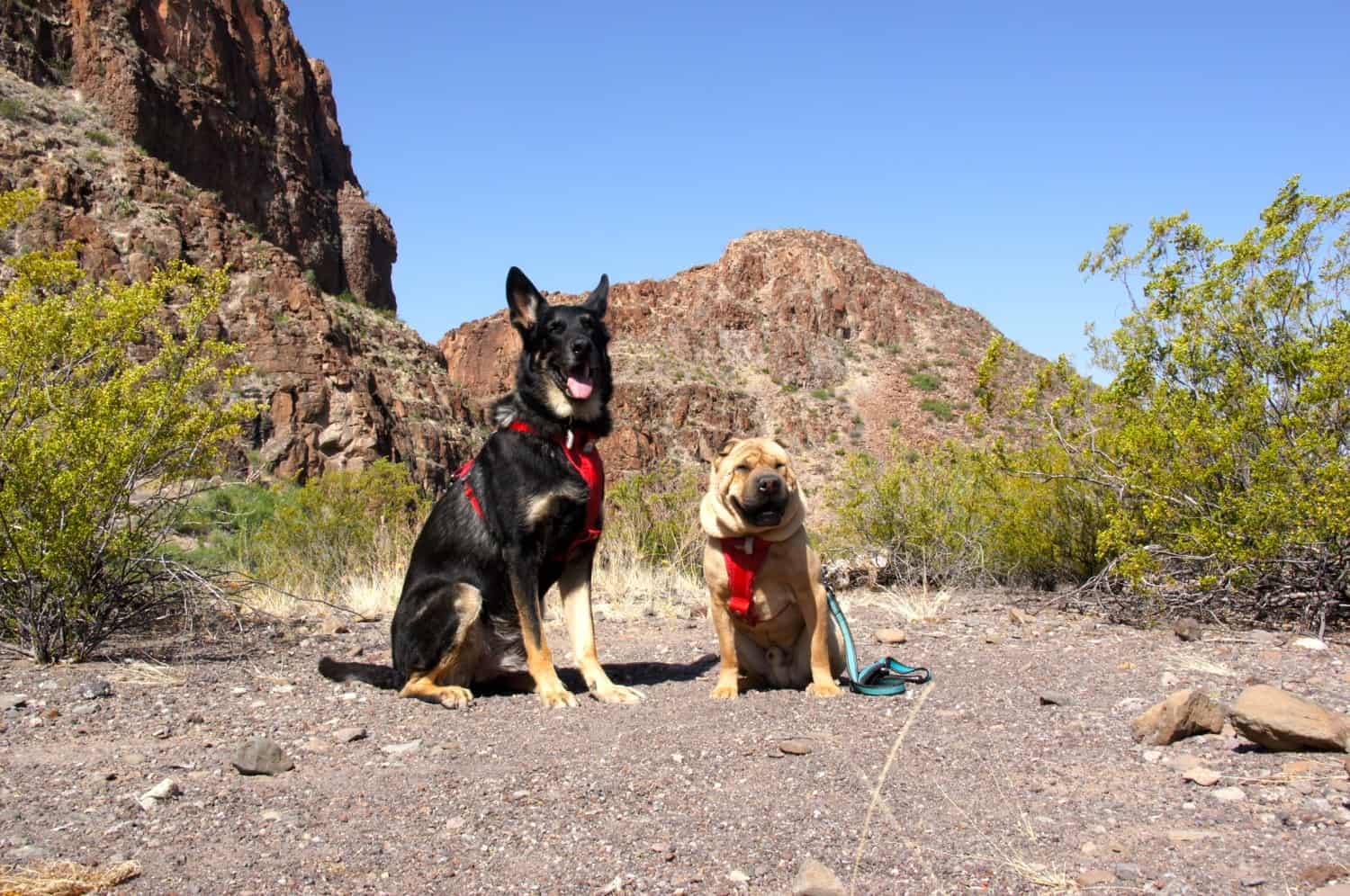 McDonald Observatory
One of the major astronomical research facilities in the world, McDonald Observatory is just sixteen miles from Fort Davis. Benefiting from some of the darkest skies in the nation, this is the perfect place to observe the heavens!
The visitors center is open daily, and solar viewing and guided tours are scheduled for 11am and 2pm. Even at an elevation of nearly 6,800 feet, daytime temperatures can be quite warm and the tours last more than two hours. Those hoping to take the tour and traveling with pets might want to consider a pet sitter for the day.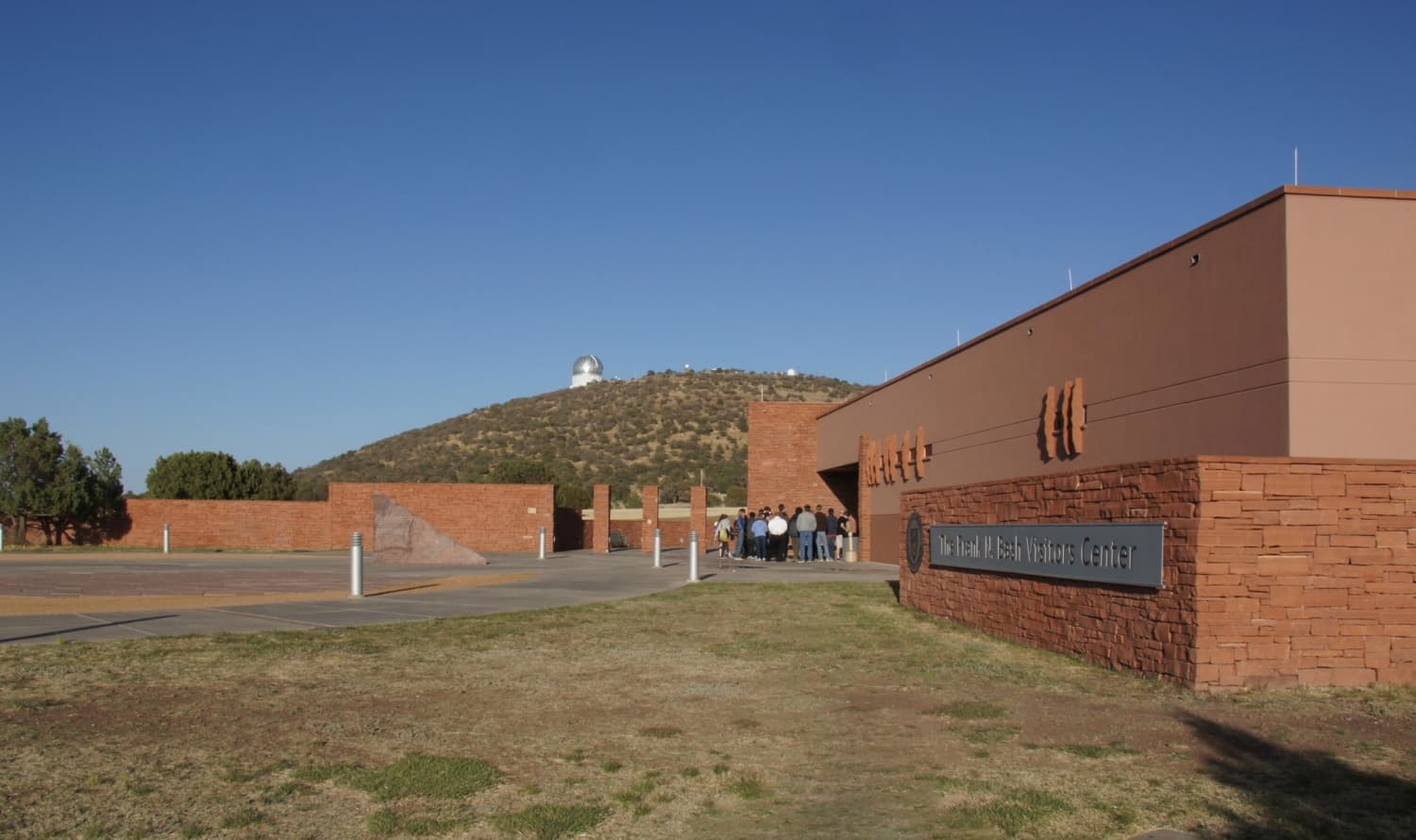 Every Tuesday, Friday, and Saturday evening the observatory offer a Star Party. With laser pointers, the staff point out the most recognizable constellations. You can also view different celestial objects through the telescopes in the outdoor amphitheater. The Star Parties cost $15 per person and the time varies depending on the season. No matter when you go, dress warmly. It gets cold up there on the mountain!
Alpine, Texas
The towns of Marfa, Fort Davis, and Alpine form a near-perfect triangle. Fort Davis is the top point, and Alpine, twenty-six miles to the southeast, is the bottom right point. Given its location between the Davis, Glass and Del Norte Mountains, Alpine was aptly named. And its climate matches the spectacular scenery.
With a population of 6,001, Alpine is the largest town in this part of Texas. Add the 2,000 students that attend Sul Ross State University, and Alpine dwarfs the surrounding communities.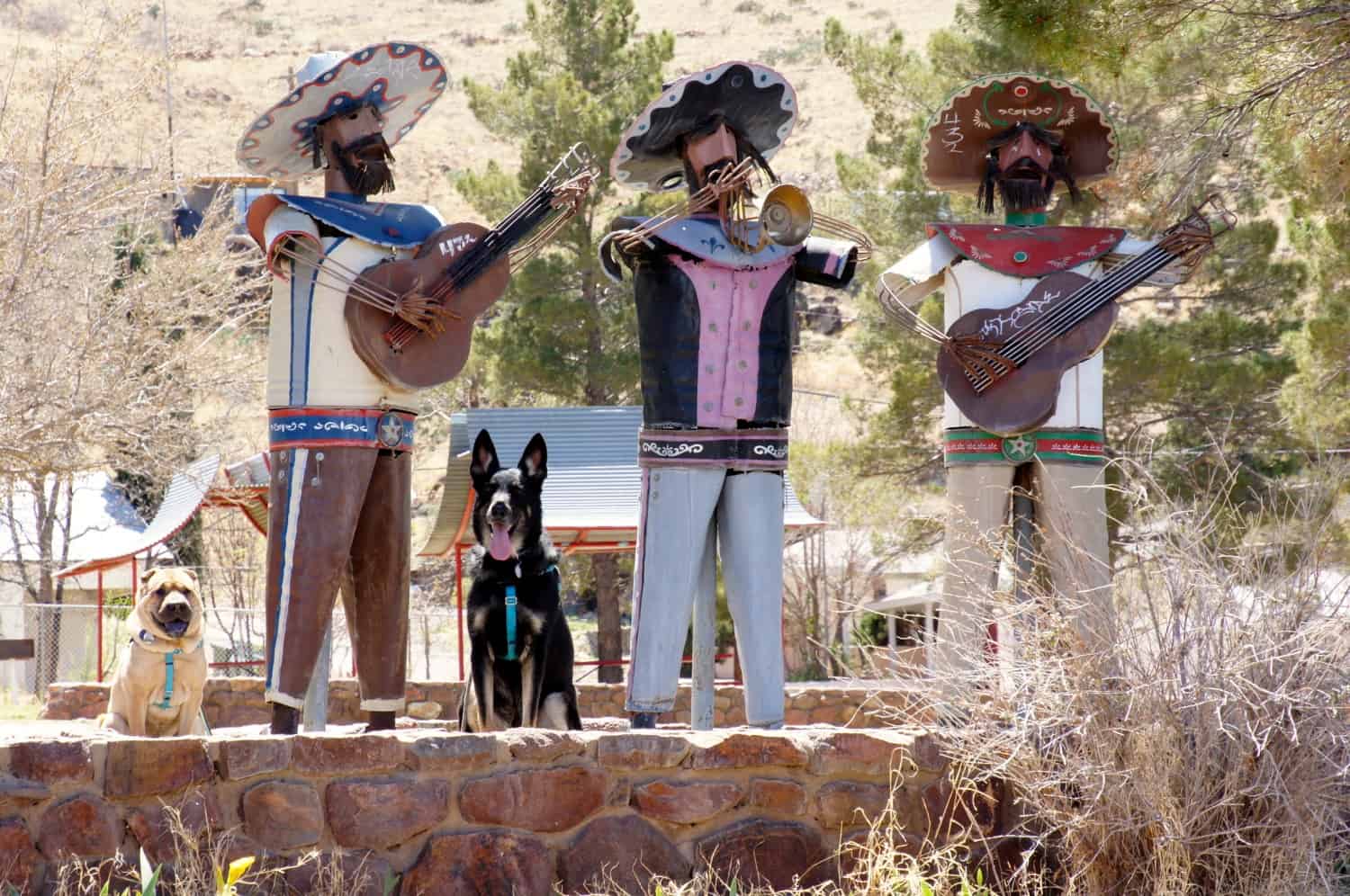 Dog Friendly Eats and Drinks
It's hardly a secret that one of our favorite things to do is eat … and Alpine offered some great options. Food trucks have become a bit of an obsession for us. After the fantastic experience we had at Food Shark in Marfa, we couldn't wait to try Cow Dog! Located on the main drag outside the (pet friendly) coffee shop, Plaine, the creative motif and caninesque name immediately caught our attention.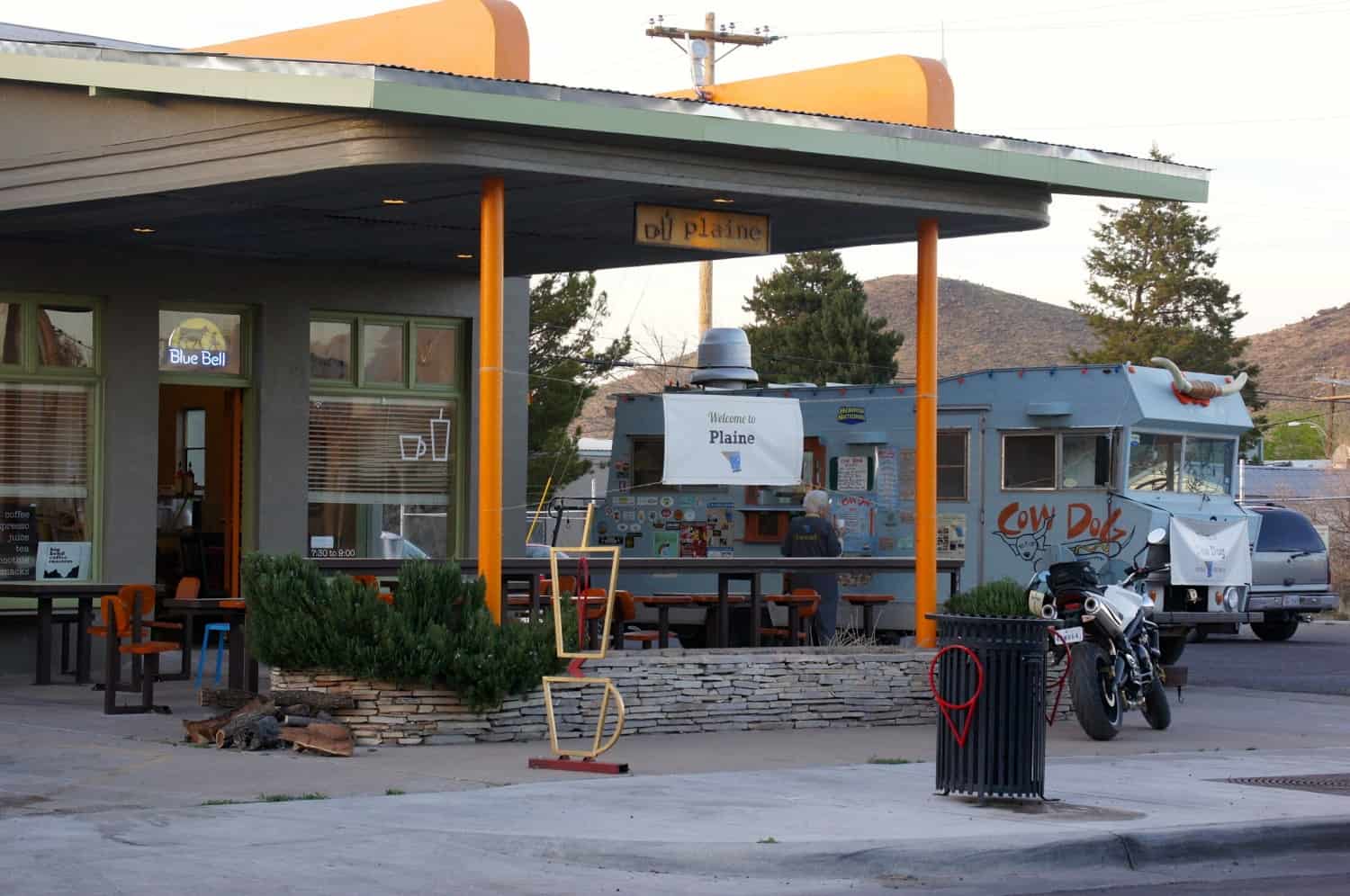 With covered, dog friendly seating, excellent service, and quality food, we give them two dewclaws up! Cow Dog sells soft drinks, but make the most of your experience by placing your food order then ducking inside Plaine for a smoothie. You won't be disappointed!
Museum of the Big Bend
You won't catch me touting a lot of places that don't welcome pets on this blog, but an exception has to be made for the Museum of the Big Bend. Housed on the Sul Ross campus, this free museum offers a collection of exhibits describing the geography, prehistoric inhabitants, and human history of the Big Bend region. Pet are welcome to stroll the campus with you, so take turns perusing the museum while the other waits in the shade with the dog.
Holland Hotel
Continuing the theme of beautifully restored, pet friendly historic hotels in Far West Texas, pet friendly Holland Hotel in Alpine is big on atmosphere. Though we opted for the nearby RV park, we thoroughly enjoyed dinner and live music in the hotel's cozy courtyard.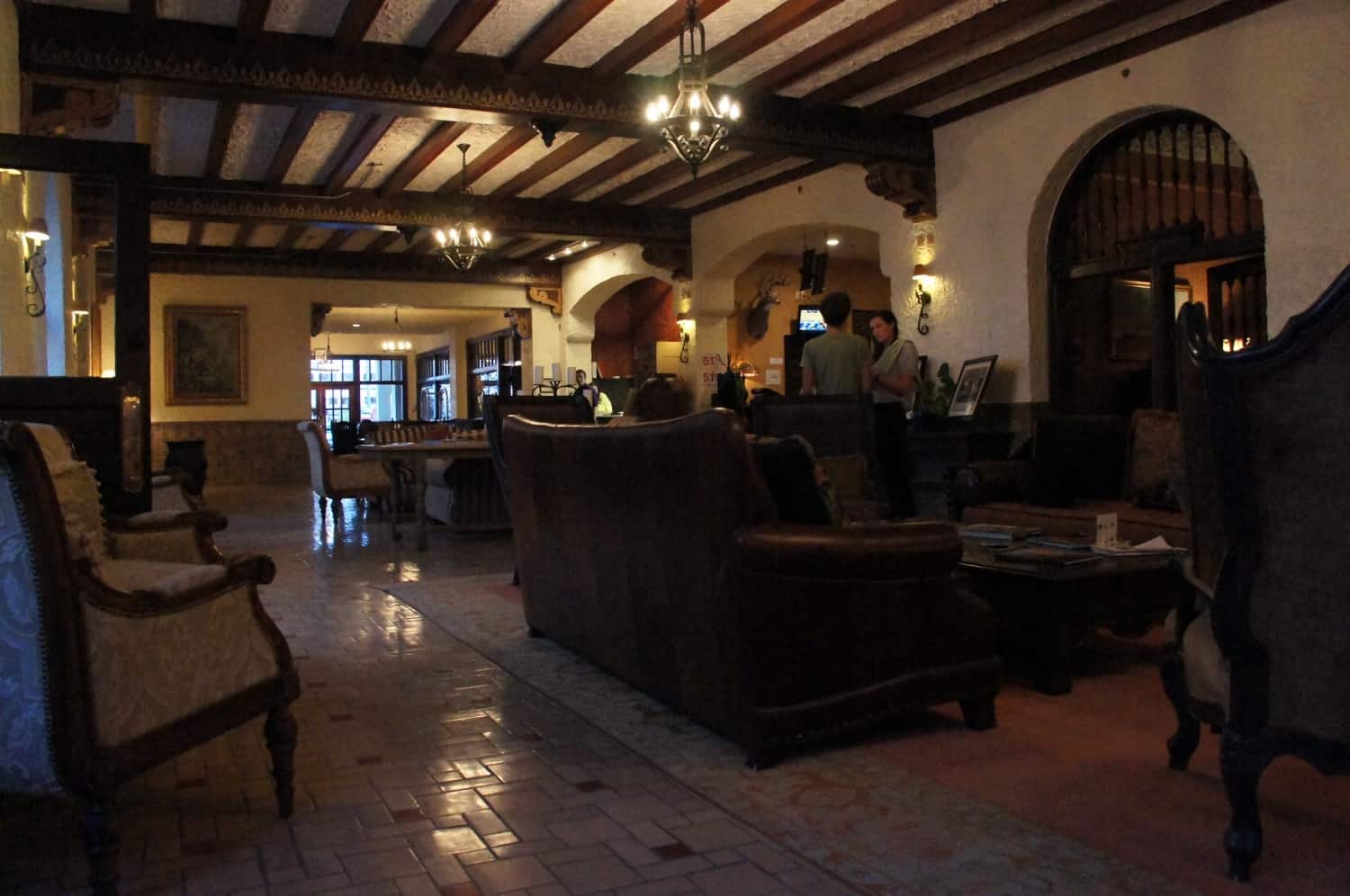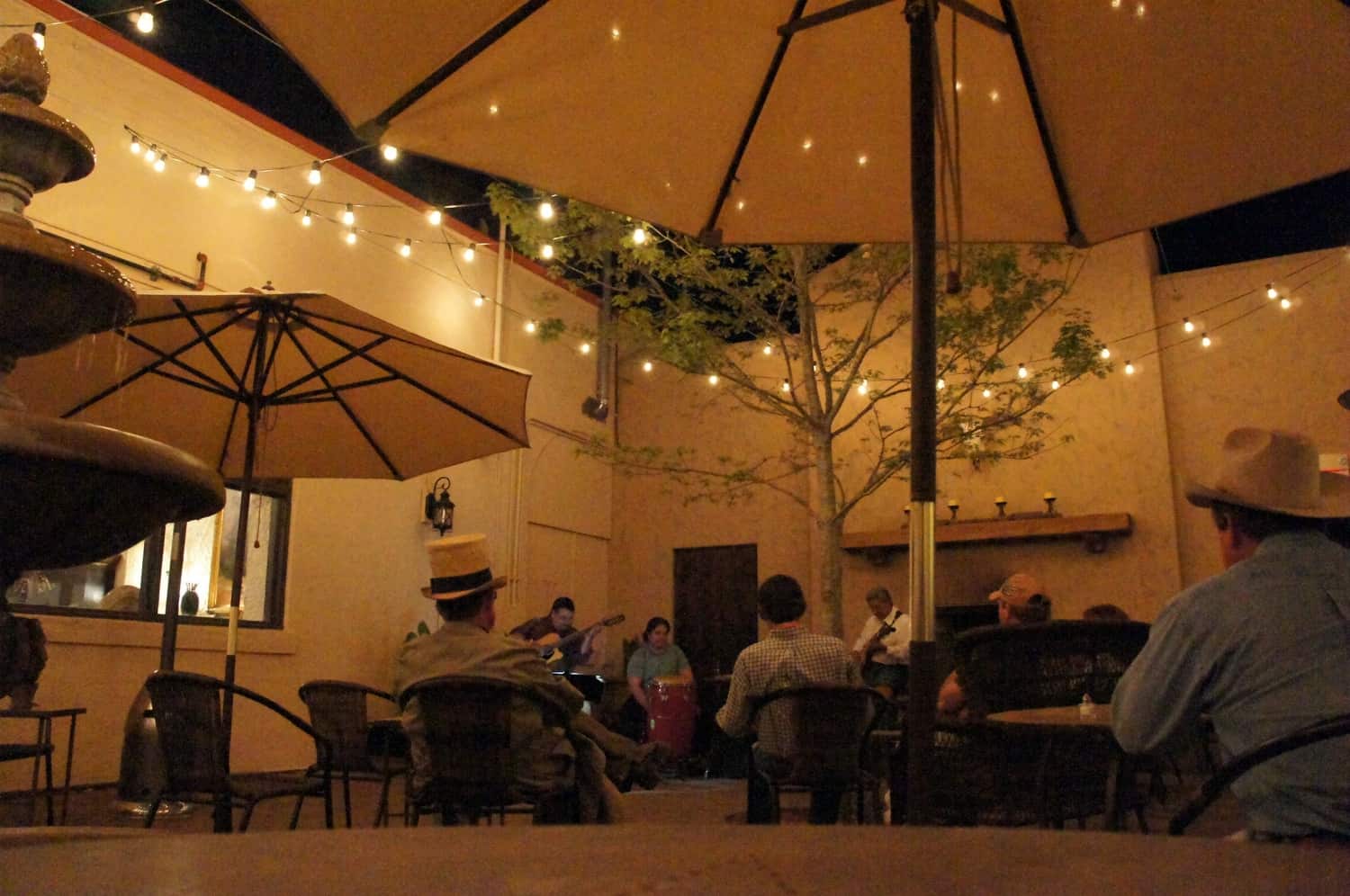 Marathon, Texas
Marathon sits thirty miles to the east of Alpine and is the jumping off point for people heading down to Big Bend National Park. There's nothing worse than outing yourself as a tourist, so you need to know that Marathon is pronounced Mara-thin.
Birthed by ranching and the railroad, Marathon is known for its relaxed atmosphere and friendly people. It also has one of the nicest off-leash dog area in Far West Texas and another beautiful pet friendly hotel.
The Gage Hotel
If you're traveling with pets, you'll find lovely accommodations in Marathon. The pet friendly Gage Hotel is another of the historic railroad hotels that's undergone a lovely renovation. Complete with a restaurant, spa, and bar, they welcome pets of all sizes.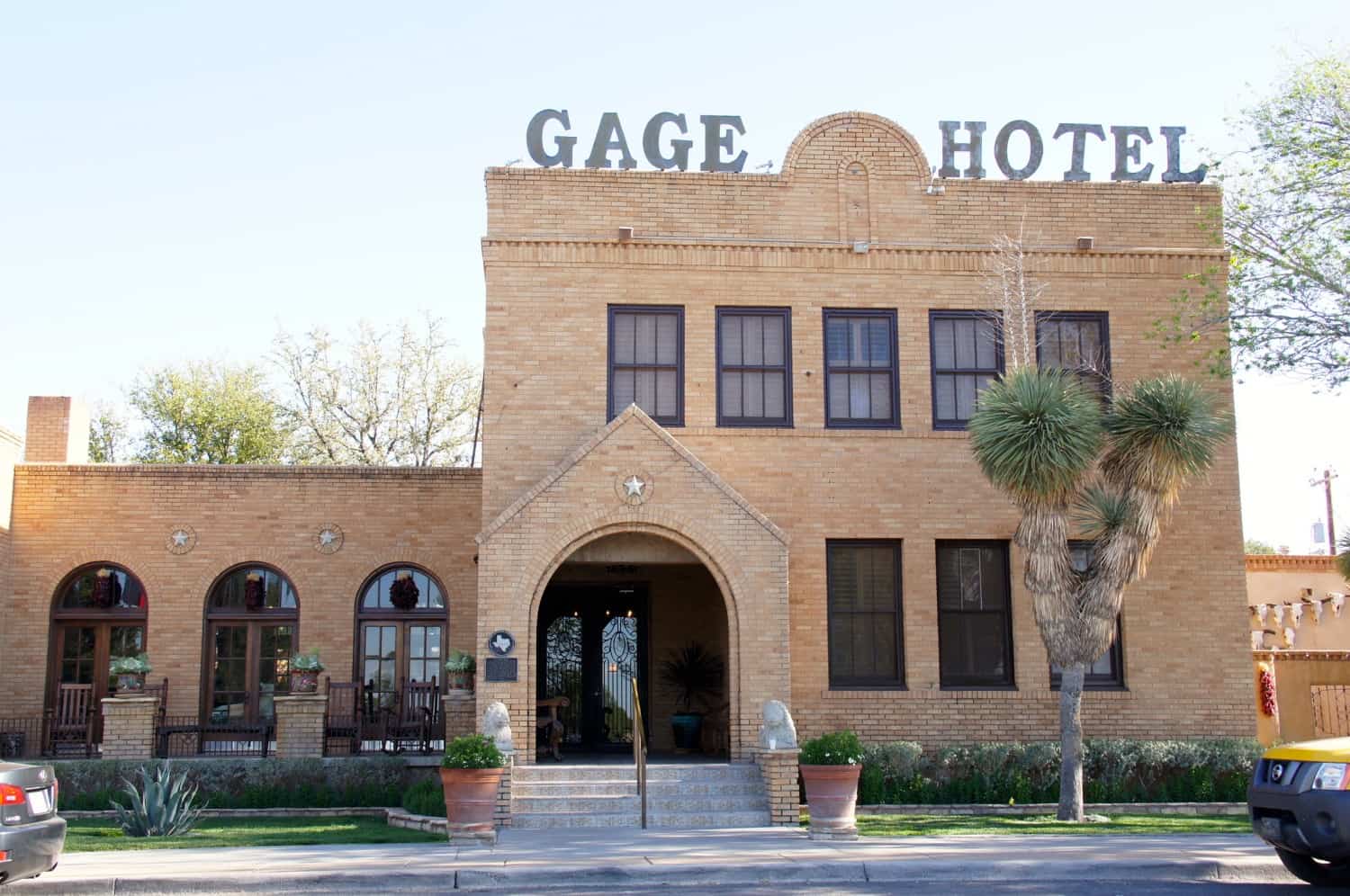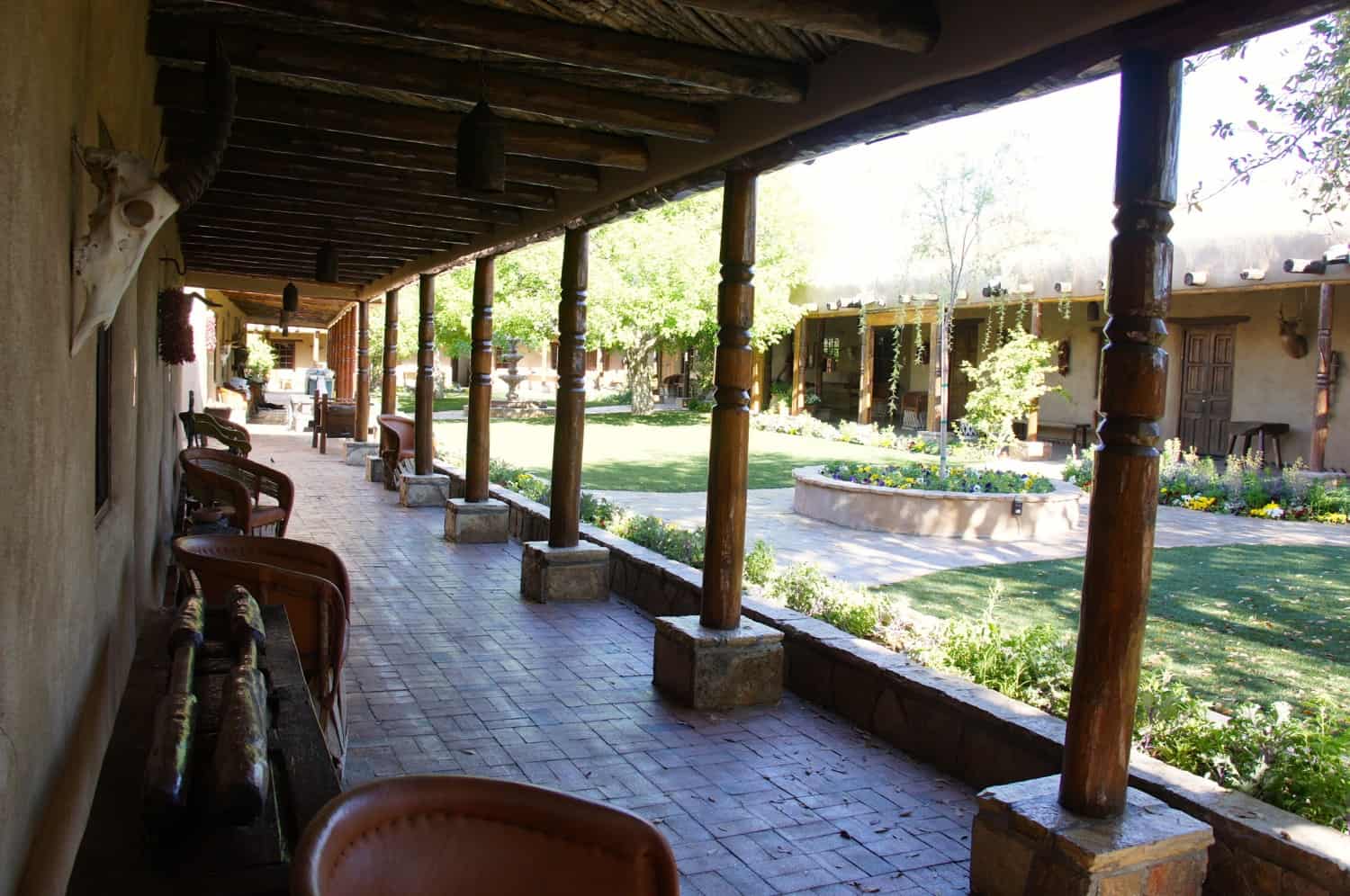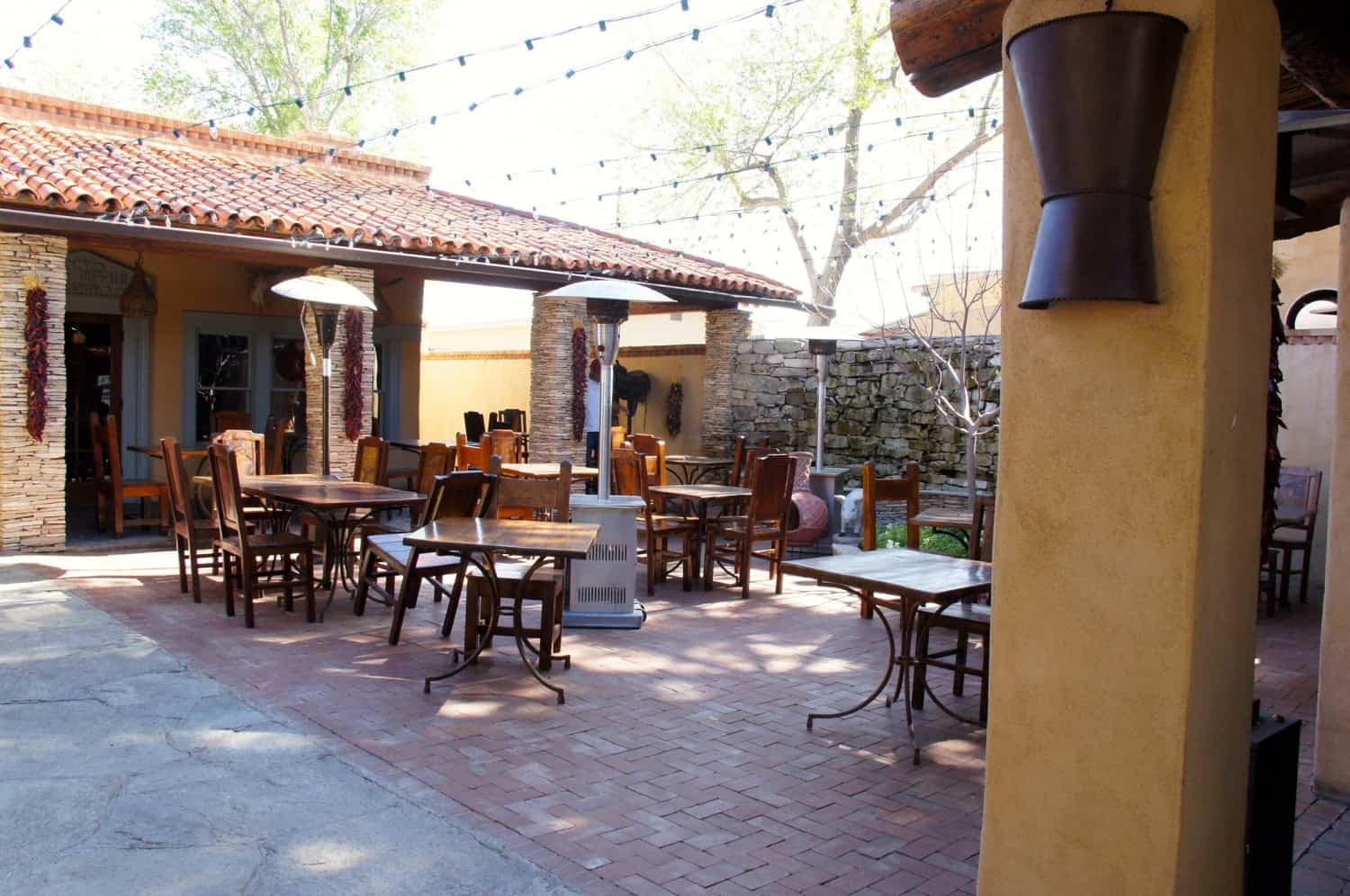 Gage Gardens and Off-leash Area
Across the street from the hotel you'll find the 26-acre Gage Gardens, which is the hotel's event venue. The gardens and orchards also help supply the hotel's restaurant. Meander the pathway around the water fountain and past the putting green to the footbridge. That takes you to the off-leash area, complete with pond!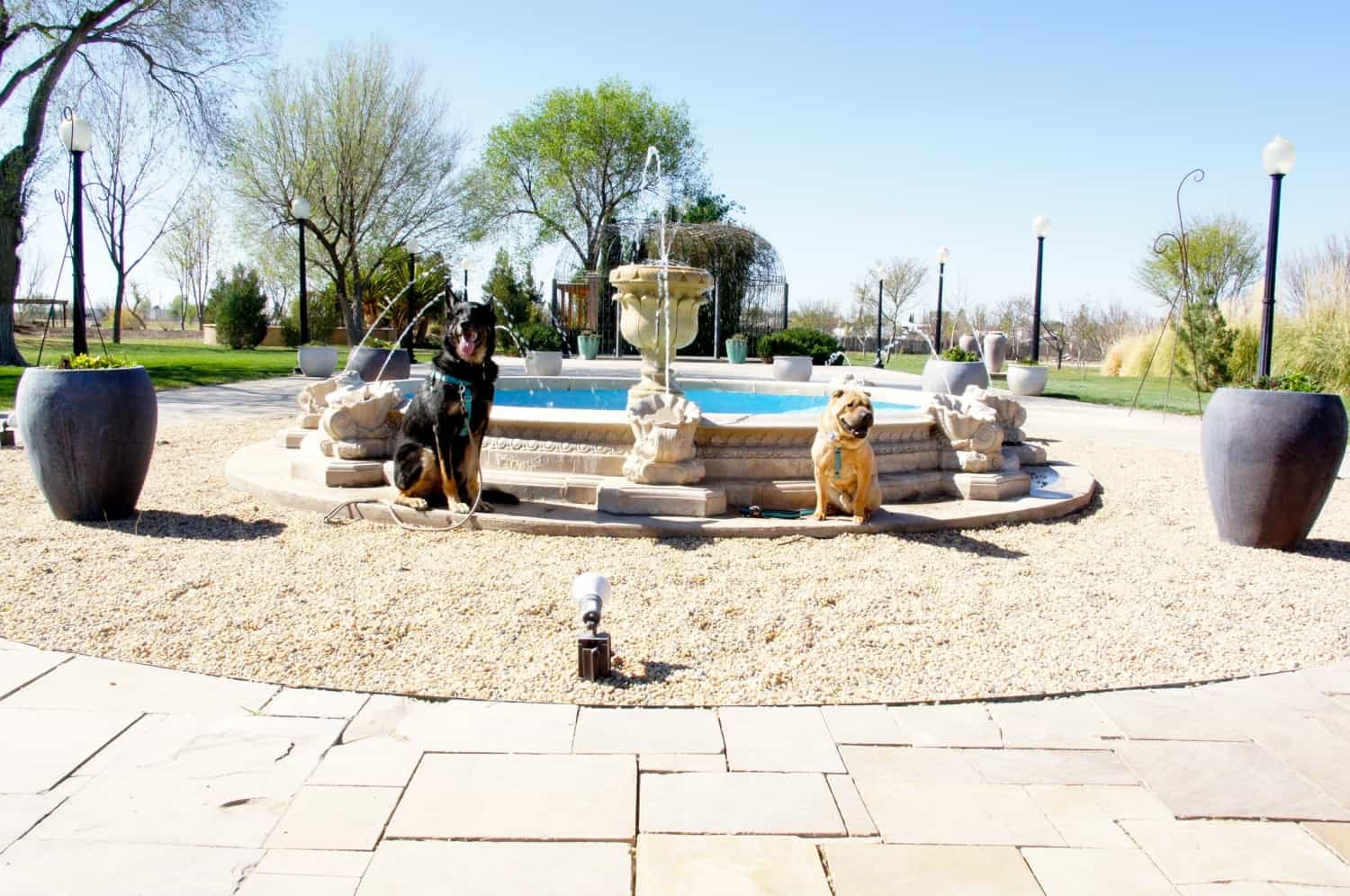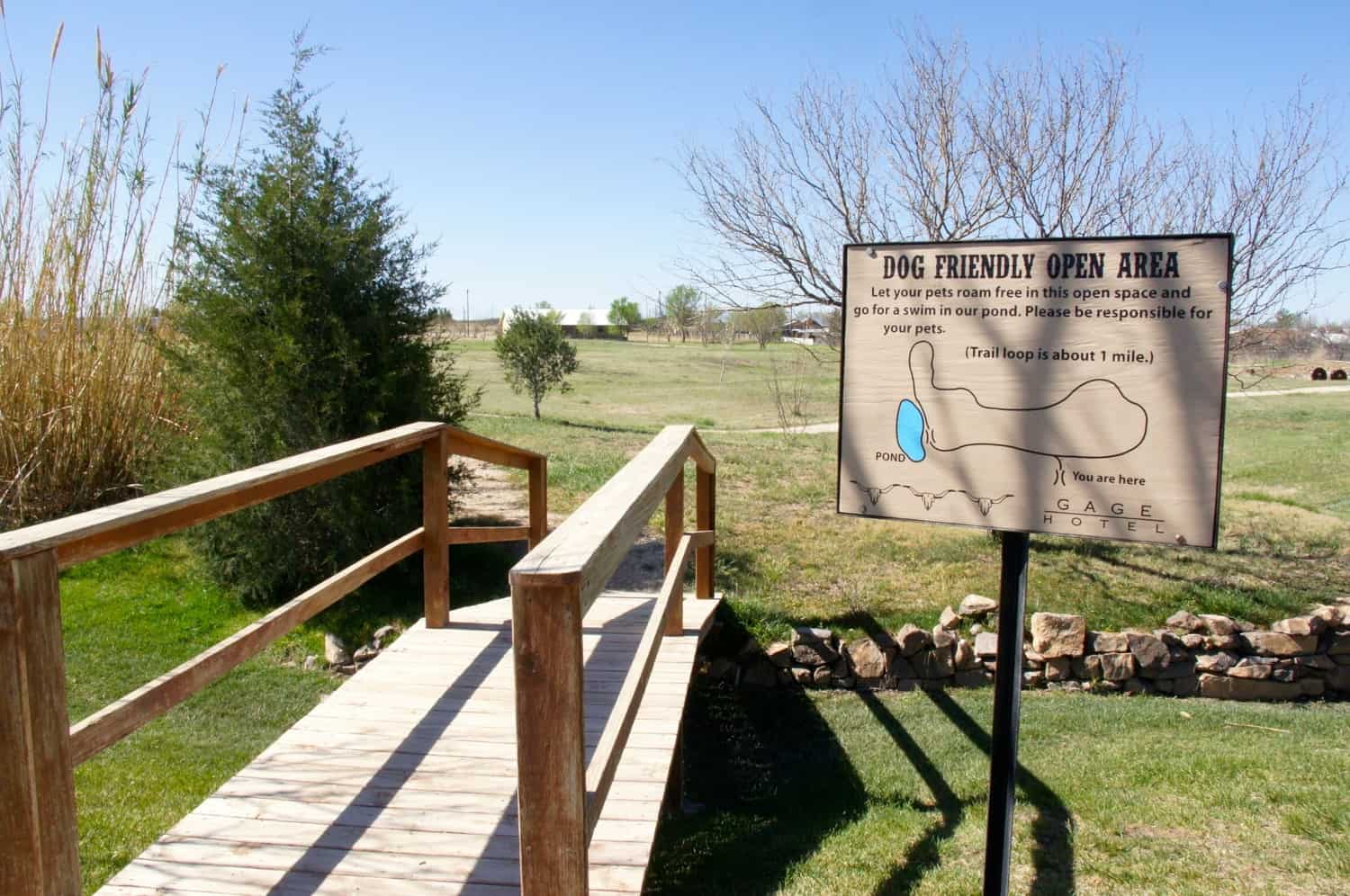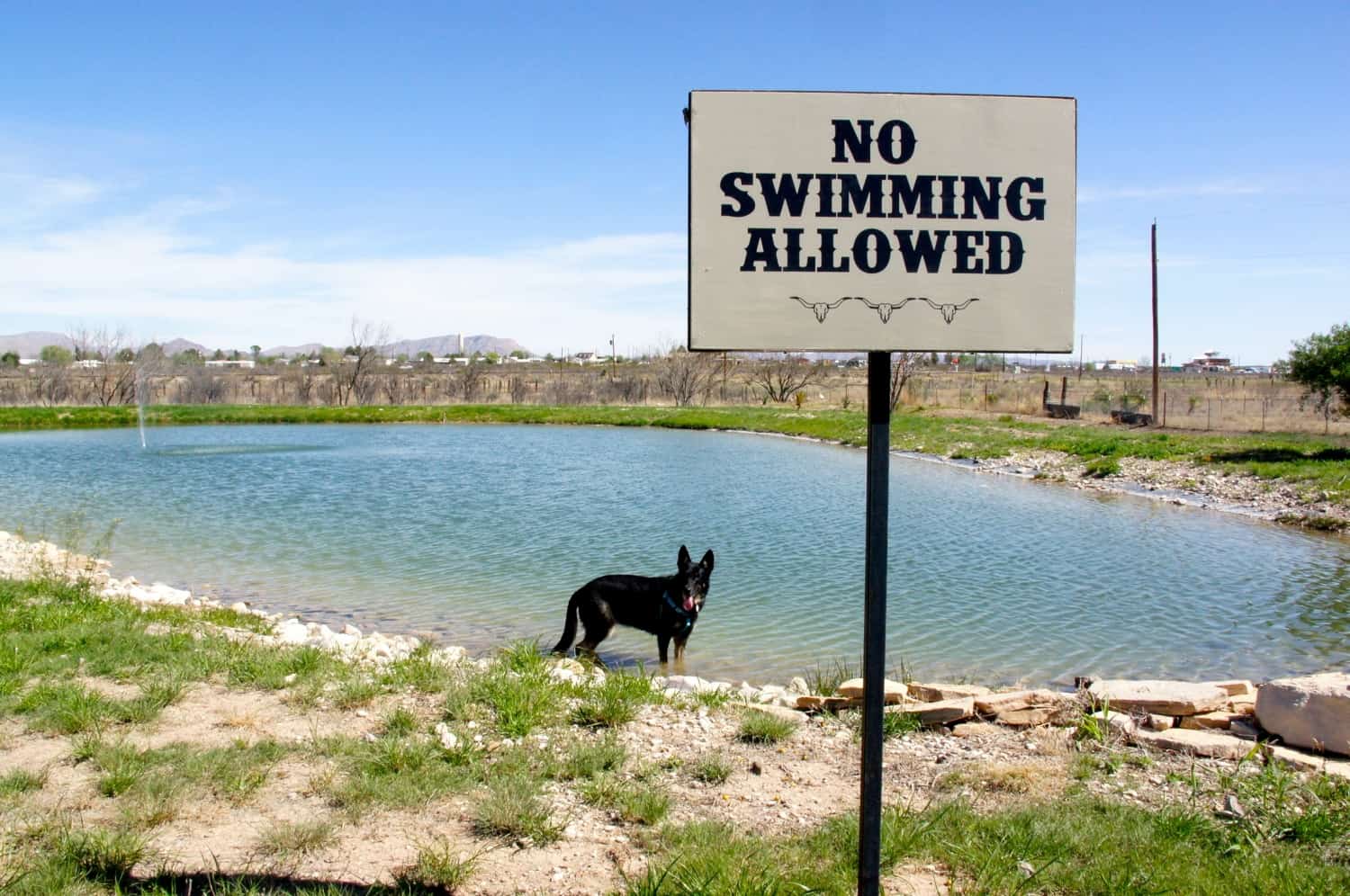 Pet Friendly Eats
Of course, we can't sign off without giving you a pet friendly restaurant recommendation. This time it's for Brick Vault Brewery and Barbecue. The covered patio out front is the perfect spot to enjoy a craft beer and some Texas barbecue!
Big Bend National Park
Where to from here? If you and your dog are enjoying Far West Texas, see what we found to do with Ty and Buster just down the road in Big Bend National Park!
READ MORE ⇒  Visiting Big Bend National Park With Dogs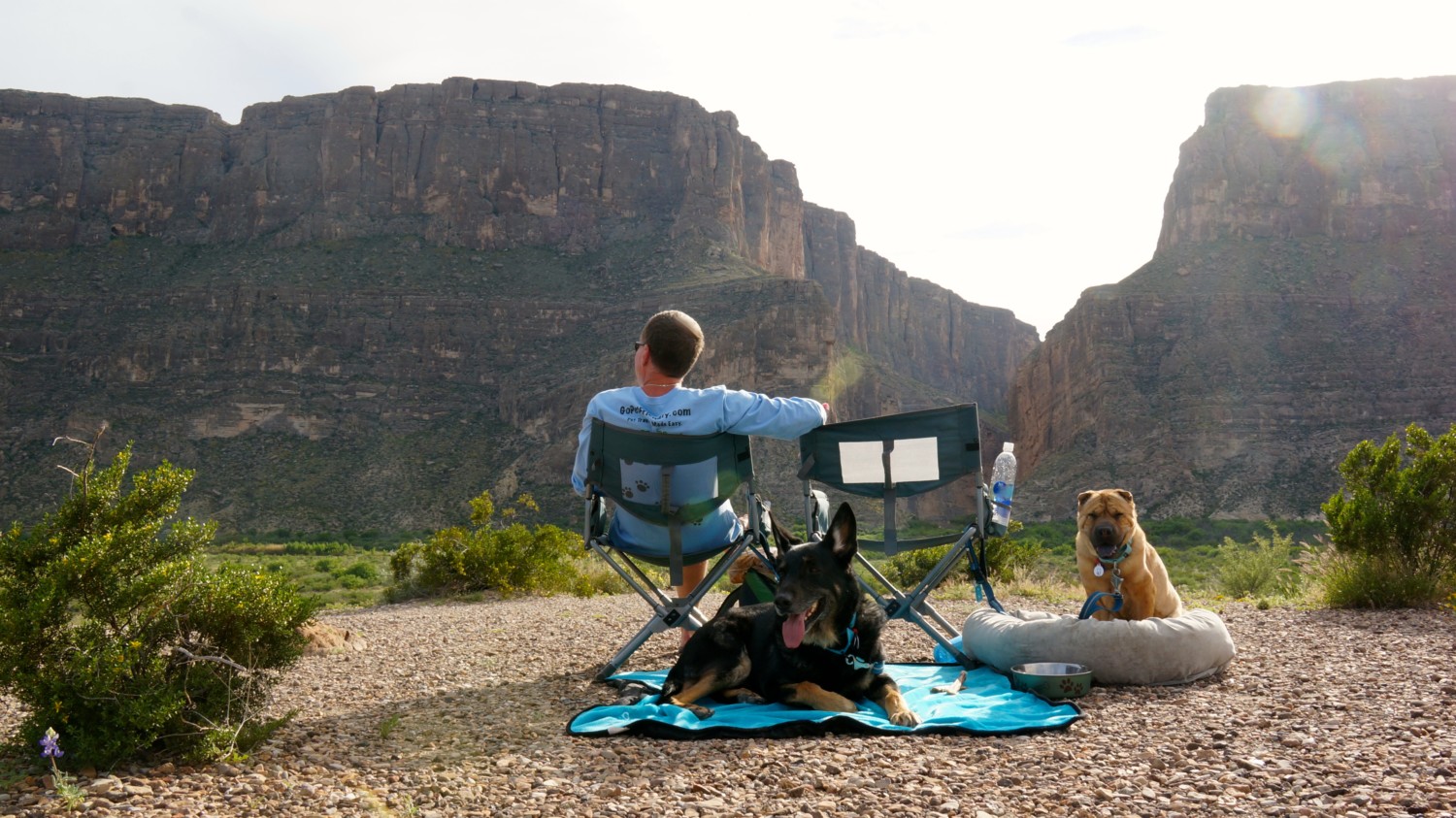 Amazon Affiliate Disclosure: GoPetFriendly.com LLC is a participant in the Amazon Services LLC Associates Program, an affiliate advertising program designed to provide a means for website owners to earn advertising fees by advertising and linking to amazon.com, audible.com, and any other website that may be affiliated with Amazon Service LLC Associates Program. As an Amazon Associate, the owner of this site earns a commission from qualifying purchases.
(Visited 11,239 times, 1 visits today)