Gruene is the German word for "green," and that's how the locals pronounce the name of this historic little town between Austin and San Antonio. Once a significant cotton producing community, Gruene was placed on the National Register of Historic Places in 1975, and we thought it would be an interesting place to take the dogs for a stroll.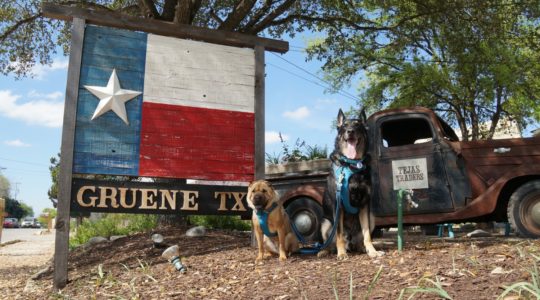 The town was named for the German farmers who first settled the area in the mid-1800s, Ernst Gruene, and his wife, Antoinette. The family did well, and built a lovely Victorian mansion overlooking the Guadalupe River, which is now a bed & breakfast … but unfortunately isn't pet friendly.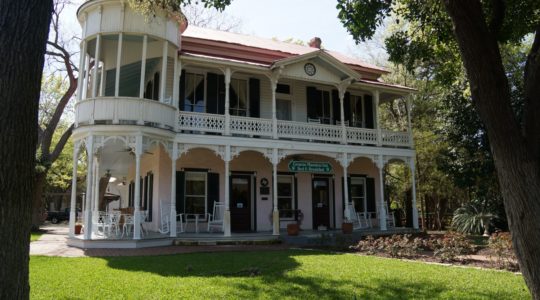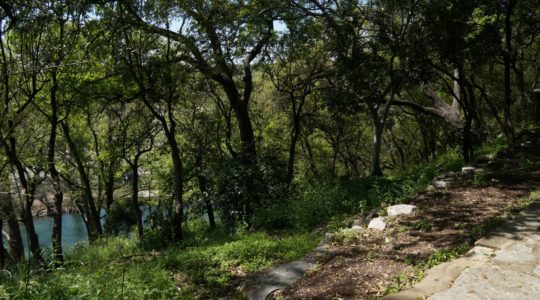 The Gruenes also built several other homes, a mercantile store, and a cotton gin. But perhaps their most important contribution was Gruene Hall, completed in 1878, which now bills itself as the oldest, continually run dance hall in Texas. Again, not pet friendly.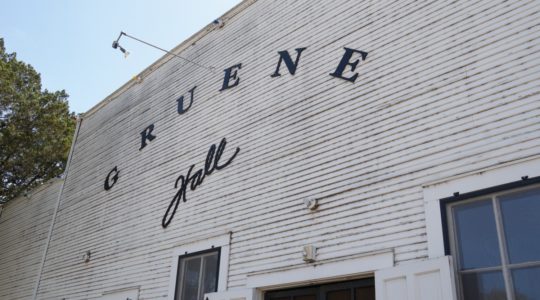 Things took a turn for the worse for the Gruene family and the town during the Depression, and except for the dance hall, all of the businesses folded. The town languished until 1975, when the Gruene estate was sold and new business owners started to arrive. Since then, the town's economy has been supported primarily by tourism.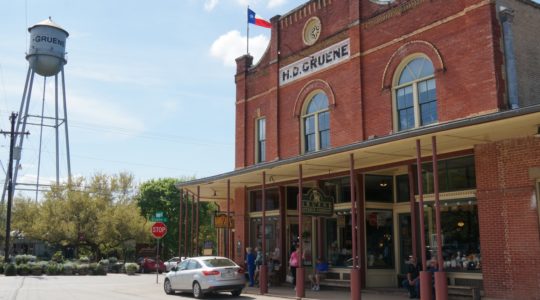 Unfortunately, it doesn't appear that attracting pet travelers has been a priority. The only business we found welcoming pets was Oma Gruene's Secret Garden (OGSG), an eatery and music venue. UPDATE: Oma Gruene is closed. OGSG's shady, secluded garden is a great location to stop for a bite to eat, with plenty of space for your dog to stretch out and get comfortable. The only other thing we found in town that a dog could look forward to is sniffing the grass under the town's water tower.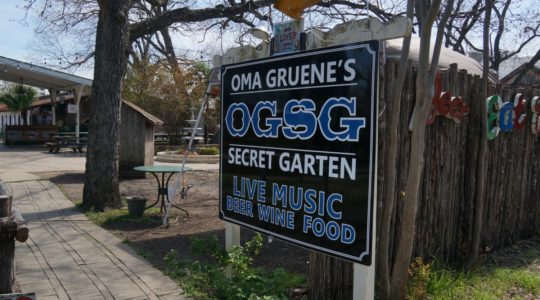 One apologetic restaurant owner told us that, until a few weeks before our visit, he'd enjoyed having dogs on his patio, but a citywide ordinance had been passed that prohibited restaurants from allowing pets on the premises … unless they purchased a special permit. However, though either a serious lack of coordination or major oversight,  the ordinance took effect before the city made the permits available, so allowing Ty and Buster to join us for lunch could cost him a hefty fine.
It's not the first time we've heard of cities requiring restaurant owners to pay special fees just to allow pets at their outside seating areas, and it seems a short-sighted plan. Sure, the city may make a few quick bucks on the permits, but it's also likely that some restaurant owners will choose to avoid coughing up the dough and just stop welcoming pets. That will leave pet travelers, a quickly growing demographic by any measure, with fewer options and the distinct impression that the town isn't very welcoming. With all the fantastic pet friendly options out there, most people would think twice about returning to a place that left them with a bad taste in their mouth.
As for us, it ended up working out fine … Ty and Buster were happy to pretend to be with the band at OGSG!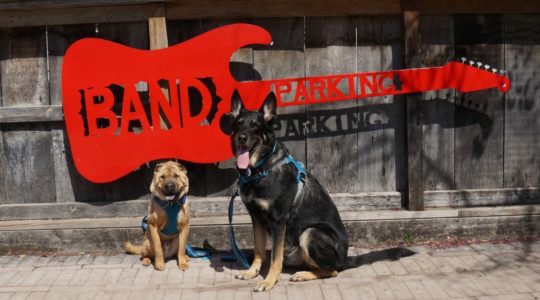 Gruene seems to have a lot of pet friendly potential – there's a nice selection of restaurants with outdoor seating, a coffee house, wine tastings, several specialty shops that would make for a fun afternoon of shopping, and access to a gorgeous river. Unfortunately, they seem to need a bit of help in the art of welcoming pet travelers. Hopefully things improve in the near future, and we will have a much better experience on our next visit!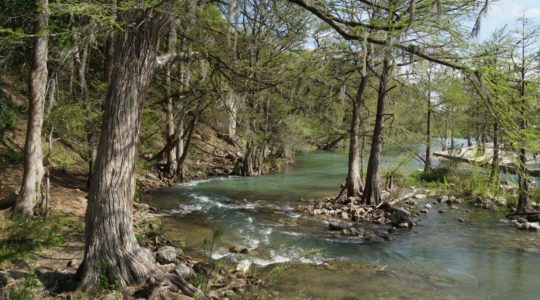 Have you ever visited a town that surprised you, either by being more or less pet friendly than you expected? Tell us about it in the comments!
Planning a pet friendly trip of your own? We'll make it easy:
Pet Friendly Hotels | Pet Friendly Destinations | Pet Friendly Activities
Amazon Affiliate Disclosure: GoPetFriendly.com LLC is a participant in the Amazon Services LLC Associates Program, an affiliate advertising program designed to provide a means for website owners to earn advertising fees by advertising and linking to amazon.com, audible.com, and any other website that may be affiliated with Amazon Service LLC Associates Program. As an Amazon Associate, the owner of this site earns a commission from qualifying purchases.
(Visited 5,539 times, 1 visits today)