Last week you got a look at pet friendly Albuquerque when we wrote about our stay there. Today I want to tell you about a couple of day trips you can take out of the city for a little more pet friendly exploration. Our first stop will be about two hours south in Truth or Consequences.
Truth or Consequences
Formerly known as Hot Springs, the little town of Truth or Consequences changed it's name in 1950 as part of a publicity stunt concocted for the popular Ralph Edwards radio show by the same name. Actually, Hot Springs was a much more explicative moniker, because a visit to TorC is all about the naturally occurring hot springs that surface here and have soothed humans in this area for centuries.
Several resorts and bath houses – ranging from delightful to ramshackle – provide access to their pools, and we found that Riverbend Hot Springs Resort and Spa was just what the doctor ordered.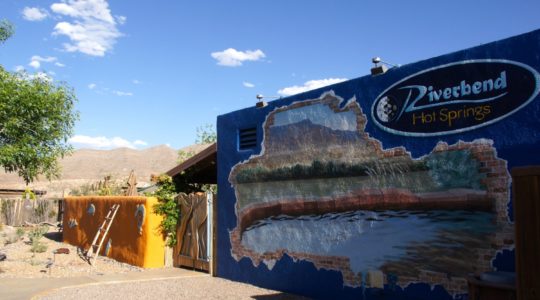 The resort welcomes small dogs in their eclectic hotel rooms for $15 per dog per night, but we opted for one of their RV spots across the street with our big dogs and stayed with no additional pet fee. If you're just coming in for the day, a pass to use the pools and grounds is $10 per person, and a private pool can be rented for $15 per person for a 50 minute session.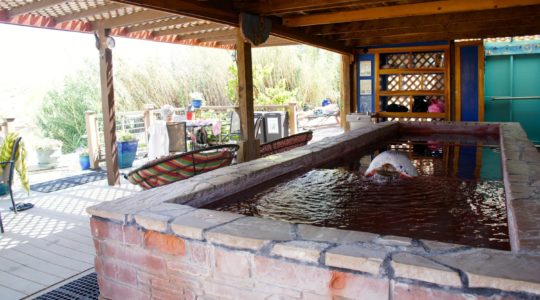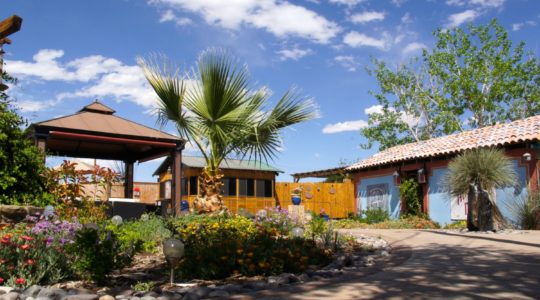 Though we didn't see any when we were there, you're encouraged to bring your small dogs with you to the sunbathing deck, where an elevated and shaded bed is provided for their comfort. Dogs aren't allowed in the pools or on the pool deck, but at a temperatures of more than 100 degrees they probably wouldn't like it anyway.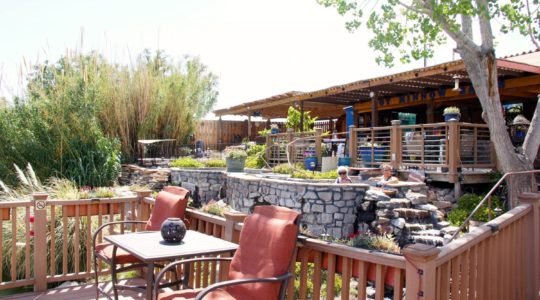 The resort sits right on a bend in the Rio Grande and watching the river saunter by while you're taking a soak is a great way to spend a couple of hours. We were lucky to be there during a full moon and watching the moonrise from behind the mountain was one of the highlights of our stay.
Of couse, you can't sit in the pools constantly or you'll look like a prune! Buster was pleased to find out that this little town has a very nice off-leash dog park within easy walking distance of the resort. We made our way over there several times for some romping around.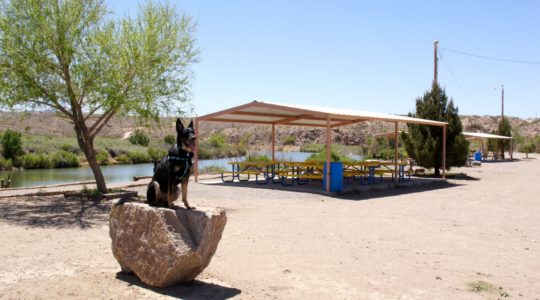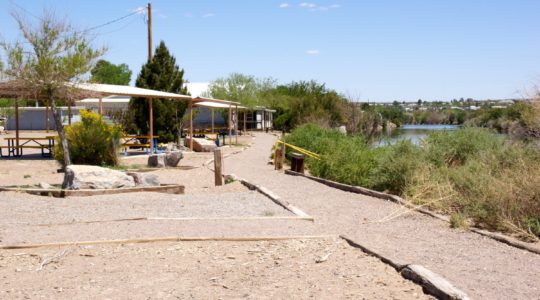 We also found a few pet friendly restaurants, like the sidewalk seating at the Turtleback Oasis and the courtyard seating at the Cafe BellaLuka and the Happy Belly Deli. While you could explore it in a day, there's definitely enough here to entertain you for a couple of days.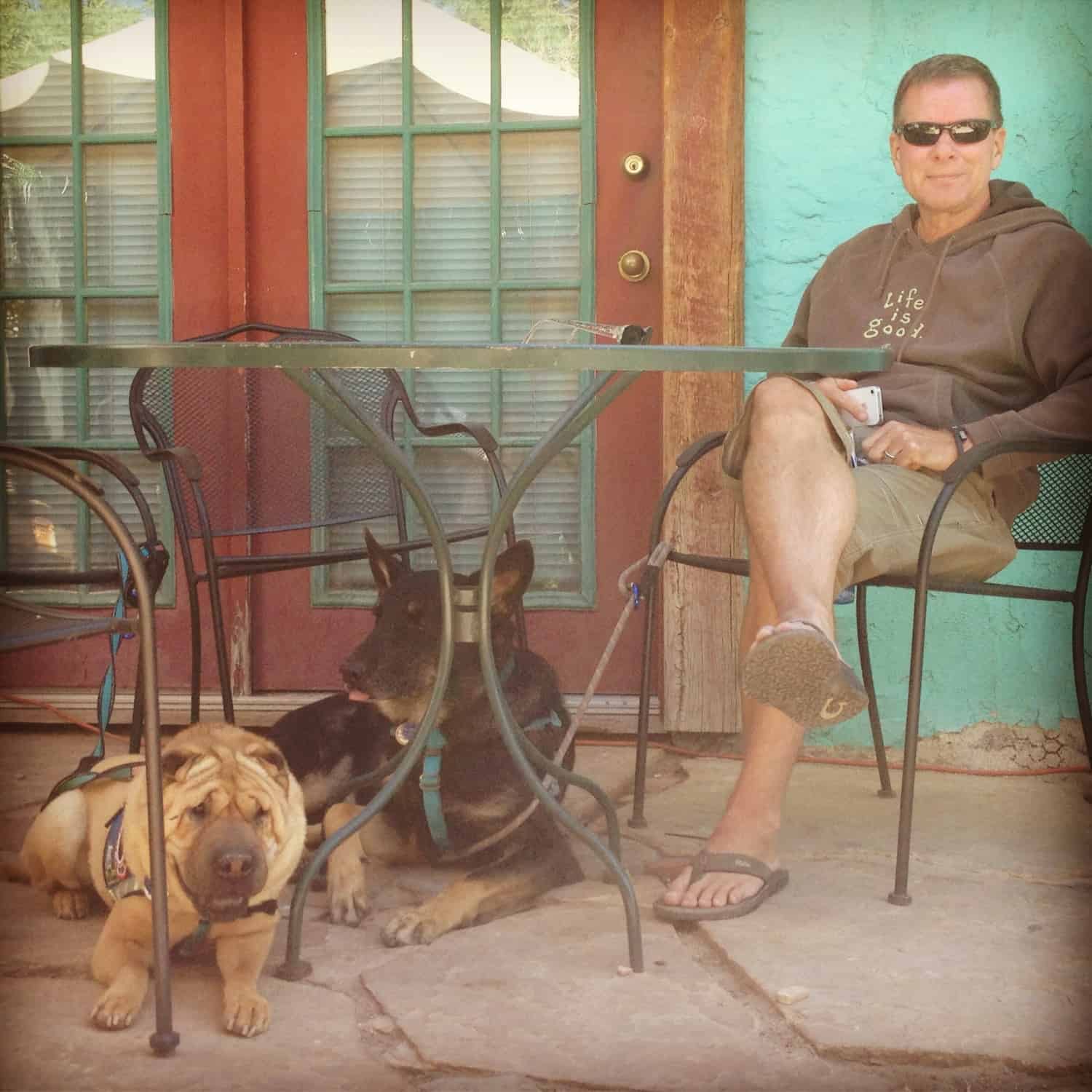 Madrid, New Mexico
In the opposite direction of TorC, about an hour from Albuquerque, is the funky little artist community of Madrid. Once a mining town and then a ghost town, this little village has found new life and now has a collection of over 40 shops and galleries as well as restaurants and lodging. Located on the Turquoise Trail National Scenic Byway, which links Albuquerque and Santa Fe, Madrid is the perfect place to spend an afternoon perusing the shops and joining the locals for a bite to eat.
Distinctly less structured that it's metropolitan neighbors, in Madrid people walk in the streets, dogs roam off-leash, and signs remind motorists to slow down for kids playing in the street.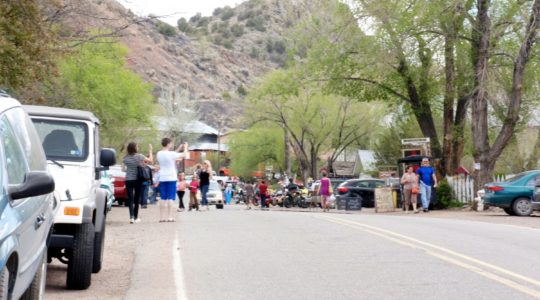 If you make the trip to Madrid, be sure to have lunch at The Hollar. You're likely to find live music in the courtyard and your pooch will love having their own menu!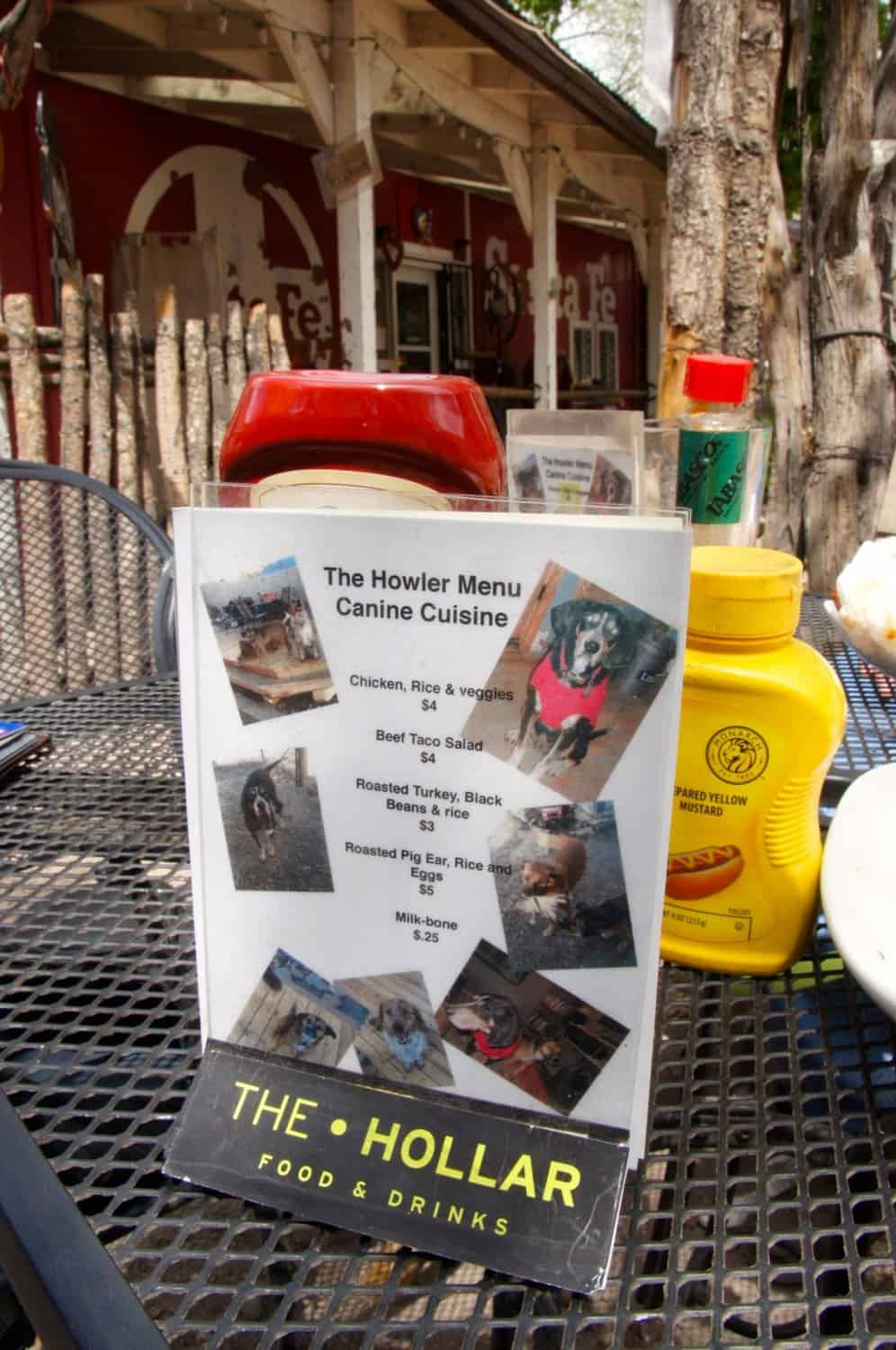 Ty and Buster thought it was a hoot – but really, who'd go for a Milk-bone with all of those other terrific options?
Planning a pet friendly trip of your own? We'll make it easy:
Pet Friendly Hotels | Pet Friendly Destinations | Pet Friendly Activities
Amazon Affiliate Disclosure: GoPetFriendly.com LLC is a participant in the Amazon Services LLC Associates Program, an affiliate advertising program designed to provide a means for website owners to earn advertising fees by advertising and linking to amazon.com, audible.com, and any other website that may be affiliated with Amazon Service LLC Associates Program. As an Amazon Associate, the owner of this site earns a commission from qualifying purchases.
(Visited 1,672 times, 1 visits today)