Pet friendly glamping—it's one of the most relaxing and affordable vacations. Perfect if you hate bugs and rain and don't own a tent. Don't miss out on the fun. This is what you need to know about glamping with your pet.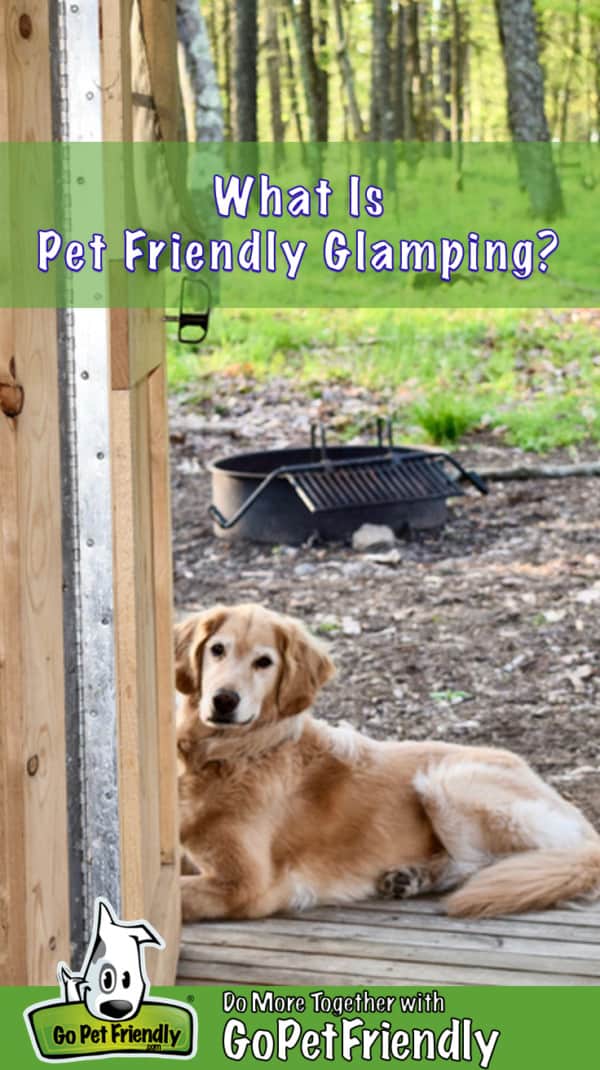 What is Pet Friendly Glamping?
So, what is pet friendly glamping?
Imagine all the best parts of camping—watching fireflies, cooking dinner over an open fire, seeing wildlife up close—but with a few added comforts. And about half the work.
Instead of putting up a tent, fall into a soft bed. No need to hang a solar shower from a tree. Just enjoy a hot scrub in a modern bathhouse. And all the time you save is more time you can spend having fun with your pup.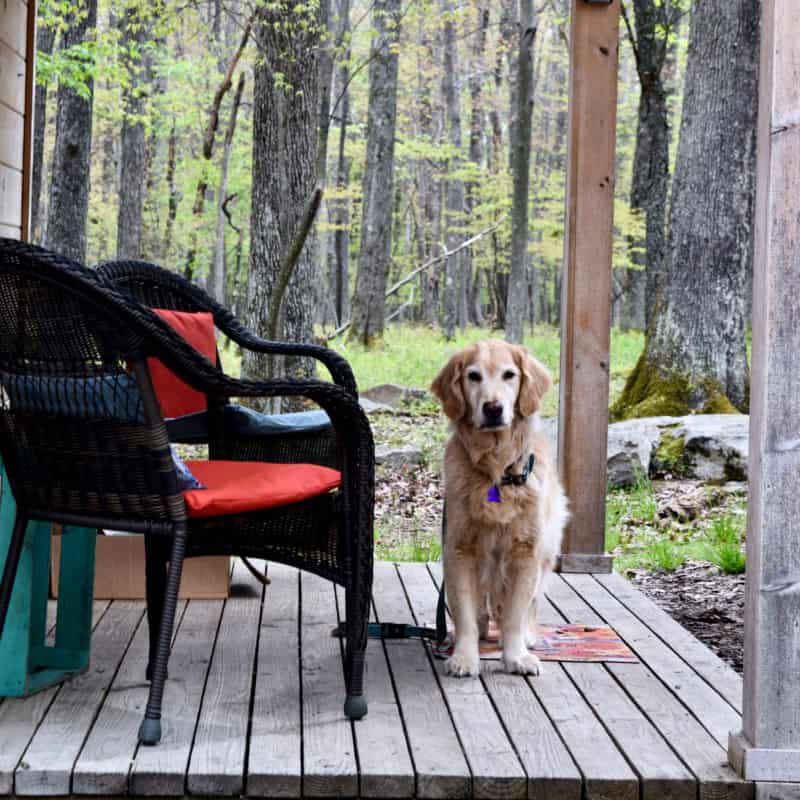 Why Glamping is Perfect With Pets
Listen, I have nothing against air-conditioned hotel rooms with great views and a ton of amenities. But let's face it, many pet friendly hotels require expensive pet fees. Or they don't allow you to take advantage of all the fancy amenities when you can't leave your dog in your room or take them to the pool or spa.
Tent camping is very pet friendly. But you have to manage your dogs while putting up your tent (although a zip line can make the job a little easier).
On a recent pet friendly glamping trip, I was able to toss my overnight bag on the bed and start exploring with my dog Honey right away.
Wild Yough Glamping Huts
My dog, Honey, and I recently visited Wild Yough Glamping Huts in western Maryland. I was pleasantly surprised to find it was far more dog friendly than most state parks I've stayed in (particularly in Maryland which limits the number of campsites that allow dogs).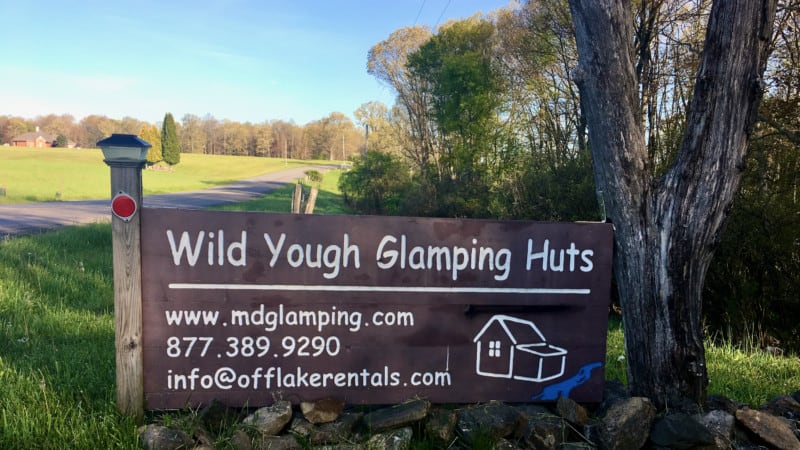 And I have to admit—it sure beats sleeping on the ground in a tent for comfort!
Accommodations
Wild Yough has 5 huts arranged in the woods; each is named for a location the owners have visited. We stayed in the Delta hut. Delta as in the Okavango Delta of Botswana where the owners camped for several nights on their trek across Africa.
Depending on where you choose to go glamping, you might find your accommodations have more or less amenities. The huts at Wild Yough had no electricity, but each was stocked plentifully with rechargeable battery-powered lights that we could plug into outlets at the camp pavilion.
Each hut here had comparable amenities, but the themed decor, including handmade linens, made each unit unique.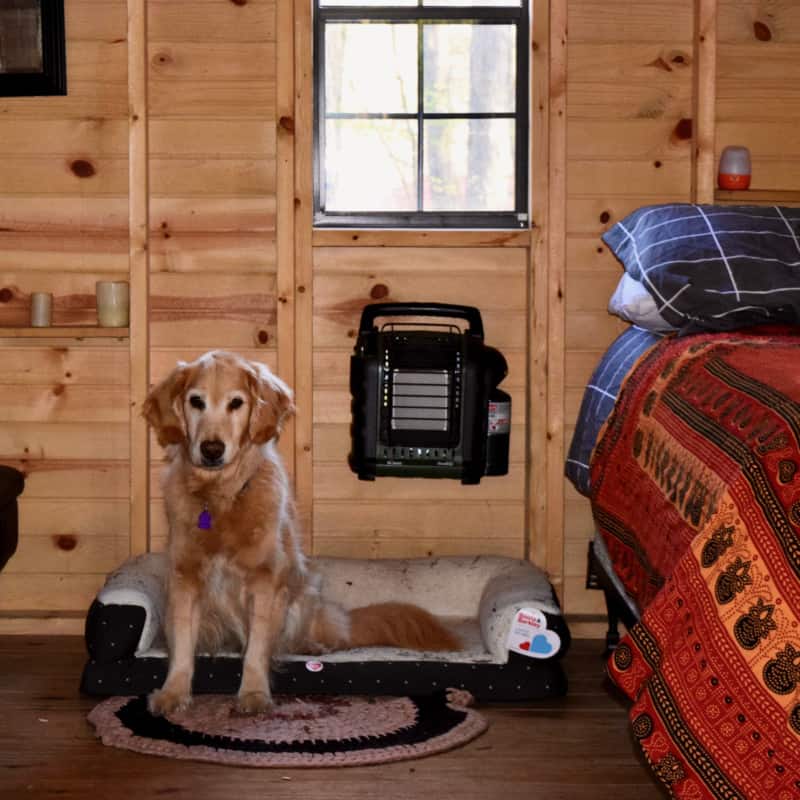 The Delta Hut had a double bed and a sleeper sofa with a plentiful supply of pillows, blankets, and comforters. The mini "kitchen" included a 2-burner propane stove and many utensils. (Skeptical of the website's inventory, I brought a few kitchen items. I didn't need any of them.)
The table and two chairs were perfect for a card or board game before bed. But we spent most of our time outside.
We had a cozy front porch with two chairs. And two folding camp chairs hung from brackets on the wall for sitting around the campfire.
Amenities
One of the things I liked best about our glamping experience was the bathhouse and pavilion—a gathering spot for campers and a place to use shared amenities like propane grills, books, board games, a corn hole set, and a dartboard.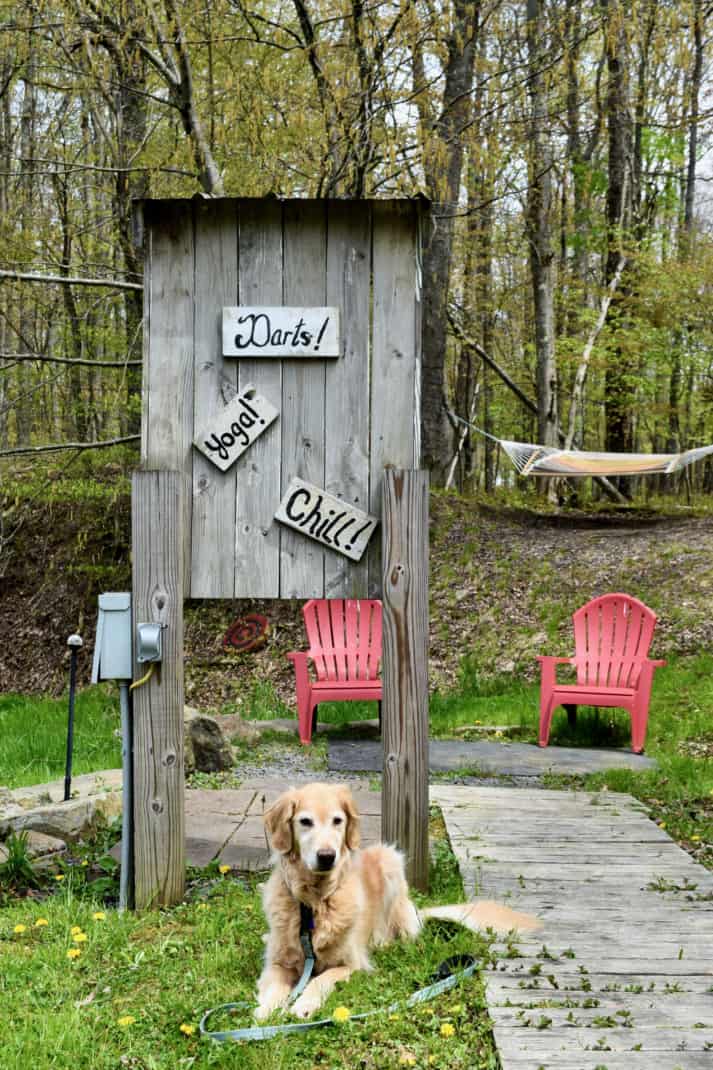 We enjoyed meeting fellow glampers and visiting with their pups.
The pristine bathhouse had baskets full of toiletries and a charging station so you could top off your devices while taking a shower.
And outside, I found the best dishwashing station I had ever seen in any campground.
Bundles of firewood were stacked nearby with an honor box for payment.
Glamping At A Pet Paradise
Again, you might find different things to do where you go glamping, but we had a series of trails crisscrossing the 350-acre site! The rules stated that pets had to remain on a leash within sight of the huts and pavilion. But once you start hiking, feel welcome to remove your pup's leash!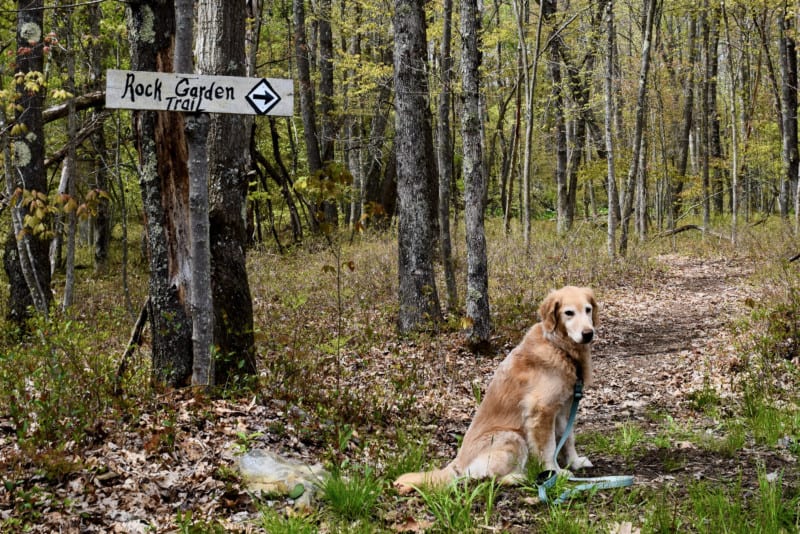 Pro tip – Make sure your dog has a good recall before letting them off-leash. The resident deer and chipmunks could provide a strong temptation for a dog with a strong desire to chase.
Because my pup Honey had a bad leg at the time, we didn't hike very much. But she found the smells and wildlife very stimulating.
In fact, when I put her bed on the floor beside my bed, she tried to crawl into it before it even hit the floor. She's rarely so ready to settle into bed.
Glamping as a Base for Exploring
Pet friendly glamping locations make great basecamps when you're traveling. One day we took a quick tour of nearby Oakland. With a weekly farmers market, several restaurants, and a vinyl record store, it ended up being a far hipper place than I expected.
We also headed out to Deep Creek Lake State Park and lingered over BBQ at the pet friendly joint, Archie's. We even found homemade ice cream end enjoyed it from the picnic tables overlooking the lake. Yes, Honey did get some.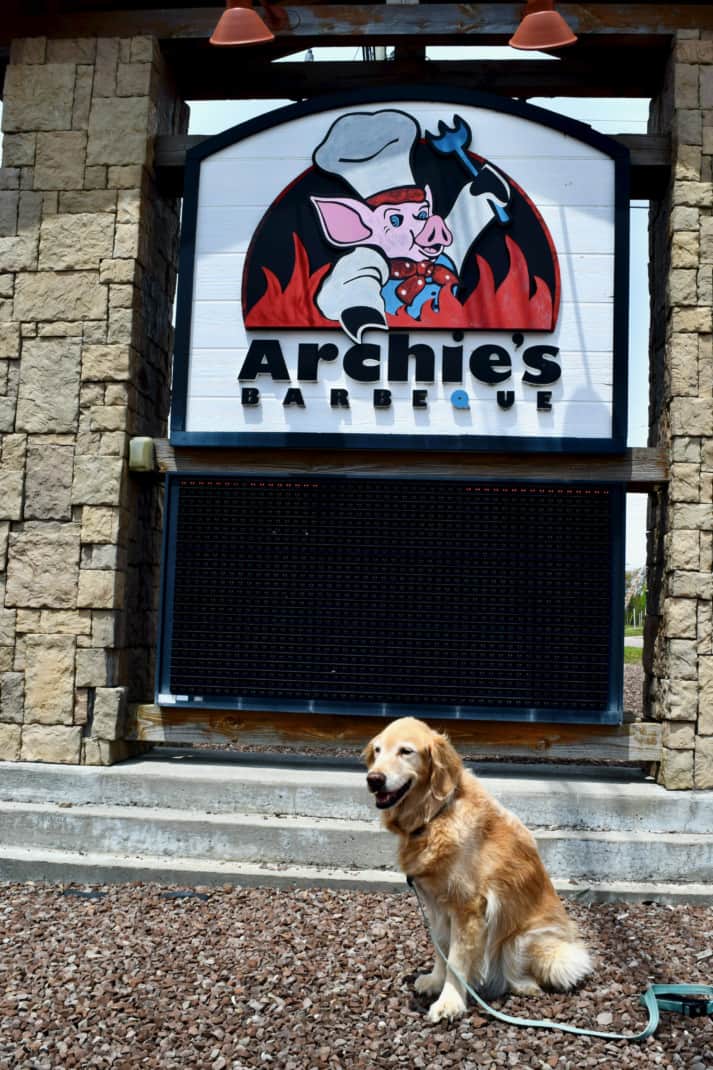 If we had been able to stay a week, we would have had plenty of time to hike all the trails and explore the surrounding area without running out of things to do.
Try Glamping with Your Pet
Why should you try pet friendly glamping with your pet?
It feels great to be outside and yet surrounded by comfort when you need a good night's sleep. Sleeping in a wooden structure instead of a tent extends the season (and the propane heater at Wild Yough did that even more).
Glamping is affordable. You can cook on the campfire to save even more. Or seek out the cuisine of nearby pet friendly restaurants.
But best of all, it's fun to be surrounded by nature enjoying the outdoors with your dog. Listening to birdsongs and watching chipmunks peeking out from the tree roots is far more entertaining than most television. And it will be as rewarding for your pet as it is for you.
Thanks to Wild Yough who gave me a two-night stay at their lovely facilities. All opinions of Wild Yough are my own.
(Visited 2,131 times, 1 visits today)