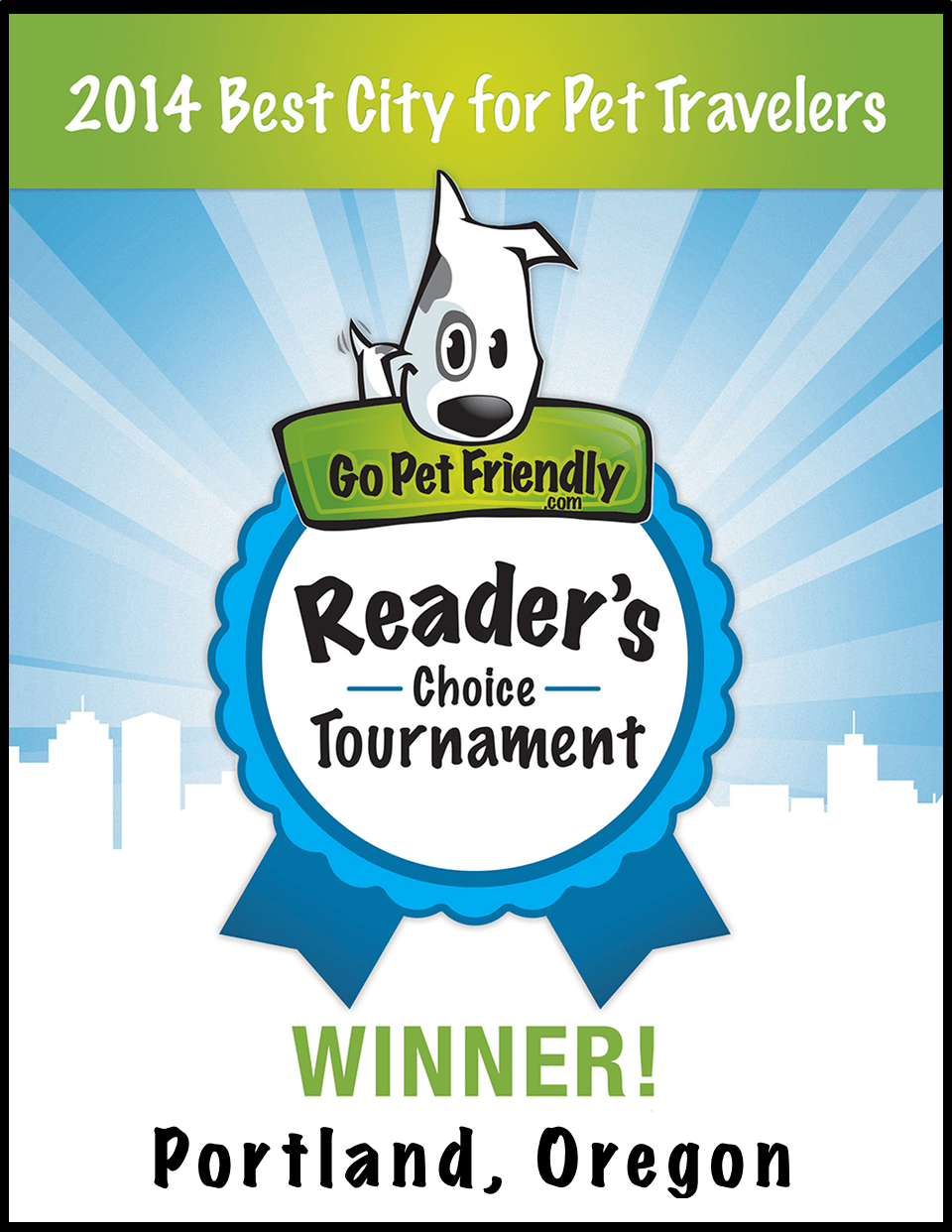 Congratulations, Portland, Oregon (Cindy S.) – you've been voted the 2014 Best City for Pet Travelers by GoPetFriendly.com's readers, your devoted fans, and pet lovers from around the country! We know that you'll carry your title proudly and will continue to make Portland a wonderful destination for pet travelers from far and wide.
The Play-by-Play
Once again, our pet friendly version of "March Madness" had all the excitement and suspense you'd expect of any great tournament. We opened the competition with 126 contenders and spent countless hours relentlessly abusing the refresh button as we watched the match-ups come down to the wire in six rounds of voting over the past two weeks.
Portland came into the contest this year with considerable experience, and perhaps a bit of an inferiority complex, after making it to the Final Four in each of the last two years … only to be defeated by the eventual tournament champion. This year, they got off to a quick start by dispatching Jasper, Alberta in the first round, and rolling over Cannon Beach, Oregon – the 2012 tournament champion – in the second round. In round three they didn't miss a beat, handing Edmonton, Alberta a loss, and then sent Sonoma, California packing to advance into the Elite Eight.
The collective heart of all Oregon dog lovers nearly broke when Portland was matched-up against Bend for the chance to make it back to the Final Four. Deciding between to fabulously pet friendly Oregon cities was agonizing, but Portland edged out the win and moved on to face San Diego. That was our first chance to witness their amazing comeback abilities! With San Diego apparently cruising to a comfortable win, the Portland supporters took to social media and rallied to a surprising victory. That confidence carried them into the championship round, and there was no panic in the ranks when Cape San Blas, Florida sprinted out to an early and substantial lead. But with just three hours remaining in the tournament, Portland rebounded and squeaked out the win by just 10 votes!
Tournament Champion – Portland, Oregon
Take a look at the map and you'll see that Portland is a city of bridges. It's also perfectly walkable – just the kind of place we enjoy exploring with Ty and Buster!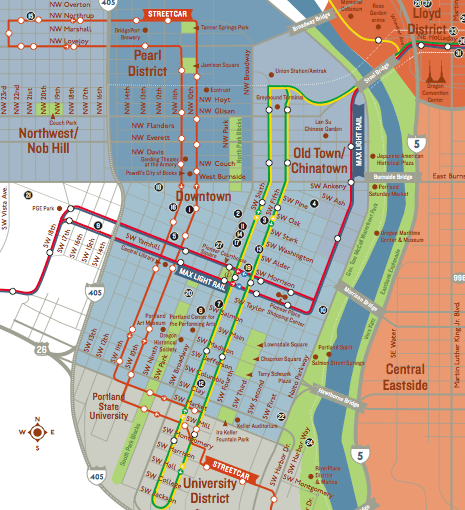 Each neighborhood has a distinct character, but the overriding vibe of the city is funky and energetic. And that's a good thing, because you're going to need every bit of pep you can muster to take in all the pet friendly attractions – from the parks, to the shops, to the trails, to the dog parks – there's a lot to see.
Needless to say, you'll need to fuel up if you want to keep up! Not to worry, there are oodles of restaurants and food trucks with outdoor seating areas where your pup is welcome to join you. And, don't forget about your best friend … Portland has TWENTY-SIX dog bakeries he's going to want to sniff out!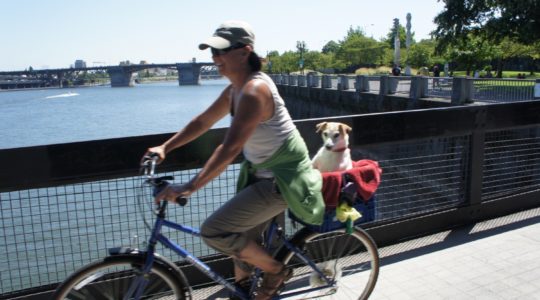 At the end of the day, when your aching paws won't carry you any further, finding the perfect place to stay is a cinch with more than 100 pet friendly hotels in the Portland area.
It's unlikely you'll run out of things to do … but just in case, keep in mind that Portland lies about an hour from the spectacular Oregon coast, where you'll find a plethora of dog friendly beaches. And an hour in the other direction will put you squarely in the mountains for some of the most fantastic hiking you can imagine. No matter what your desire, a trip to pet friendly Portland will not disappoint!
Cinderella – Cape San Blas, Florida
Every tournament has it's Cinderella story, and this year ours was Cape San Blas. This little community – which most of us had never heard of before – took down stupendous pet friendly cities like Asheville, North Carolina, Myrtle Beach, South Carolina, and Bar Harbor, Maine! The passion and devotion we saw from the fans of Cape San Blas was remarkable, and they've definitely convinced us that this hidden corner of the Gulf Coast is an exceptional pet friendly destination. It's on our list of places to visit, and I imagine they'll be back as a formidable contender in next year's tournament.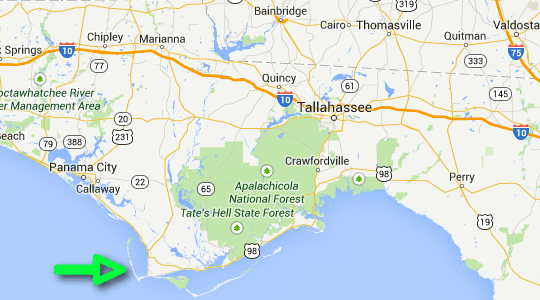 Cape San Blas is a 17-mile long barrier peninsula, curving around St. Joseph Bay on the panhandle of Florida. Known for it's white beaches, gentle surf, and strikingly clear water, the Cape is a sanctuary for anyone looking to escape the hustle and bustle. The pet friendly beaches stretch for miles, and when you're tired of lounging you can rent a kayak, canoe, paddleboard, or bike to get a little exercise with the Gulf as your backdrop. The paved Loggerhead Bike Trail runs the length of the Cape and is great for walking, jogging, or biking.
Locals and tourists share the Cape with a variety of fragile and endangered species of plants, shorebirds, and animals – like Sea Oats and Loggerhead turtles. Fun is a priority, but it's also vital to protect these delicate populations, and for that reason dogs on the beach are required to be on their leashes.
Pet friendly accommodations in Cape San Blas include a great variety of cabins, rental properties, and camping or RVing at St. Joseph Peninsula State Park. In nearby Port St. Joe you'll find an even bigger variety of pet friendly lodging, including a hotel, B&B, and cottages. Everything you need to plan your trip is at the VisitGulf.com website.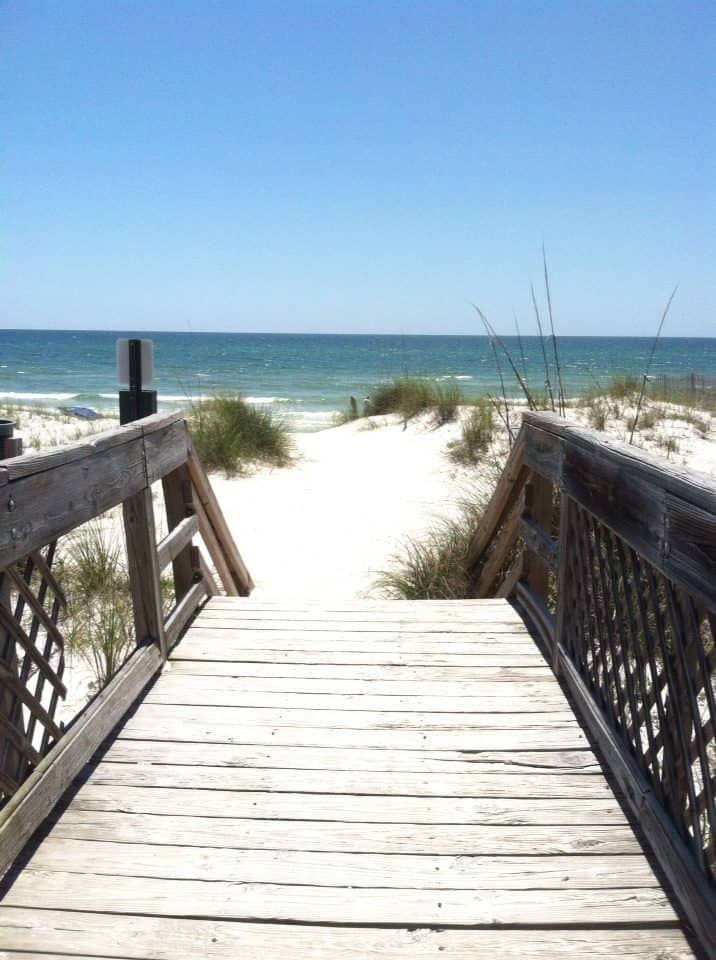 The Post Game Show
In conclusion, I'd like to say thank you everyone that supported their favorite pet friendly destinations in this year's tournament. The posts, pictures, and articles that you shared about the things you love most in your cities has helped other pet travelers more than you know.
I'd also like thank our co-sponsors of this event: Kimpton Hotels, Kurgo, LIFE+DOG, The Honest Kitchen, Loving Pets and Quaker Pet Group. Without them, we'd have fun and bragging rights … but the prizes they donate add a nice bonus for the competitors.
Planning a pet friendly trip of your own? We'll make it easy:
Pet Friendly Hotels | Pet Friendly Destinations | Pet Friendly Activities
Amazon Affiliate Disclosure: GoPetFriendly.com LLC is a participant in the Amazon Services LLC Associates Program, an affiliate advertising program designed to provide a means for website owners to earn advertising fees by advertising and linking to amazon.com, audible.com, and any other website that may be affiliated with Amazon Service LLC Associates Program. As an Amazon Associate, the owner of this site earns a commission from qualifying purchases.
(Visited 666 times, 1 visits today)