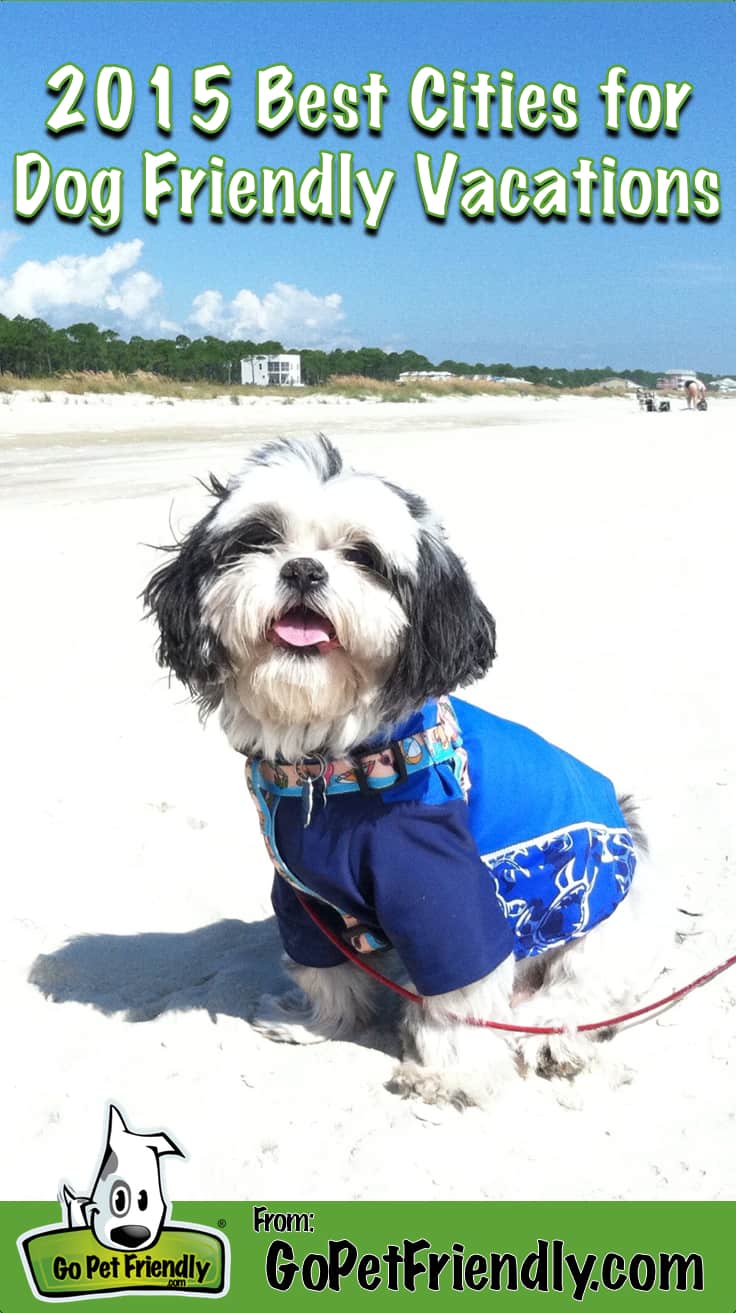 What fun is a family vacation without the whole family? It used to be that finding a pet friendly vacation destination was like searching for a needle in a haystack … but what if you could find a place that would make your vacation dreams come true, and you could enjoy it all with your best friend? Not only is it possible – we're giving you the list!
GoPetFriendly.com users chose these eight cities as this year's top destinations for pet travelers in our annual survey. Whether you and your dog love to romp on the beach, trek through the mountains, or meander around historic towns – there's something here for everyone. And the best part is that you'll be making memories together!
Asheville, North Carolina
Asheville is a pet friendly playground in the Appalachian Mountains! Start out on the Blue Ridge Parkway, and grab a leash because pets are welcome on all the trails. Don't miss Craggy Pinnacle trail at Craggy Gardens for the panoramic view, and Graveyard Fields Loop where your pup can swim below one of the two waterfalls. Admire the opulence at Biltmore Estate, were the grounds are perfectly pet friendly, and then slip downtown to explore the city via the Urban Trail, a 1.7-mile loop marked by 30 bronze sculptures and informative plaques. From cabins, to bed and breakfasts, to hotels, there's a fantastic selection of pet friendly accommodations in Asheville. Our pick is the Aloft Asheville Downtown – they host adoptable dogs in their lobby to help them find forever homes! And you'll never need to worry about going hungry in Asheville. Your dog will drool over the gourmet treats at Three Dog Bakery (Note: Sadly, this location has closed) and Woof Gang Bakery, and you'll have plenty of pet friendly patios to choose from at the local eateries, including Asheville Pizza and Brewing Company and the Jerusalem Garden Café.
 Bar Harbor, Maine
The friendly fishing town of Bar Harbor sits on Maine's rocky shore, surrounded by a national park, and boasting topnotch amenities. Where millionaires once built their summer cottages, you'll now find boutiques, galleries, inns, sidewalk cafés, specialty shops, and guest houses – perfect for an afternoon of window shopping and people watching. For those inspired by nature, choose from 165 miles of dog friendly hiking trails and carriage roads spiderwebbing through Acadia National Park's 49,000 acres. And between Seal Harbor and Northeast Harbor is the Little Long Pond off-leash area, with a pond for swimming and trails for exploring. For another perspective, admire the coast from a dog friendly schooner cruise, and when you get back stop at the Side Street Café for their famous mac and cheese or fare featuring fresh lobster. When your feet and paws are dog-tired, take in the sites from the air-conditioned comfort of the free shuttle service. And, when it's finally time to call it a day, make your way to the Atlantic Erie Lodge, perched on six hilltop acres, with stunning views of the Porcupine Islands.

Boulder, Colorado
Tucked against the foothills of the Rocky Mountains, Boulder's vast open spaces and western flare highlight it's vibrant personality. It's all about the outdoors here, with 155 miles of trails managed by the Open Space and Mountain Parks department. Make time to get up close and personal with the Boulder's oldest and most recognizable residents – the Flatirons – at Boulder Mountain Park. These massive, slanted sandstone formations draw your attention from every viewpoint. Take a stroll around the Colorado University campus to admire the architecture and lovely gathering spaces, and don't miss Old Main, the school's original building dating back to 1876. Stop in at The Boulder Dushanbe Teahouse, for a snack on the patio and to take in the gorgeous structure handcrafted by artisans in Boulder's sister city of Dunshanbe and shipped piece-by-piece from Tajikistan to be assembled here. When you're ready to relax, check into one of the 52 pet friendly cottages at the Colorado Chautauqua National Historic Landmark, with it's tranquil grounds and 40 miles of open space stretching out from your front door.
Breckenridge, Colorado
Located at a lofty altitude of 9,800 feet, the historic town of Breckenridge rests at the base of the Tenmile Range – a majestic chain of mountain peaks just west of the Continental Divide. Breckenridge is best known for it's exciting winter sports, and your snow-loving pooch is welcome to join you for some dog friendly cross-country skiing at three area nordic centers. But this charming village also makes a terrific summer vacation destination with its spectacular hiking trails, mountain biking, white water rafting, fly-fishing in the Blue River, boating on nearby Lake Dillon, and boutique shopping on Main Street. Stop in at the Cool River Coffee House and Bakery for homemade dog treats and a little something for yourself, and then head over to Carter Park Dog Park, where you can burn off those calories. Have a burger on the patio with the locals at the MotherLoaded Tavern, and at the end of the day, you'll find the welcome mat has been rolled out for you and your pup at The Lodge at Breckenridge, where you'll have views of Boreas Pass and Breckenridge Ski Resort.
Colorado Springs, Colorado
If your goal for this vacation is to spoil your dog absolutely rotten, plan to stay at The Broadmoor in Colorado Springs – one of the country's most luxurious and elegant pet friendly resorts. Sprawling across 3,000 acres, and overlooking Cheyenne Lake, the Broadmoor has been entertaining heads of state, celebrities, and professional sports stars since 1918. Just down the road is the spectacular Garden of the Gods, a free city park encompassing 1,350 acres pierced by huge red sandstone rock formations, where all 15 miles of trails are open to leashed pets. And, just when you thought the scenery couldn't get any better, there's Pikes Peak in the background. Take the 19-mile drive to the summit, and pack a jacket, because it's cold at 14,115 feet! Learn the area's history at three pet friendly museums, the Cripple Creek District Museum, Manitou Cliff Dwellings, and the Peterson Air and Space Museum. There are number of restaurants in Downtown Colorado Springs, and nearby Old Colorado City and Manitou Springs, with dog friendly patio dining, including Pizzeria Rustica and Urban Egg Eatery.
Knoxville, Tennessee
Nestled along the Tennessee River, and with the Great Smokey Mountains in the distance, Knoxville is the perfect combination of southern hospitality and natural beauty. The city truly celebrates the outdoors with hundreds of acres of parks and greenbelts. Volunteer Landing Park is a good place to get your bearings. Catch the Neyland Greenway as it winds past the marina and connects with the James White Greenway and the Third Creek Greenway. If you're craving more solitude, head across the river to the Knoxville's Urban Wilderness, which passes through parks and neighborhoods and connects with the extraordinary Ijams Nature Center – which is also dog friendly. When it's time to ditch the leash and have some fun with the local dogs, the city has no less than seven dog parks to choose from! And, after your playdate, more than 40 eateries have pet friendly seating, including Tomato Head pizzeria and Downtown Grill and Brewery, so finding dinner will not be a challenge. When it's finally time to hit the hay, there is a nice selection of  practical accommodations, like the brand new La Quinta Inn and Suites – Central Papermill.
Port St. Joe, Florida
Once a bustling port along North Florida's Emerald Coast, Port St. Joe has become a haven for visitors looking to beat the hustle and bustle. Known for it's white beaches, gentle surf, and strikingly clear water, the city looks out on St. Joseph Bay, where Cape San Blas, a 17-mile long barrier peninsula, divides the bay from the Gulf of Mexico. Dog friendly beaches stretch for miles, and kayak, canoe, paddle board, or bike rentals allow you to delve even deeper into the breathtaking surrounds. Stroll around town on the BayWalk trail, or try the paved Loggerhead Bike Trail, which runs the length of the Cape and is great for walking, jogging, or biking. If you're looking to get really deep, try chartering a boat for a day of fishing. For more tips and things to do, stop by the Gulf County Welcome Center – it's pet friendly, too! There aren't a lot of hotels marring the sunsets on in Port St. Joe – the Mainstay Suites and the Dixie Belle are the two pet friendly options. Most visitors choose dog friendly inns, cottages and vacation rentals, and the outdoorsy types can camp or RV at St. Joseph Peninsula State Park.
Telluride, Colorado
The quaint Victorian village of Telluride sits snugly in a box canyon high in the Rocky Mountains, surrounded by craggy peaks on three sides. When the snow flies, all the winter sports are at your fingertips, and summer is equally spectacular. Follow the paved Idarado Trail from downtown to the old Pandora Mine where you can admire Ingram Falls and hike the Jeep road to the top of Bridal Veil Falls. When you make your way back to town, climb aboard the Galloping Goose – the free, pet friendly downtown shuttle – to get the lay of the land. Brace yourself for even more stunning views from the free gondola to Mountain Village where you can hit the the disc golf course for some friendly competition with your pup. Try one of the food truck – the Crepe Stand and Diggy Dogs are popular – or enjoy the pet friendly patio at La Cocina de Luz, Oak, or Smugglers Brew Pub for a bite to eat. From luxury resorts to charming inns, Telluride has a great selection of pet friendly places to stay. The Lumiere Hotel and the Hotel Madeline will even arrange for a dog walker or dog sitter to keep your pal company!
That's a quick overview of the eight cities that GoPetFriendly.com users chose as the best for pet travelers in 2015. We hope you're inspired to get out and see one with your best friend!
Amazon Affiliate Disclosure: GoPetFriendly.com LLC is a participant in the Amazon Services LLC Associates Program, an affiliate advertising program designed to provide a means for website owners to earn advertising fees by advertising and linking to amazon.com, audible.com, and any other website that may be affiliated with Amazon Service LLC Associates Program. As an Amazon Associate, the owner of this site earns a commission from qualifying purchases.
(Visited 3,529 times, 1 visits today)