Dogs love to travel and pugs are no different. But traveling with a pug requires some special considerations. I've traveled to many places with my pug, Falafel, and there are a few things you need to know before hitting the road with your wrinkly little friend.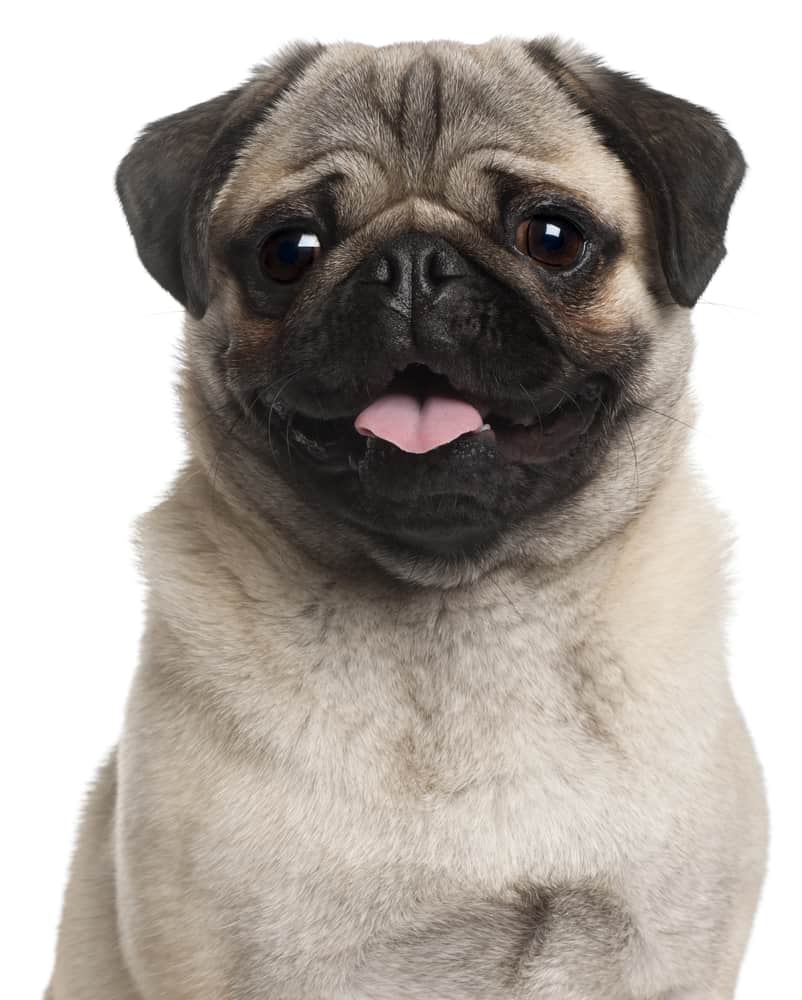 Airline Restrictions
Many airlines won't let sensitive breeds like bulldogs and pugs fly. The reduced pressure in the cabin makes it harder for pugs to breathe and several major airlines don't want to take the liability risk.
Be sure to call the airline and let them know the breed of your dog and ask them if they have any restrictions. Often you'll get someone on the phone who may not be familiar with breed restrictions so be sure to have them check their policies and verify anything they tell you.
85 Fahrenheit is The Limit
You'll hear it many times when talking to breeders, vets, shelters – and all of the warnings are true – pugs cannot handle the heat due to their lack of a snout. Anything above 85 degrees (30 Celsius) and you have to use air conditioning.
You can't take your pug to the beach on a very hot day and a road trip in the summer can be dangerous if you have the windows down. Make sure that any hotel (especially outside of the US) you stay in has air conditioning and don't take the risk lightly. Plan well and be cautious when it's warm and you won't have any problems.
READ MORE ⇒  Signs of Dehydration and Heat Stroke in Dogs
Car, Air, and Sea Sickness
You may recall a story from earlier this year about a pug overheating and throwing up on the New York subway. Pugs do tend to get motion sickness and vomit so you'll have to keep a close eye on them especially in an airplane cabin (if they're flying with you) or on a crowded train across Europe.
Keeping your pug cool and well exercised will reduce stress and prevent a mess on the passenger next to you. Just in case be prepared with some wet wipes, paper towels, and small plastic bags.
Traveling with a Pug – Other Considerations
Pugs are highly valued and one of the top stolen breeds of dogs internationally.
Pugs follow their nose and anything that moves quickly. Always keep them on a leash.
Pugs can snore loudly. Keep this in mind in pet friendly hostels, airplane cabins, and anywhere else where the noise might disturb others.
While it might seem that the challenges of traveling with a pug outweigh the benefits. However, they really just need a little bit of extra preparation to make great and enthusiastic travel partners. A pug will be happy to follow you anywhere and their small size makes them easier to accommodate than larger breeds. Their iconic and cute faces will also draw others to you and help you come out of your shell as you travel. Outside of these sensitivities, pugs are hearty travelers and make great companions on the road bringing new life to your own travels.
READ MORE ⇒  Packing an Overnight Bag for Your Dog
Author bio: Guest post by Anil Polat of How To Travel With Pets
Amazon Affiliate Disclosure: GoPetFriendly.com LLC is a participant in the Amazon Services LLC Associates Program, an affiliate advertising program designed to provide a means for website owners to earn advertising fees by advertising and linking to amazon.com, audible.com, and any other website that may be affiliated with Amazon Service LLC Associates Program. As an Amazon Associate, the owner of this site earns a commission from qualifying purchases.
(Visited 11,140 times, 1 visits today)