Guest post by Karen Friesecke of DoggieStylish.

Previously, I wrote a post for GoPetFriendly about the dog friendly beach at Wasaga Beach, Ontario. Then, blog comments poured in announcing that beach one (the only dog friendly beach at Wasaga) was closed to dogs for the 2010 season.
I called the park to confirm this information. The park ranger I spoke to said that endangered Piping Plovers were nesting in the dunes very close to the dog beach and, until further notice, the dog beach is closed. You still can bring your dog to Wasaga Beach, but dogs are restricted to the riverside beach of beach one, which is small and unattractive. ==> Update on Wasaga Beach!
It's my mission to scout out the next great Ontario dog friendly beach.
The candidates are:
Craigleith Provincial Park – a short drive north of Wasaga beach, and on the shores of Georgian Bay. The beach here isn't a typical sandy beach, instead it has broad patches of shale leading up to the water. I visited there once as a kid and remember it being pretty nice.
Awenda Provincial Park – also on the shores of Georgian Bay and about a 1 1/2 hour drive north of Toronto. The ecology of Awenda is diverse, ranging from beach to old growth forest. I have never visited this park, so I'm eager to go.
Sibbald Point Provincial Park – on the shores of Lake Simcoe and less than an hour's drive north of Toronto. The beaches are sandy and have lots of shady picnic sites, so it sounds perfect!
This is my report from Craigleith.
Craigleith Provincial Park is located on the western shore of Georgian Bay, which is part of Lake Huron. It is a fairly small park, with about 150 campsites for both tent and RV campers. There are electric and water hook-ups for the RVs and comfort stations with bathroom and shower facilities. The fee for day use in the park is $14.00 per carload.
Craigleith does not have a sandy beach. Instead, the entire shore is made up of shale rock. I discovered that wearing flip flops or water shoes is highly recommended! Walking on the shale gets very hot and the rocks can be pretty sharp. While paying attention to Jersey and not to where I was going, I cut the bottom of my foot. The shale in the water gets slimy and slippery from algae, so walking in the water is quite the adventure!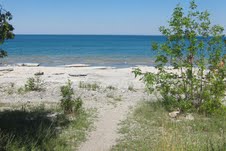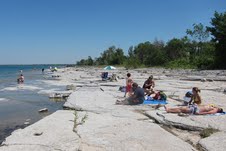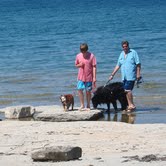 Since the rocks extend out into the water about 100 feet and then drop off abruptly into the bay, the water ends up being pretty cold. Needless to say, I didn't spend a lot of time swimming, but the cold water didn't stop Jersey – she could have swum all day!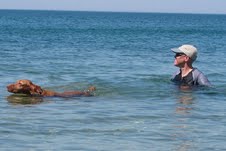 The day use area was pretty nice – lots of shade trees, and we were able to snag a picnic table! There are also fire pits for people who want to have a cookout. The day use area isn't the "official" dog beach, but the park wardens said it was okay to hang out there with Jersey. There were lots of other dogs there, too, so I'm guessing that this park is pretty relaxed about where dogs go on the beach.
Would I go to Craigleith again? Probably not. The 2 1/2 hour drive from Toronto just isn't worth it to me. I'm a sandy beach kind of person and the slippery rocks are a twisted ankle or bruised bum just waiting to happen. On the positive side, it's not a crowded beach, so those looking for peace and quiet will love it.
Stay tuned for further reports … Doggie Stylish is on the road!
Karen Friesecke is a dog lover and guardian to a Vizsla named Jersey. 
Amazon Affiliate Disclosure: GoPetFriendly.com LLC is a participant in the Amazon Services LLC Associates Program, an affiliate advertising program designed to provide a means for website owners to earn advertising fees by advertising and linking to amazon.com, audible.com, and any other website that may be affiliated with Amazon Service LLC Associates Program. As an Amazon Associate, the owner of this site earns a commission from qualifying purchases.
(Visited 3,782 times, 1 visits today)