Visiting Milwaukee feels like coming home. And not just because I'm from Wisconsin. This city has a vibe … a friendly, easy-going atmosphere that puts you at ease, like pulling on your favorite sweatshirt. But don't get too comfortable, because there are plenty of pet friendly things to do in Milwaukee! We've highlighted some of our favorites so you can include them to your plans.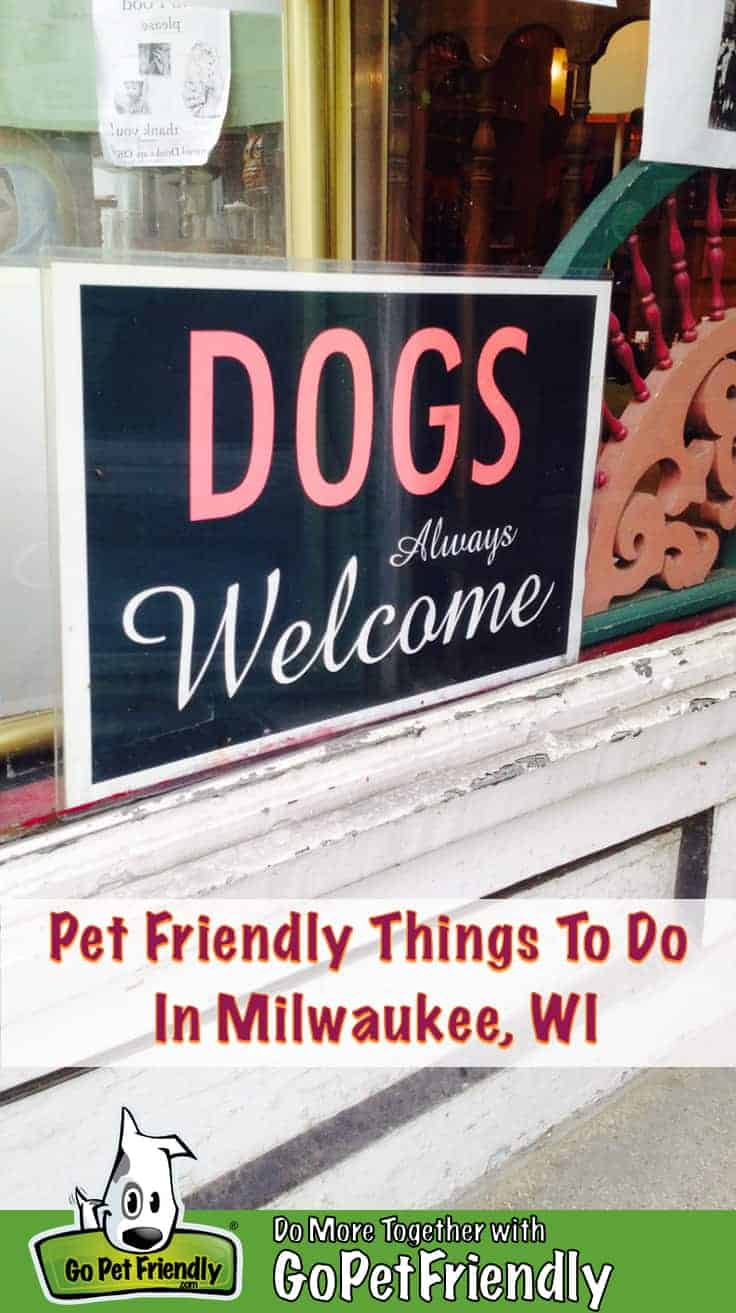 Pet Friendly Things To Do in Milwaukee
When you visit Milwaukee, pack your walking shoes and plan to explore the city on foot. It's the best way to enjoy the hidden gems and quiet corners that you'd miss zooming by in traffic. Time actually slows down a bit as you pause to listen to the birds chirp in the neighborhood parks, or watch the waves crash against the breaker wall at the lakeshore.
Milwaukee is nestled on the shore of Lake Michigan. Once known for its brewing and manufacturing industries, Milwaukee has reshaped its image. In the past decade, major new additions to the city have included the Riverwalk, the Midwest Airlines Center, Miller Park, and an internationally renowned addition to the Art Museum. Also, many new condo and loft  buildings have gone up in neighborhoods on and near the lakefront. And, of course, there still is Harley Davidson to boast about.
READ MORE ⇒  What To Pack For Your Dog For A Weekend Getaway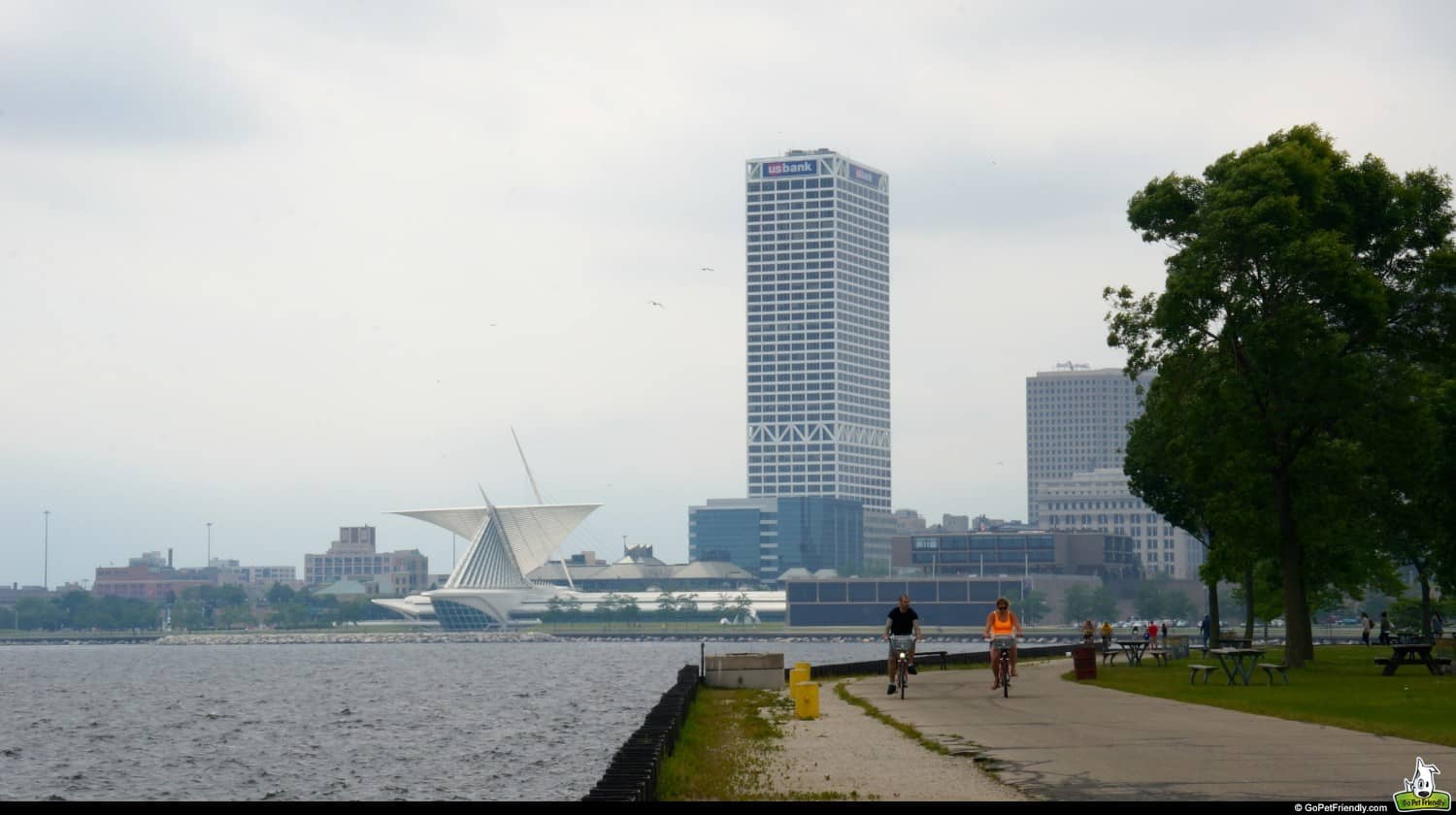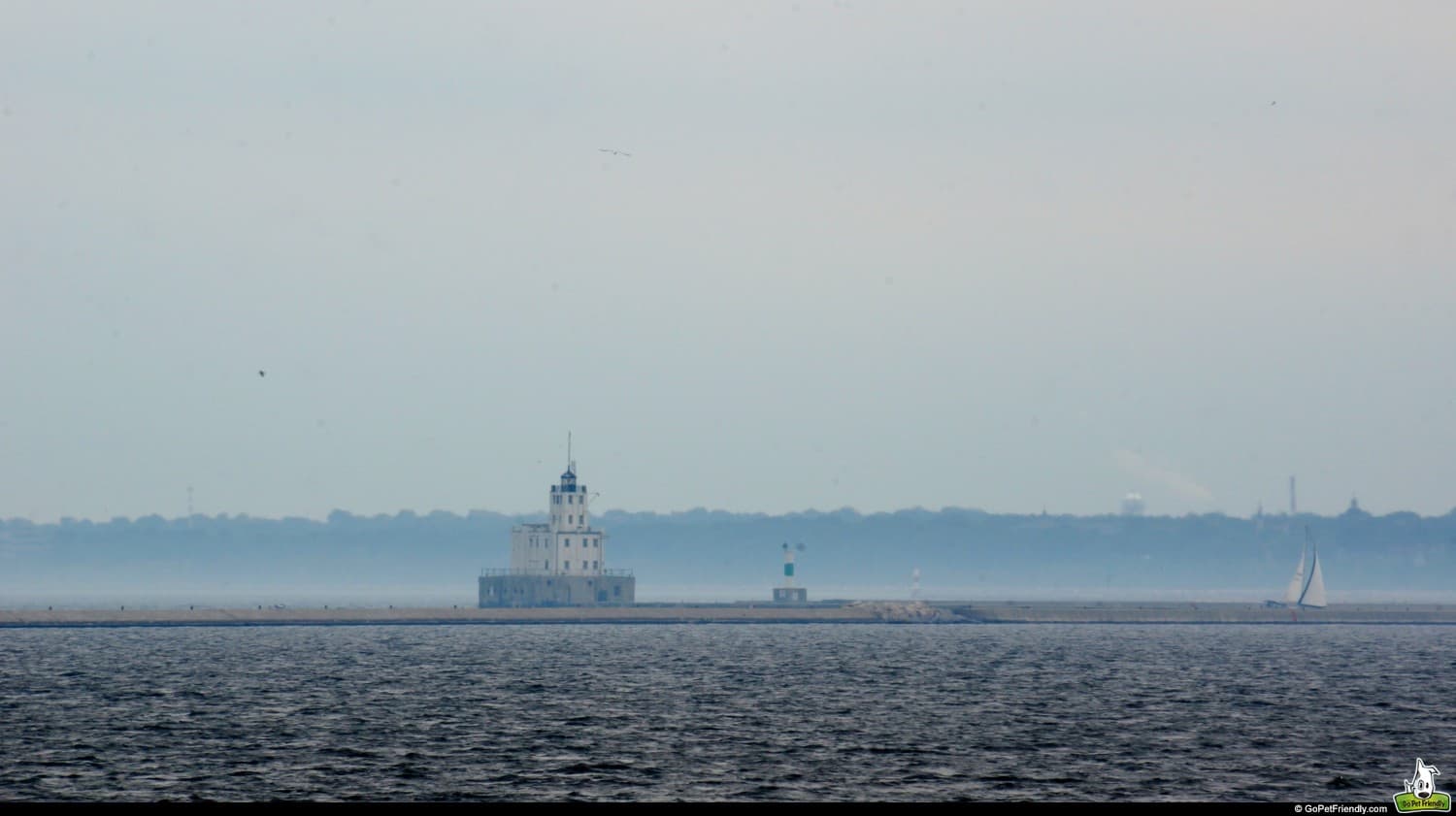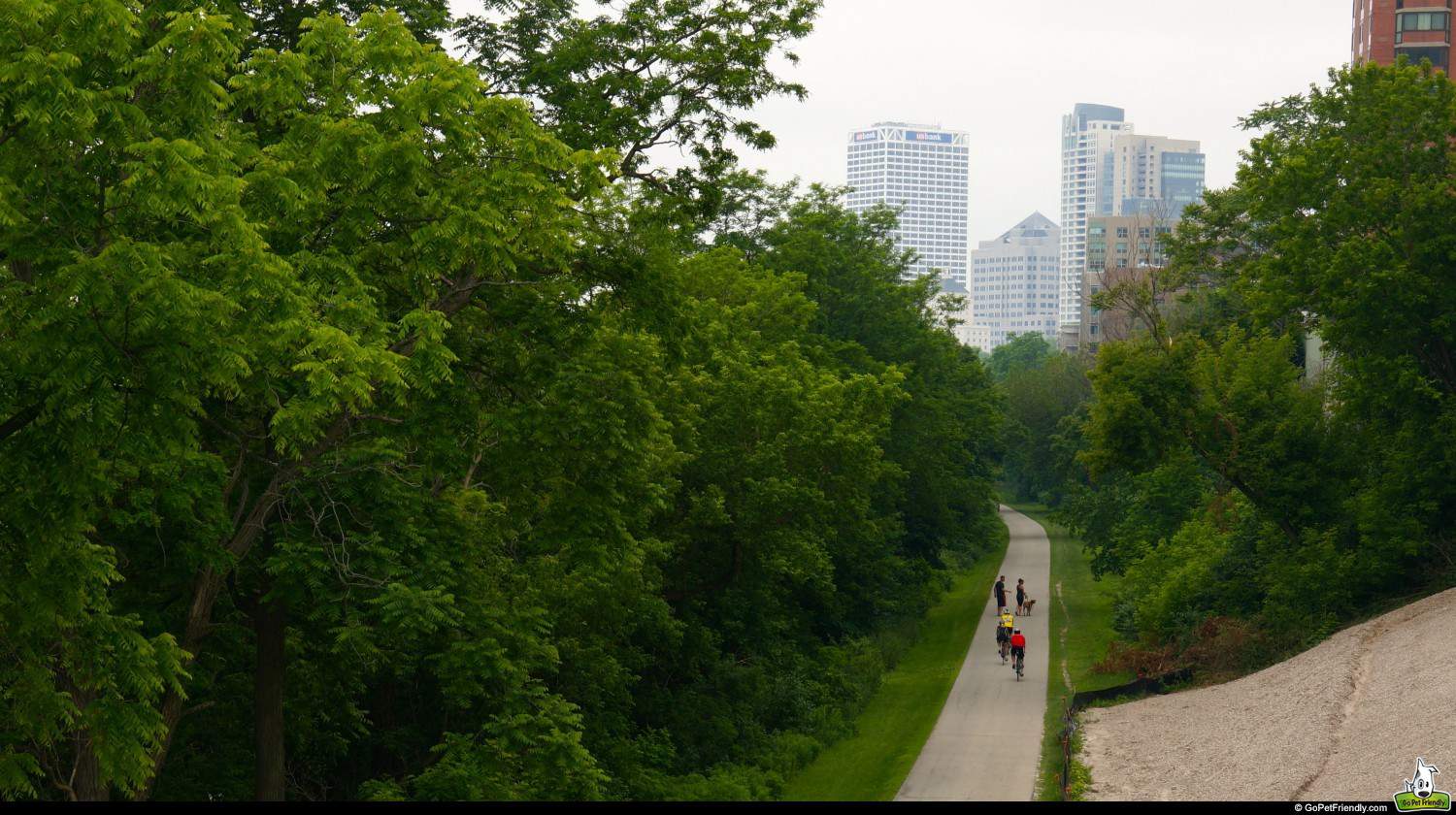 The East Side
Since Rod's more of an "urban hiker," we started with a dog friendly trail close to downtown. The East Bank Trail runs along the Milwaukee River in the East Side neighborhood. You'd never know you were in the middle of the city as you meander the wild, quiet paths. But you're just a hop, skip and jump from Brady Street, which is perfect for a little window shopping.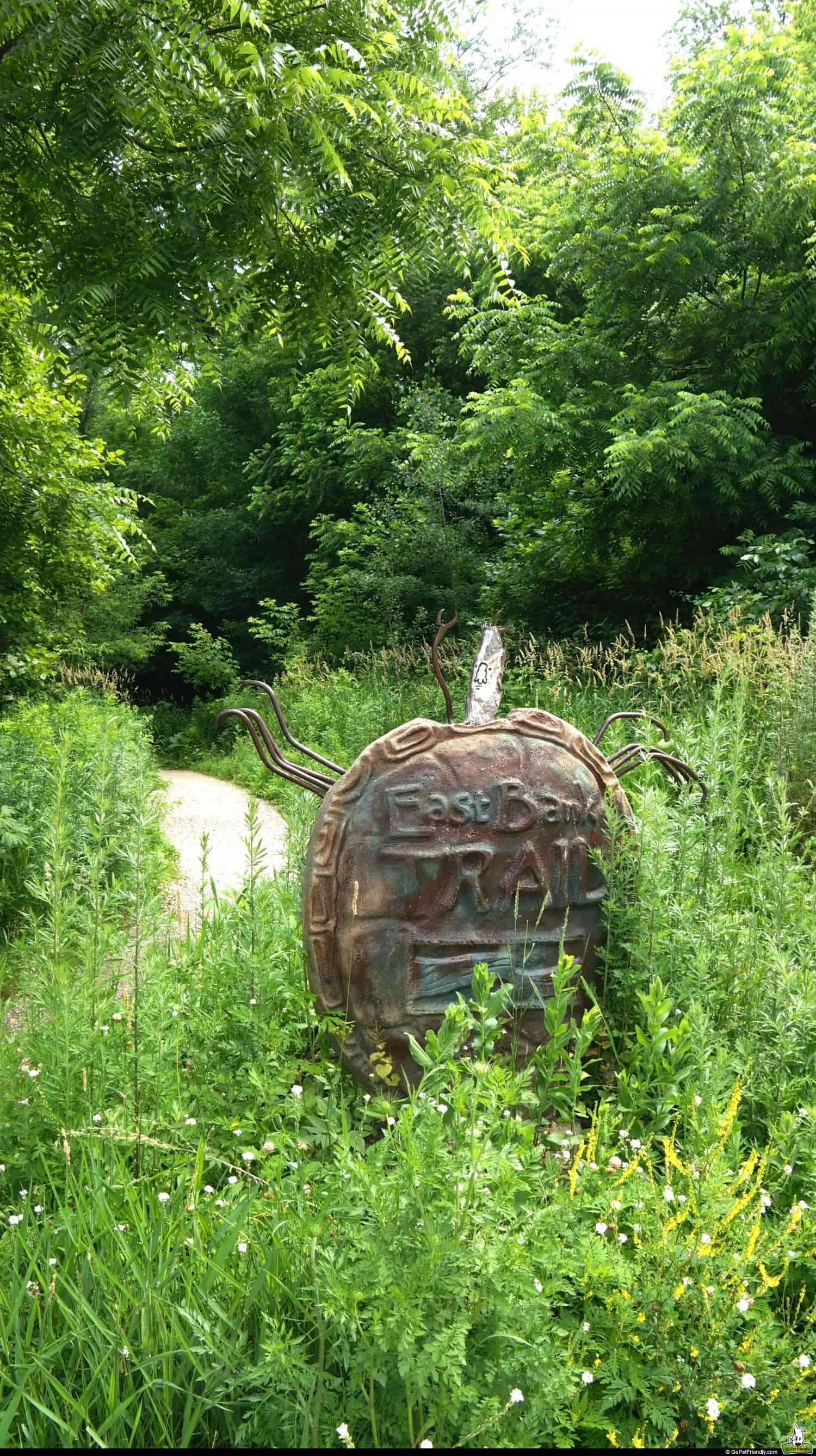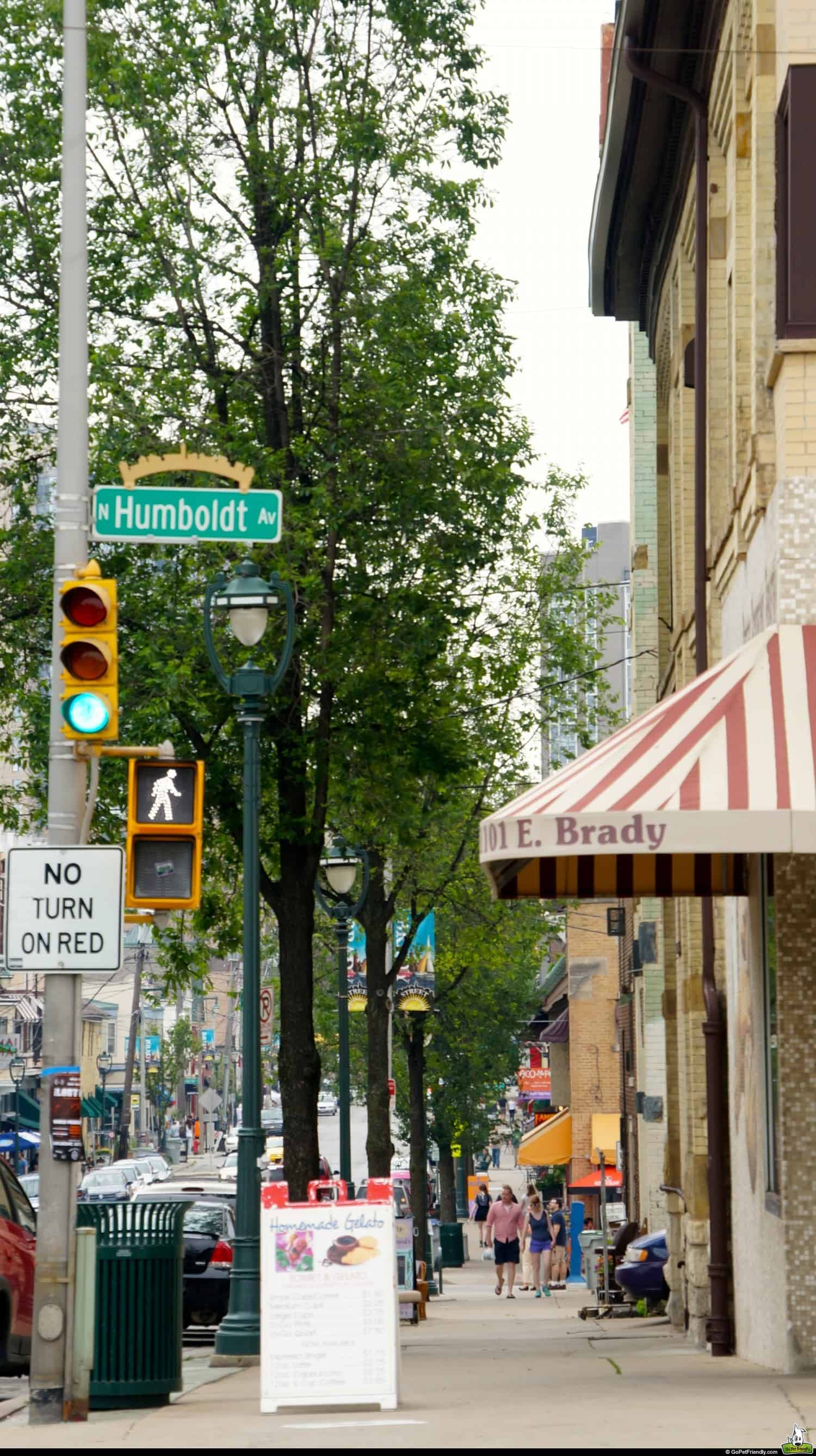 This was our first time to this part of town, and WHAT A FIND! There were dogs all over, and many of the restaurants, cafés, and bars had dog friendly outdoor seating areas. Some of the shops even had "Pets Welcome" signs in the windows and water bowls in front. The definitely know how to make pet lovers feel welcome.
The Lakeshore
Following Brady Street down to Prospect Avenue puts you on the trail that connects the East Side to the Lakefront. From here you can access Oak Leaf Trail, or one of the many other trails through the park or along the lake. They are more popular, but there's plenty of space, so even reactive dogs like ours can get get the distance they need.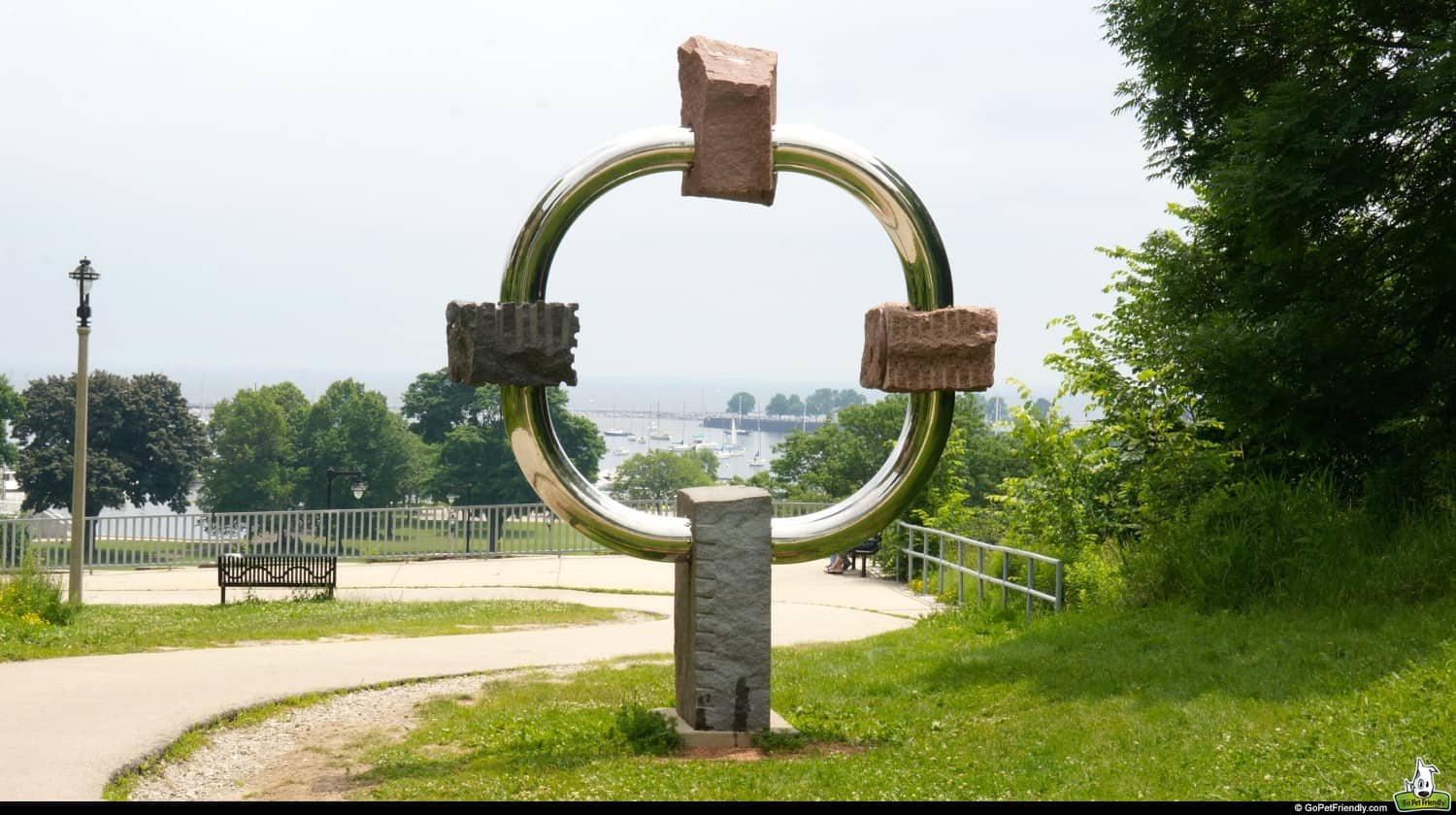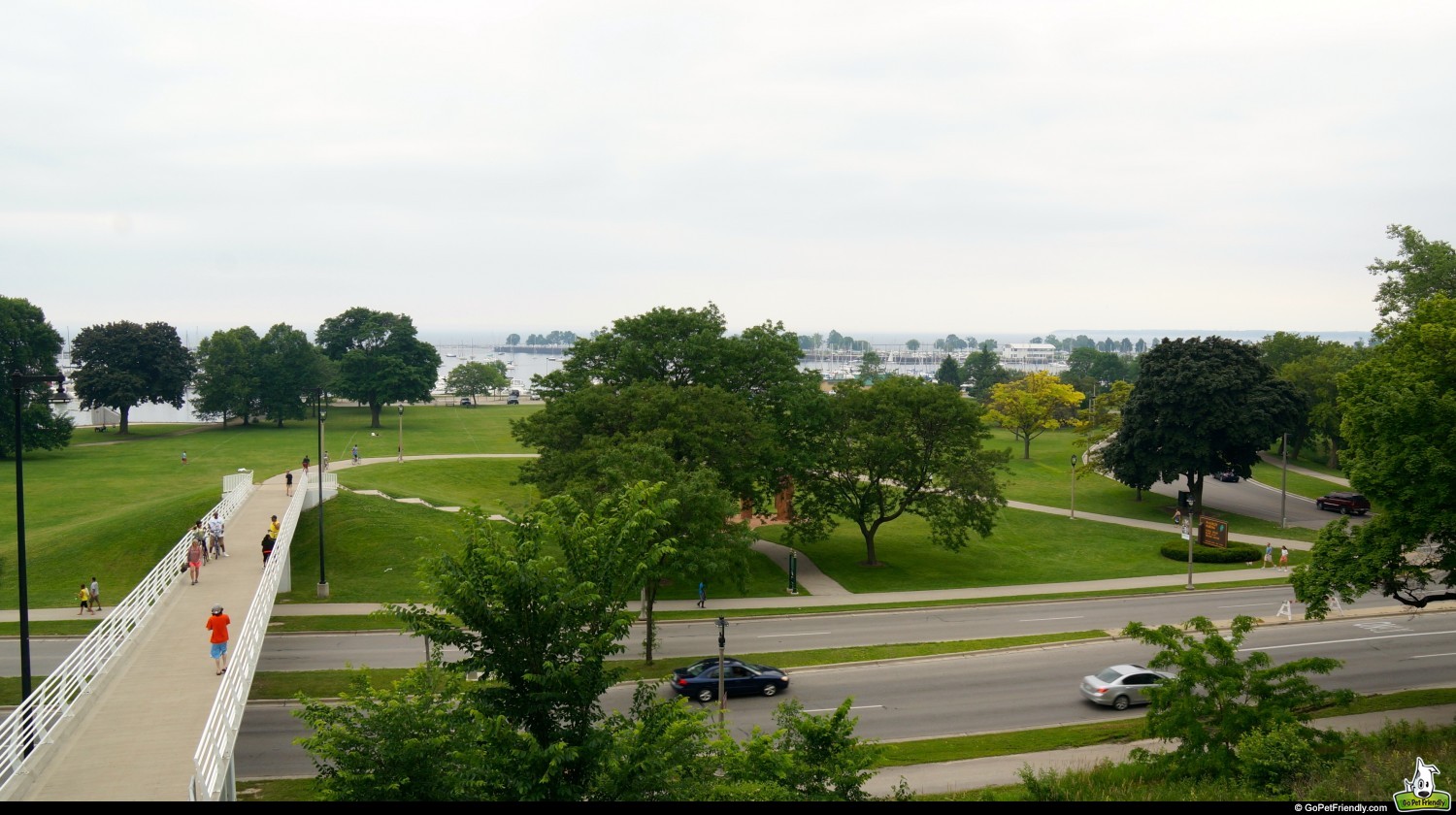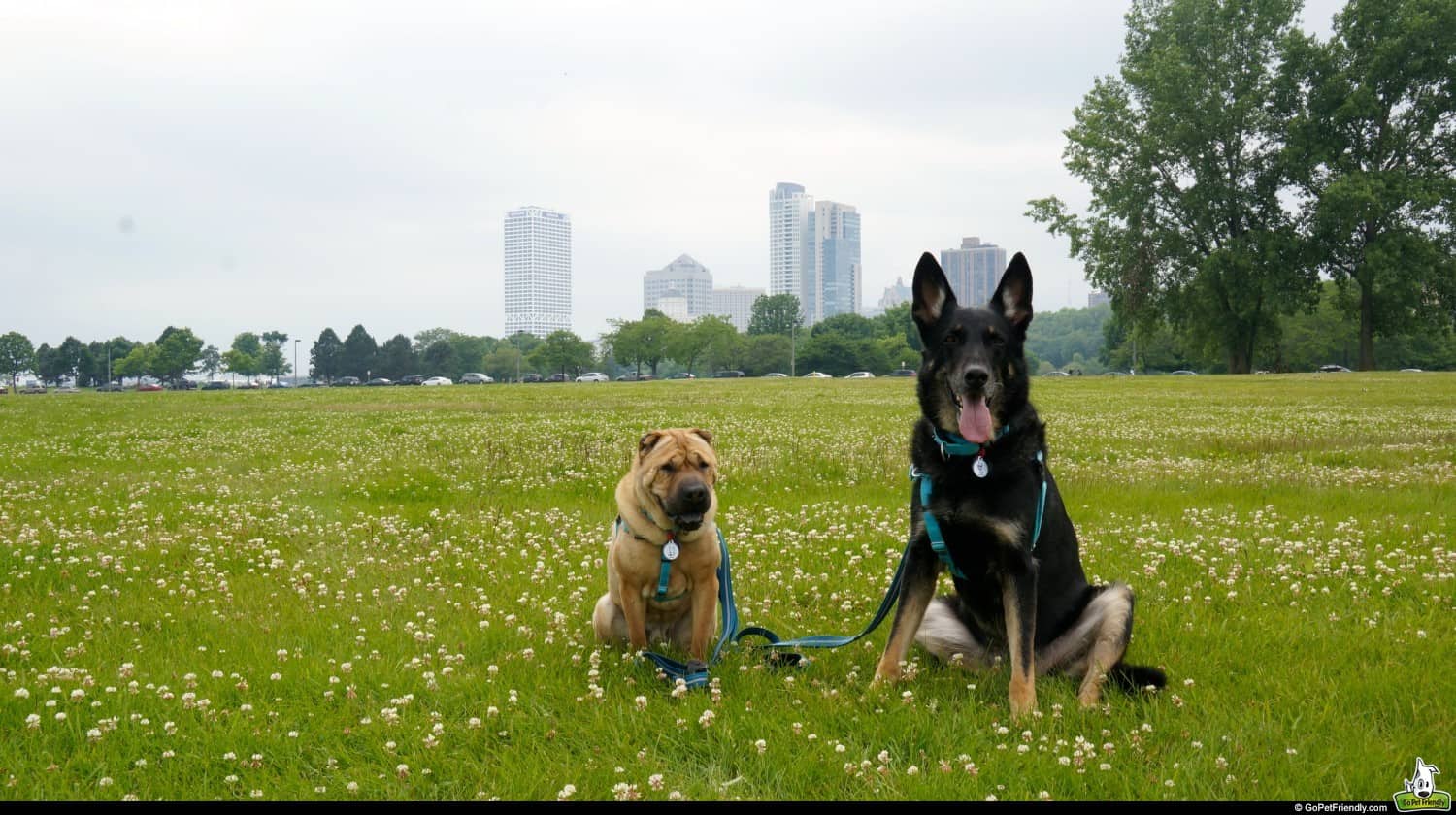 Juneau Park Lagoon
For a tail-waggin' time, head over to the Juneau Park Lagoon and have a paddle in one of their canoes, kayaks, or paddle boats. All the boat rentals are pet friendly!
READ MORE ⇒  5 Questions To Ask Before Taking Your Dog On A Boat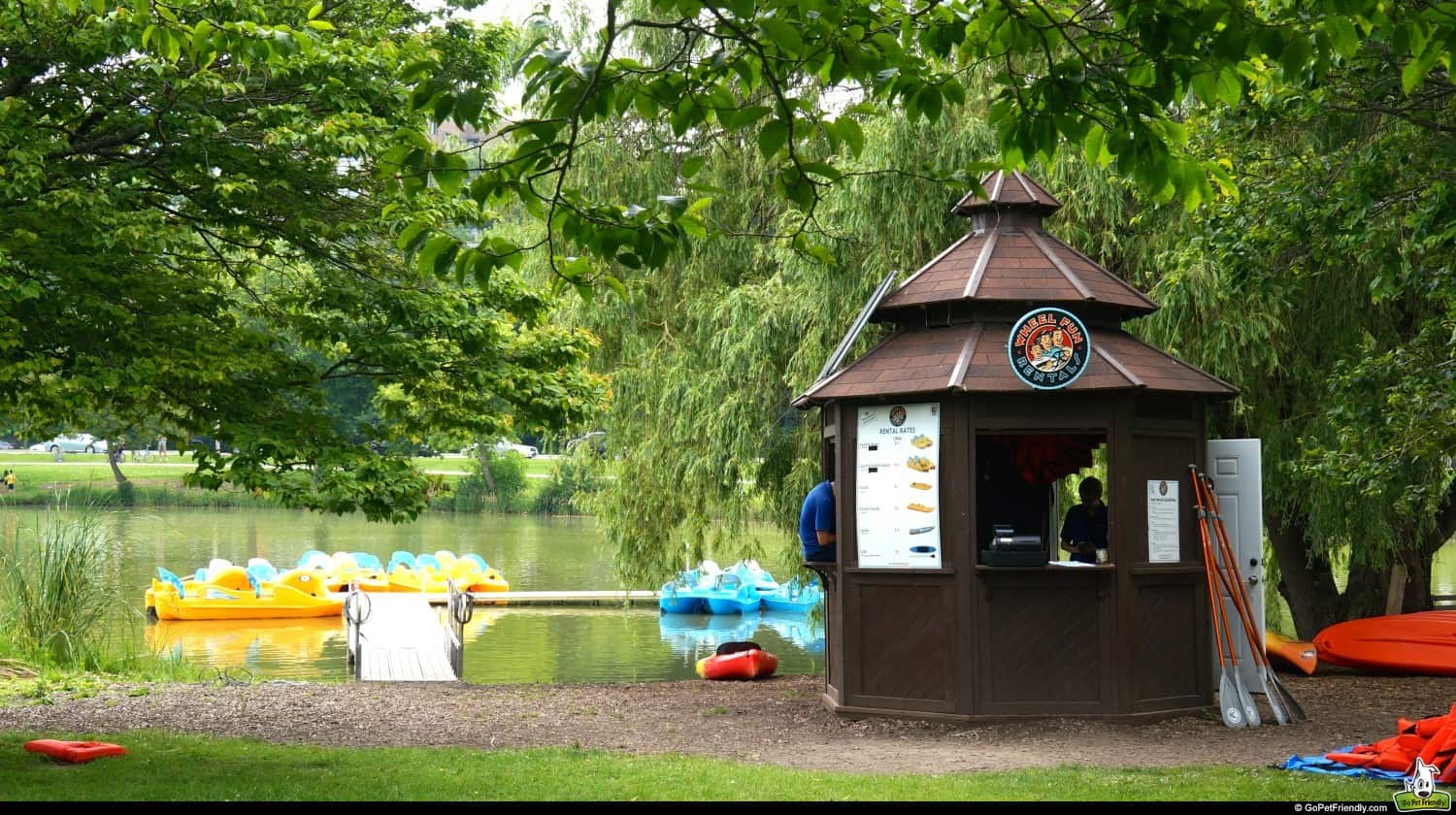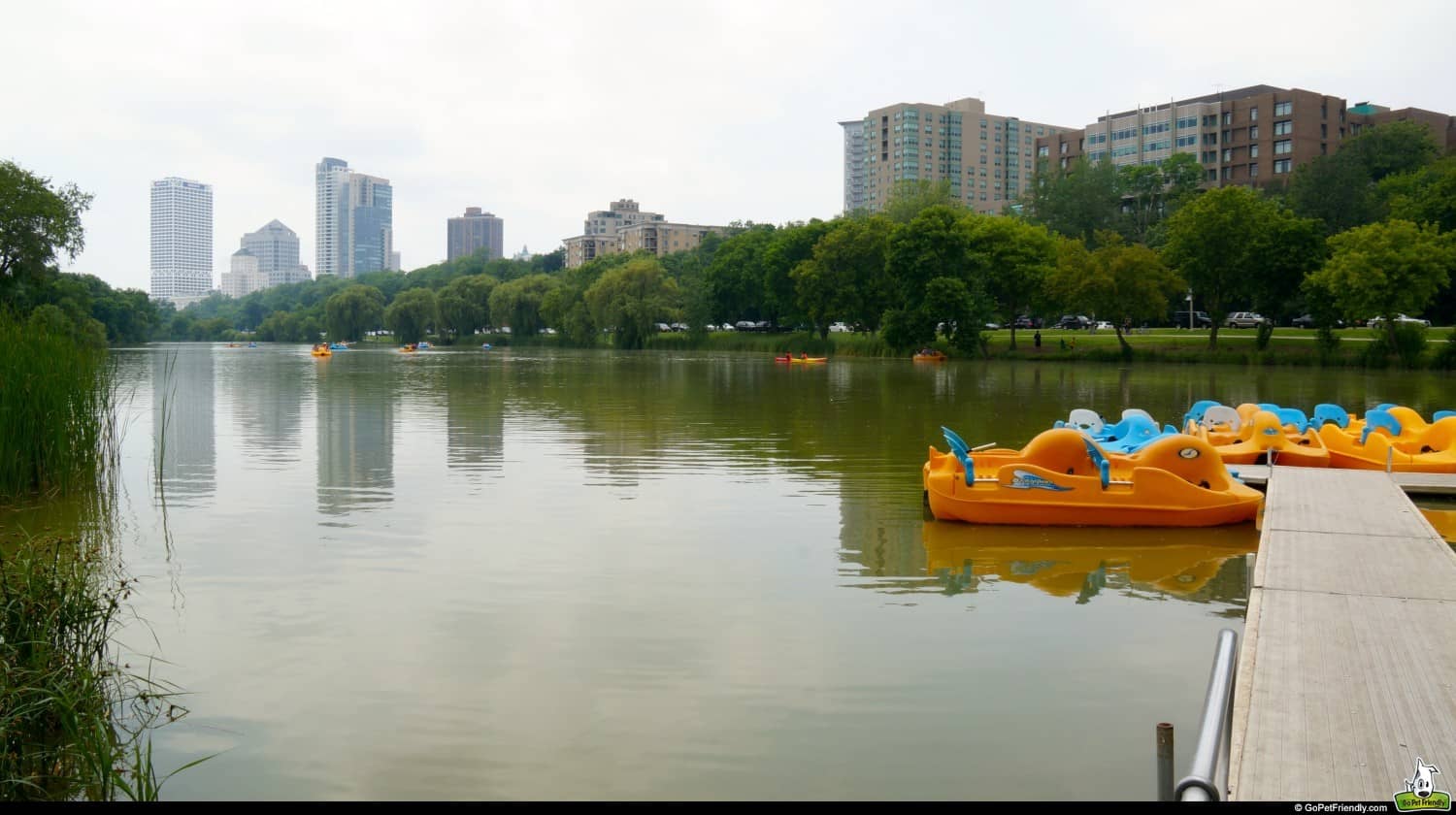 The Third Ward
No trip to Milwaukee is complete until you've stopped down in the Third Ward. This former warehouse district is now home to the Milwaukee Public Market and a lively collection of lofts, restaurants, and boutiques. Connected to downtown by the River Walk, it's a great place to take a stroll with your dog.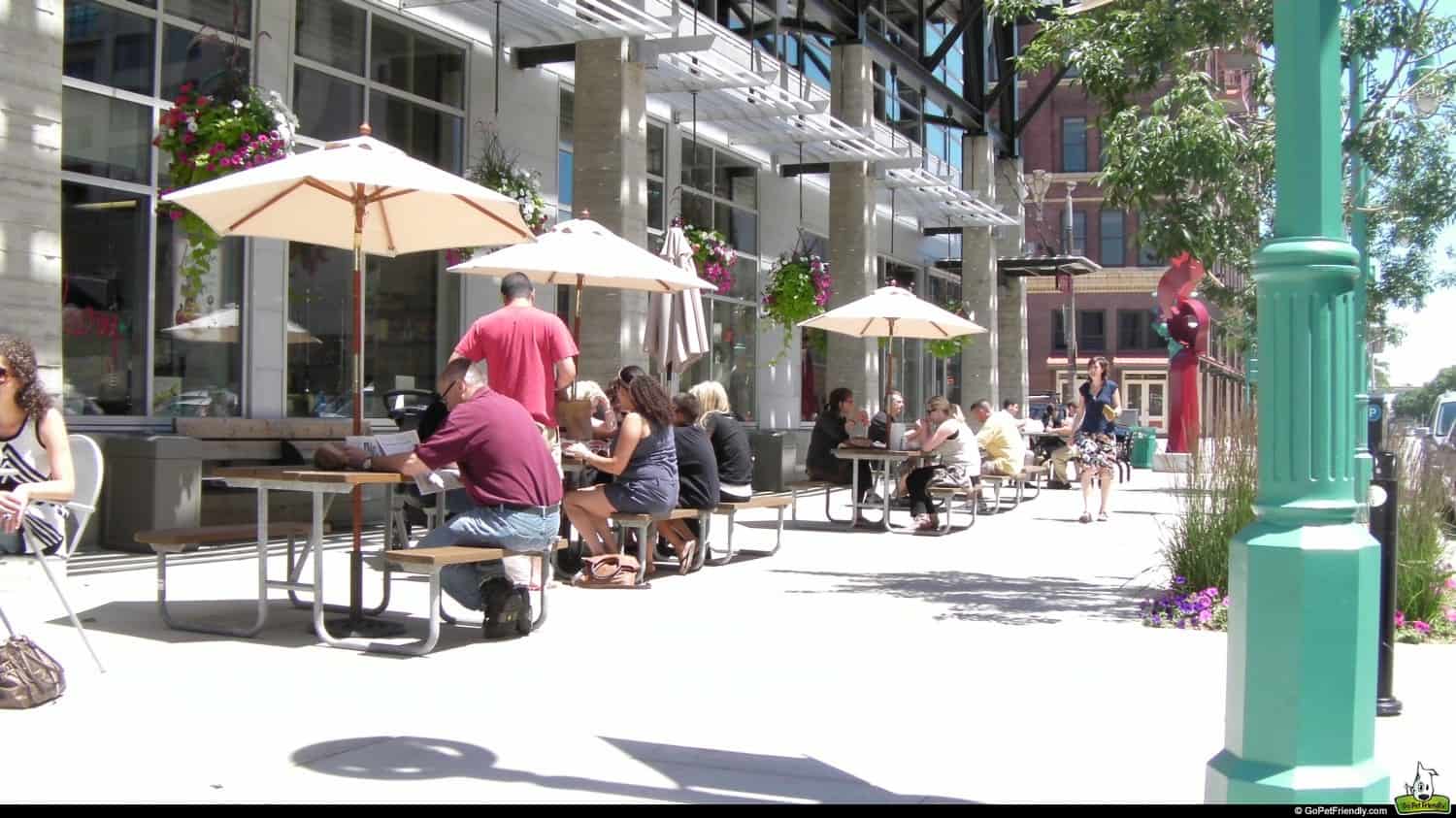 The Wicked Hop is one of our favorite spots, because the outdoor seating is pet friendly and covered – to keep you out of the sun or rain. They even have heaters if you happen to be there on a chilly day!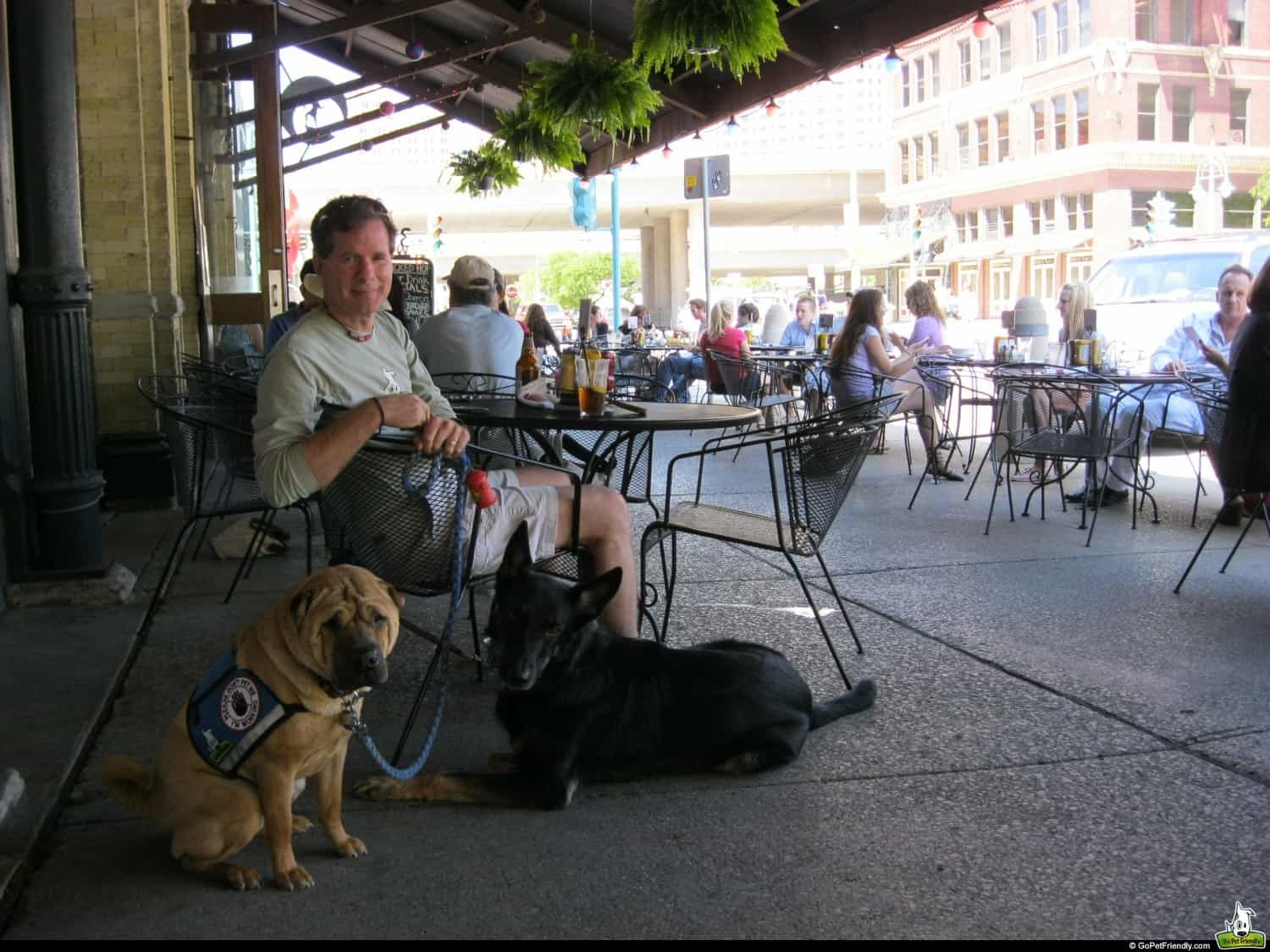 Marquette University Campus
It's always fun to go back to my alma mater and see how things have changed since I was there all those years ago! Of course, some things never change. The statue of Father Jaques Marquette, the Jesuit missionary the university is named after, still welcomes students and visitors. Gesu still stands as the iconic symbol of the university. And the St. Joan of Arc Chapel is still lovingly adorned in flowers.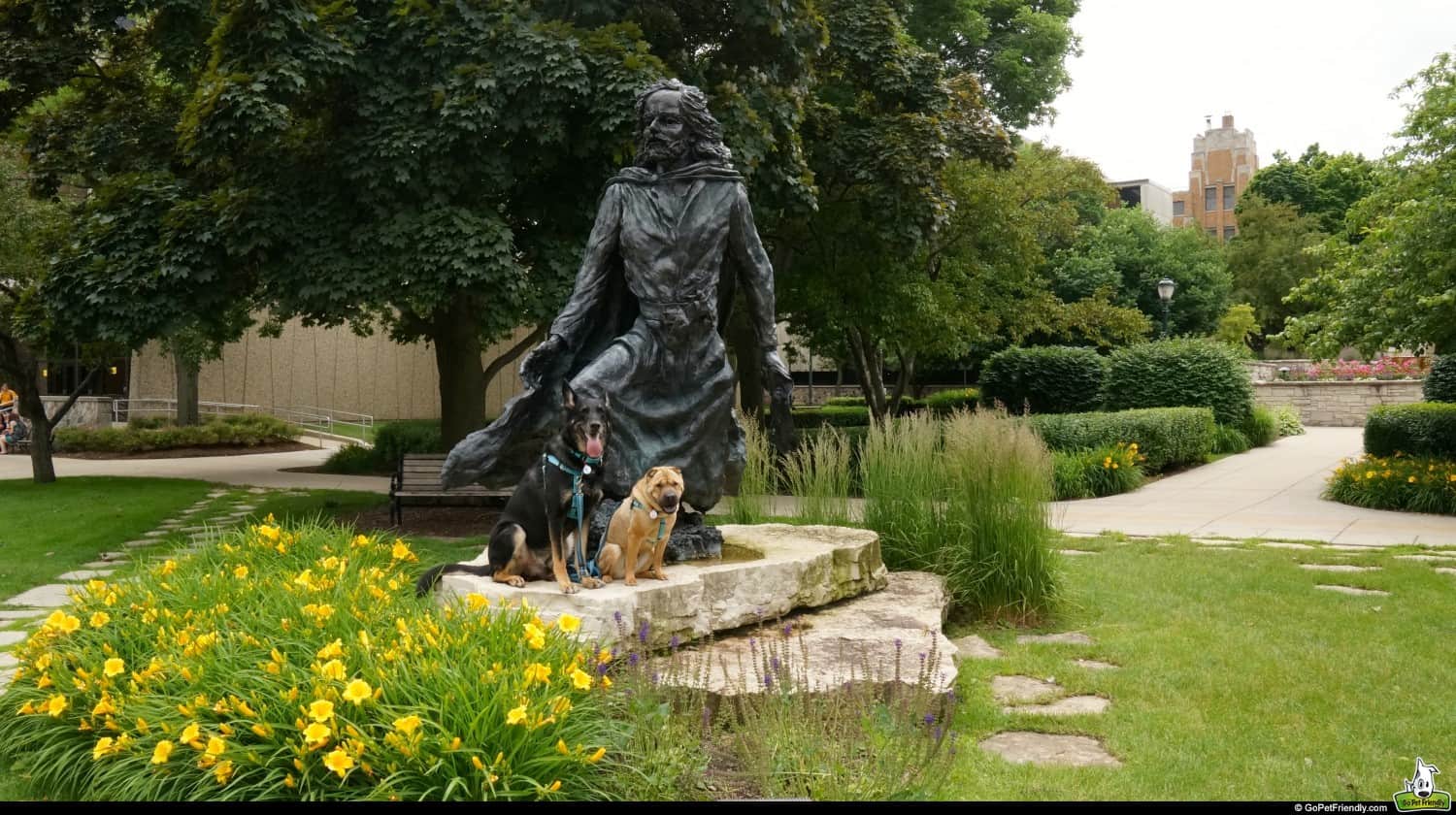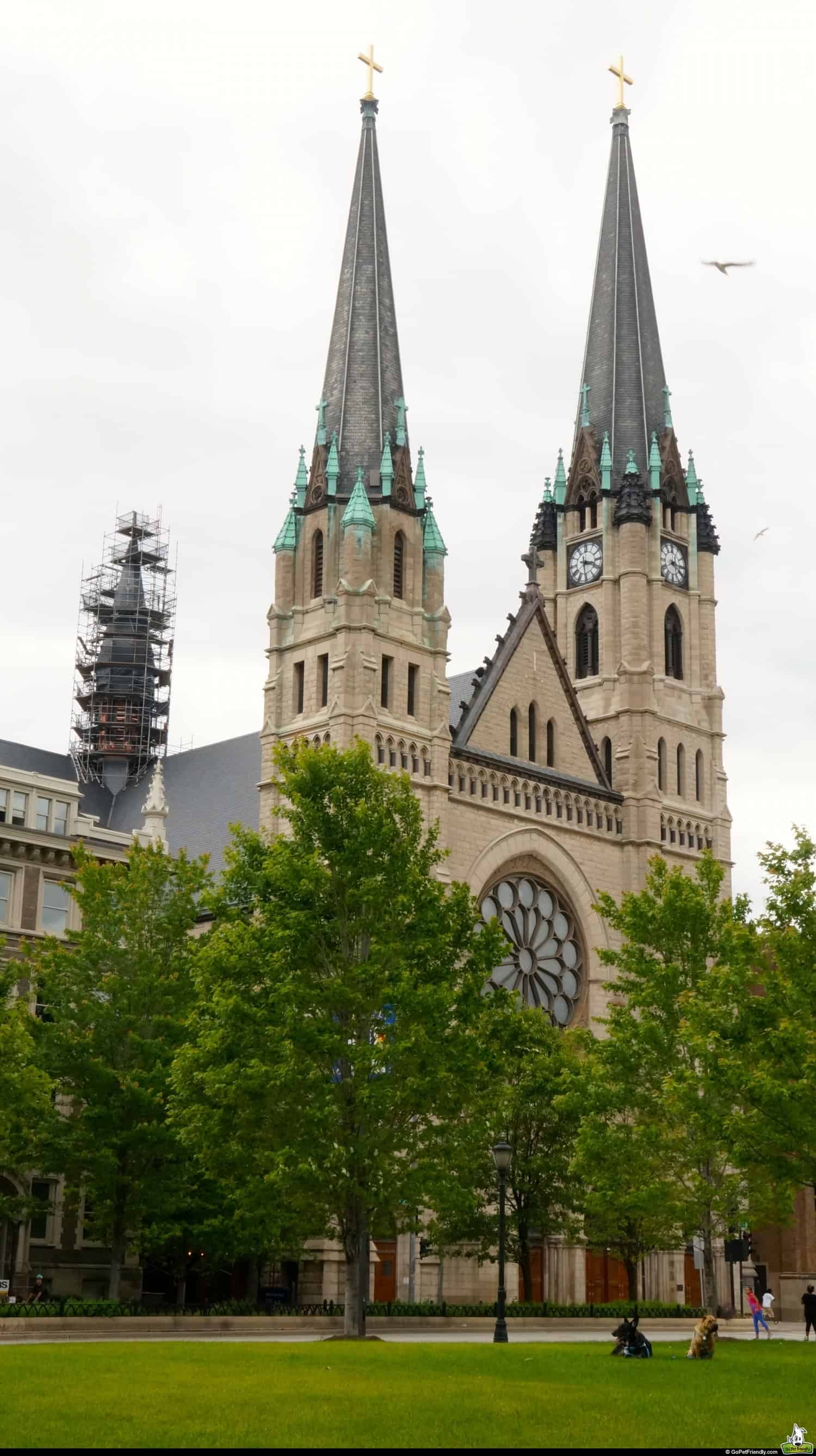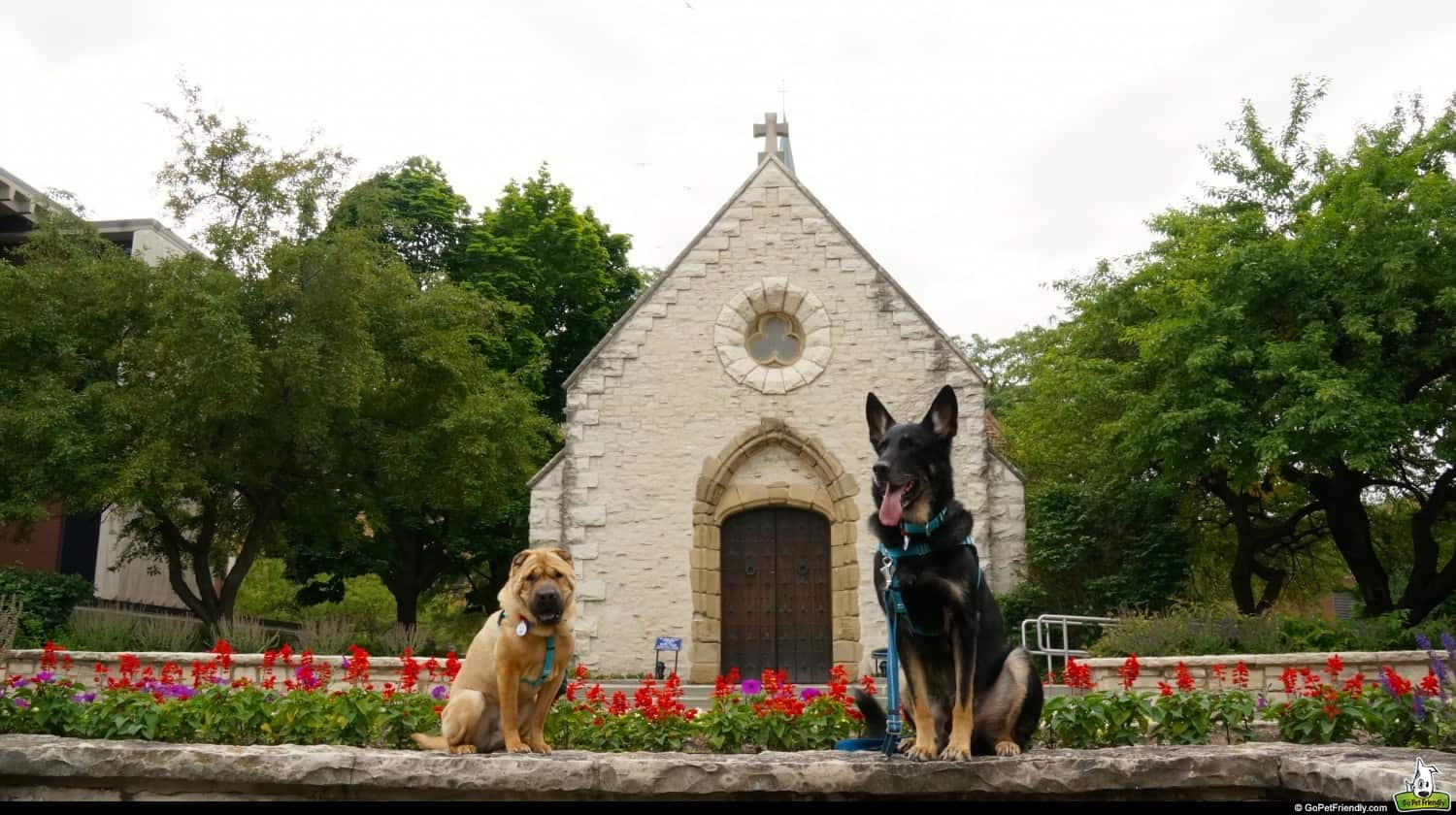 On this visit we made time for lunch at Sobelman's. The food was great and they were really nice to the dogs. This is one of the only restaurants with an outside seating area and table service on campus, so we really appreciated them for being pet friendly!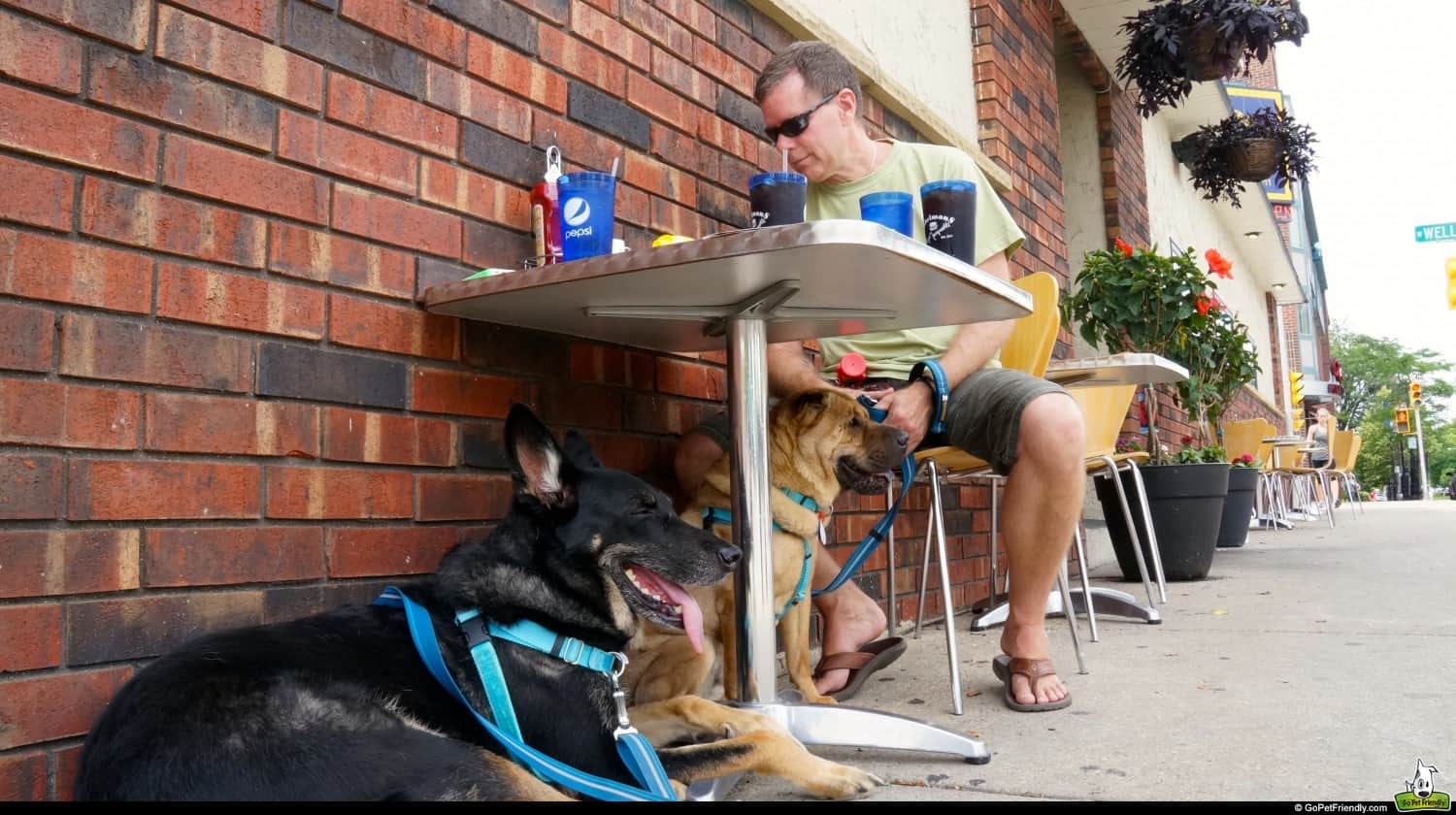 Grant Park – Seven Bridges Trail
If you're up for a little more exploring, drive south of downtown and hike the Seven Bridges Trail in Grant Park. The park itself is sprawling and offers magnificent views of Lake Michigan. And the trail, winding along through a wooded ravine, provides access to a rocky beach where the pups can splash. It's a lovely place to take a picnic and your hammock for a relaxing afternoon.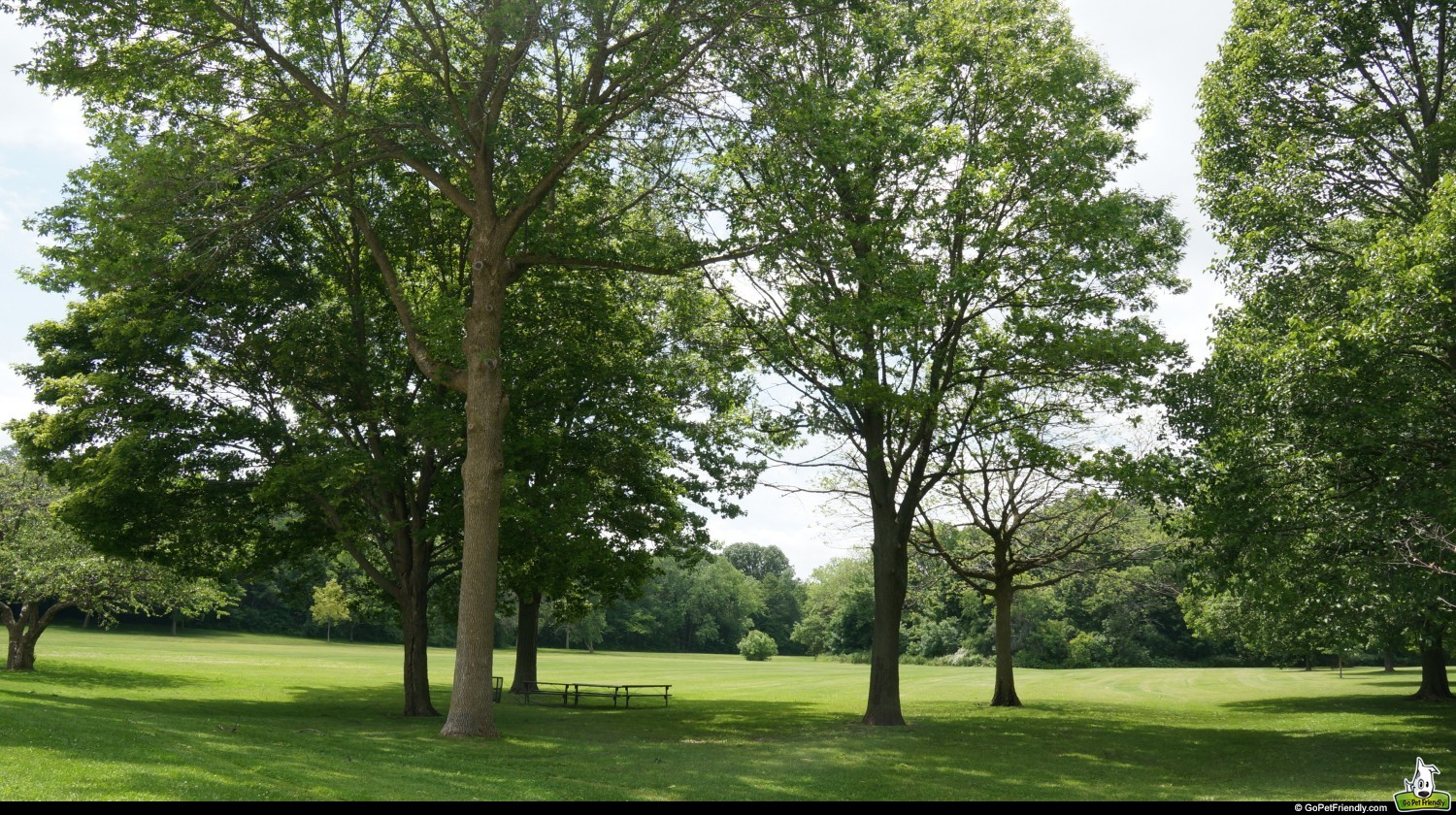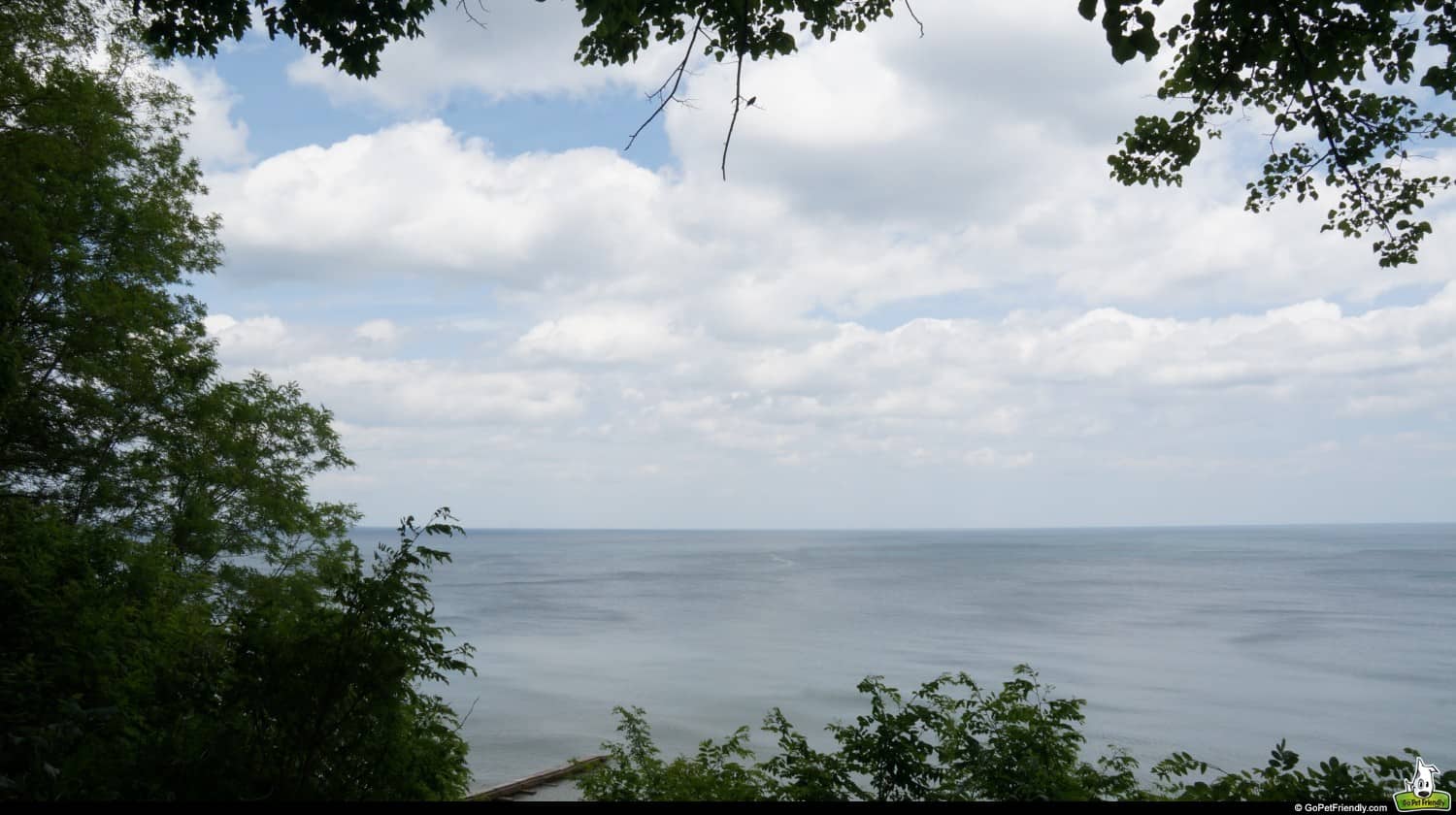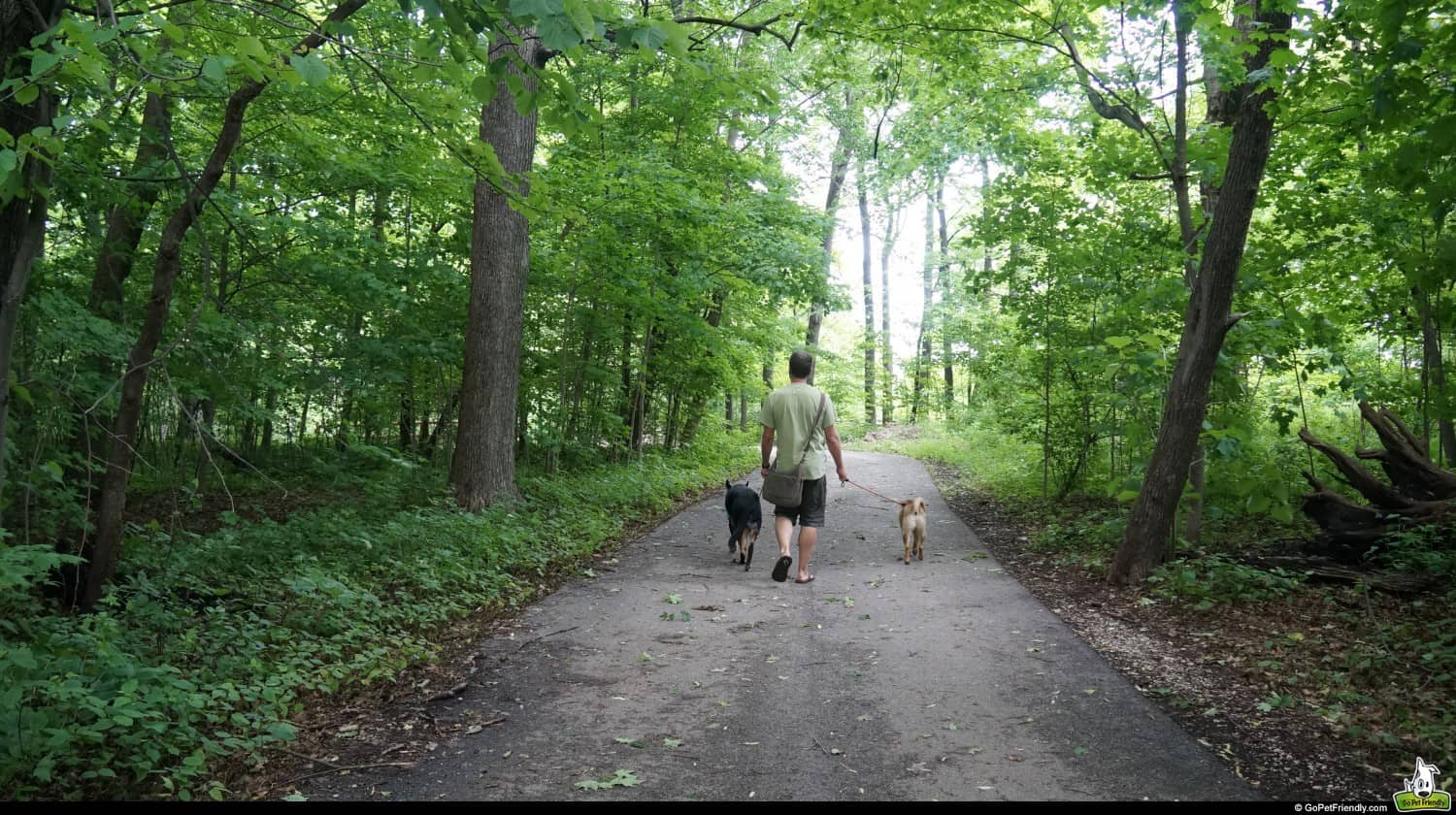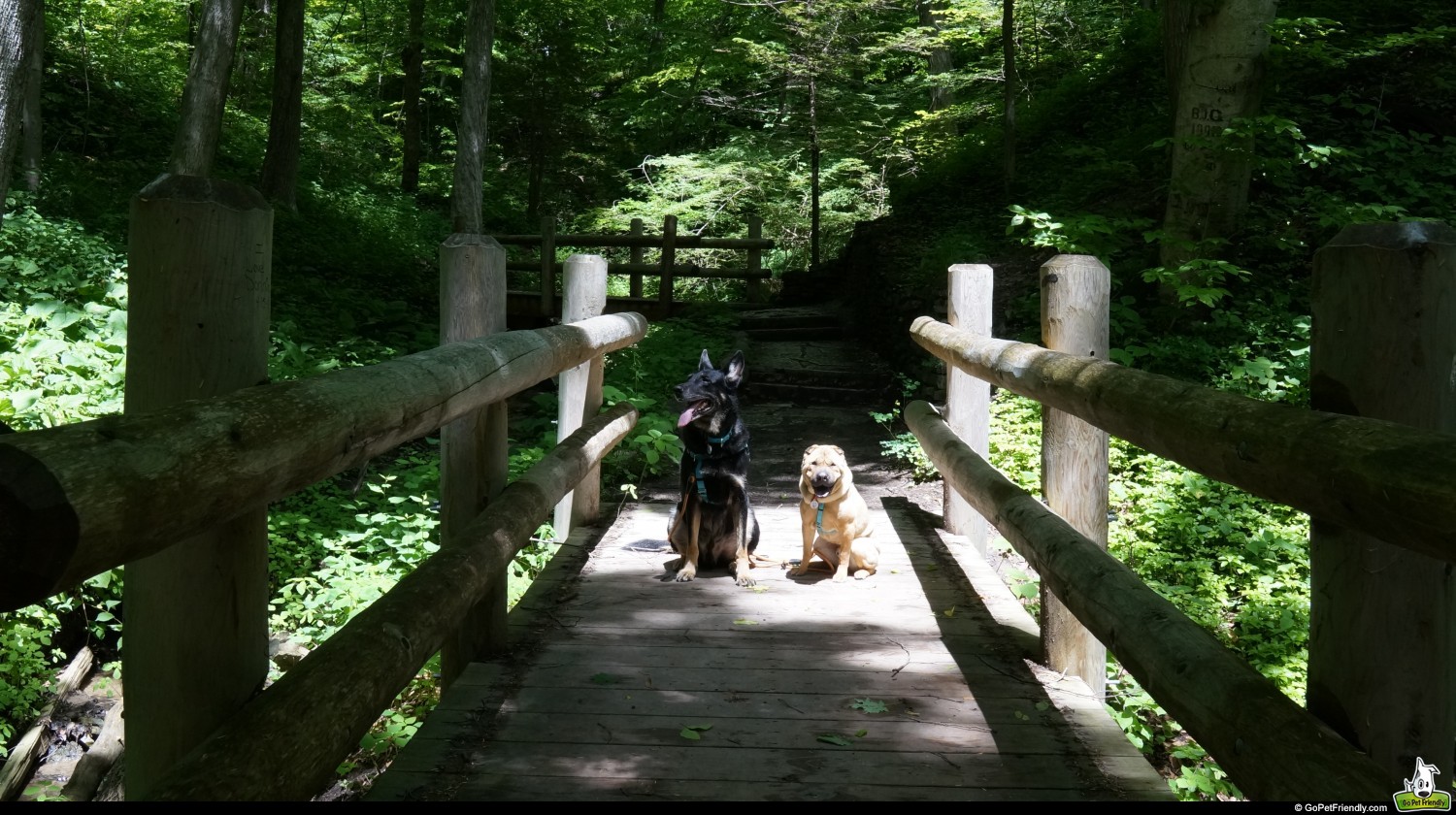 This was another great trip to one of my favorite cities in the country. And we're already looking forward to visiting again! There are always more pet friendly things to discover in Milwaukee!
(Visited 12,083 times, 1 visits today)