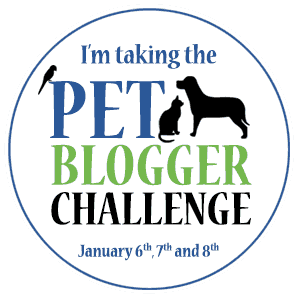 Happy New Year, and welcome to the 8th annual Pet Blogger Challenge!
2017 is in the rearview mirror, and it's time to get 2018 started on the right foot. Over the past seven years, it's become a tradition to reflect on last year's victories and share my aspirations for the coming twelve months with this wonderful community of pet bloggers. What started as a personal exercise has become a heartwarming event, and I'm deeply grateful to you for joining me to connect, celebrate, and support each other as we continue to learn and grow.
For those who may be wondering what the heck this is all about, once a year we pet bloggers set aside our normal blog topics to honor our achievements and make our plans for the new year. We incorporate a Linky List into our posts, so it's easy to find everyone who's participating. And we comment on each other's sites, offering congratulations and encouragement. It's my favorite post of the year, and I hope you enjoy it as much as I do.
If this is the first you've heard of the Pet Blogger Challenge and you'd like to participate, you'll find all the details and the questions in this post.
And now, without further ado … let the 2018 Pet Blogger Challenge begin!
For those who may be visiting your blog for the first time, how long have you been blogging and what is your main topic?


We started Take Paws 8 1/2 years ago to promote our pet travel website,

GoPetFriendly.com

, and to inspire other people to travel with their pets. The blog compliments our database of 65,000 pet friendly locations by providing resources pet travelers need, "paws-on-the-ground" reporting on

pet friendly vacation destinations

, and tips for making trips with pets go smoothly.

What was your proudest blogging moment of 2017?
Without question, completing the Ultimate Pet Friendly Road Trip was my biggest accomplishment of 2017 – and of my entire blogging career! We visited the top pet friendly attraction in each of the lower 48 states with Ty and Buster, blogged about each stop, and co-hosted 17 events with animal shelters and rescues along the way. But most importantly, we truly enjoyed the adventure. We shared so many precious moments and collected some of the best memories of our lives … it was a dream come true.
Which of your blog posts was your favorite this year and why? (Please include a link.)


My favorite post was

"Happy Golden Birthday to our Golden Boy

," which I published on Ty's 13th birthday. The post documents Ty's adventures over the previous year and fills me with gratitude for having another year with our little guy.

In terms of your blog, how do you measure success?


The blog's success is reflected in the traffic. My posts are intended to help make traveling with pets easy, safe and fun, and inspire people to take their pets along when they travel, so the goal is to reach as many people as possible. Visits to the website increased by 43% this year, so that's a good indication we're on the right track.

In what ways has your blog changed during 2017?
The biggest change to the blog in 2017 was incorporating Mediavine ads on the site. I've wrestled with this decision for a long time and when Jessica at YouDidWhatWithYourWeiner.com took the plunge, I was motivated to follow. It's been about 6 weeks since the installation, and I haven't received any complaints or noticed any decreases in activity … but I'll wait a bit longer before chalking it up as a success.
What was the biggest blogging challenge you overcame in 2017, and what did you learn that could help other bloggers?
Time. Most of us struggle finding the time it takes to write our blogs and promote them on social media, but being on tour this year really pushed me to the max. There was no way to keep all the balls in the air, so I hired help. Pamela Douglas Webster from Something Wagging This Way Comes bailed me out of various projects and completely knocked it out of the park managing my Pinterest boards! And Julie Melfi from Leg Up Creative was my graphics guru that kept everything looking beautiful.

What I learned is that it's hard to turn over control, but the sleepless nights and anxiety attacks that Pam and Julie saved me were priceless – and their work was far better than I could have done! With new projects on my plate, I'll be continuing to rely on them in 2018.

When things get hard, what keeps you blogging?
(Question submitted by Pamela Douglas Webster of Something Wagging This Way Comes)


When it comes right down to it, I love what I do. Traveling and exploring new places with Ty and Buster is a ball, but what really drives me is knowing that we're helping other people make memories with their pets, too. When blogging starts to feel hard, I take a break for a week, and that usually does the trick to get the creative juices flowing again.

Looking forward to 2018, what are you hoping to accomplish on your blog?


2018 is shaping up to be a big year! I'm writing a book about the Ultimate Pet Friendly Road Trip, and hoping to do a book tour to help with the promotion. At the same time, Ty and Buster are easing into their senior years and looking forward to a less hectic schedule, so I'm putting together a small team of bloggers to write for Take Paws. Like us, they'll be people who travel with their pets and are excited to share their experiences. Making the transition from full-time blogger to editor and author is a challenge I'm looking forward to!

In addition to what you'd like to accomplish, is here one specific skill you'd like to improve or master this year?(Question submitted by Jodi Chick of Kol's Notes)


Yes, I'm going to improve my SEO skills. It's embarrassing how little I know about SEO, but now that I'm going to be leading a team and collaborating on the topics that will be covered on the site, I need to sharpen my skills. Does anyone know of a good "SEO for Dummies" course?

Now it's your turn! You have the attention of the pet blogging community – is there a question you'd like answered, or an aspect of your blog that you'd like input on? Share it here, and we'll answer you in the comments!


Adding new bloggers to the Take Paws team will give us the opportunity provide different perspectives on pet travel. What new areas would you like to see us cover?
And there you have it – my contribution to the 2018 Pet Blogger Challenge! Now, get comfy and hop your way through all of these wonderful pet blogs! You're sure to make some new friends, reconnect with old friends, and learn something new along the way.
Thanks to everyone who's participating! Be sure to add the direct link to your post below, and include the Linky code on your blog to make it easy for everyone to hop along.



Planning a pet friendly trip of your own? We'll make it easy:
Pet Friendly Hotels | Pet Friendly Destinations | Pet Friendly Activities
(Visited 1,631 times, 1 visits today)