Congratulations Charleston, South Carolina (Cathy B.) – you've been voted the Best City for Pet Travelers 2016 by GoPetFriendly.com readers, your enthusiastic fans, and pet travelers from around the the country! We're certain that you'll carry the title proudly and continue your tradition of showing pets and their people your warm southern hospitality.
To celebrate, the GoPetFriendly.com team will be visiting Charleston and experiencing your pet friendliness first hand! Stay tuned for more information about our planned schedule.
It Was A Wild One!
Our pet friendly version of March Madness turned out to be just as thrilling as the original! We received nominations from the loyal fans of 110 cities across the US and Canada, and your votes narrowed them down, round by round, until just Colorado Springs, Colorado and Charleston, South Carolina remained.
The final match-up saw Charleston jump out to a significant lead, and with just 12 hours remaining in the round, she appeared to be walking away with the win. But Colorado Springs wasn't going down without a fight. All day she steamed along until, with just a few hours to go, she'd taken the lead! More than 1,000 people had voted, and with just two minutes remaining, only four votes separated the two cities. And then they were tied – dead even with just seconds remaining! Charleston claimed the win in a buzzer-beater, edging out Colorado Springs by just three votes.
As in past years, small cities claimed big advantages early in the tournament. Portland, Oregon (the 2014 Best City for Pet Travelers) was knocked out by Breckenridge, Colorado in the second round, San Francisco got taken down by Sedona, Bozeman beat Seattle, and Hendersonville, North Carolina topped Atlanta.
The success of small cities in this competition reflects a reality we experience traveling the country in our motorhome with Buster and Ty. Smaller communities are more nimble and seem to be more and more willing to court pet travelers in their efforts to attract tourists.
It's becoming common for these destinations to to create off-leash areas where pets can play, designate pet friendly beaches, welcome pets in their parks, and build pedestrian paths and trails that the whole family can enjoy together. If local business owners follow their lead and begin welcoming pets at their hotels and vacation rentals, allowing pet friendly dining on restaurant patios, and opening attractions to pets, a small city can quickly be transformed into a topnotch pet friendly destination!
Tournament Champion: Charleston, South Carolina
Charleston came out of nowhere this year to claim the title – not even having been nominated in the 2015 tournament! And it wasn't an easy ride to the championship with fantastic cities like Asheville, North Carolina, Tampa, Florida, and last year's champion Port St. Joe, Florida in the path. But Harley and Jaxson, two Golden Doodles who make their home in Charleston, were up to the challenge. They met with the mayor, put the call out to all their friends (and fur-ends), and spent time campaigning around Charleston to sniff out more votes. In the end, they just refused to lose!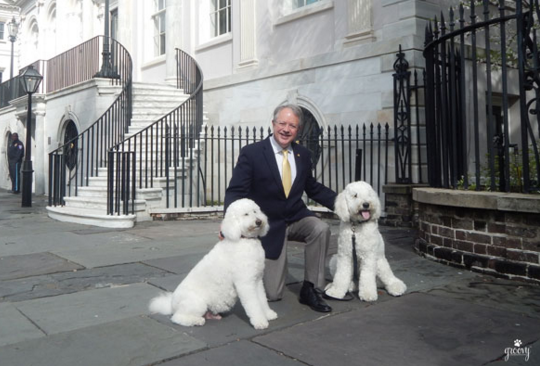 Charleston was founded in 1670, and is steeped in history with its cobblestone streets, pastel pre-Civil-War-era houses, and sprawling plantations and gardens. The Battery promenade and Waterfront Park both overlook Charleston Harbor, while Fort Sumter, where the first shots of the Civil War were fired, lies across the water.
Protecting Charleston Harbor are several barrier islands, which offer their own pet friendly activities. From walking the Arthur Ravenel Jr. Bridge – one of the longest cable-stayed bridges in North America – to romping in the waves on Folly Beach or Isle of Palms, there's plenty for fun-loving dogs to do!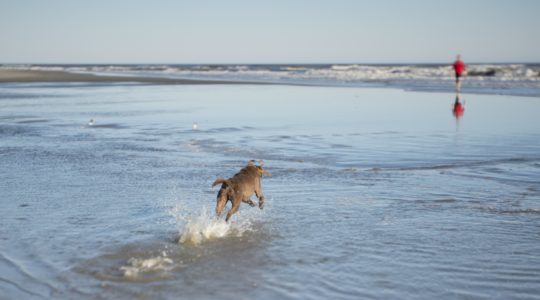 Charleston also boasts a plethora of pet friendly eateries, with classics like the Lost Dog Café and Dog and Duck Pub among the options. And, when it's time to kick up your feet at the end of the day, you'll find a fantastic selection of dog friendly accommodations, including dozens of pet friendly hotels, charming bed & breakfasts, two area campgrounds, and a substantial selection of vacation rentals.
For more information on planning your trip, visit GoPetFriendly.com or CharlestonCVB.com.
Runner-Up: Colorado Springs, Colorado
There are few places in the country that celebrate the outdoors like Colorado and, like last year, we had four Coloradan cities representing the West in the tournament bracket: Breckenridge, Boulder, Estes Park, and Colorado Springs. Picking one of these cities over another is splitting the finest of hairs, but the beauty and friendliness of Colorado Springs propelled it to the top.
Sitting at the foot of the majestic Rocky Mountains, and in the shadow of glacier-carved Pikes Peak, Colorado Springs is surrounded by breathtaking scenery. And, with an elevation of more than 6,000 feet, you'll have plenty of pleasant, sunny days to get out and enjoy it! Spending time here is a dog's dream, whether the hiking in the national forest, strolling the red-sandstone formation of Garden of the Gods park, or meeting friends at Bear Creek Dog Park – a 10-acre, fully-fenced, off-leash area on the creek.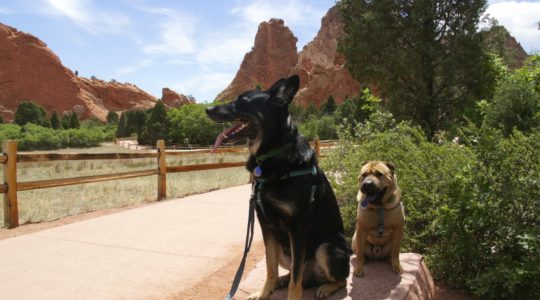 Pet friendly accommodations in Colorado Springs are easy to find, but none compares to the spectacular Broadmoor Hotel – one of the finest resorts in the country. Even if your dog prefers a dude ranch or campground, it's worth a visiting the Broadmoor to see the level of opulence available at this pet friendly resort.
Colorado Springs also provides a nice selection of outdoor dining options, shopping opportunities, and even a museum if your pooch prefers a bit of culture. You'll find all the information you need to plan a trip at GoPetFriendly.com and VisitCOS.com.
The Post Game Show
Thank you to everyone who nominated and supported their favorite pet friendly destinations in this year's tournament. Your posts, pictures, and articles covering the things you love most about your cities will help other pet travelers plan trips and make fantastic memories with their pets!
I'd also like thank the co-sponsors of this event: The Honest Kitchen, goDog, La Quinta hotels, and Sleepypod. Without them we'd just be woof, woof, woofing … they provide the treats that make this competition so much fun for the participants. Thank you all!
Amazon Affiliate Disclosure: GoPetFriendly.com LLC is a participant in the Amazon Services LLC Associates Program, an affiliate advertising program designed to provide a means for website owners to earn advertising fees by advertising and linking to amazon.com, audible.com, and any other website that may be affiliated with Amazon Service LLC Associates Program. As an Amazon Associate, the owner of this site earns a commission from qualifying purchases.
(Visited 887 times, 1 visits today)