Picture a small Victorian city, with gas-powered street lamps, historic homes and buildings, and warm residents who roll out the welcome mat for you and your pup. Now, imagine that charming town has 32 miles of dog friendly beaches where Fido is welcome year-round, as long as he's wearing his leash. If that sounds like your ideal vacation destination, welcome to a dog friendly beach getaway in Galveston, Texas!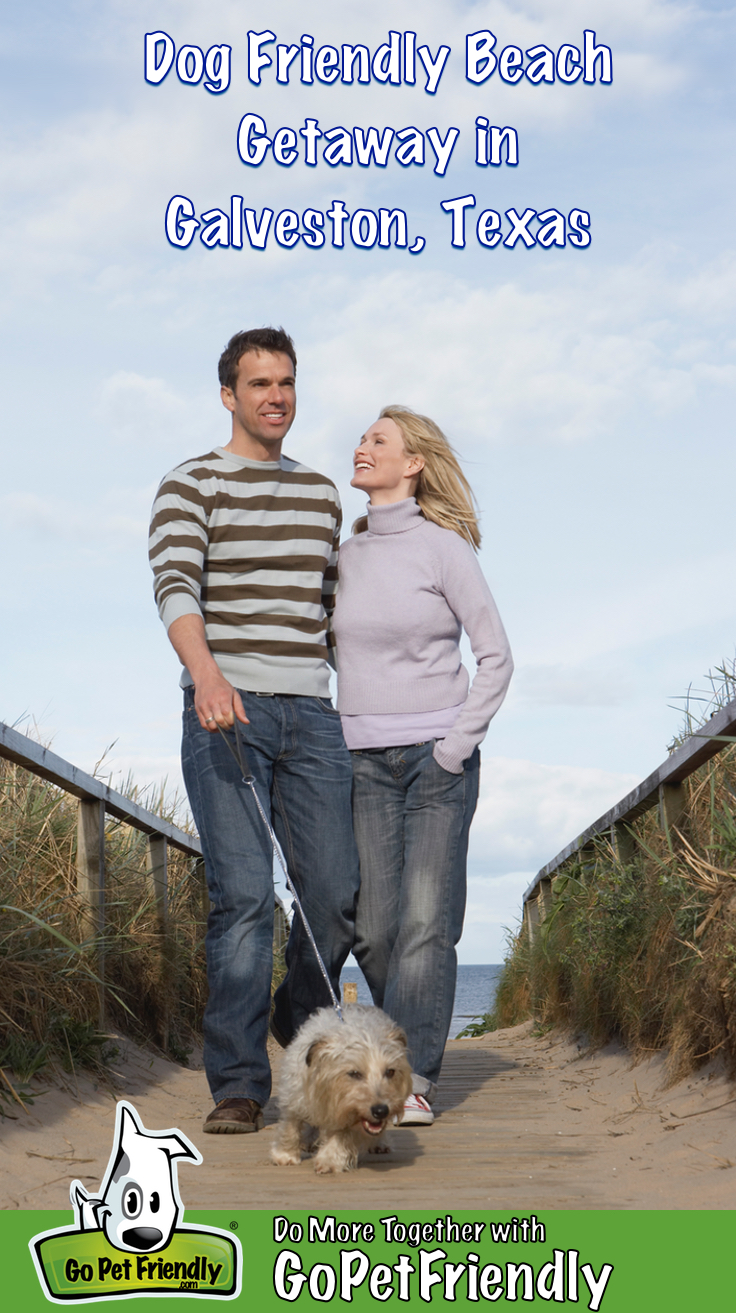 Getaway To A Dog Friendly Beach In Galveston
Just 50 miles southeast of Houston, and situated on two islands in the Gulf of Mexico, Galveston has a long and interesting history. You'll find few places where the past and present are so beautifully entwined as you stroll down the seawall or meander through the historic districts. Having some context for the area's unique qualities will enhance your visit, so let's take a quick look at Galveston's past.
READ MORE ⇒  Keeping Dogs Safe At The Beach
Galveston's History
The French pirate, Louis-Michel Aury, constructed the first European settlements here around 1816, to help the fledgling Republic of Mexico fight Spain. That campaign was successful, and in 1821 Mexico gained her freedom. A few years later the Mexican Government established the Port of Galveston – the only deepwater port between New Orleans and Tampico, Mexico.
The city grew quickly with wharves, cotton warehouses, stores, and an opera house. Cattle ranching flourished on the islands, and life was a combination of hard work and lavish entertainment.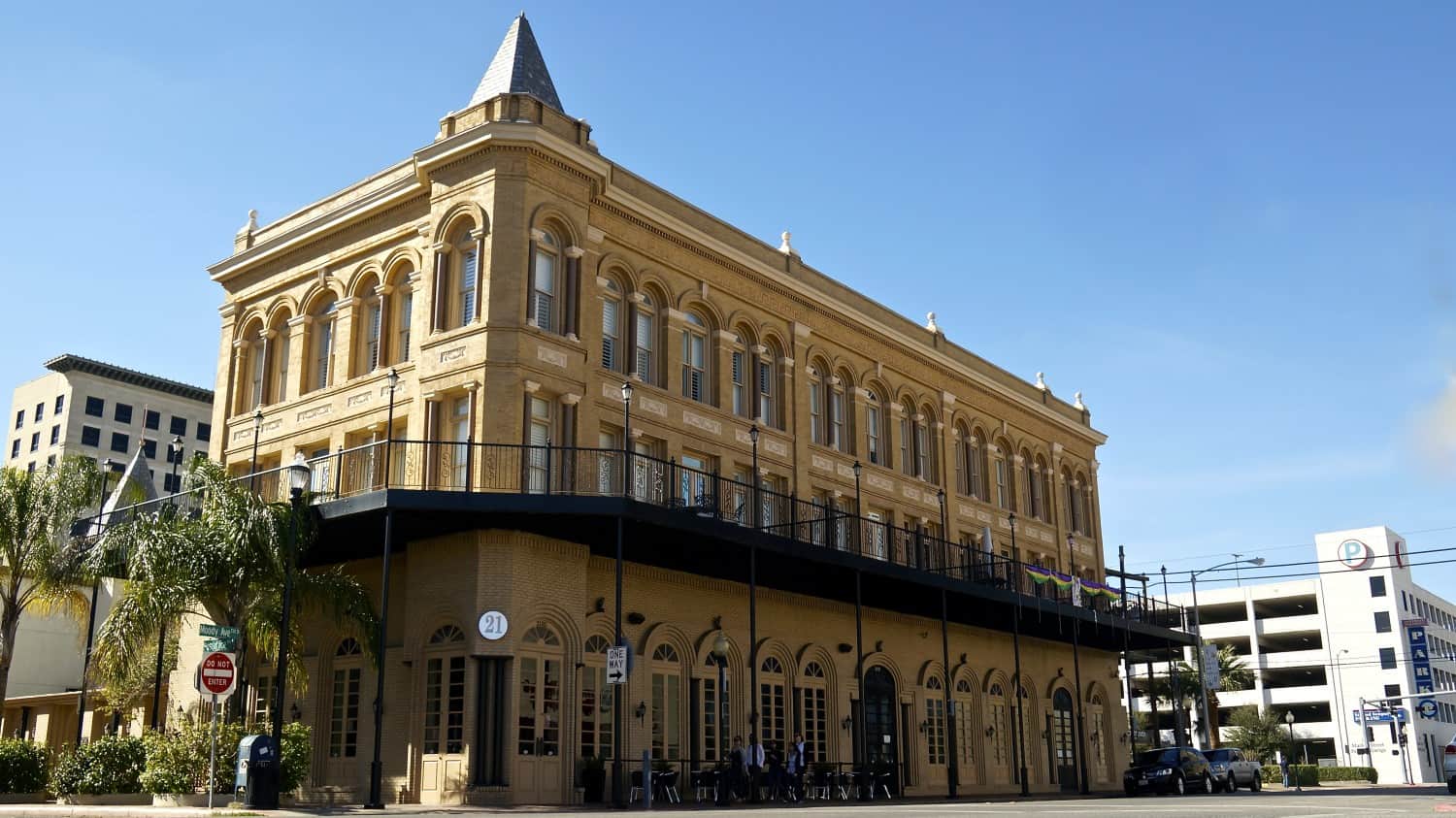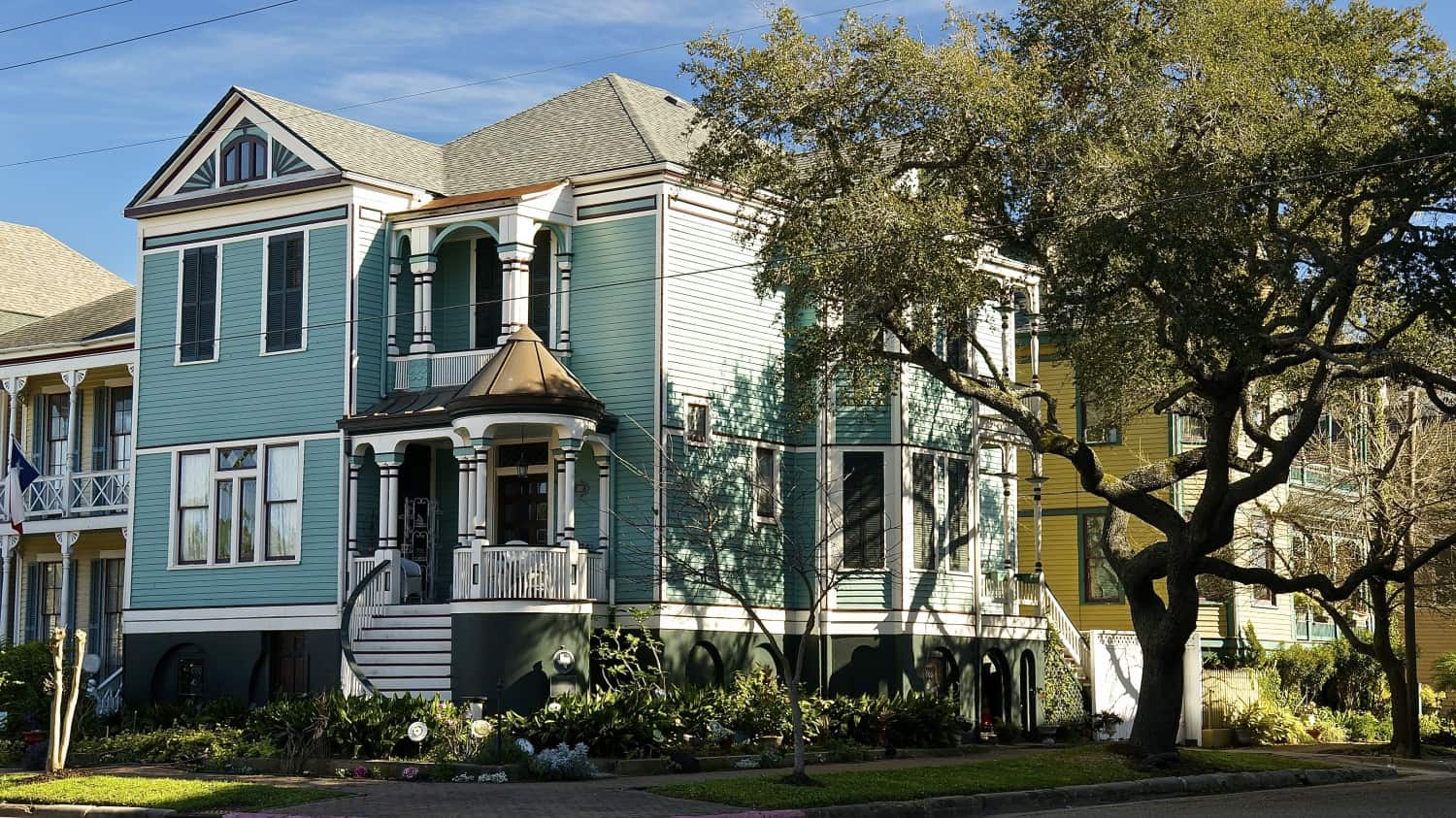 In 1836, the Republic of Texas declared it's independence from Mexico, and in 1845 Texas was annexed by the United States. Through it all, prosperity reigned in Galveston, and by 1899 the city had more millionaires per capita that any other US city! Elegant mansions lined the streets, and the most advanced technologies of the times, including electricity, telephone, and telegraphs, were common.
Disaster Strikes
But everything changed on September 8, 1900, when Galveston took a direct hit from a massive hurricane. Believing the position of the islands would protect the city from serious damage, residents opted to ride out the storm, which still ranks as the deadliest in United States history. An estimated 8,000 people perished.
In addition to the loss of humanity, the hurricane robbed Galveston of it's commercial appeal. Houston soon became the state's leading seaport. But Galveston is resilient. A new seawall was constructed, 500 city blocks were raised to protect them from future storm surges, and research, education, and tourism now keep the city's economy ticking.
The Strand
The heart of Galveston is known as "The Strand," a recognized National Historic Landmark for it's collection of 19th century architecture. Shops, dining, museums, and night life can be found here. It's an easy place to while away an afternoon exploring boardwalked streets, alleys, and parks. But it's prettiest in the evening when the gas street lamps bathe everything in a warm glow.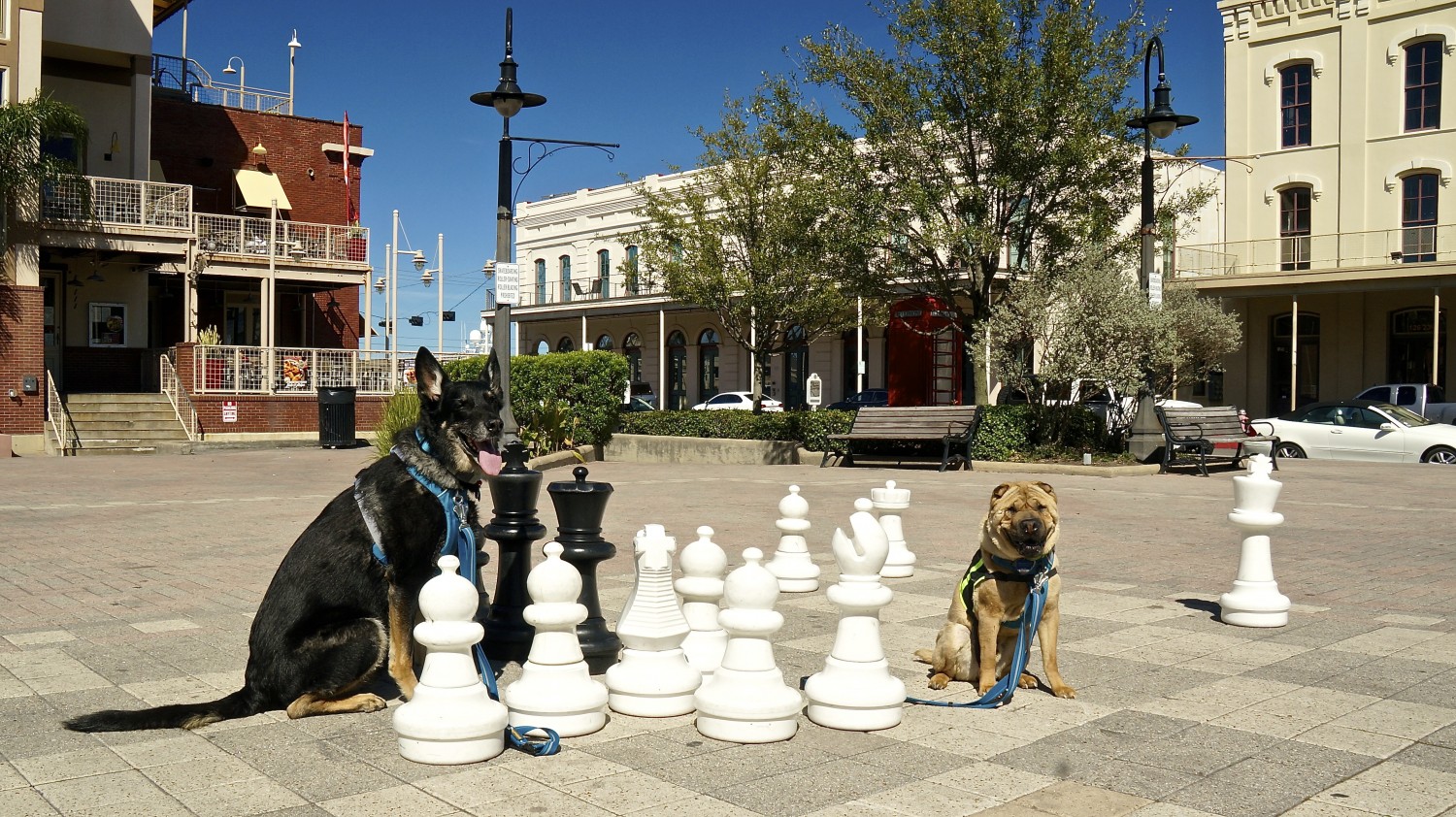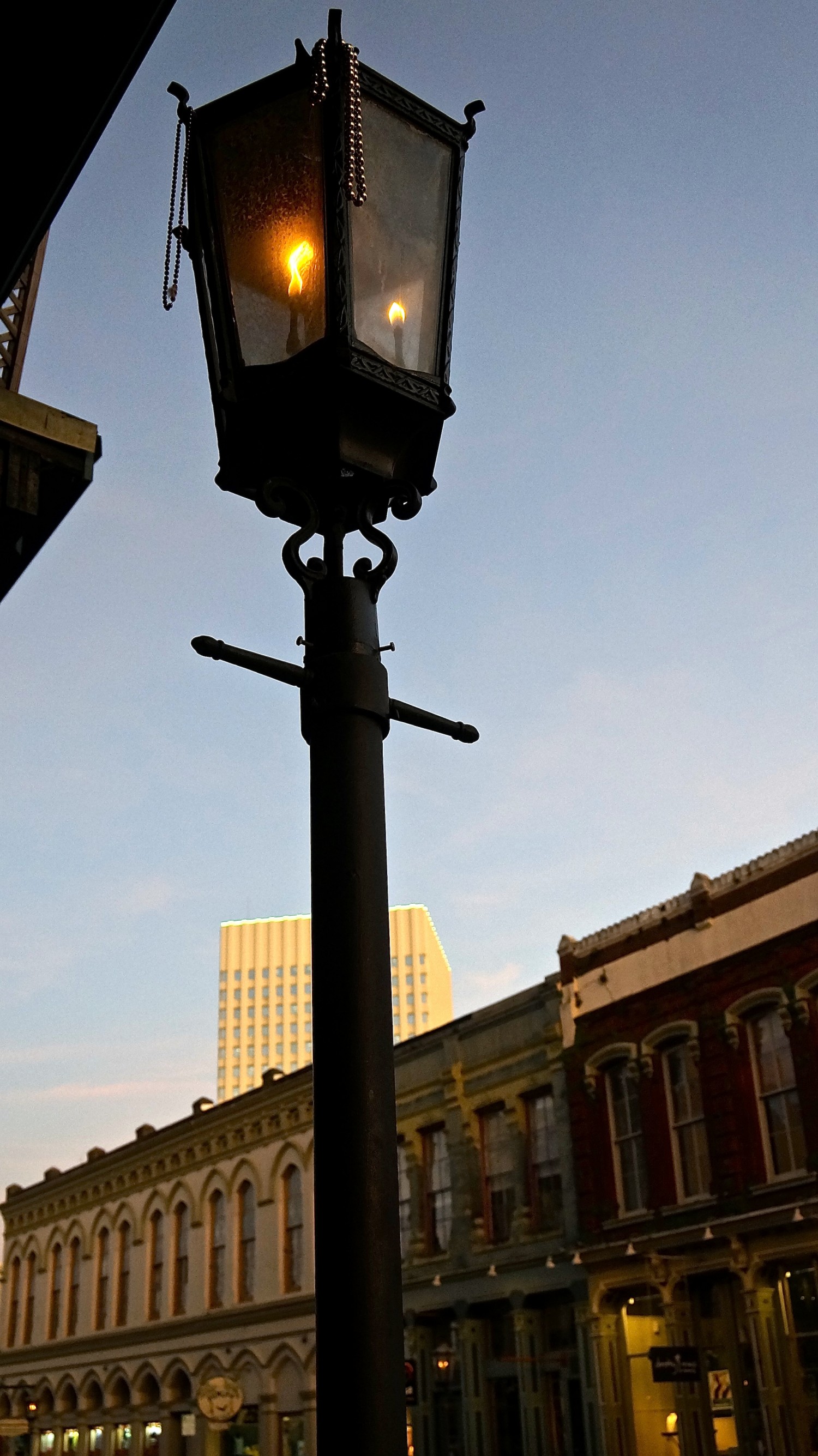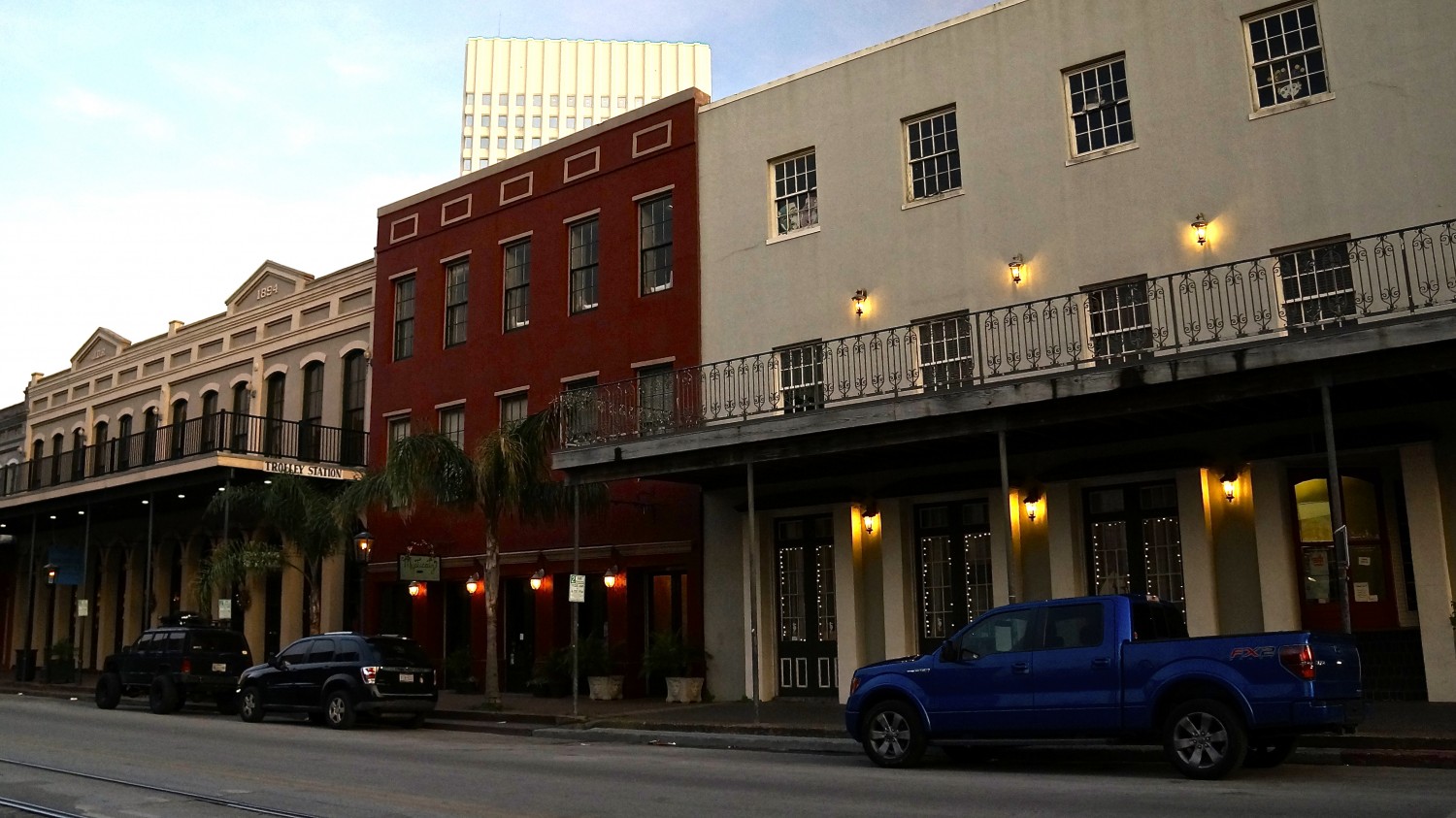 Pier 21
The masts of the 1877 Tall Ship Elissa pierce the sky down at the Pier. Here you'll find a nice selection of waterfront restaurants with dog friendly patios, and Saengerfest Park, where you can admire Galveston Channel and keep an eye out for passing dolphins.
READ MORE ⇒  Dog Friendly Things To Do In San Antonio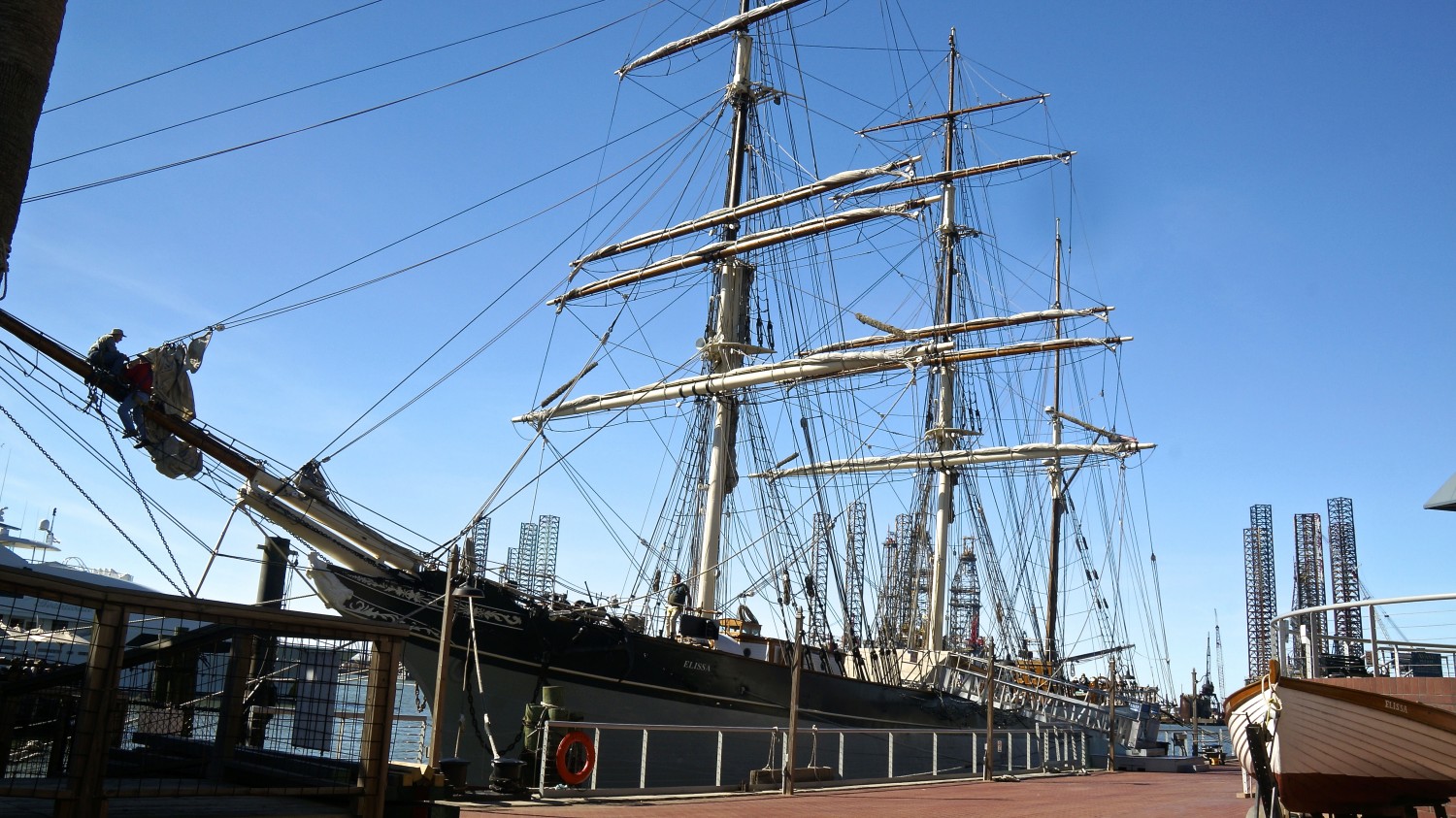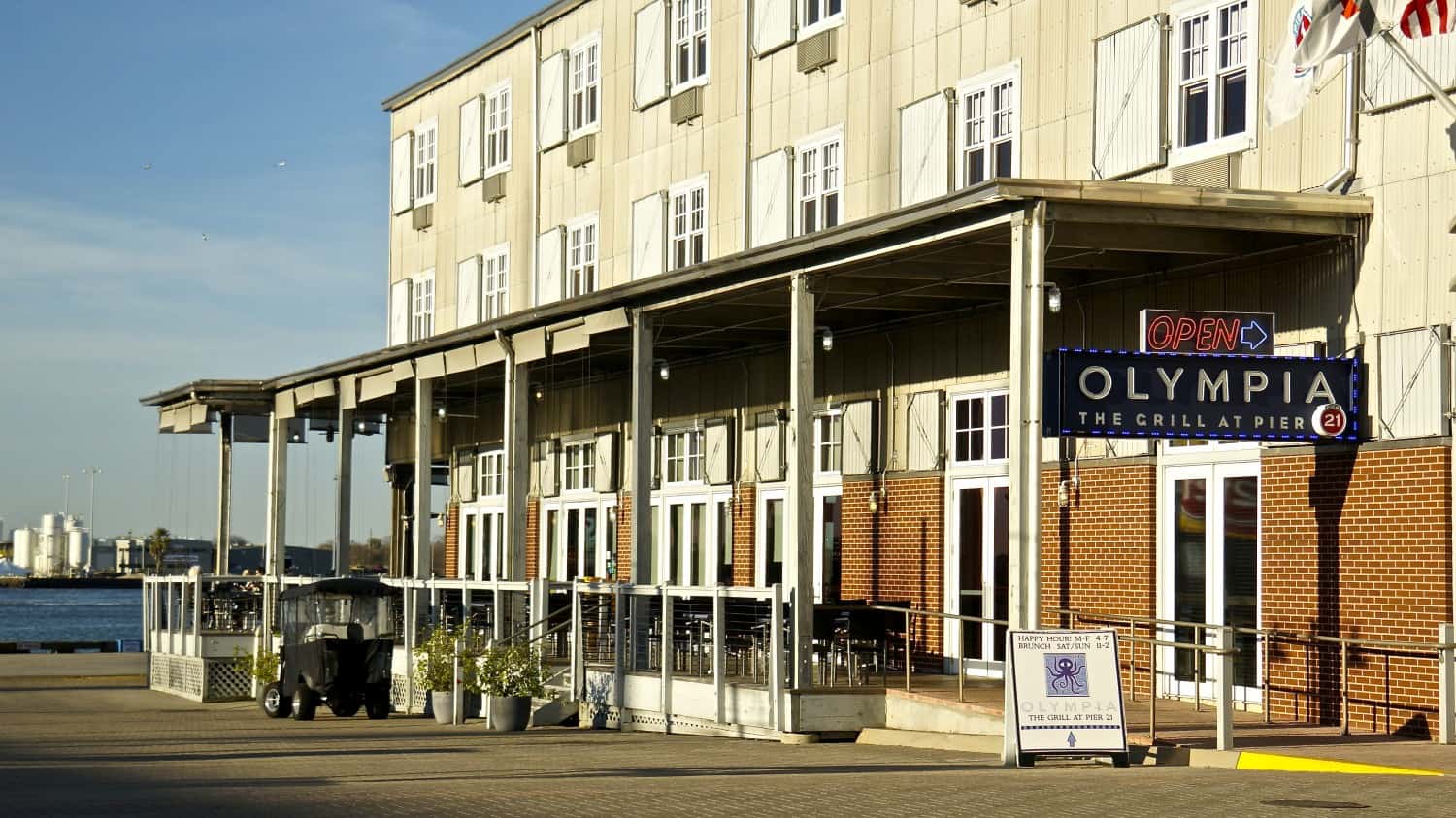 Postoffice Street District
For art galleries, antique shops, and more eateries, head over to the Postoffice Street District. When you're all shopped out, grab a chair at Mods Coffee House. The shady outdoor seating area is lovely and pet friendly.
For lunch, try the patio at Mosquito Café (628 14th Street). Their fresh, homemade menu, warm casual atmosphere, and friendly service won't disappoint.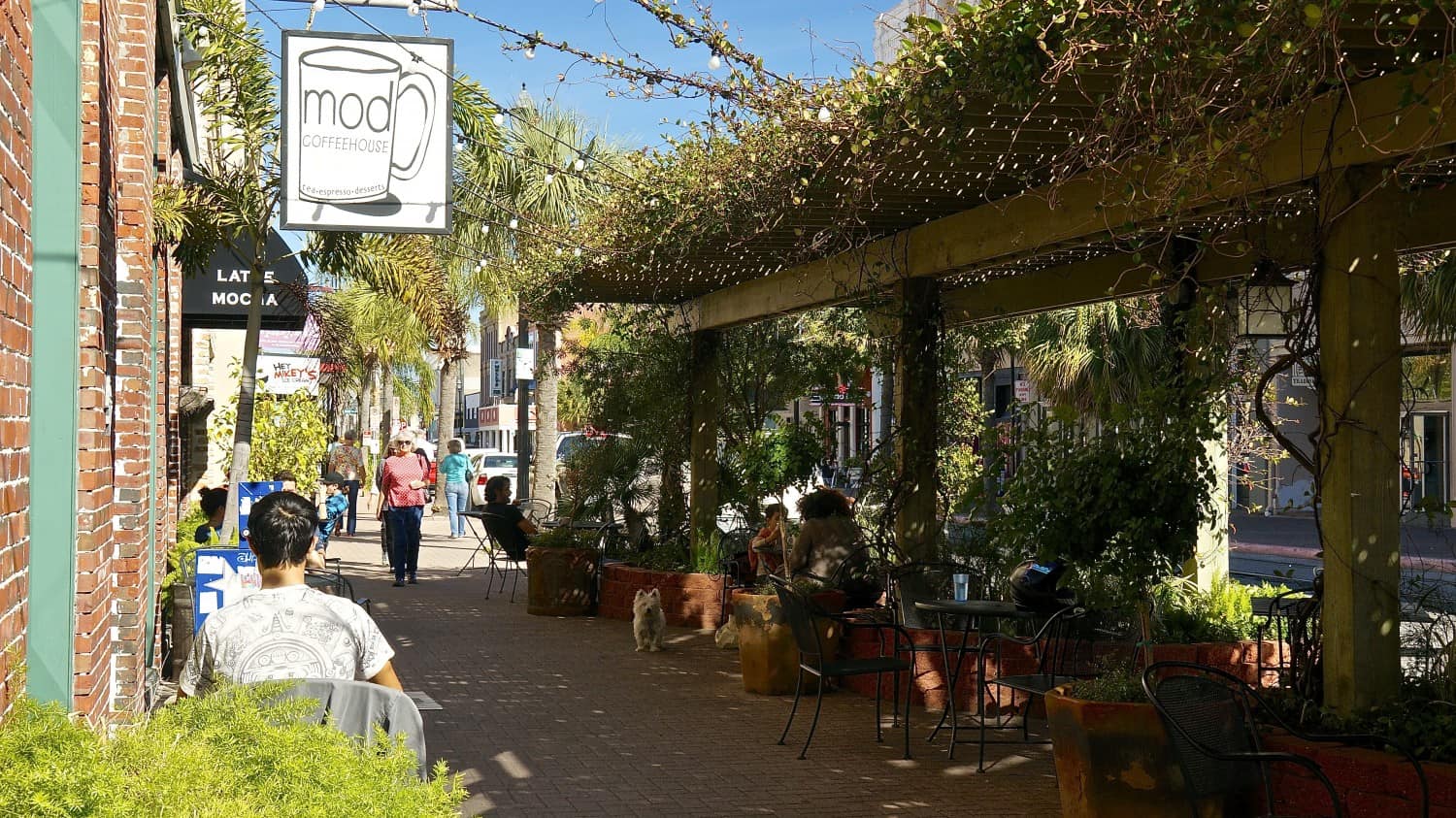 Dog Friendly Beaches and Seawall
Of course, the main draw here are Galveston's 32 miles of stunning, dog friendly beaches! Leashed dogs are welcome year-round on all of the island's beachfront, and there are plenty of places to explore. East Beach is one of largest beaches in Texas. Galveston Island State Park covers 2,000 acres, stretching from beach to bay. And Stewart Beach with it's volleyball tournaments and sandcastle competitions is always entertaining. And those are just a few options to check out!
The seawall offers another opportunity to admire the beach and Gulf of Mexico, without getting your paws sandy. Following Seawall Boulevard and running for 10.3 miles, this is one of the longest continuous sidewalks in the world!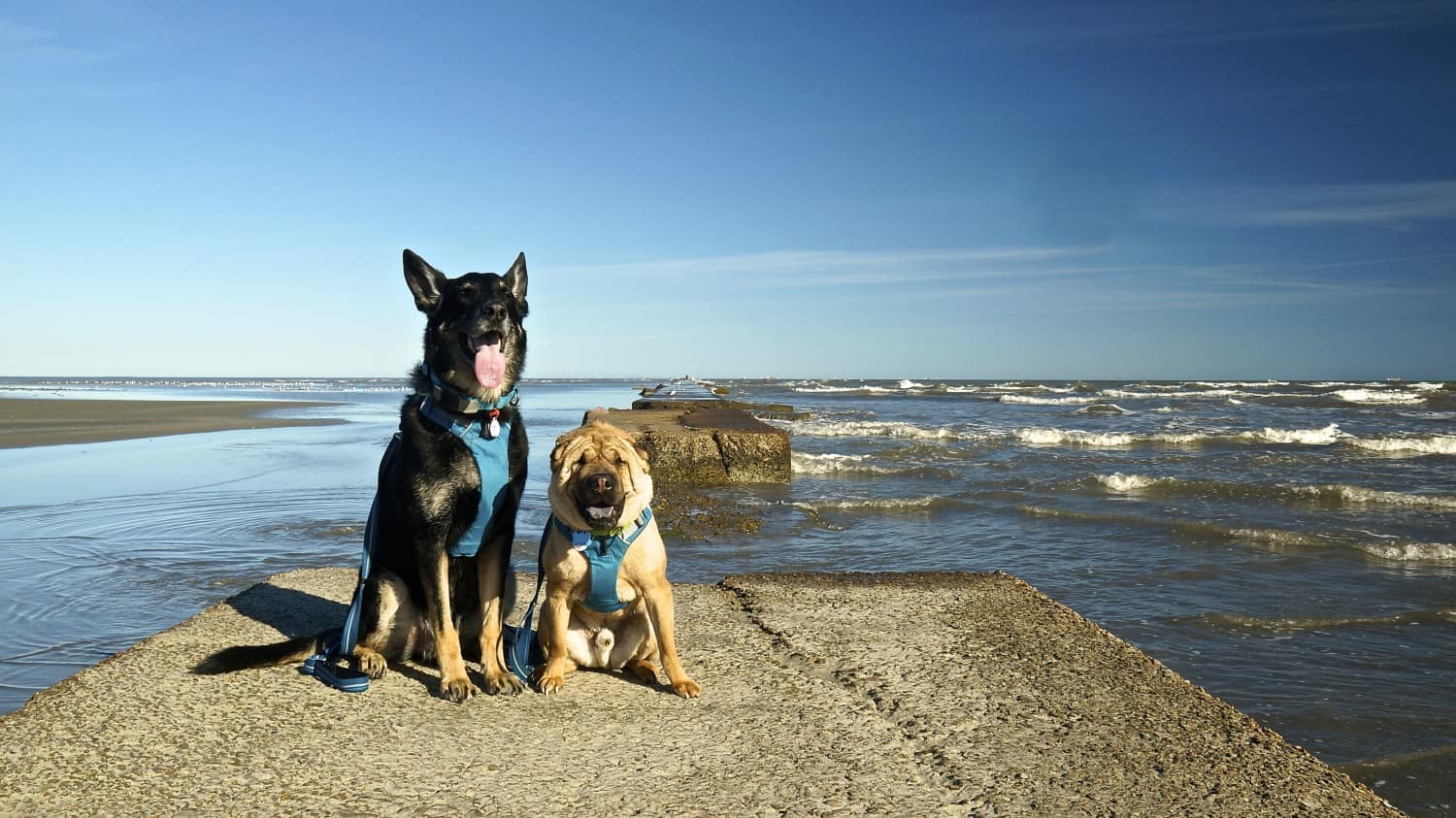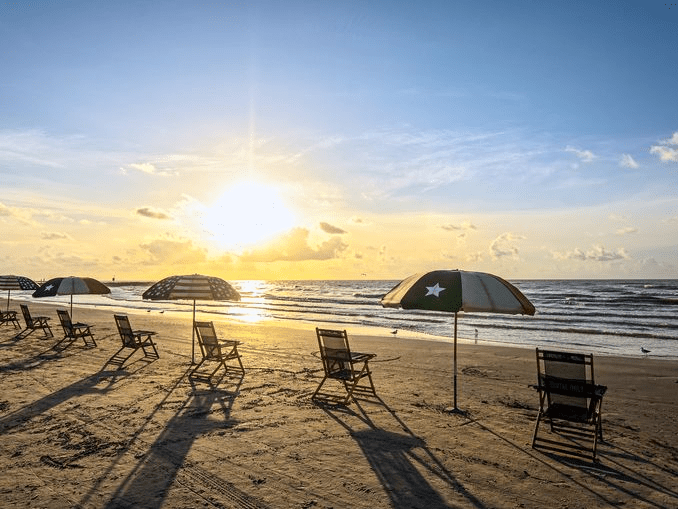 READ MORE ⇒  Best Dog Friendly Beaches in Florida
This was our first visit to Galveston, and we just shot down for the day from Houston. But we all had a fantastic time, and we plan to come back. Let us know if the comments below of any other Galveston attractions we should be sure not to miss! Click through to find pet friendly accommodations in Galveston.
Amazon Affiliate Disclosure: GoPetFriendly.com LLC is a participant in the Amazon Services LLC Associates Program, an affiliate advertising program designed to provide a means for website owners to earn advertising fees by advertising and linking to amazon.com, audible.com, and any other website that may be affiliated with Amazon Service LLC Associates Program. As an Amazon Associate, the owner of this site earns a commission from qualifying purchases.
(Visited 21,948 times, 1 visits today)