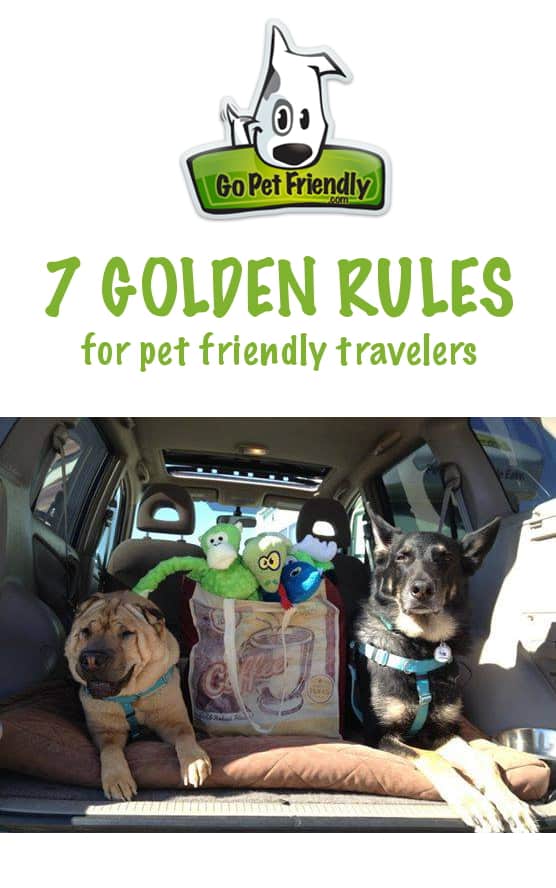 Whether you're considering your first pet friendly vacation or have been on the road with your furry friend for years, there are a handful of simple practices that make every trip a success. Here are the rules that guide us in our adventures:
Rule #1 – Always come home together
This is far and away the most important rule of pet travel! It's startling, but statistics show that one in three pets will get lost during their lifetime. There would be nothing worse than losing your dog or cat when they're away from home. Our tips for staying together while you're traveling are more detailed, but these basic steps will help make sure you all come home together:
Start by checking your collars and leashes for wear and tear, and replace them if necessary.
Make sure your pet's collar fits correctly – you should just be able to get two fingers under the collar.
Leave your pet's collar on at all times when you're traveling.
When putting your pet into the car, remove the leash only after securing him in the car harness or carrier. Snap the leash back on before removing him from the restraints when you arrive at your destination.
Before opening the door to your hotel room for housekeeping or room service, put a leash on your pet.
Skip off-leash play time unless you find a completely fenced-in area.
If your dog does get way, fight your instinct to chase him. Instead, lay down on the ground and hopefully he will come back to you.
Be sure that your pet's tags are up to date and that the microchip provider has your current contact information.
Rule #2 – Understand your pet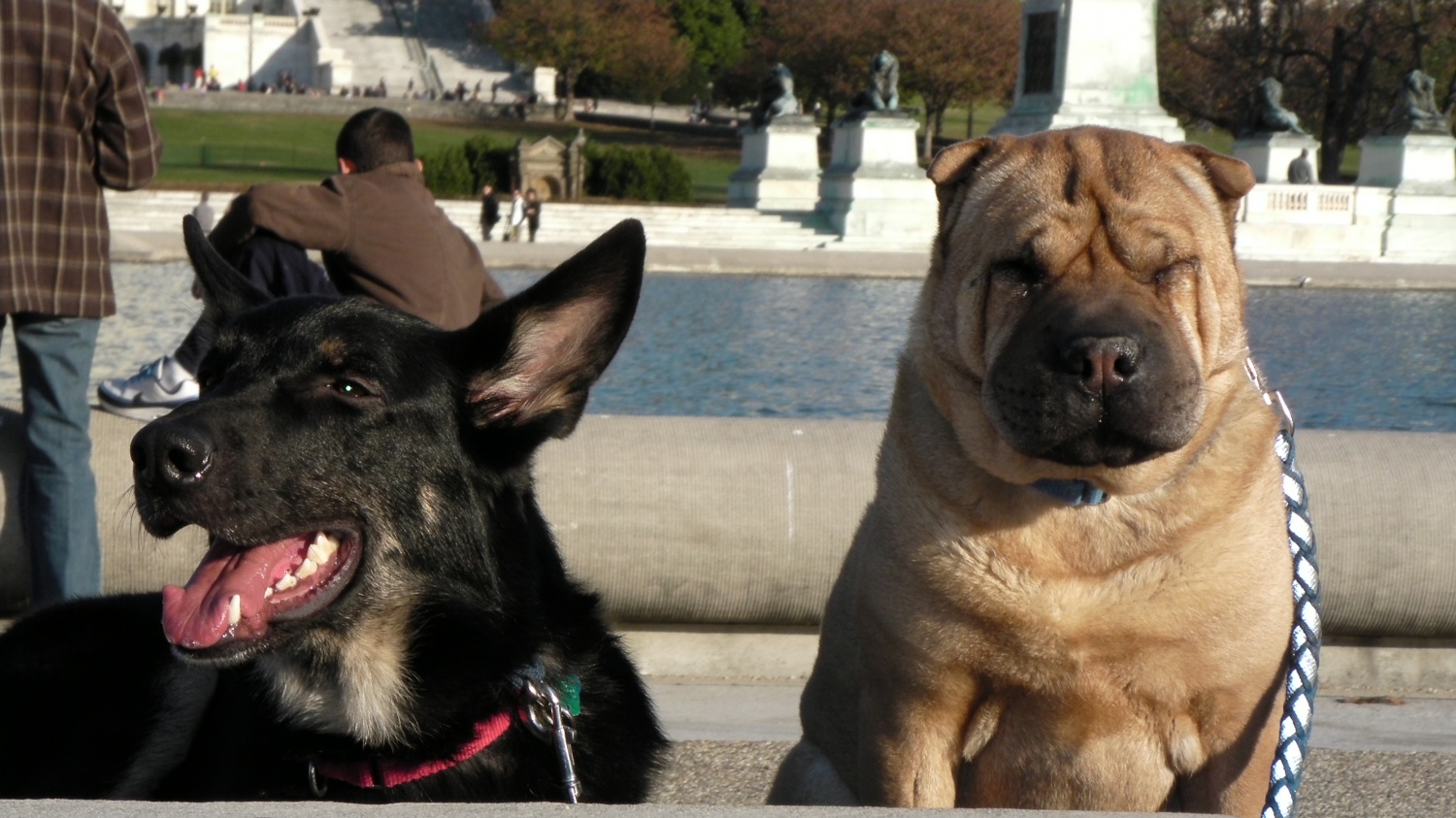 This picture of the boys is so perfect, because it reflects their personalities to a tee. Buster is our happy-go-lucky goofball, and Ty is our persnickety sourpuss. Something that's not evident from the photo is that our dogs have issues.
Buster, who we found as a stray, wasn't properly socialized as a puppy and is reactive to dogs when he's on-leash. He barks and bounces up and down and generally acts like a lunatic when he's leashed and other dogs are too close. Ty has his issues, too – he's afraid of strangers and he's not fond of other dogs. So, when we're thinking about our travel plans, we have to consider our dogs' limitations and make choices to set them up to be successful. Generally, that means doing things at off times, avoiding crowds, and being willing to leave immediately if the situation isn't good for them.
 Rule #3 – Do Your Digging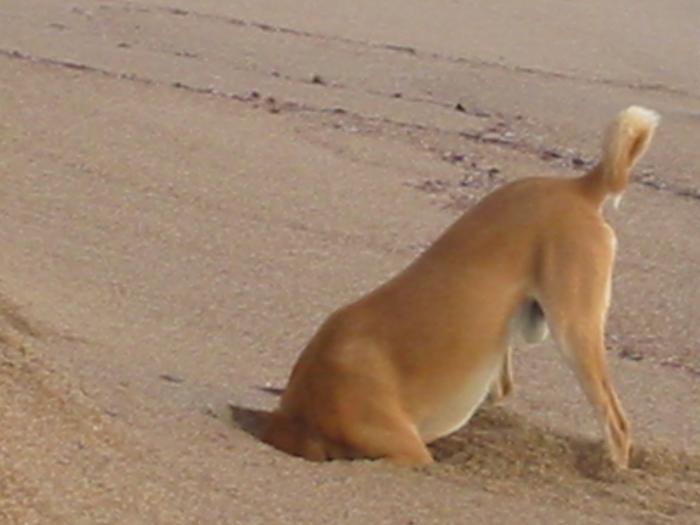 Once you've considered your pet's needs, it's time for the fun part … deciding where to go! There are a lot of ways to find pet friendly places – you could start with the GoPetFriendly destination guides! We've written oodles of blog posts from our personal experiences traveling with Ty and Buster across the country.
I've also found Pinterest to be a great resource in travel planning. Just run a search for the place you're thinking of going and see what pops up. Friends can be another a great source of information – especially if you happen to hang out with a bunch of RVers! Visitor's websites for the cities you're considering, the state tourism boards, or the convention and visitors bureaus' Facebook pages are other good places to check for advice.
Rule #4 – Make it fun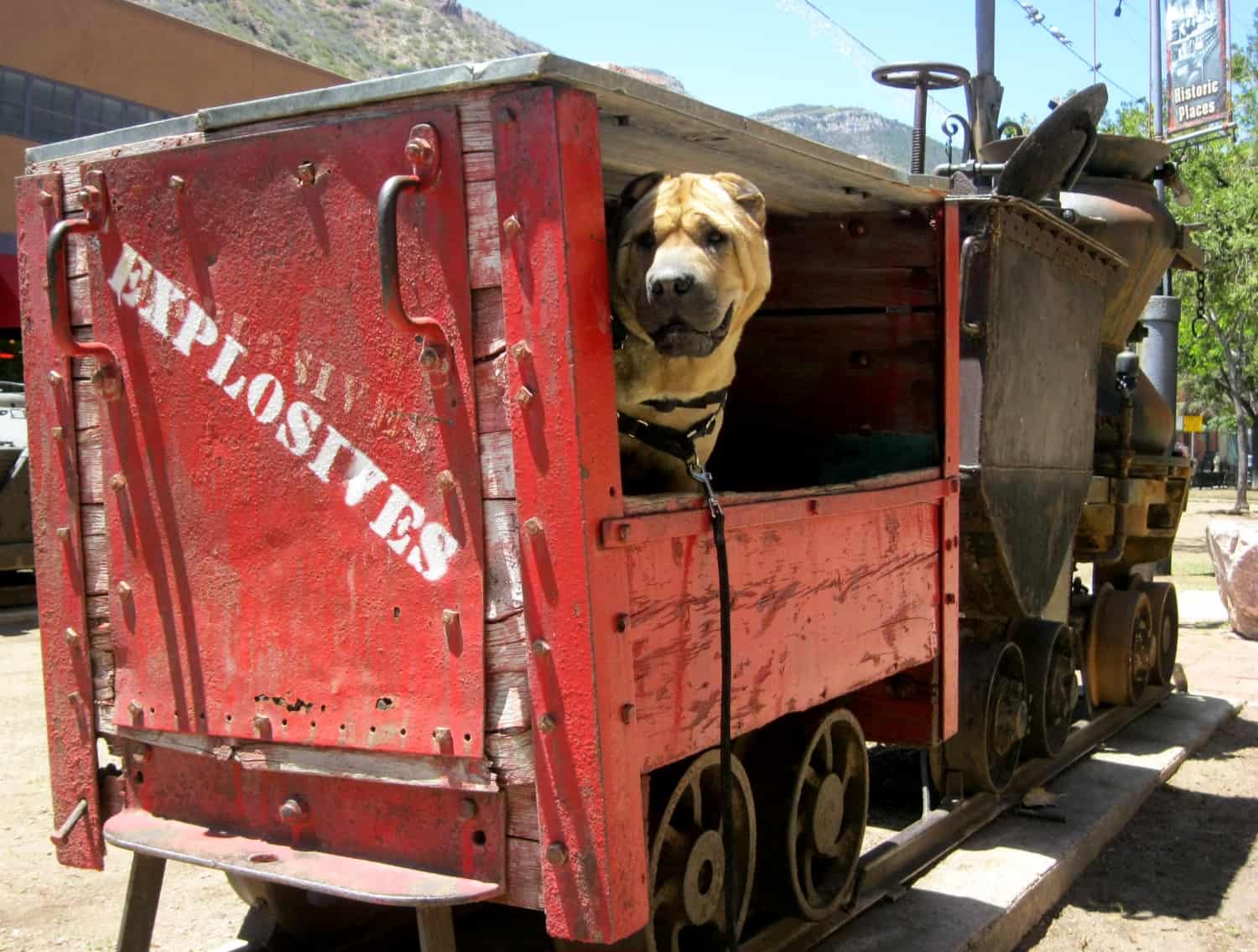 Ty would like you to remember that sometimes "having fun" means finding a comfy place to sit and watching the world go by. But it could also mean finding interesting things to see and do along your route, and for that we recommend using our pet friendly road trip planner to locate hotels, campgrounds, restaurants, activities, or services – like veterinarians, pet supply stores, and doggy daycare services – along the way. There are more than 60,000 pet friendly locations on the website, so you should always be able to find something nearby!
Rule #5 – Get the Gear
This doesn't have to be an expensive proposition, but there are a few products that really do make life easier for you and more comfortable for your pet when you're traveling. And if you'll use them a lot, these items are well worth the investment.
We don't go anywhere unless Ty and Buster are buckled up, and for that we use the crash tested Sleepypod Clickit Sport harnesses!
A good walking harness with the leash attachment at the chest, to help reduce pulling.
Leashes with the clasp in the handle, like the Slackline Leash from Ruffwear (NOTE: Ruffwear has replaced the Slackline with the Flat Out Adjustable Dog Leash). These leashes are great for attaching your dog to your chair while you're eating out! I also connect them to the motorhome while I dry off Ty and Buster's paws in the morning after a dewy walk.
I don't know what I'd do without our iCalm. It operates on rechargeable batteries and plays music that has been arranged and composed to help dogs stay calm. When we do need to leave Ty and Buster alone in the RV, this covers noise from outside and helps the boys relax.
When you're traveling, there's nothing that makes life easier than pet food from The Honest Kitchen! It's dehydrated, so it's light and a cinch to pack. You just scoop out the powder, add some water, and give it a stir – Ty and Buster love it!
Of course, dogs need a few toys … but if the incessant squeak, squeak, squeaking is threatening your sanity, consider the HearDoggy toys from Quaker Pet Group with squeakers that dogs can hear, but humans can't!
If your pup is like Ty and doesn't like to be touched by strangers, this high visibility vest from SHONGear can make his wishes know without you having to say a word!
 Rule #6 – Be prepared
There are a handful of things that can go wrong while you're traveling with a pet, and you need to do a little advance preparation to put yourself in a better position for dealing with these situations if they happen.
If your pet becomes ill or injured it's helpful to have their medical records with you. Rather than hauling a big paper file around, scan the documents to a USB drive and pack them in your pet's travel bag.
My brain turns to mush when Ty or Buster is sick. If the same thing happens to you, be sure you have the names and dosages of all their medications and supplements written down and stored with their medical records.
The document you'll most often get asked for is their vaccination certificate, so make a copy and keep it handy.
Know where the closest emergency veterinarian is so that you can get there quickly if the need arises.
 Rule #7 – Be a Good Ambassador
More and more places are becoming pet friendly and providing us with the privilege of traveling with our pets – but it's just that, a privilege that can be easily revoked. Bad behavior by one person has a detrimental impact on us all! We need to be sure we're being great examples of our community when we travel with our pets by:
Being considerate of our neighbors, and not foisting our pets (or their noisiness) on those around us.
Following the rules when it comes to being on leash and not taking pets into places where they're not supposed to be.
Always, always, always picking up after your pets.
Follow the Golden Rules of Pet Travel, and every pet friendly trip you take will be a  good one!
Planning a pet friendly trip of your own? We'll make it easy:
Pet Friendly Hotels | Pet Friendly Destinations | Pet Friendly Activities
Amazon Affiliate Disclosure: GoPetFriendly.com LLC is a participant in the Amazon Services LLC Associates Program, an affiliate advertising program designed to provide a means for website owners to earn advertising fees by advertising and linking to amazon.com, audible.com, and any other website that may be affiliated with Amazon Service LLC Associates Program. As an Amazon Associate, the owner of this site earns a commission from qualifying purchases.
(Visited 5,323 times, 1 visits today)