Seattle offers some spectacular hiking with your dog within a 90-minute drive of the city.

Social media and apps offer local hiking advice.

With more than 30 pet-friendly hikes to choose from, finding the best trails for you and your pet is "ruff."

Get insider tips for pet-friendly hiking at Cougar Mountain, Annette Lake, Franklin Falls, Cherry Creek Falls, the Ira Spring Trail at Mason Lake, and Heather Lake.
---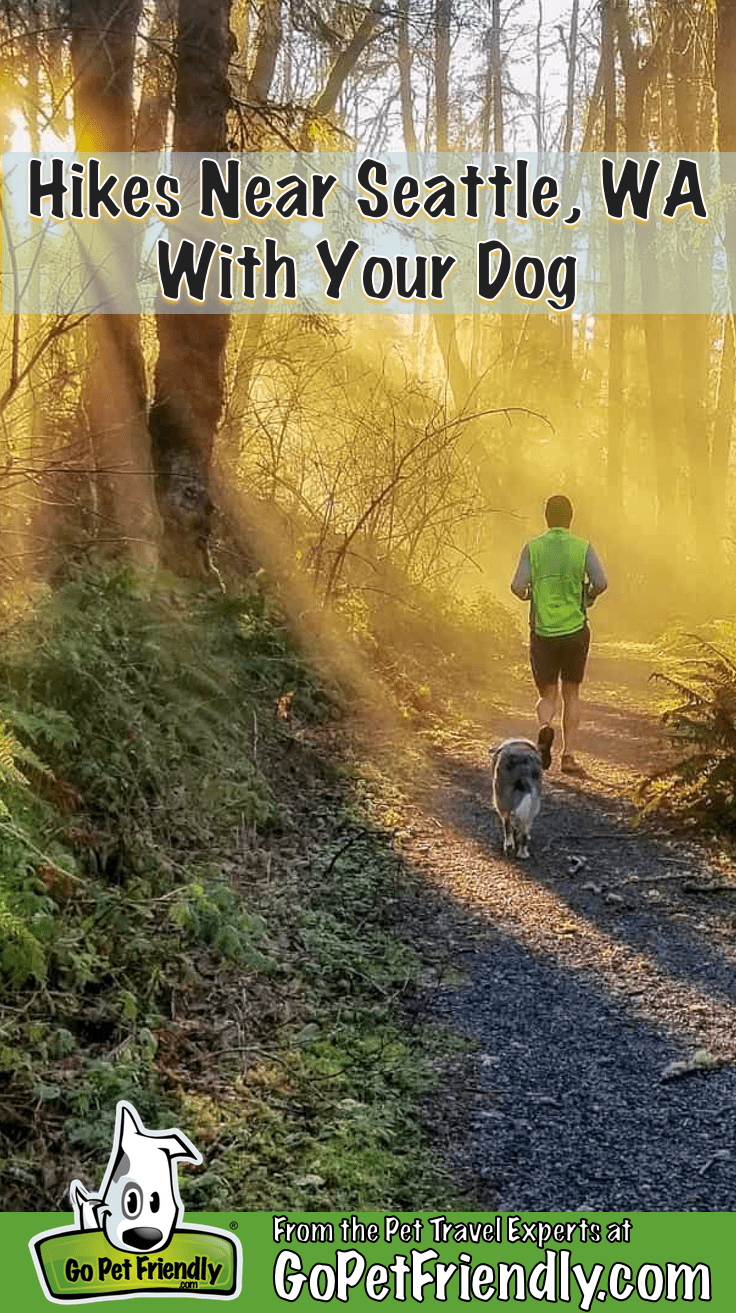 Pet Friendly Hiking Near Seattle
Growing up in Seattle, I was surrounded by nature on all sides. With the Cascade and the Olympic Mountains to the east, and the Puget Sound and Lake Washington to the west, the views were fantastic.
But it wasn't until I returned home as an adult that I appreciated the abundance of trails near the city.
The Seattle-area offers some seriously spectacular dog-friendly hiking without having to drive more than ninety minutes (traffic permitting, of course!). Further, the Washington Trails Association has one of the best hiking sites and apps I've ever used, with capabilities to "favorite" hikes and use the hiking information offline.
Several Facebook groups also provide sage advice about current trail conditions and other information. For insider tips on specific hikes or hiking in general check out Washington Hikers and Climbers, PNW Outdoor Women Group, or Canines in the Cascades.
It would be easy to gather a list of 30 excellent dog friendly hiking locations near Seattle, but below you'll find my favorites for year-round adventures.
Cougar Mountain
Located in the Issaquah Alps, the 3,100-acre Cougar Mountain park has a network of 36 miles of dog friendly hiking trails just 15 miles from downtown Seattle. This is a trail runner's paradise and urban hiker's dream!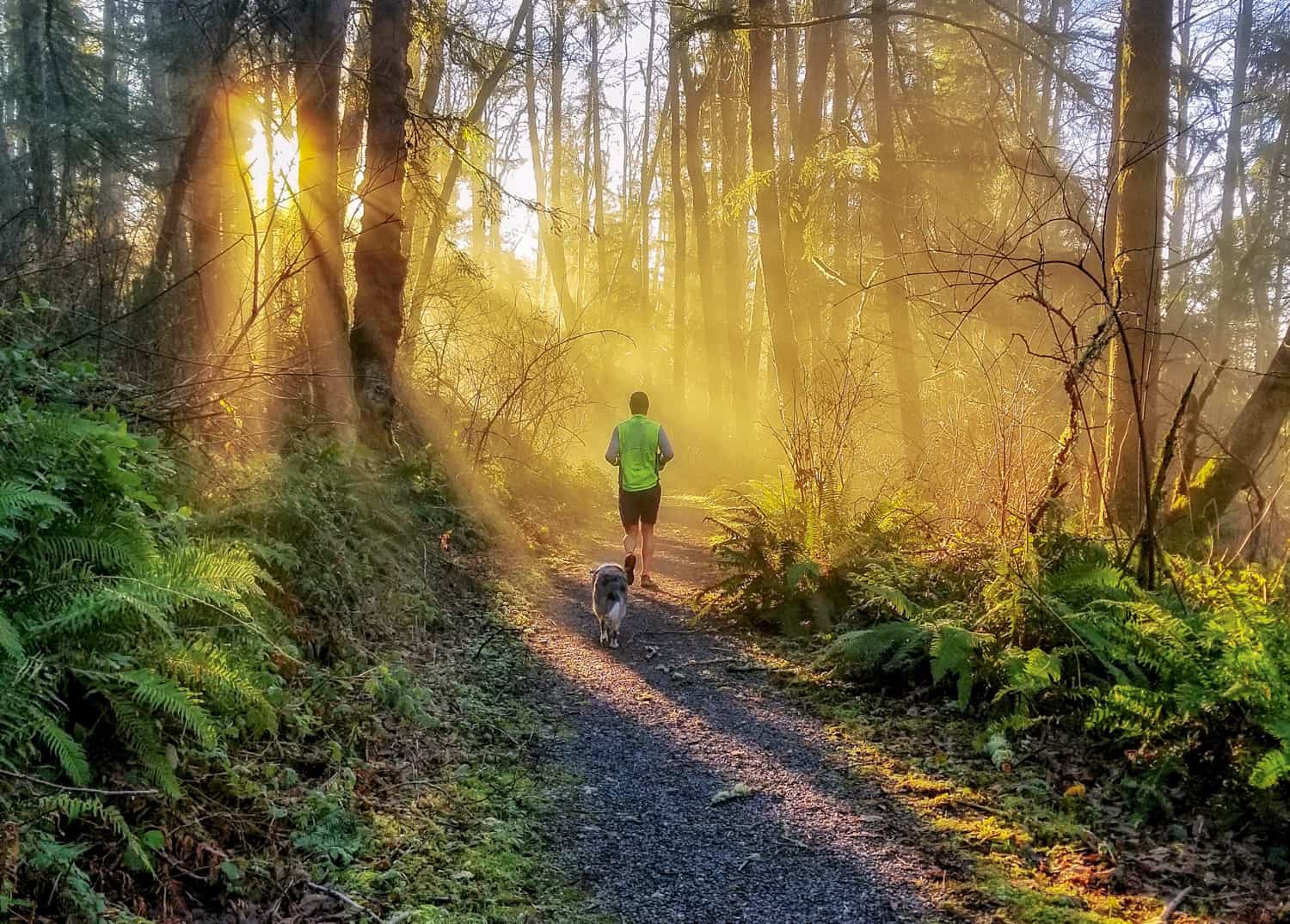 Originally serving as a food acquisition area for Native American tribes who would forage wild roots, plants, and berries, as well as hunt game, this became a mining area after European settlers arrived, up until the 20th century when logging operations took over.
The US military utilized the forest land for two active missile sites during the Cold War in order to protect the Puget Sound from potential airstrikes.
Finally, in the late 1960s, King County took control of the land and developed it into the park that is there today. Several artifacts from the mining days still appear on various trails, including exhibits, a intact concrete dam, a covered mine shaft, and a mine cart.
---
Looking for more pet-friendly things to do? Here are the 11 top dog-friendly activities in Seattle!
---
Cougar Mountain is full of streams, waterfalls, single track trails, and bashful wildlife. The highest peak in the park, at 1,595 feet, is Wilderness Peak, and the trails vary in length and difficulty from wide easy paths to serpentine uphill challenges.
Information on Cougar Mountain is easy to find with a detailed Wikipedia entry that includes descriptions of all the trails, their length, and where to access them. Seattle Outdoors Info has nice descriptions and route suggestions. And King County provides an online trail map, as well as signs and printed maps at the trail heads.
Annette Lake
If you're into waterfalls, turquoise rivers, alpine lakes and mountain views, then head out to Annette Lake for the day or for an overnight trip.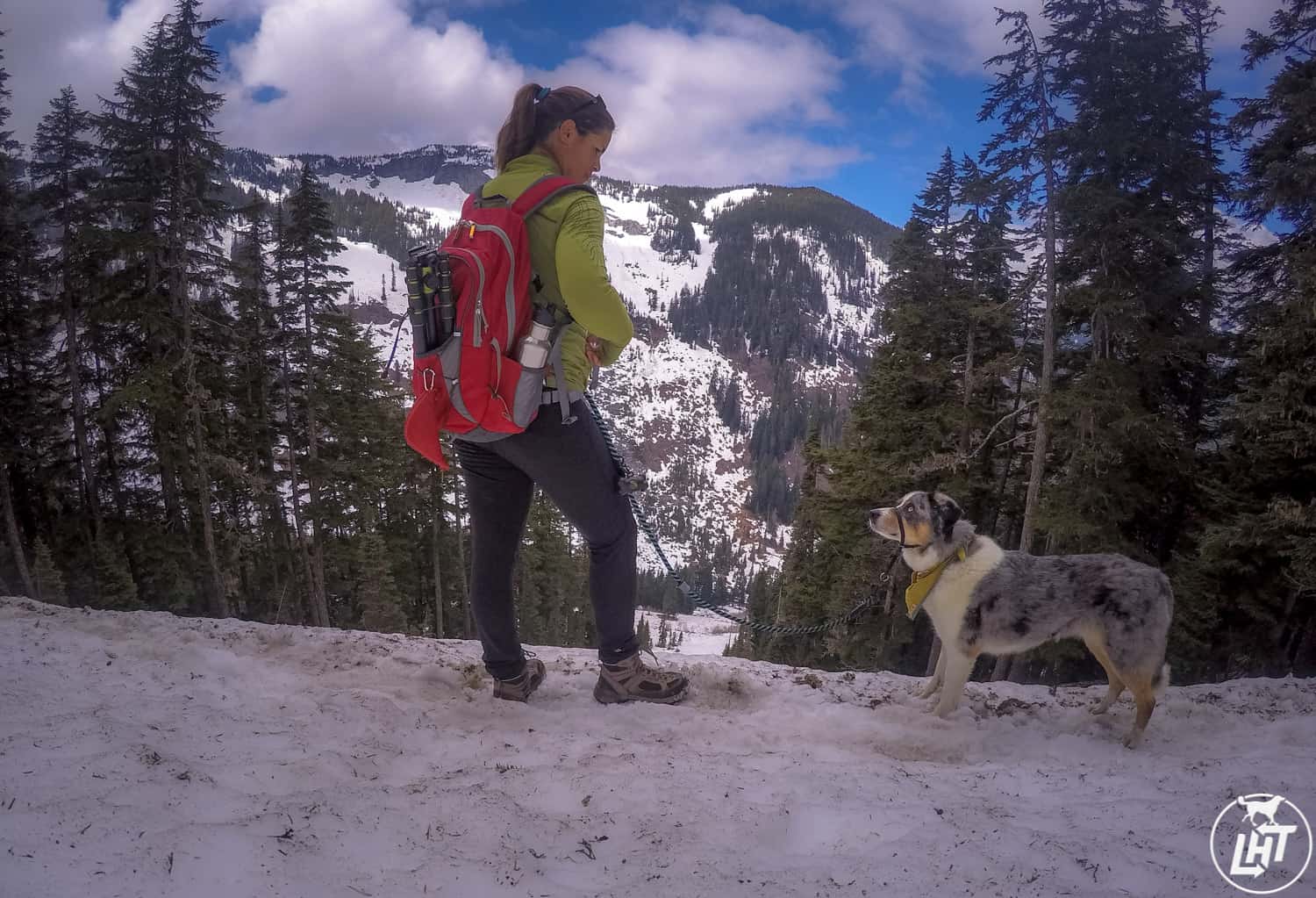 Depending on the year, the snow can remain well into spring. I did this hike in late May a few years ago and crossing the snowfields was a bit unnerving without spikes and poles. And the lake was still almost completely covered in snow and ice!
The trail is well-maintained and not terribly demanding, gaining 1,800 feet in the 7.5 miles roundtrip. A NW Forest Pass is required, so be sure to pick one up before heading out.
One of the highlights of this hike is the rushing turquoise waters of Humpback Creek, not far from the parking lot. Before crossing the bridge, the rocks along the water provide a nice photo opp. Take a moment to admire the cascading falls tumbling downstream.
After crossing a few small streams, you'll reach several steep slopes with views of Granite Mountain and Humpback Mountain. Once the snow starts to recede, watch for wildflowers like trillium.
When you pass through the slopes Annette Lake is not far beyond. There are several spots to enjoy a picnic lunch, or even a swim if you're up for a cold shock!
Franklin Falls
Franklin Falls is an easy hike just off 1-90 that's a nice, easy hike for those with kids or beginners. The two-mile leisurely trail ends at a 135-foot waterfall that cascades between two highway viaducts. A NW Forest Pass is required to park in the lots and hike the trails.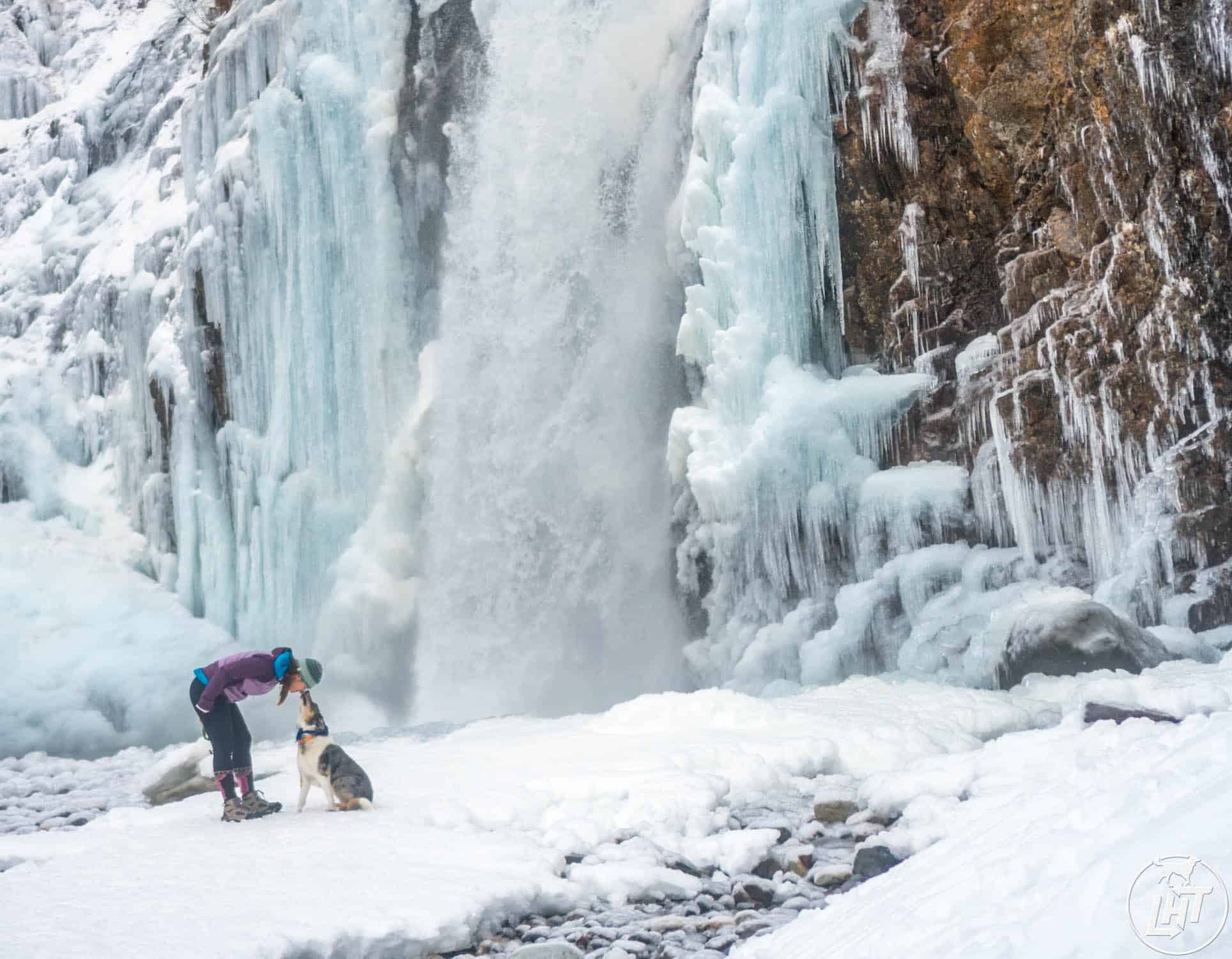 A short, steep path with a handrail guides hikers right up to the waterfalls. The spray is heavy and rocks can be quite slippery, so take care. And bring a wipe for your camera lens, or all your photos will be cloudy!
For a special treat, visit Franklin Falls during the winter months when the falls are frozen over. You'll have to research the best trail access when you go because the snow can force parking lot and/or trail detours. The above-mentioned Facebook groups can be of great assistance.
Bring spikes for traction and plenty of warm clothes – it can get very chilly by the falls. The steep slope leading to the bottom of the falls is icy during the winter, so go slowly and take small steps while hanging onto the wire rail.
This is a popular hike, so arrive early, even in the winter. Or, better yet, head there on a weekday.
---
These pet-friendly Seattle restaurants welcome dogs INSIDE!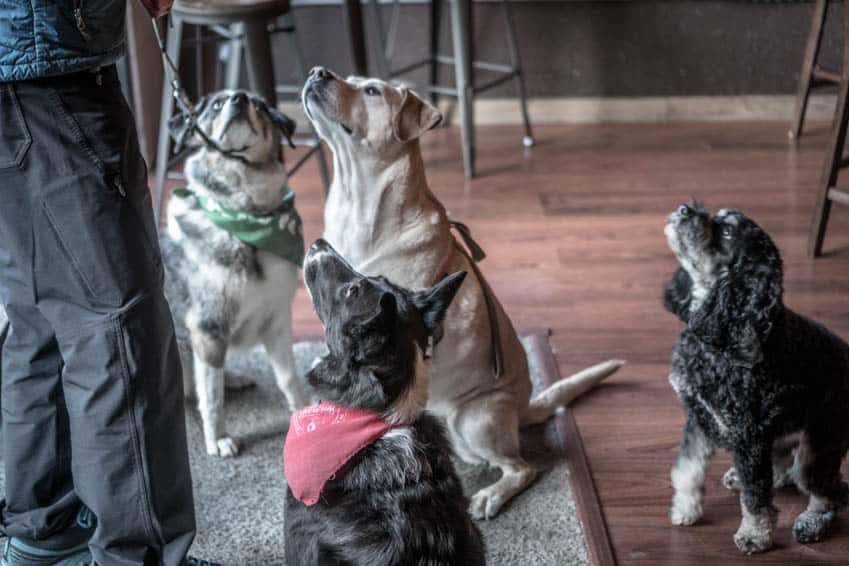 ---
Cherry Creek Falls
Just a short drive outside of the quaint town of Duvall, Cherry Creek Falls is a sweet little gem with mostly local traffic. The easy five-mile hike was originally the site of a logging camp and is accessible any of the year. With the large network of pet-friendly trails, it's also a great destination for trail runners looking to go for longer distances with their furry companions.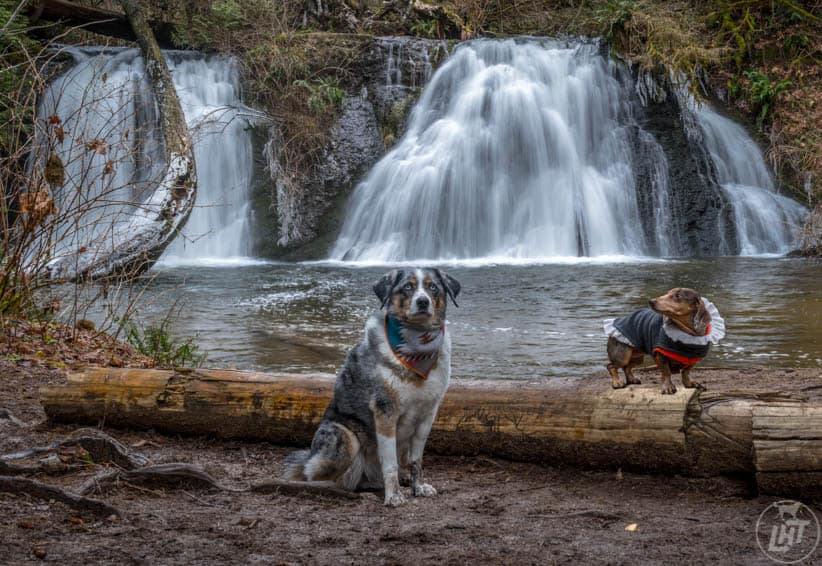 The route follows a well-maintained path with several river crossings. Some have sturdy man-made bridges, while others consist of a simple wide log stretched across. During the winter and spring, the creek is often rushing and water levels can be high, making the crossings a bit nerve-wracking. Dogs seems to have far more bravery and balance than their humans, but be careful with your pups if the water poses a hazard.
The trail gradually descends to the 25-foot waterfalls and passes an old rusted car that makes a good photo spot. The sandy shore of the waterfall pool is spacious with plenty of good logs to sit and enjoy the view or eat a snack.
Afterward, continue following the path above the waterfalls to complete a semi-loop. Or simply turn around and head back the way you came.
This trail can be muddy during the rainy months, so bring waterproof shoes. Also note that there is no official parking lot for the hike, as the first half mile is located on a courtesy easement on private property. There is a shoulder just before the trail head where you can leave the car. Don't park where signs indicate "private road" or you will be ticketed.
Ira Spring Trail at Mason Lake
Named for one of Washington's most important trail advocates, Ira Spring was a photographer and conservationist whose namesake trail befits his legacy. Wildflower fanatics will love Ira Spring Trail at Mason Lake during peak bloom.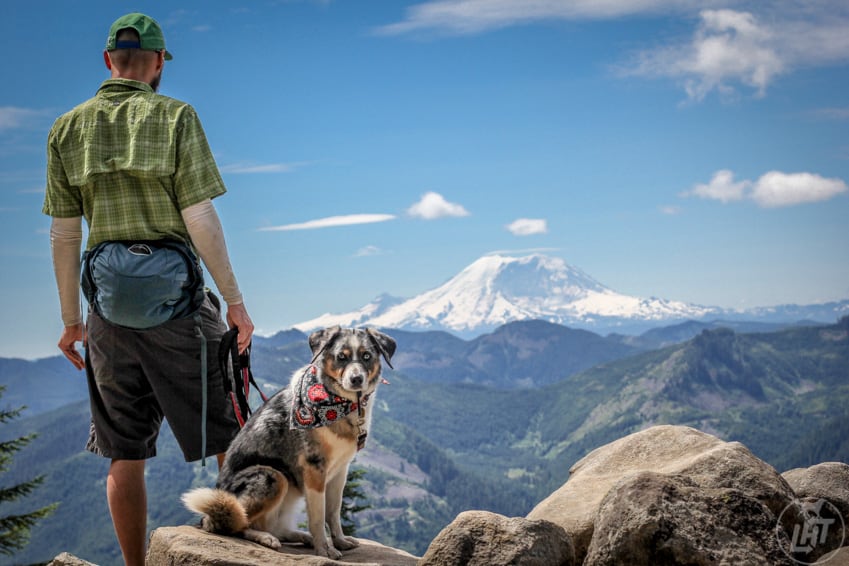 The gain is fairly significant — 2,420 feet in just over three miles. But the rocky ridges offer fantastic views of Mt. Rainier to take your mind off the climb. After summiting the high point of the hike at 4,320 feet, the trail descends into Mason Lake.
There is ample space to find a shady spot for a picnic. Or perch atop one of the massive boulders to soak in the sunshine. Dogs will enjoy playing fetch or cooling off in the turquoise lake.
Camping is also possible at the lake, complete with designated camping areas and a backcountry loo. Before your visit, pick up a NW Forest Pass, which is required for parking and utilizing the trails.
Heather Lake
Accessible most any time of year, Heather Lake is a hike for all seasons. Winter months mean fewer crowds – just be sure to use your micro spikes! And fall brings brilliant colors, thanks to all the berry bushes.

This hike is great for any level of hiker looking for a moderate challenge. The climb begins as soon as you hit the trail and winds through old and new-growth forests. The vibrant shades of green are noteworthy, with evergreens, moss, and ferns spreading in all directions.
After a bit of climbing, you'll reach a boardwalk that leads to the lake. Bring waterproof shoes, as there are a few water crossings, including a small waterfall that makes for a nice photo stop.
Find a good picnic spot, or continue all the way around the lake to absorb the full perspective. In the winter, the boardwalk can be slippery, so be cautious.
Grab your NW Forest Pass and arrive early to beat the crowds, especially on weekends. Arriving to the parking lot before nine guarantees better chances of having the lake to yourself. In fact, pack a hammock to enjoy a few moments of hang time before everyone arrives!
EXPERIENCE MORE TOGETHER
Amazon Affiliate Disclosure: GoPetFriendly.com LLC is a participant in the Amazon Services LLC Associates Program, an affiliate advertising program designed to provide a means for website owners to earn advertising fees by advertising and linking to amazon.com, audible.com, and any other website that may be affiliated with Amazon Service LLC Associates Program. As an Amazon Associate, the owner of this site earns a commission from qualifying purchases.
(Visited 2,520 times, 1 visits today)