The day before Thanksgiving may be a funny day to publish this post … or perhaps it's absolutely perfect! It won't be long before you've had it with the turkey leftovers and would give anything for a piping hot pizza. No need to pick up the phone – if we can make pizza from scratch in our RV kitchen, you can certainly manage it in yours!
The Backstory
We love pizza – always have. So much so, that one of the factors we considered before deciding to chuck it all to live full-time in the motorhome was were we would get our pizza. And when upgrading to a bigger RV first registered in our imaginations, the list of "pros" included "a larger kitchen where pizza making would be possible." 
Last year we made some new friends in Phoenix, and the conversation turned to food. Rod proudly explained that we "made our pizza from scratch," using a frozen crust and fresh toppings – rather than buying a frozen pizza like many RVers do. Being the lovely person that she is, Susan did not laugh in Rod's face, but politely informed him that starting with a frozen crust was not making pizza from scratch. If we wanted to continue to make that claim, we would have to do better!
A Quick Aside on Division of Labor: It has been discussed on the blog that I do all the driving of the motorhome. When it became clear that Rod was permanently relieved from that duty, he decided to take responsibility for all the cooking, embracing the challenge. He finds his time in the kitchen relaxing and is always trying new things.
A few days later, Susan invited Rod over for a crash course on making pizza dough. And a week later she came over to oversee operations in our kitchen as we hosted a pizza party for eight. Since then, Rod hasn't even looked at a store-bought crust, and I've been dining on his delicious creations!
Making Pizza In An RV Kitchen
When we first considered it, making pizza dough from scratch in an RV kitchen seemed over-the-top. But once you do it a few times, you realize it's not as complicated as you might have imagined – and it's tastes so much better!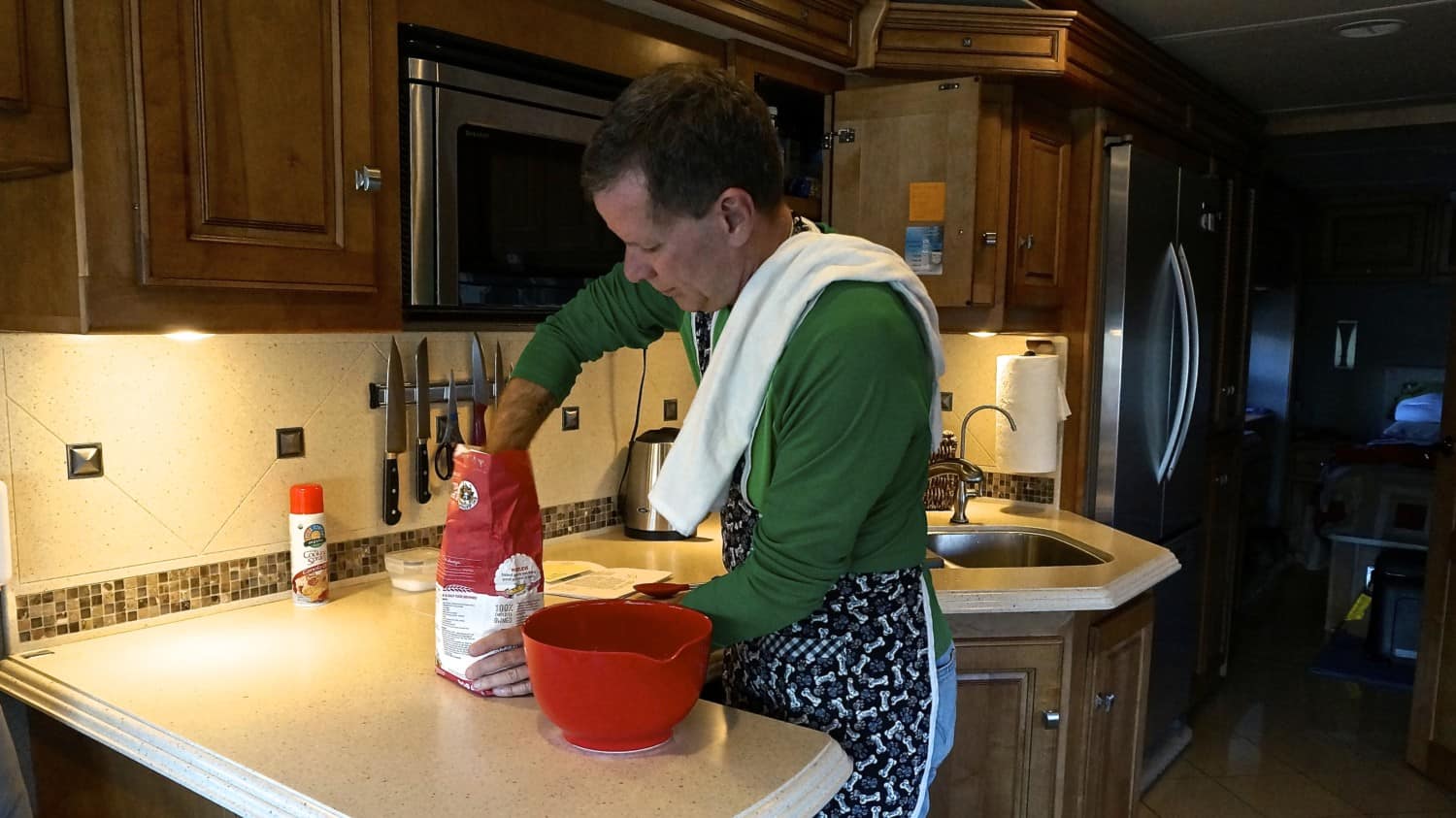 The recipe is simple and makes 2-3 crusts for two people depending on how thinly we roll out the dough:

1 package of dry yeast (about 2 1/4 teaspoons)

1/4 teaspoon sugar

1 1/2 cups warm water

2 1/2 – 2 3/4 cups all-purpose flour

1 cup whole wheat flour

1 tablespoon olive oil

1 1/2 teaspoons salt

cooking spray
You start by dissolving the yeast and sugar in warm water in a large bowl. Let that stand 5 minutes, then add the whole wheat flour, oil and salt to the yeast mixture, stirring until well blended. Then add the all purpose flour until the dough is impossible to stir anymore, and turn it out on a floured surface.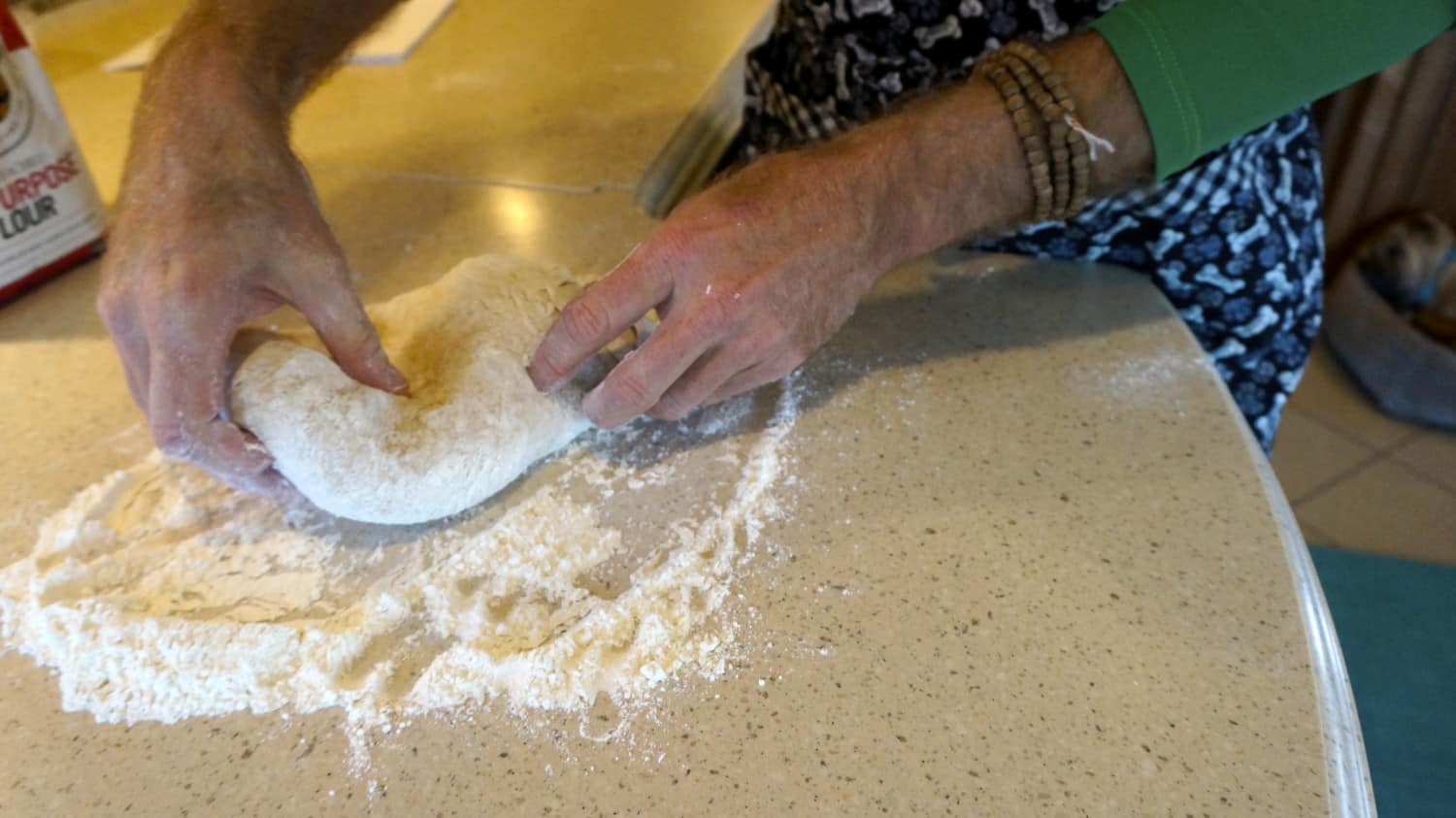 For about 10 minutes you knead the dough, adding enough of the remaining flour as you go to keep if from sticking to your hands.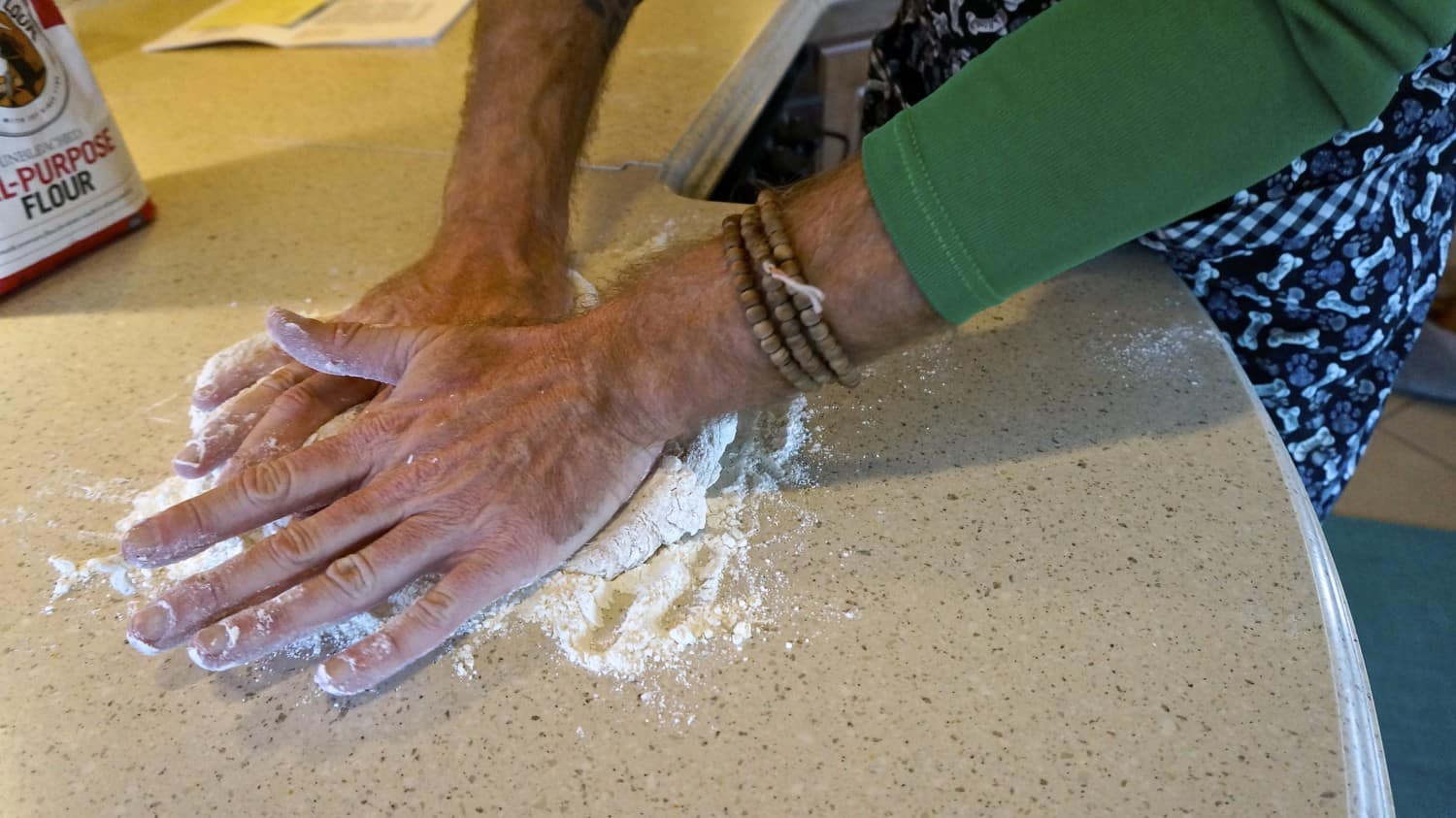 Then place the dough in a large bowl coated with cooking spray, cover it, and let it rise in a warm place. We pop ours inside the microwave/convection oven and leave the door slightly ajar so the light stays on and creates a cozy spot inside for the yeast to do it's work.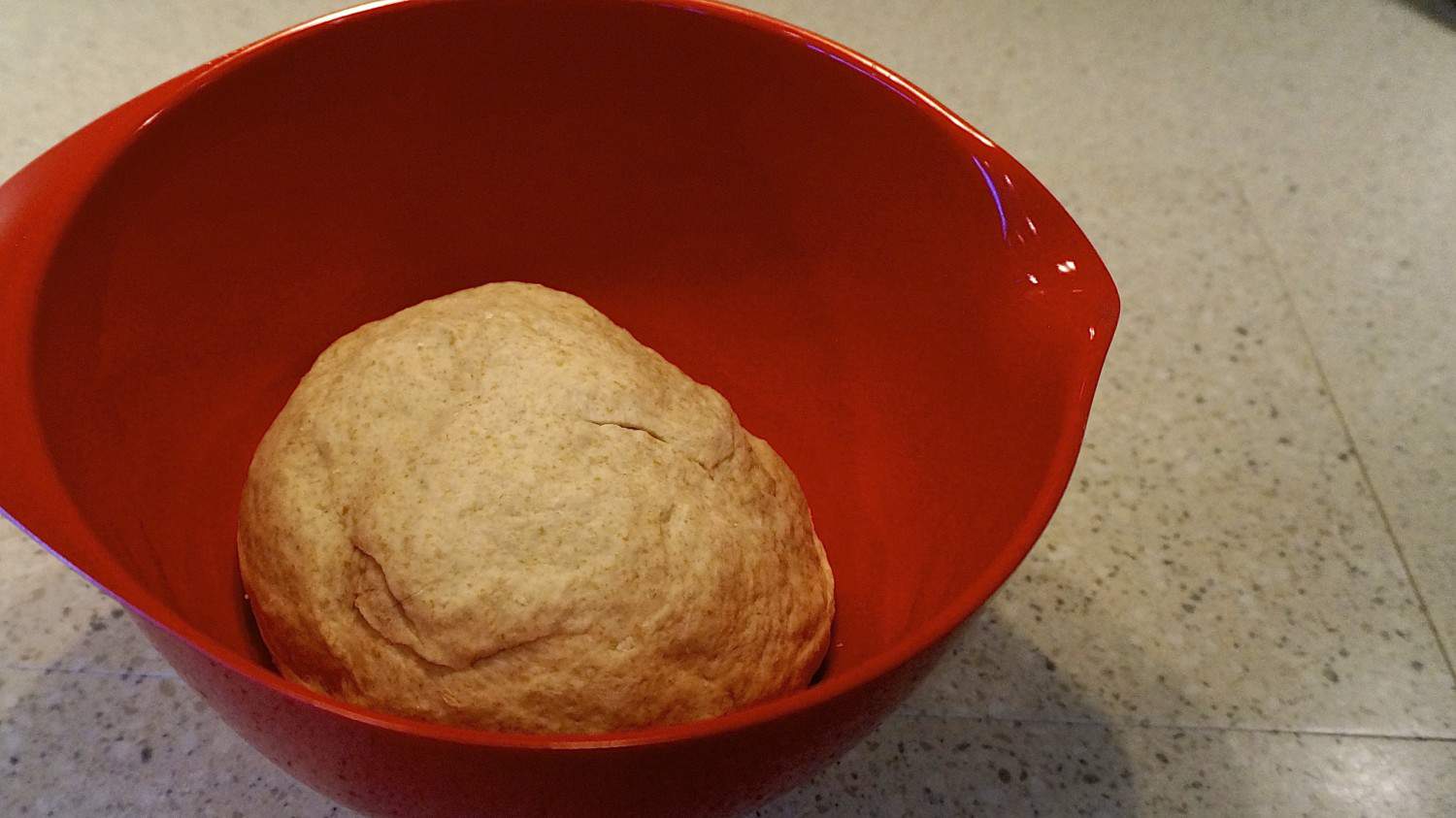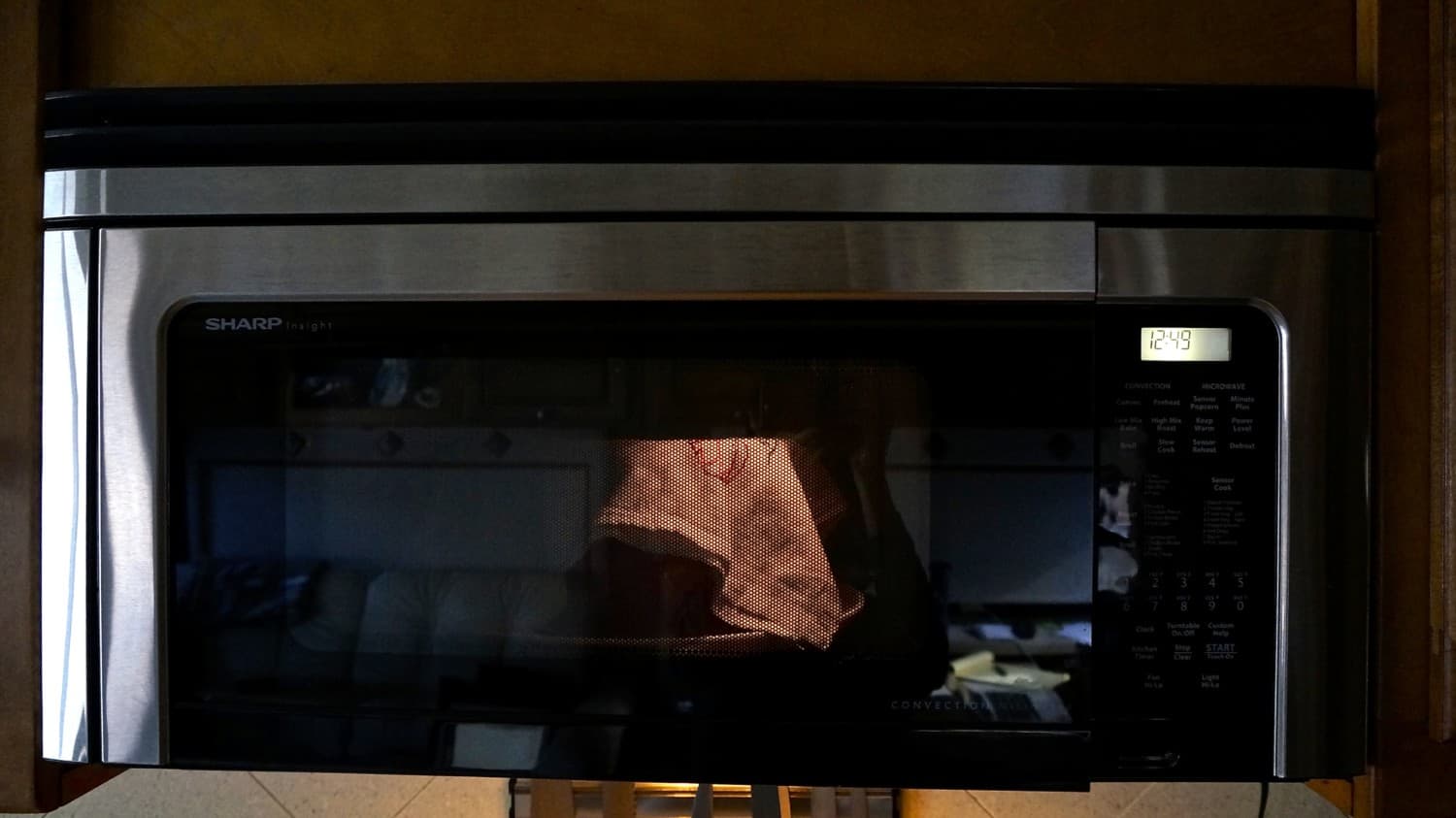 It comes out looking like this, and we divide it into thirds. We drop two portions into resealable bags that have been coated on the inside with cooking spray and pop them in the freezer. The third section gets rolled out and placed on a pan that's been sprinkled with corn meal.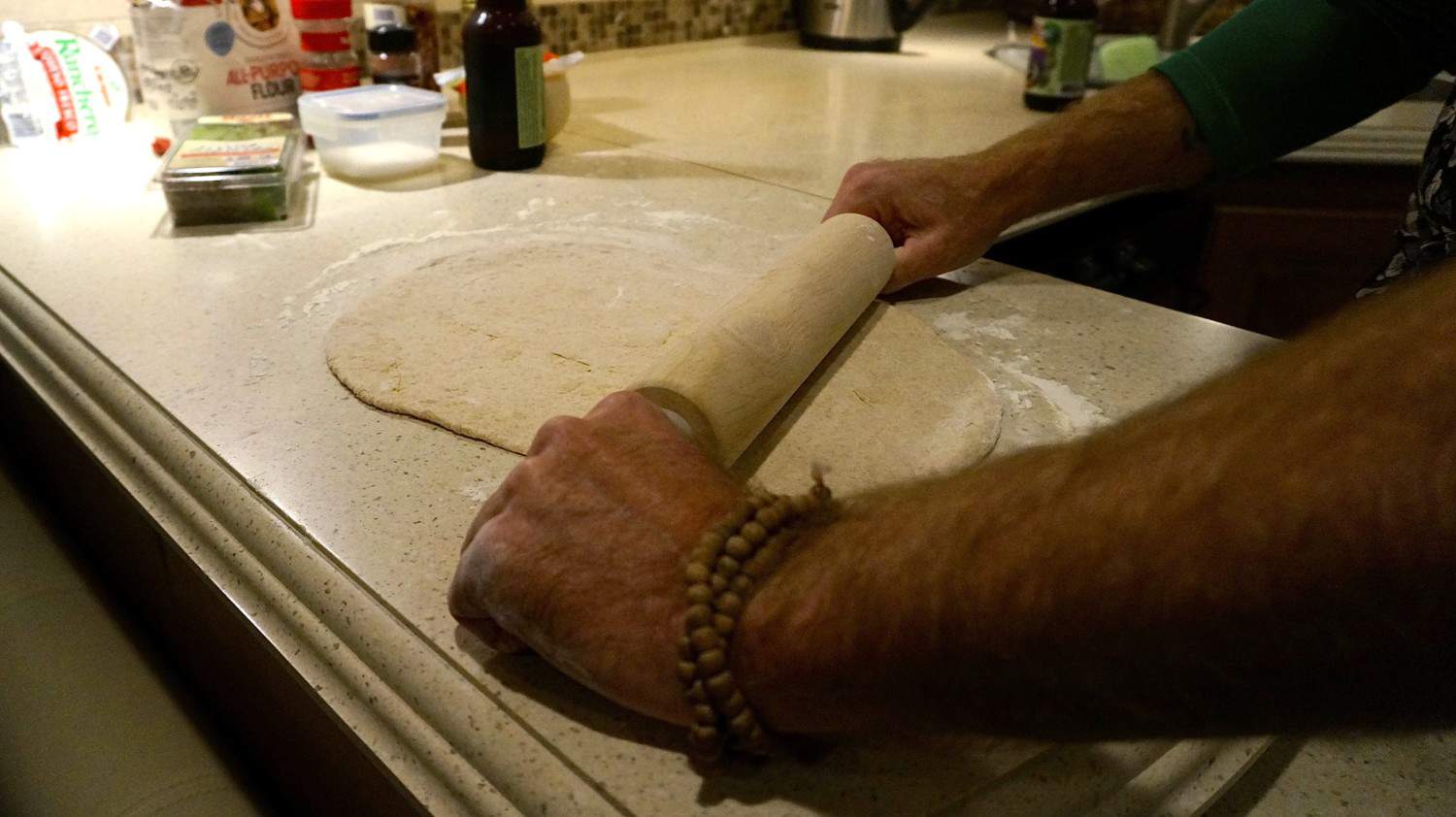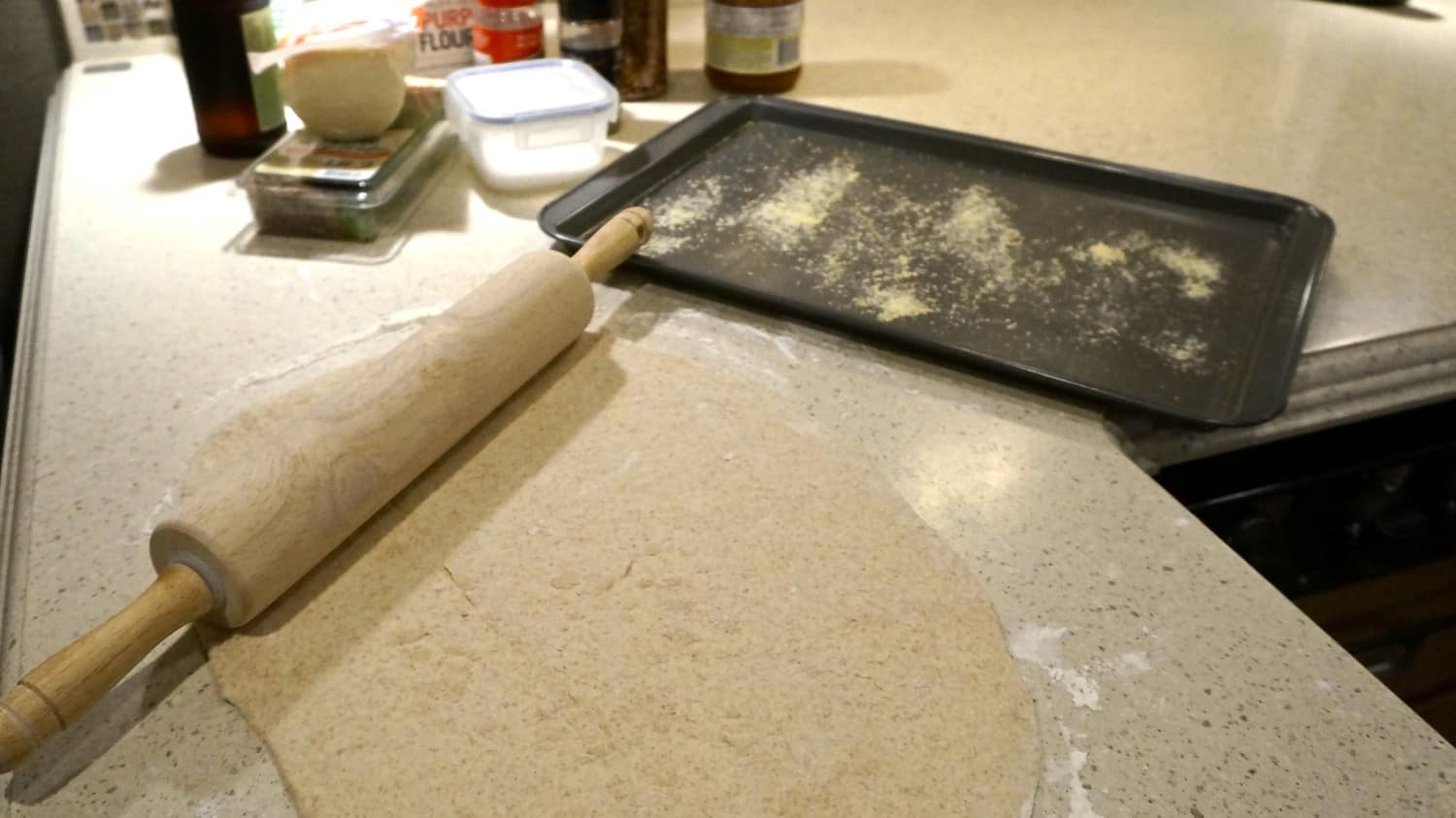 The dough then goes into our preheated convection oven to partially bake at 400 degrees for 8 minutes. When it comes out, it's time to add the toppings! We decided on a simple margarita pizza with tomato sauce, salt, pepper, oregano, fresh roma tomatoes, and mozzarella cheese. That gets baked for 8 minutes at 400 degrees, rotated, and then baked for another 8 minutes. Fresh basil gets added as the finishing touch when the pizza comes out of the oven.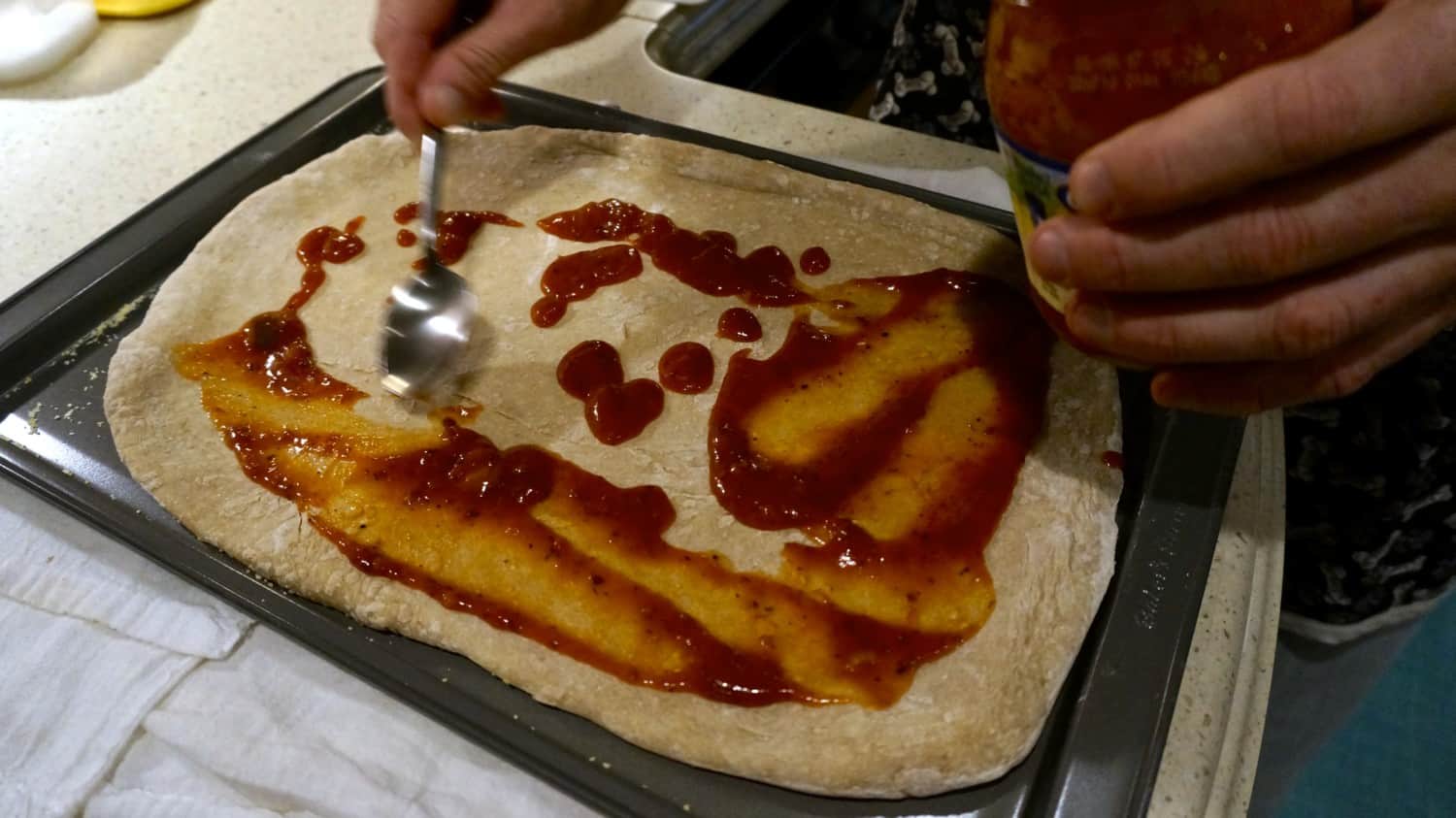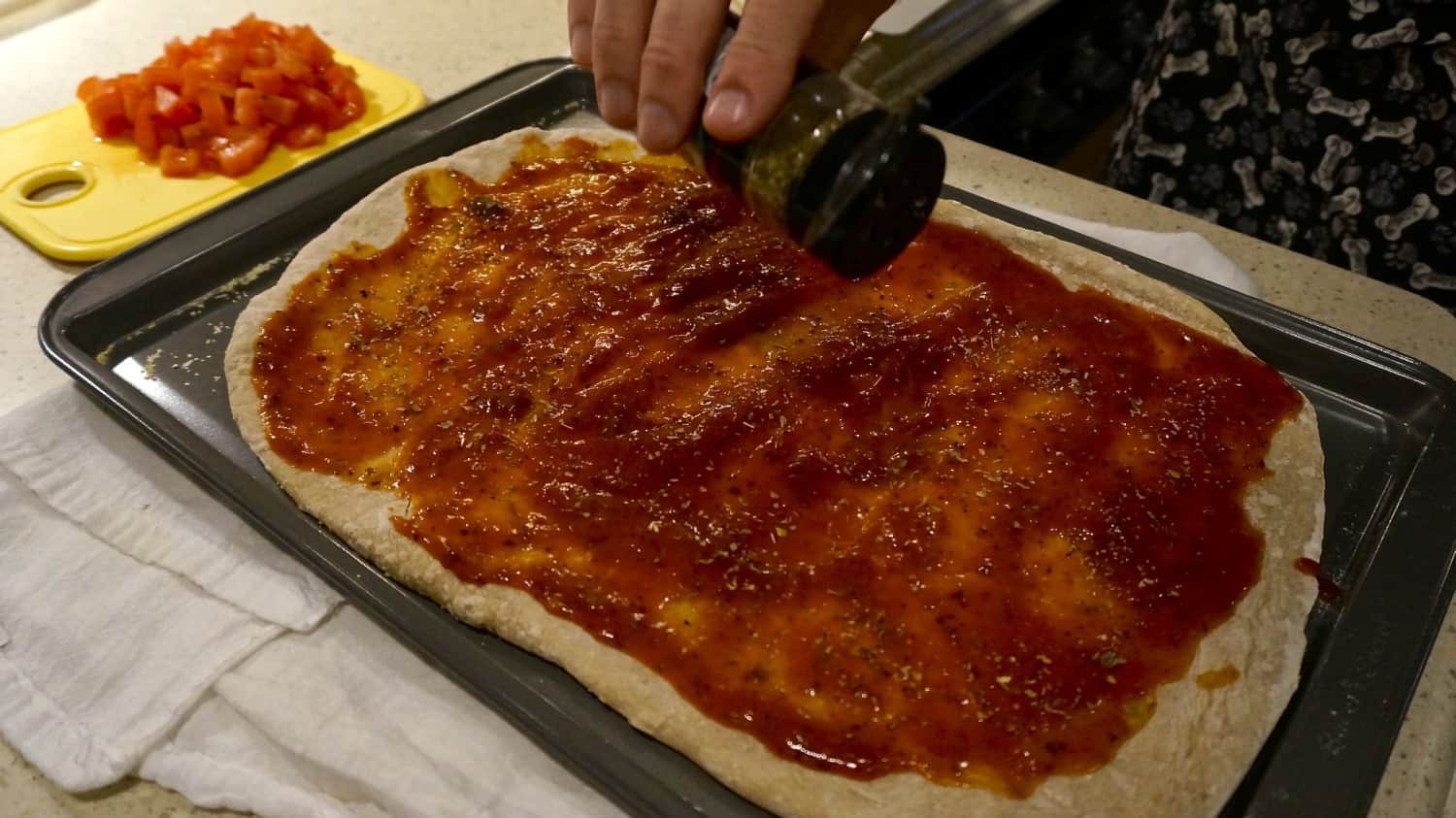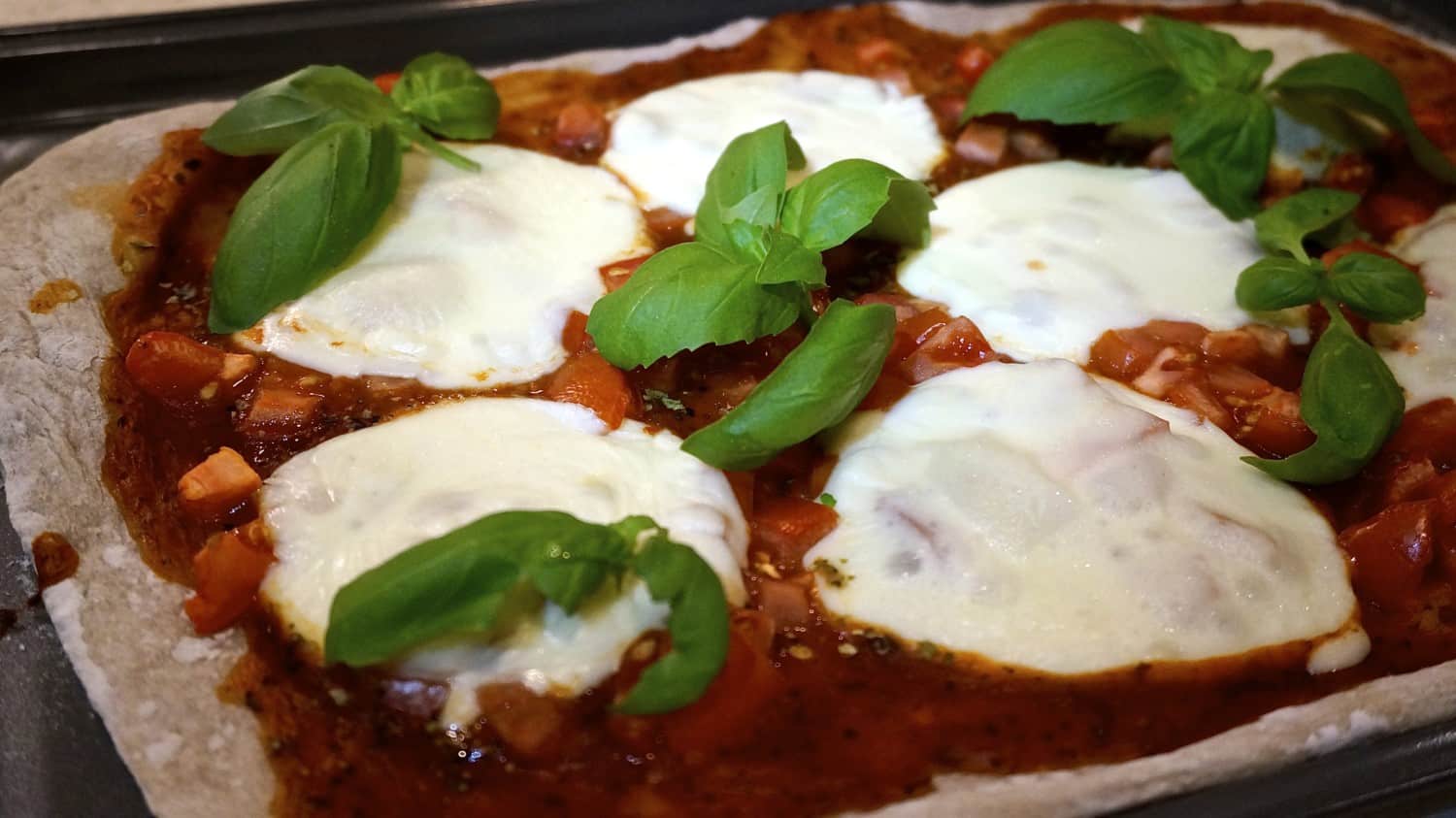 The frozen portions of dough that we popped in the freezer can be defrosted in the refrigerator overnight, or on the counter top in a matter of hours. (If you do defrost your pizza dough on the counter, be sure it's out of reach of your pets. Raw dough can be dangerous if ingested by our furry family members.) They make a quick and easy dinner option – you just need to roll them out, pre-bake, add the toppings, and bake!
For something a little different, try one of our favorite topping combinations:
Tomato sauce, crimini mushrooms, fresh mozzarella, pine nuts, and finish with pesto, or
Pesto, fresh spinach, bacon (fried beforehand), and fresh mozzarella
If you have a favorite pizza topping combo, share it below and we'll give it a try!
Planning a pet friendly trip of your own? We'll make it easy:
Pet Friendly Hotels | Pet Friendly Destinations | Pet Friendly Activities
Amazon Affiliate Disclosure: GoPetFriendly.com LLC is a participant in the Amazon Services LLC Associates Program, an affiliate advertising program designed to provide a means for website owners to earn advertising fees by advertising and linking to amazon.com, audible.com, and any other website that may be affiliated with Amazon Service LLC Associates Program. As an Amazon Associate, the owner of this site earns a commission from qualifying purchases.
(Visited 905 times, 1 visits today)