Florida is know for its beaches — and that's a double-edged sword. Sure, the surf and sand are spectacular, but they can also be very crowded. If you're looking for a lovely stretch of coastline with a more tranquil vibe, check out these great dog friendly beaches on the Florida Panhandle!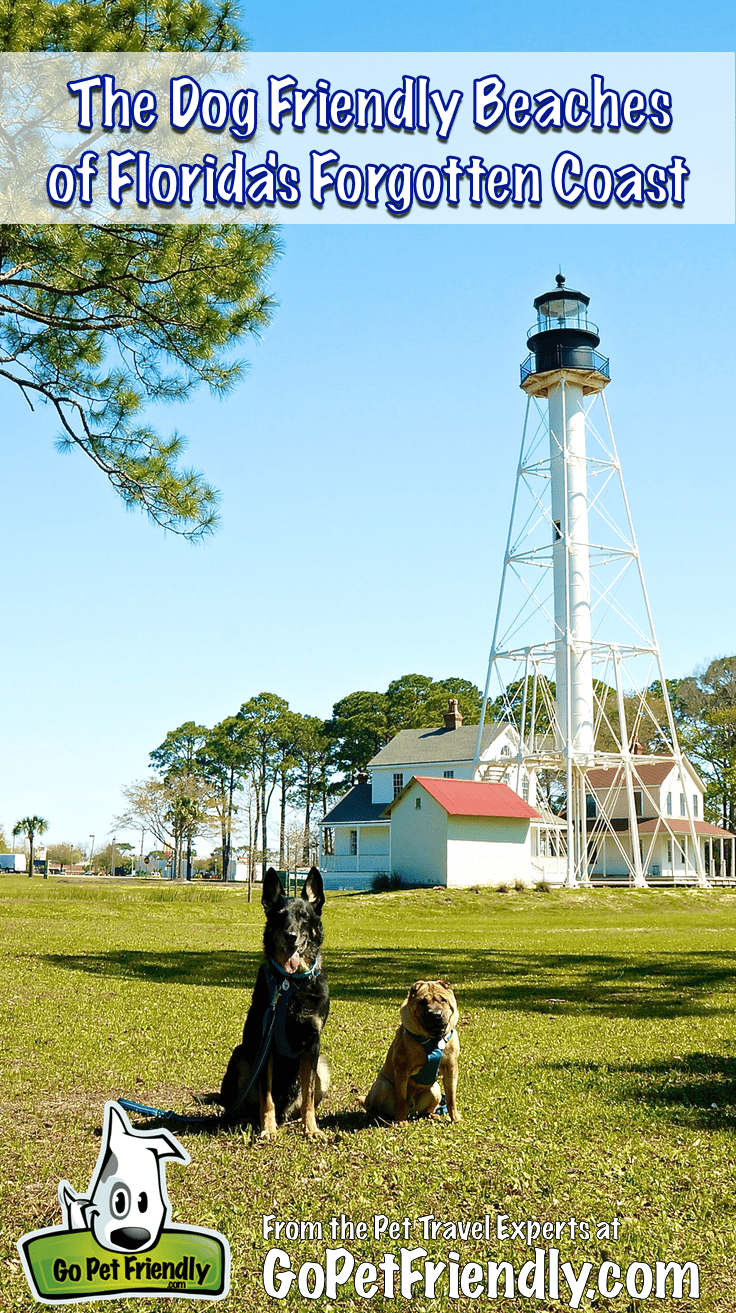 A trip to Florida means time at the beach, and there's nothing better than finding a shore town that you and your dog can enjoy together. With 825 miles of coastline in the state, you'd think there would be enough for everyone!
Unfortunately, many of Florida's popular beaches feel overcrowded. And another big bunch don't allow dogs.
So where do you go for quiet, dog friendly beaches? We suggest the Florida Panhandle. Specifically, the stretch of coastline from Mexico Beach to St. Marks, affectionately known as "the Forgotten Coast".
In this relatively quiet, undeveloped area of the Florida Panhandle you'll find laid-back attitudes, friendly locals, gorgeous white sand beaches, Caribbean blue water, and plenty of spots where your pup is welcome to splash in the waves with you!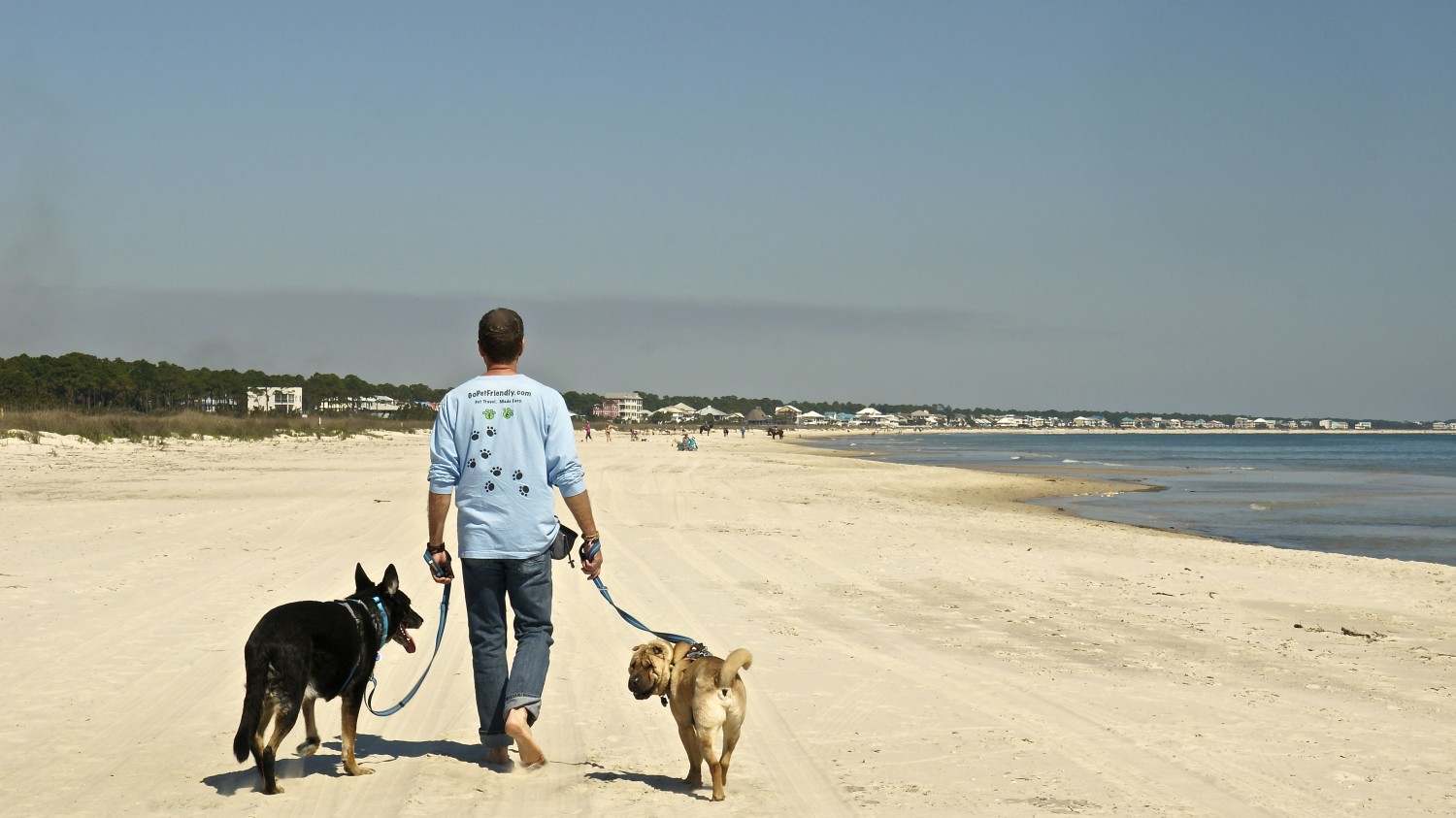 Port St. Joe
Start your trip by getting the lay of the land at the Visitors Center in Port St. Joe. The staff is and more than willing to help. But they were truly delighted to see our dogs, and invited them to come right inside!
The town of Port St. Joe isn't very big, and a walking tour of the local sights can be done in a couple of hours. We started at the BayWalk, a gravel trail that runs from Frank Pate Park to the marina with fantastic views of St. Joseph Bay. The trails takes you right by the historic Cape San Blas Lighthouse, which was built 130 years ago and relocated here in 2014.
One thing you won't find in Port St. Joe is a bunch of hotels towering over the beach. There are a couple of pet friendly hotel options, but most people choose vacation rentals for their stay.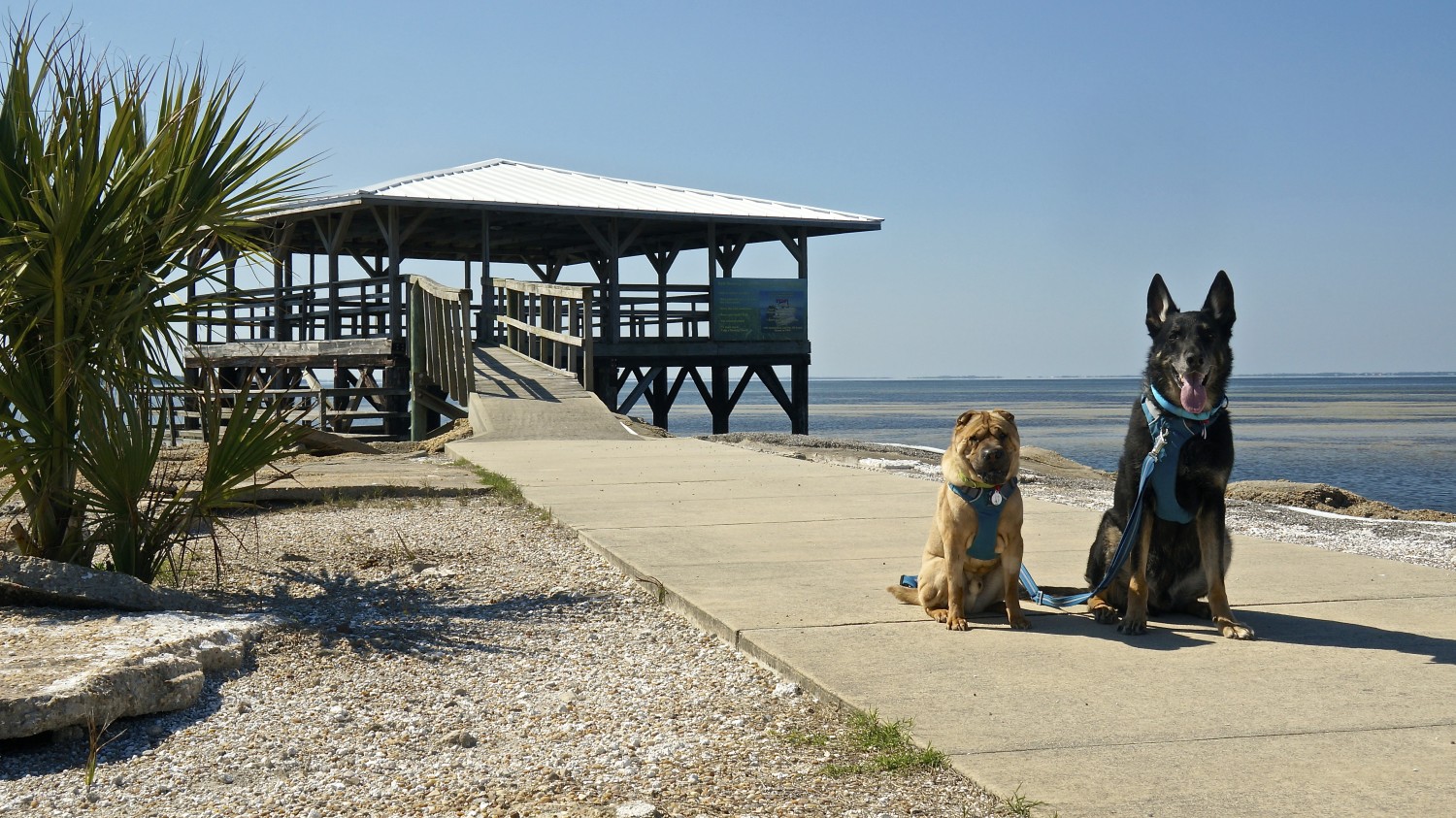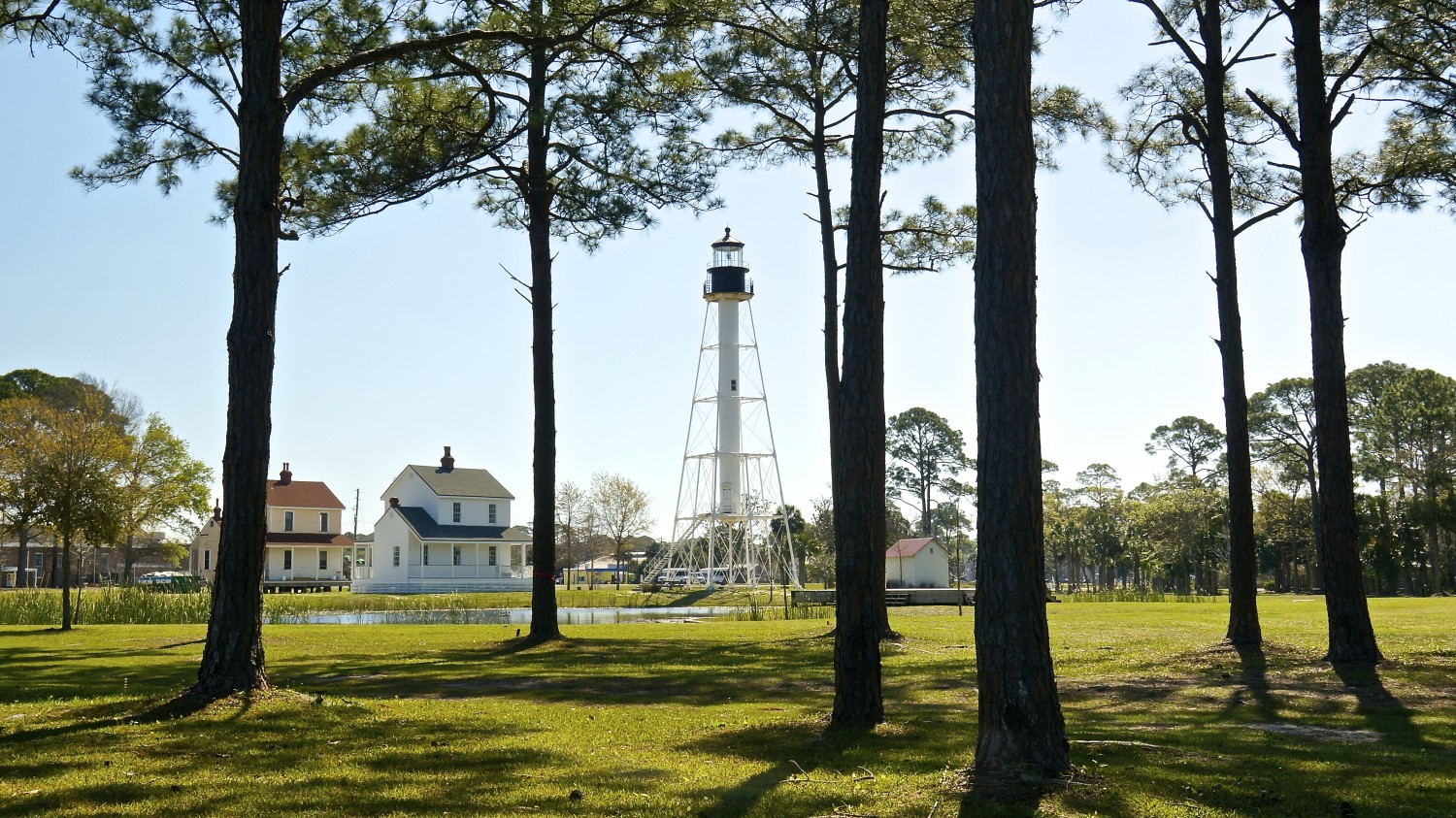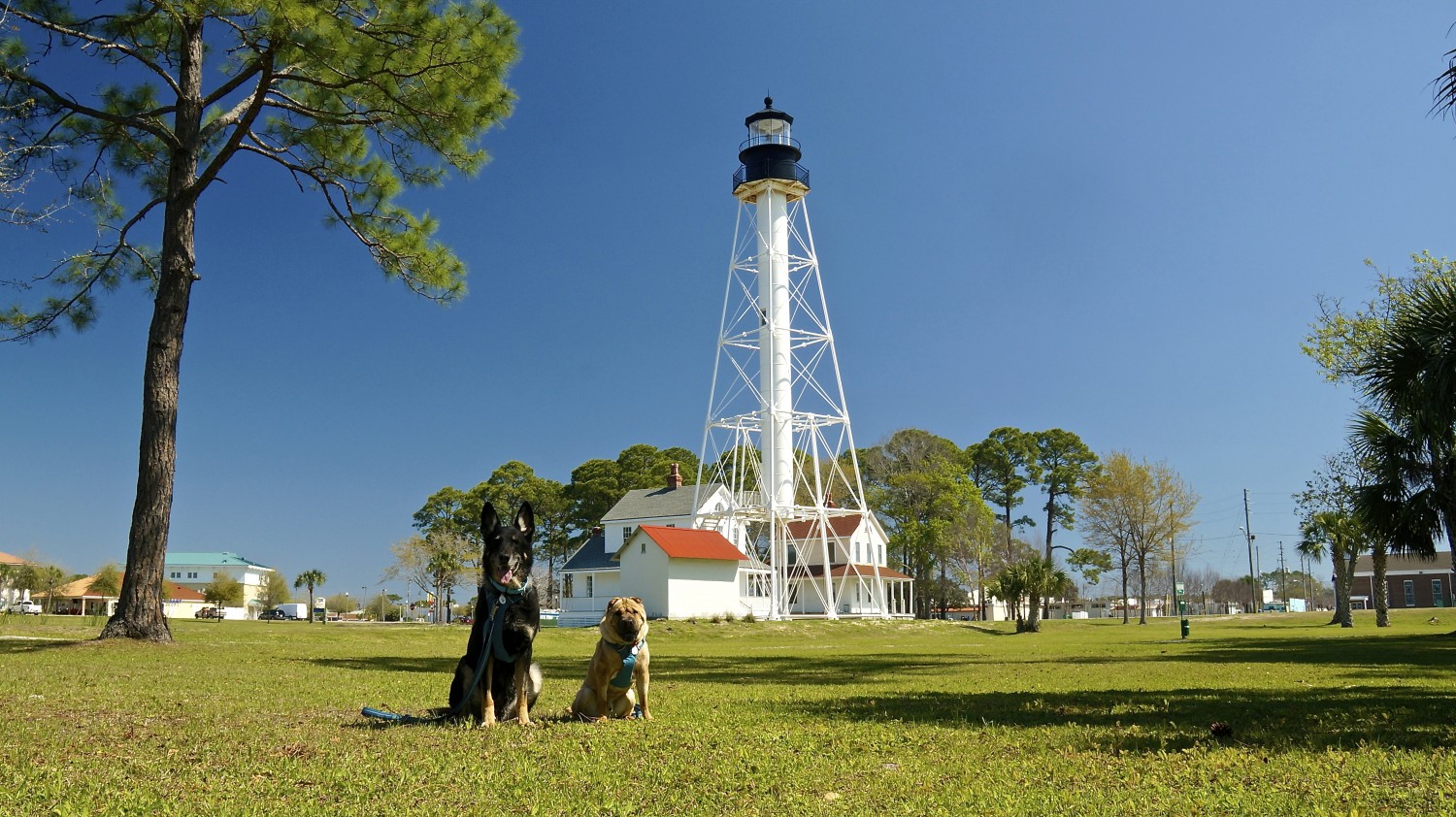 Salinas Park
Just nine miles south of downtown Port St. Joe, Salinas Park is the perfect place for a dog friendly stroll on the beach. Wonderfully quiet, with sand like sugar, and a gentle breeze — it's everything you'd want for dog friendly beaches on the Florida Panhandle.
Leashed pets are welcome on the beach all day, every day. And horses are also allowed on the beach here. There were several horse trailers in the parking area selling rides.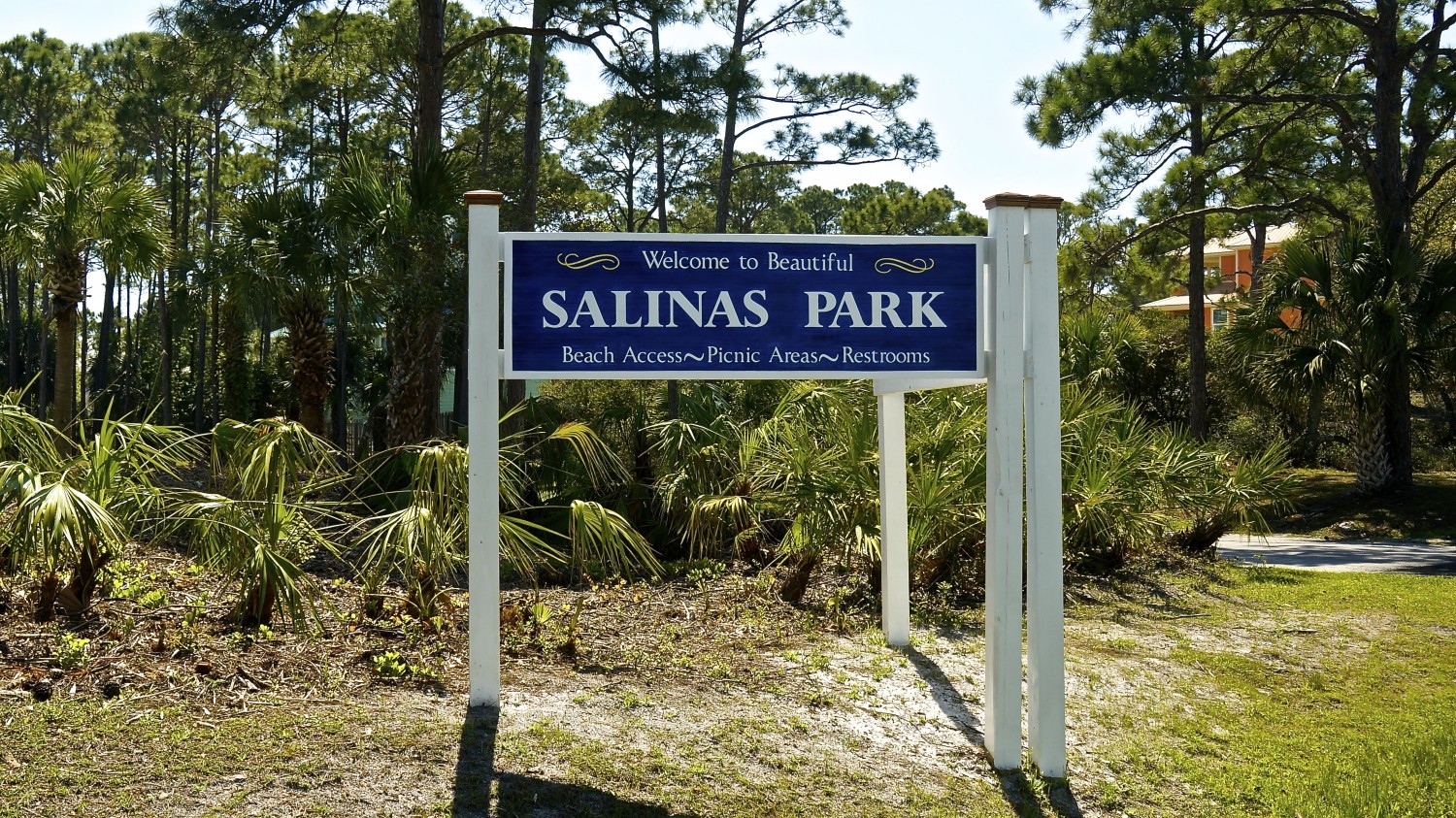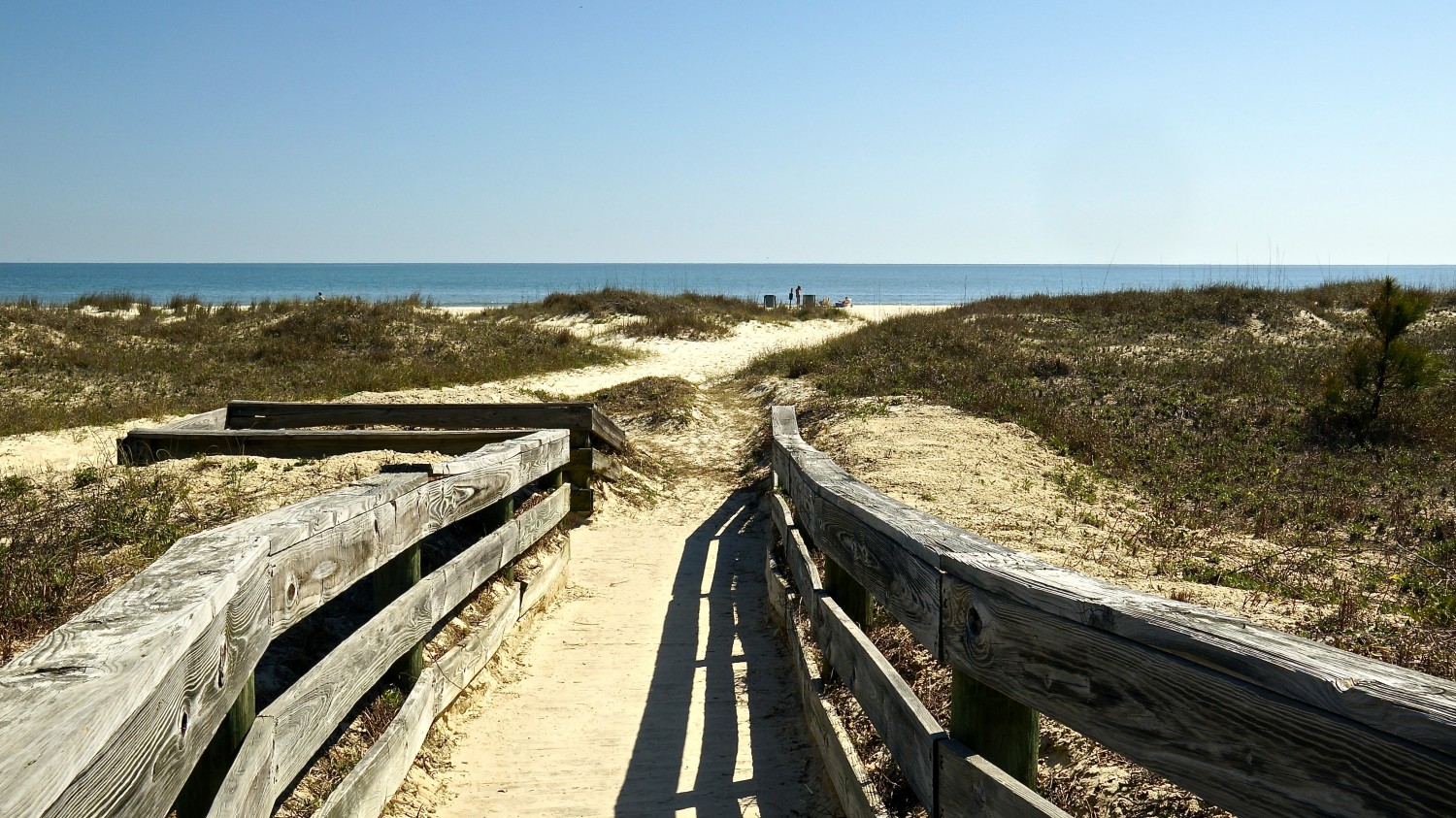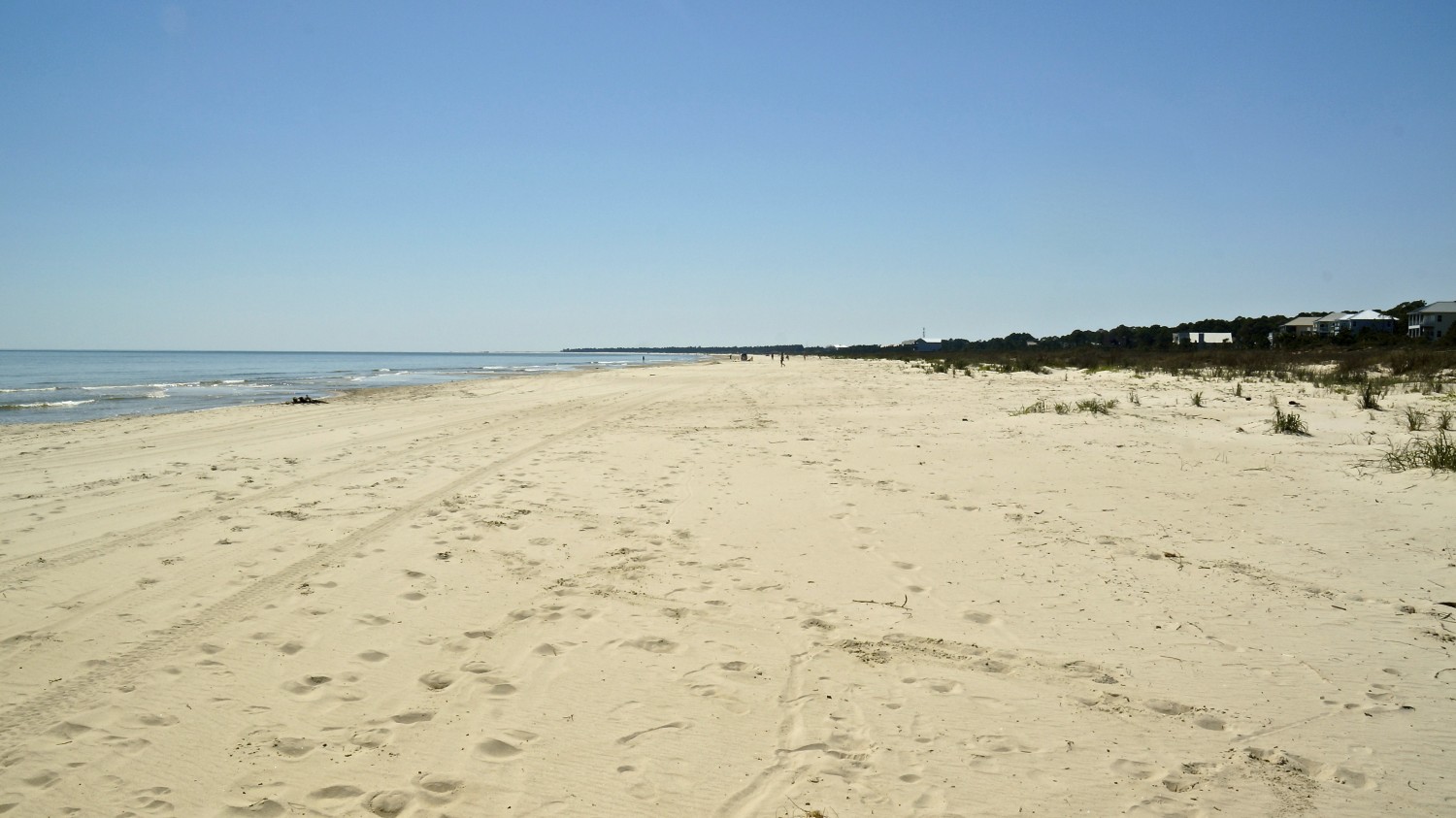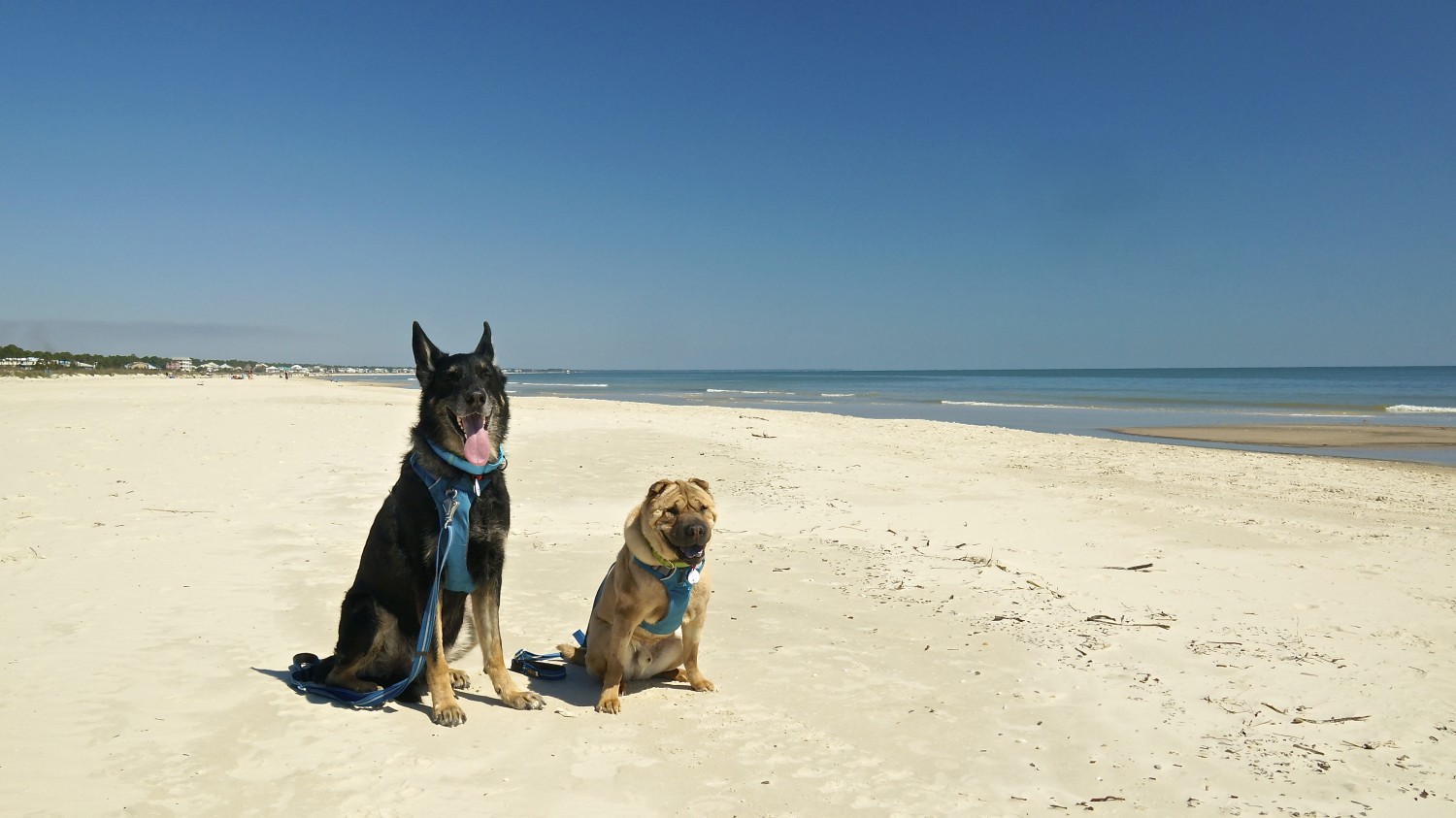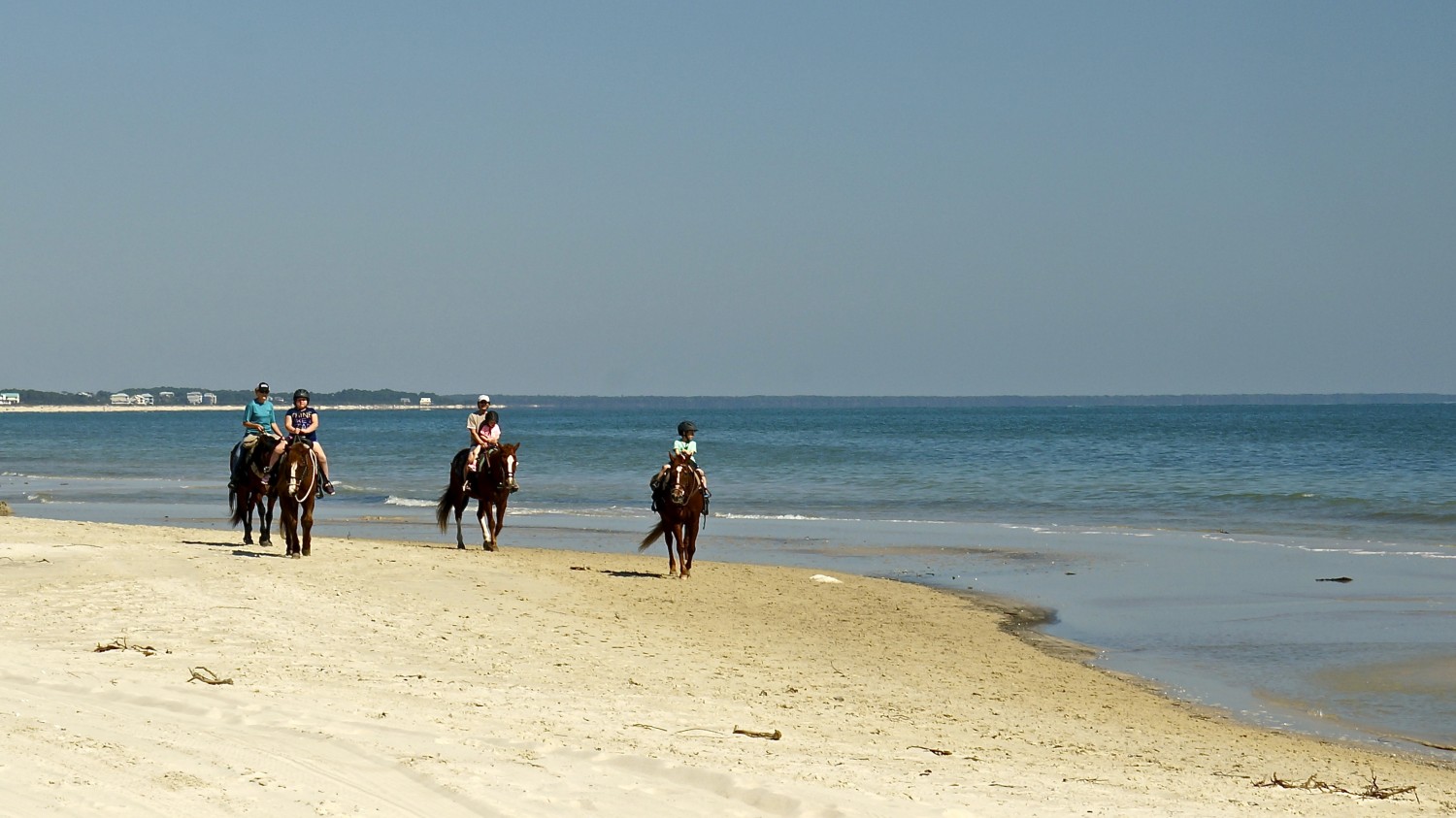 T.H. Stone Memorial St. Joseph Peninsula State Park
Continuing west from Salinas Park, Cape San Blas juts out into the Gulf of Mexico. And part of this narrow finger of land is protected by the T.H. Stone Memorial St. Joseph Peninsula State Park.
The park has a pet friendly campground and allows leashed pets in the picnic areas and on the nature trails. Surrounded by water on three sides, it's a wonderful place to take a walk and enjoy a picnic lunch.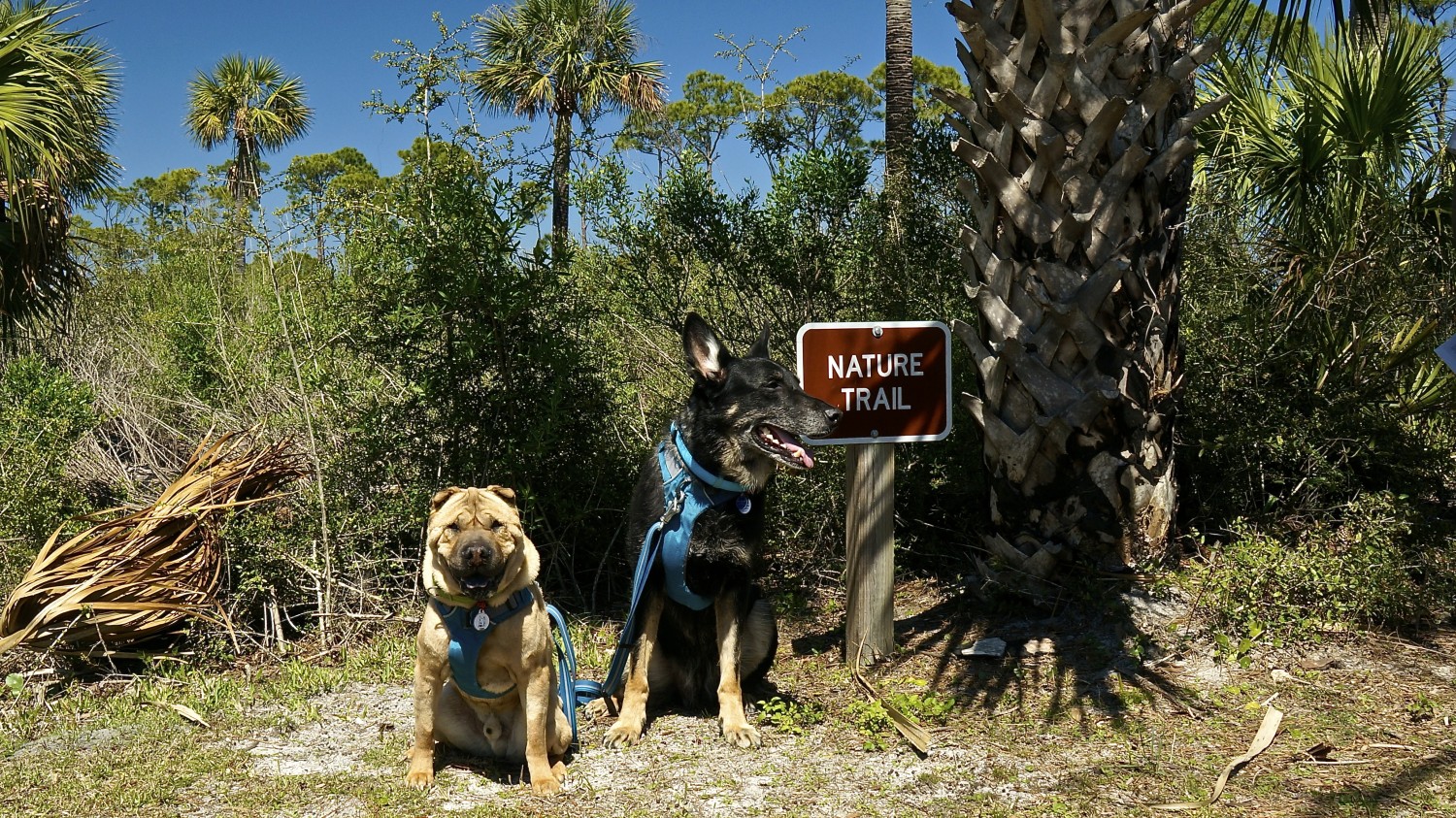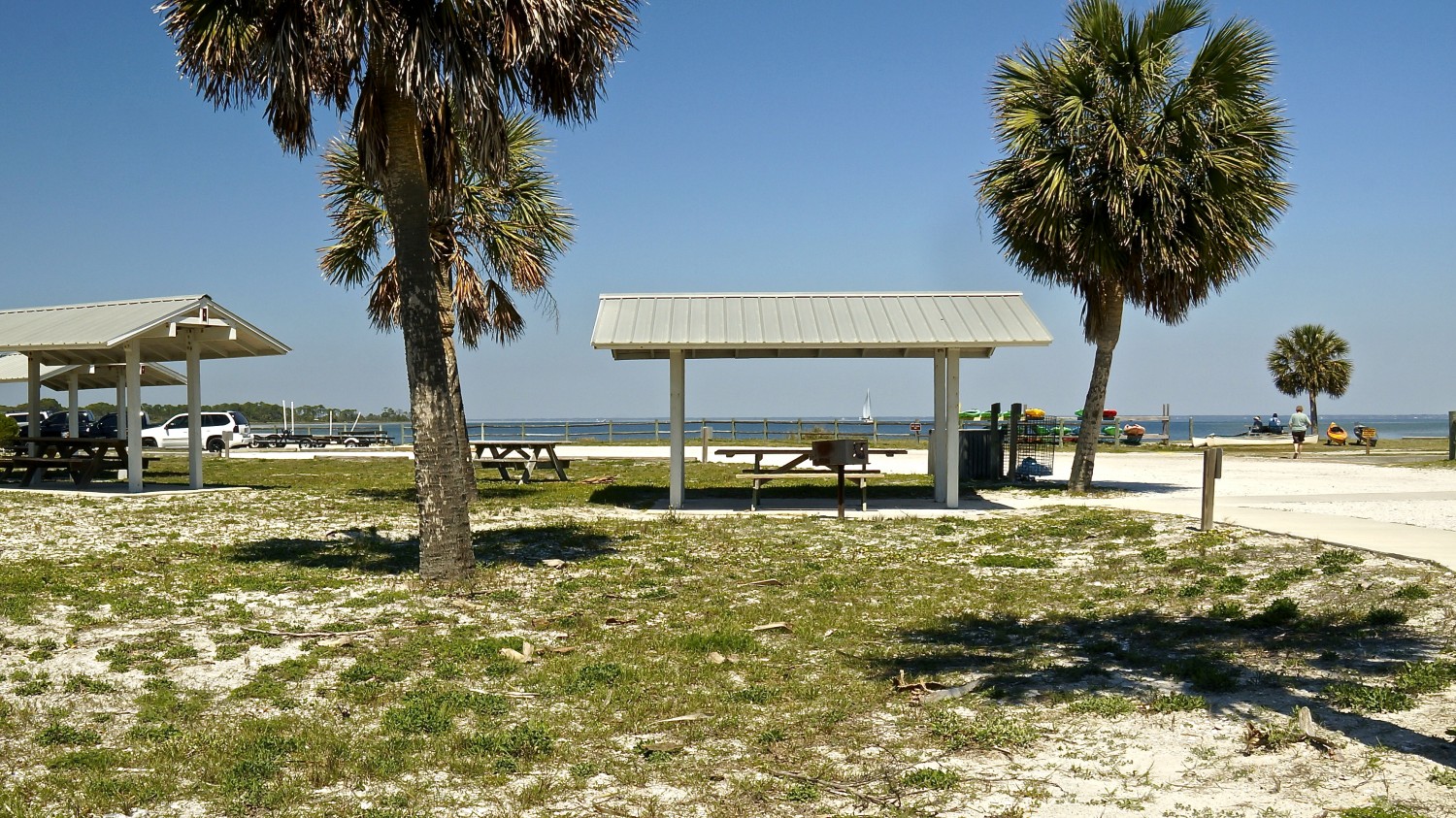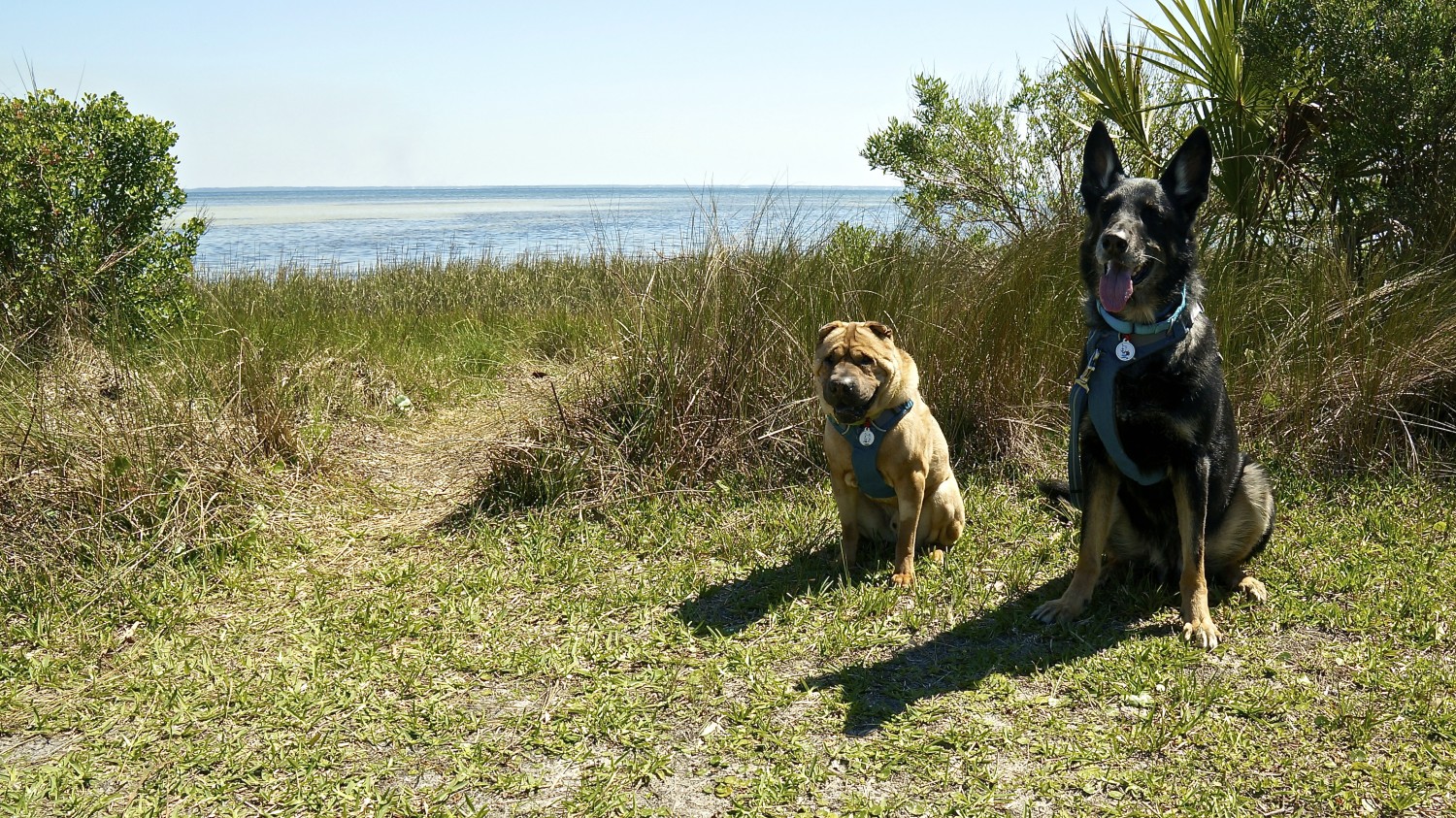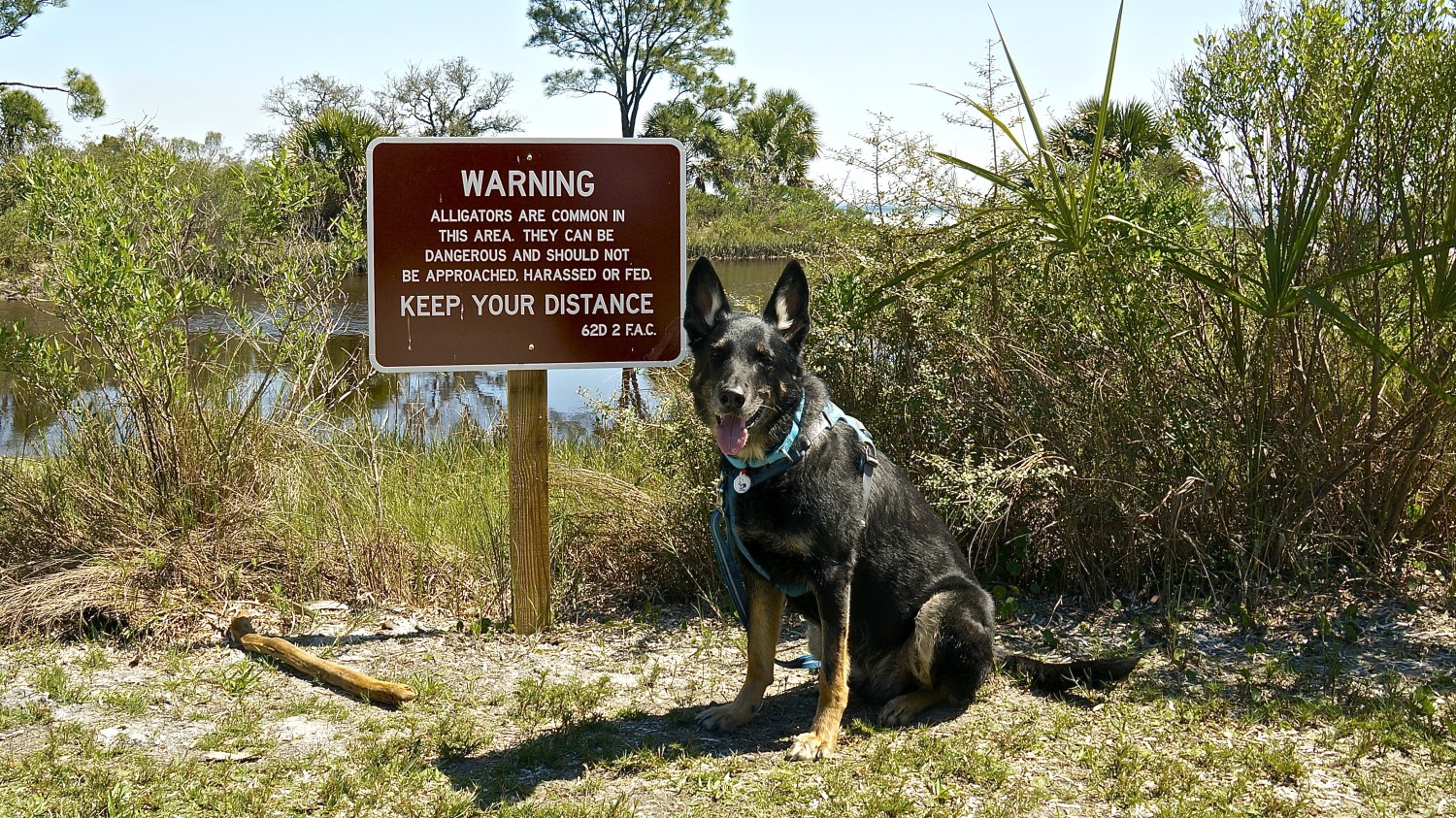 Florida state parks do not allow pets on beaches. But keep reading — there are plenty of other places to explore!
Florida State Park Pet Policy

Domestic pets are permitted in designated day-use areas in most Florida State Parks. Exceptions include, but not limited to, Ellie Schiller Homosassa Springs Wildlife State Park and Weeki Wachee Springs State Park.

Pets must be kept on a handheld leash that is no longer than six feet and be well-behaved at all times. Pet owners are required to pick up and properly dispose of pet waste. Pets are not permitted on beaches or in playgrounds, bathing areas, cabins, park buildings or concession facilities. Individual parks may have additional areas prohibiting pets.

https://www.floridastateparks.org/PetPolicy
St. George Island
The 28-mile barrier island of St. George is divided into three sections. St. George Island State Park preserves the easternmost nine miles. The middle section has the public beach, residential areas, restaurants, shops and other businesses. And the western end is an exclusive, gated housing community with its own airstrip and some of the most expensive homes on the Gulf of Mexico.
Our first stop was at the state park, and again we found that the campground and trails were pet friendly, but the beaches were not. Still, it's nice to have some variety, and our dogs throughly enjoyed the 2.5-mile Gap Point trail through the pine forest. (Parking is in the campground, and the trail heads to the left of the playground.)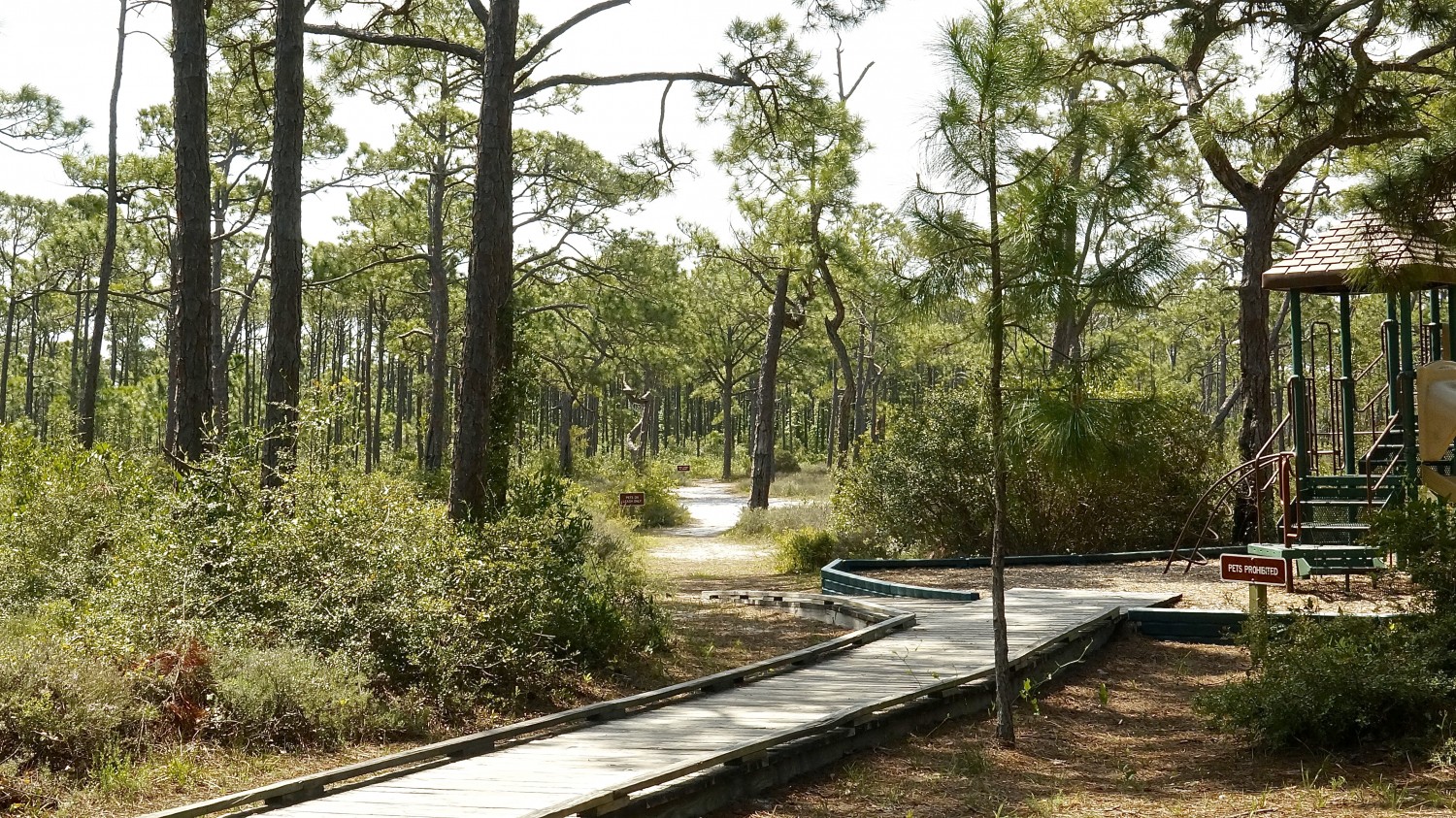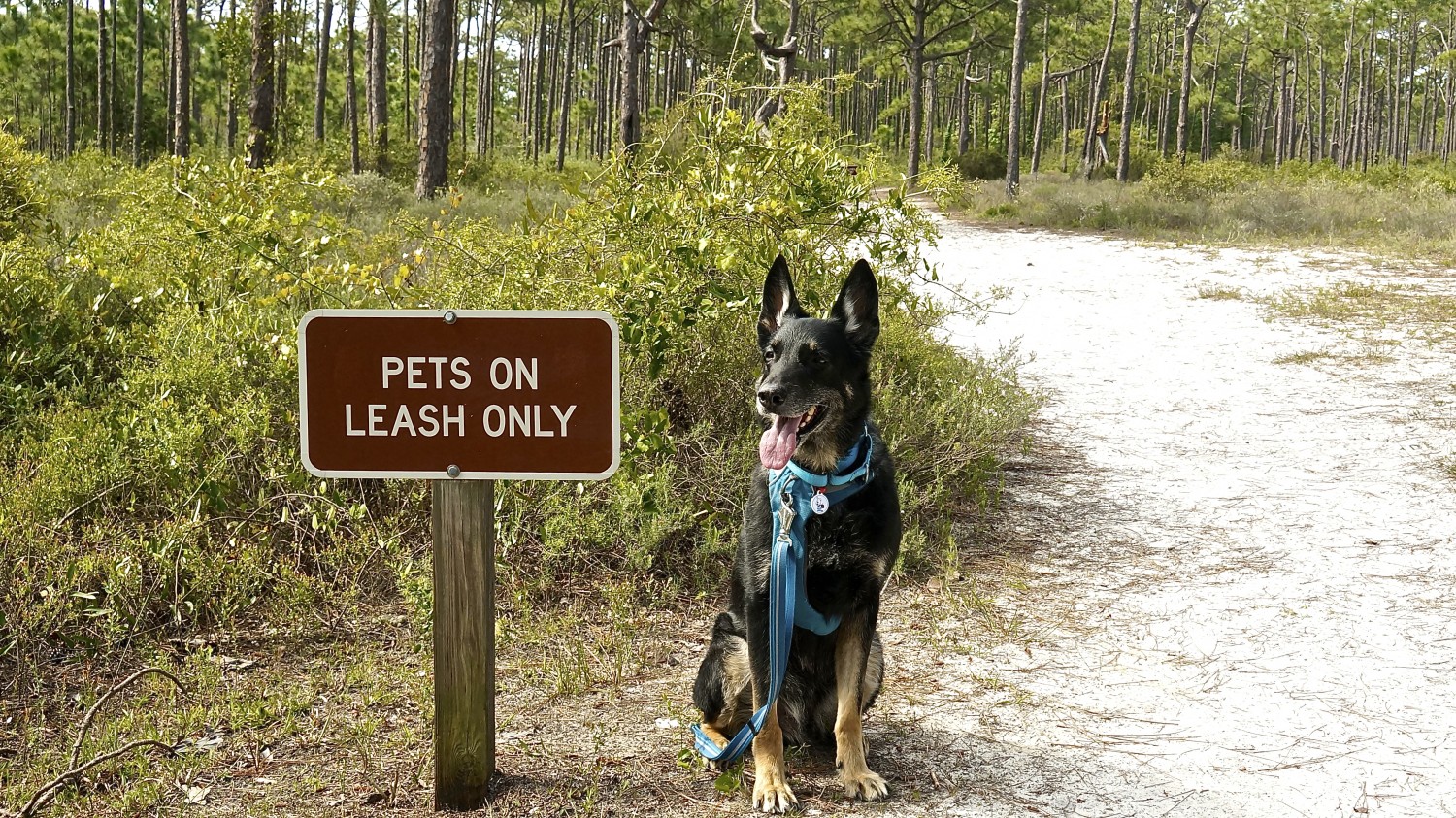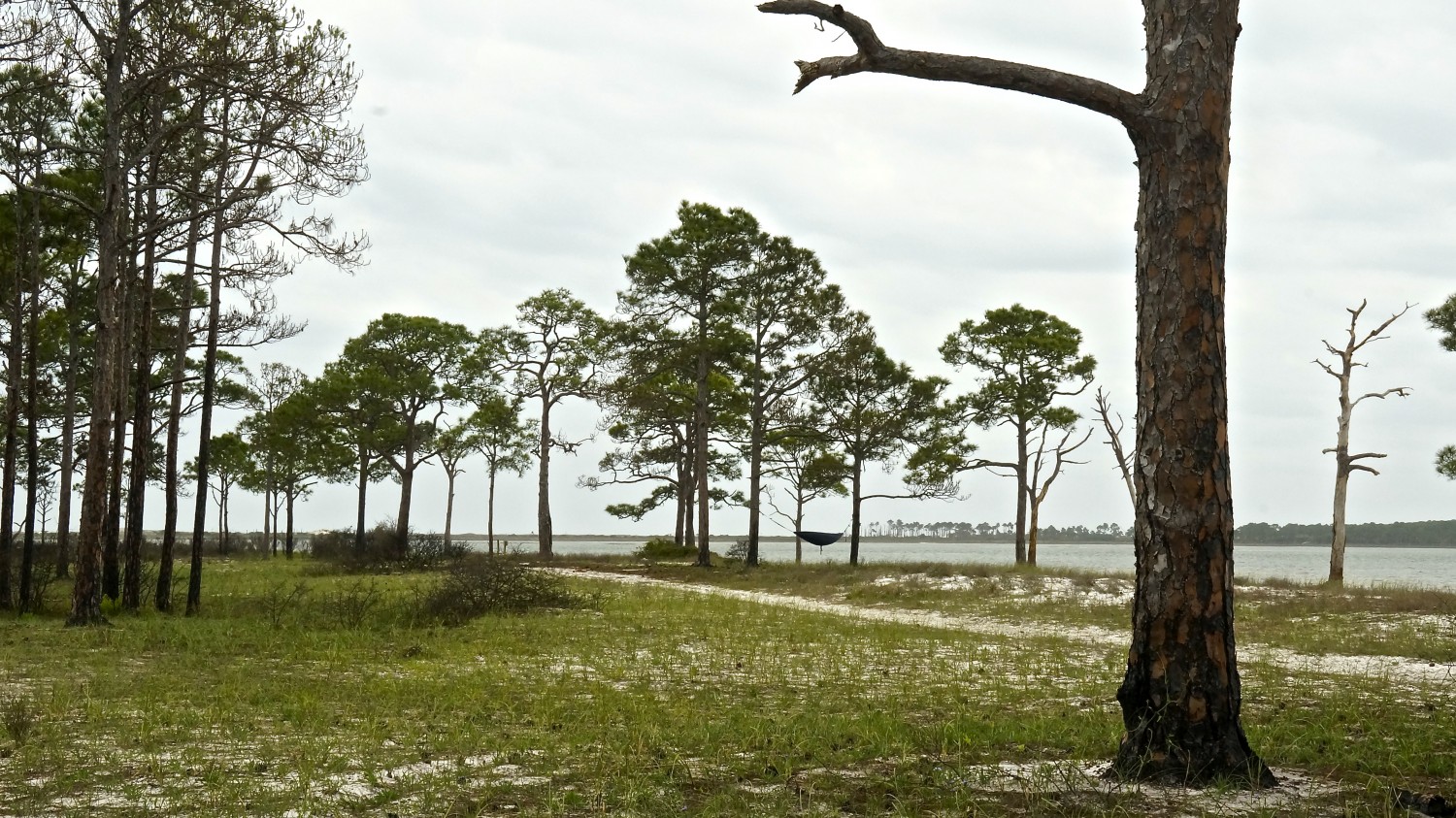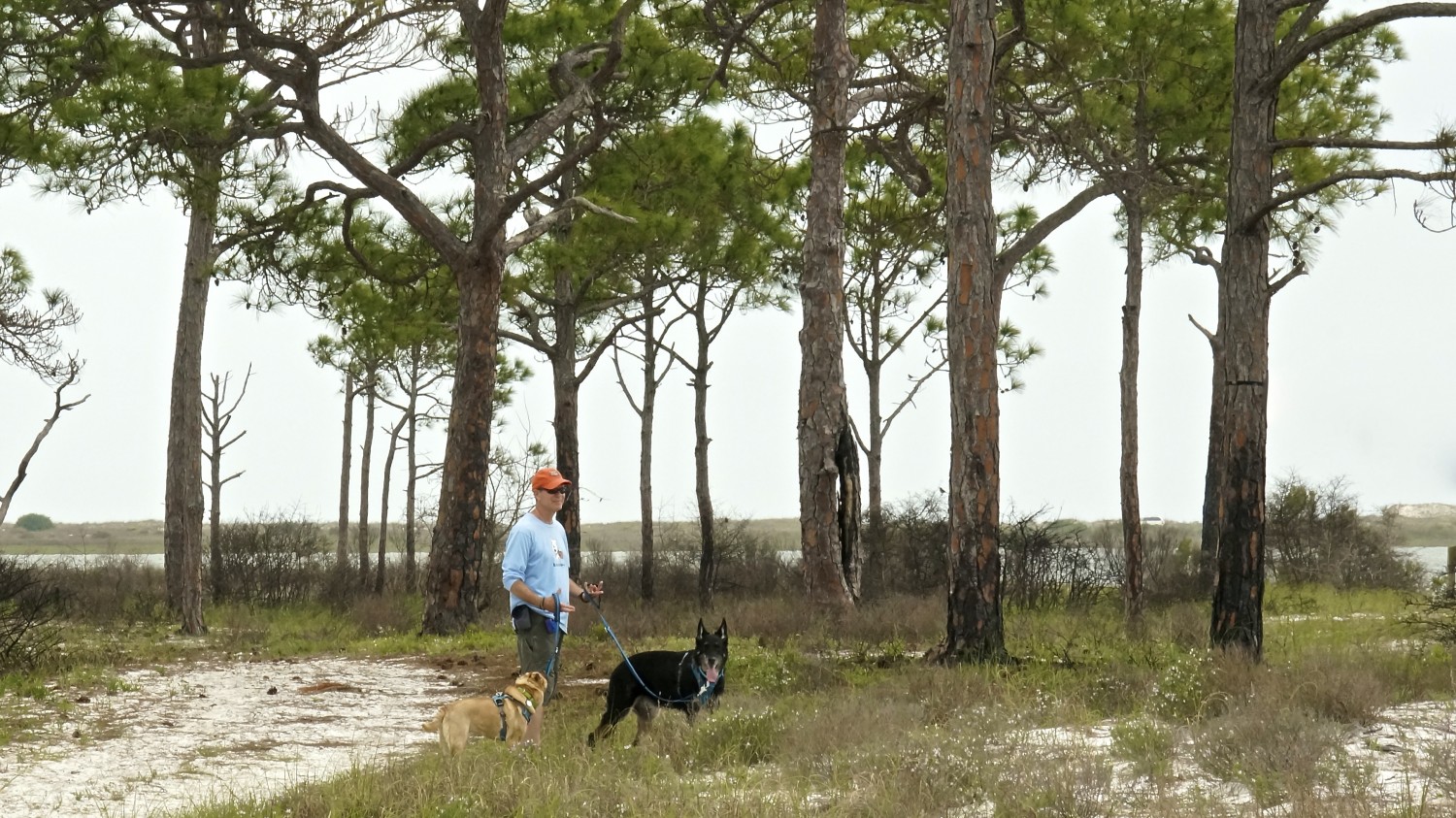 After your walk it's time to hit the beach, again! Head back into downtown St. George where the entire public beach is pet friendly – all day long, all year round!
Similar to Port St. Joe, the primary accommodations here are vacation rentals. Though the St. George Inn does have some pet friendly rooms, and there are more pet friendly hotels in Apalachicola, which is just 12 miles away.
Alligator Point
Of all the beaches on the Florida Panhandle we visited, Alligator Point was the quietest and most secluded. The closest grocery store was nearly 30 miles away, but with eight miles of nearly deserted beaches – who needs to eat?!
Dogs on leash are welcome here all day long, all year round! And with large shells scattered over the beach, it's a fascinating place to walk.
Rental properties will be your only accommodation option on Alligator Point, but if you really want to get away from it all … this is the spot!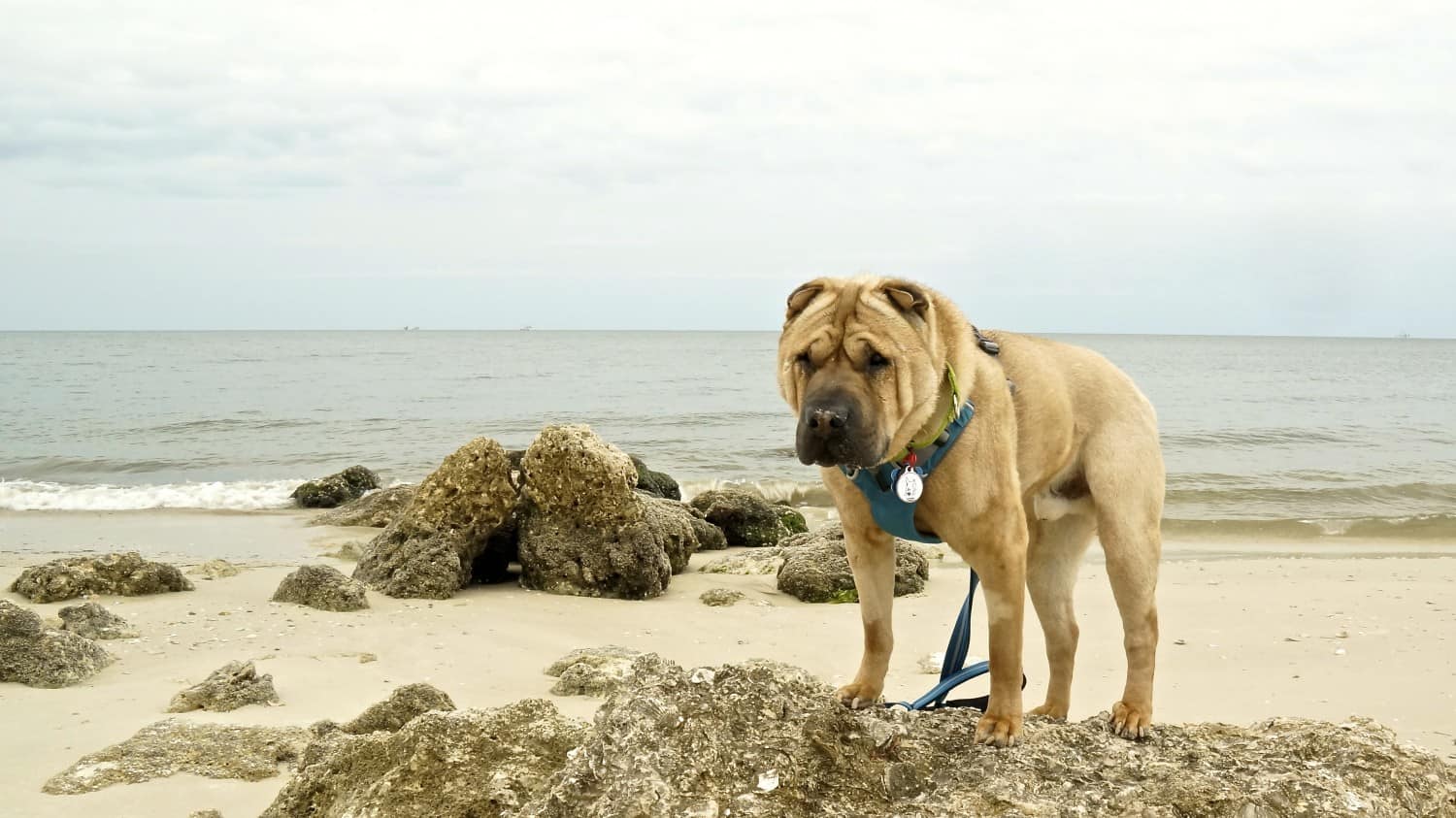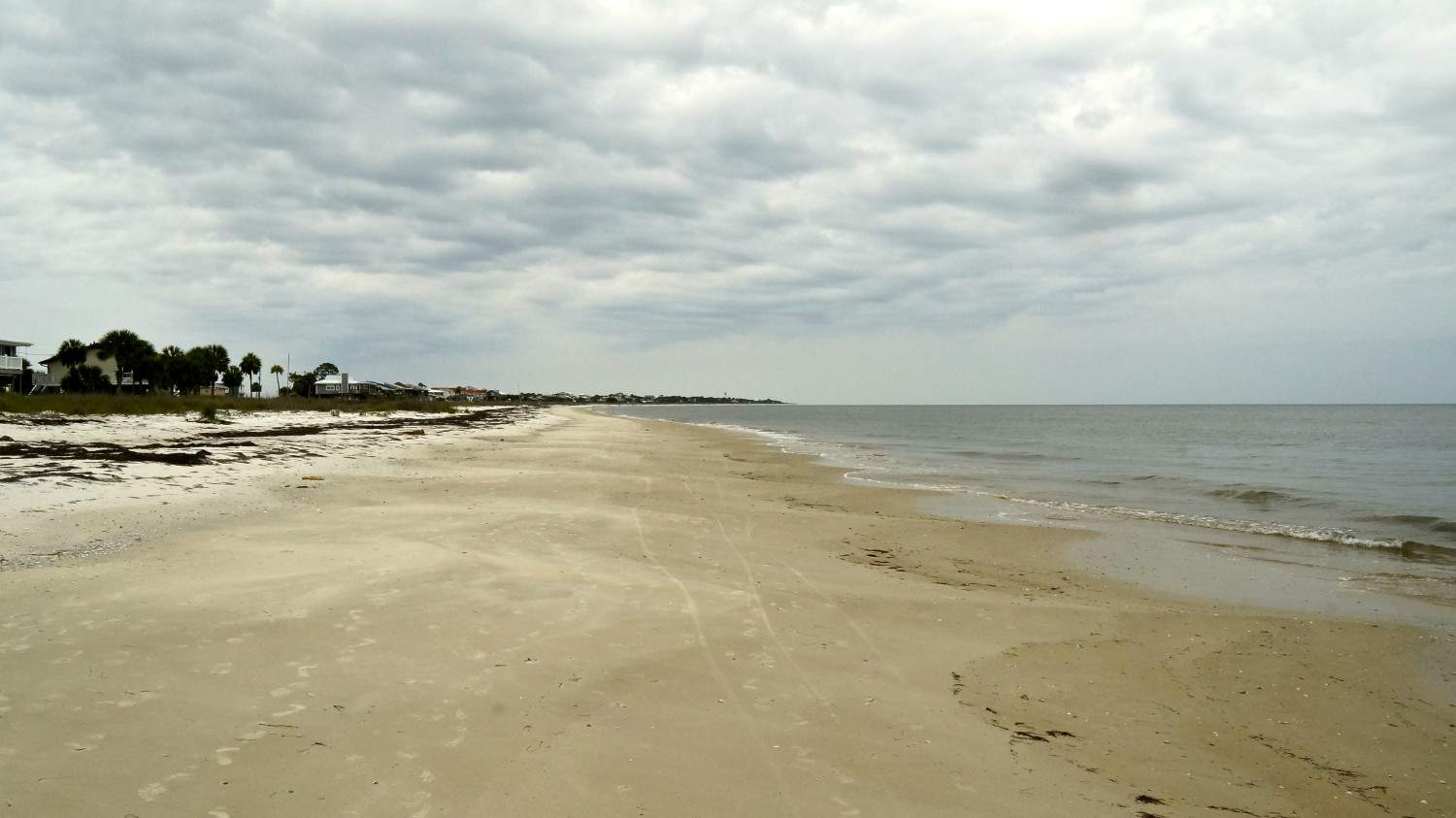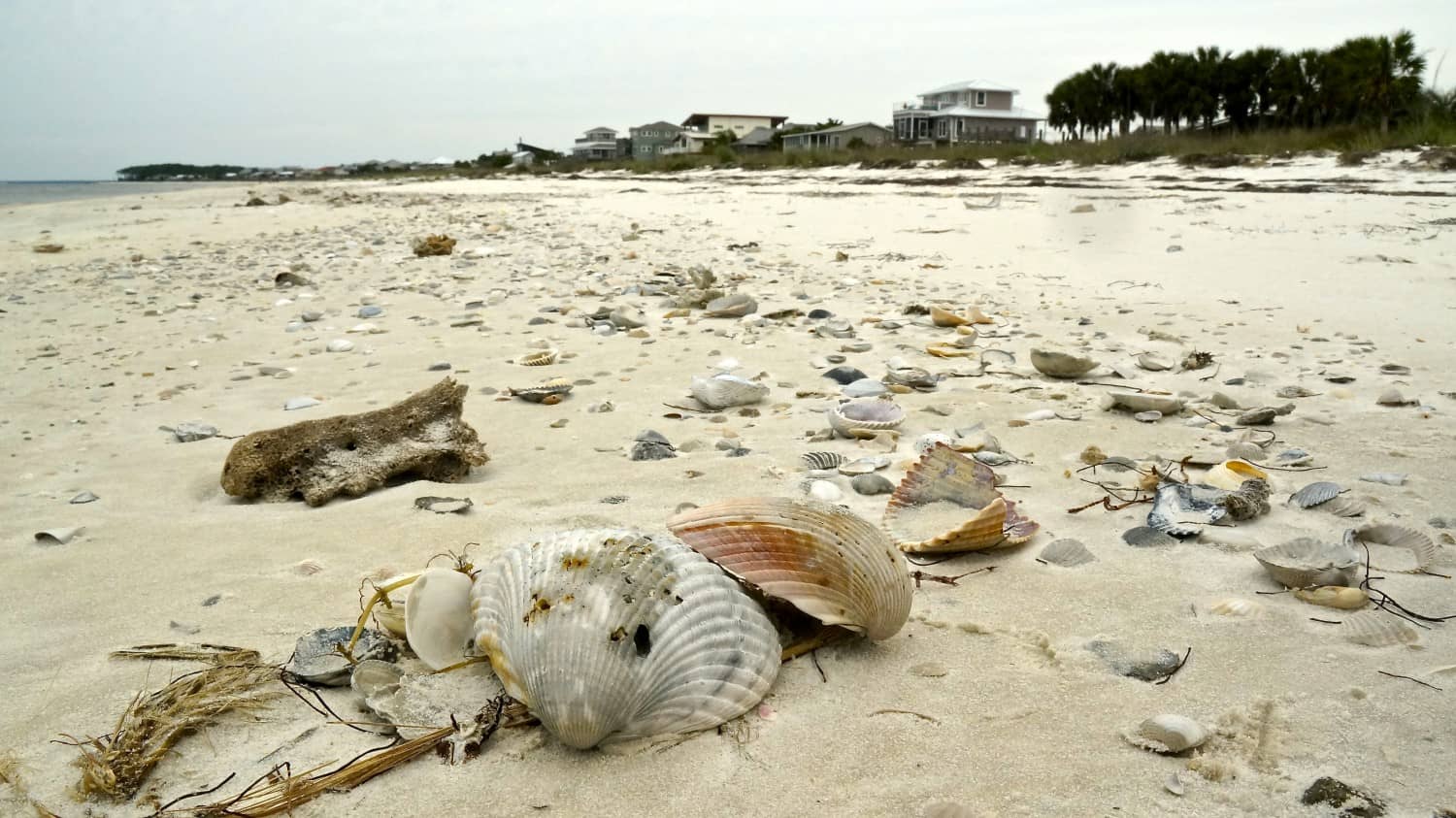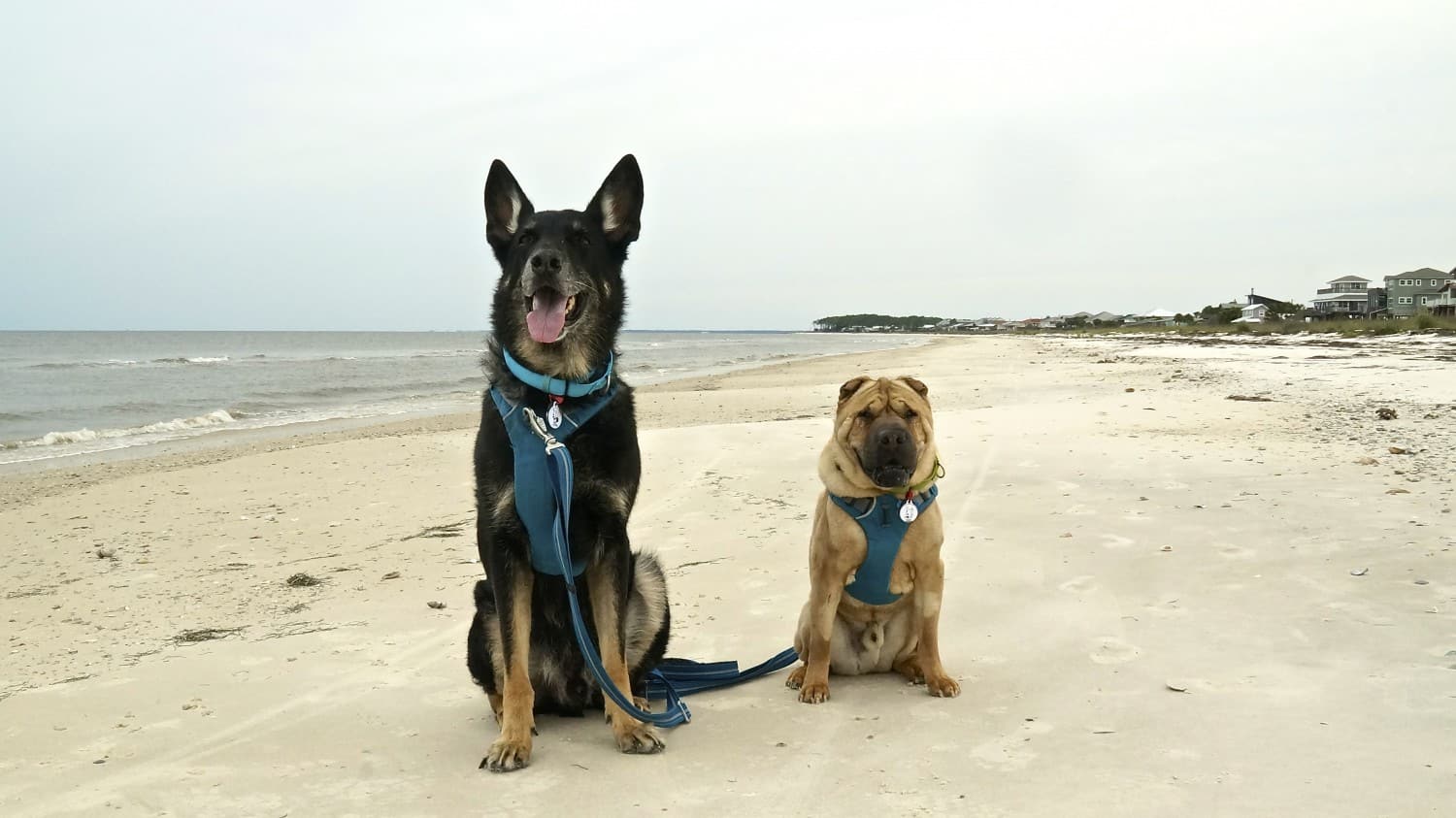 Pet Friendly Restaurants
Spending time on the beaches on the Florida Panhandle is going to make you hungry! Here's a list of restaurants and eateries with pet friendly patios throughout the area:
Apalachicola
Apalachicola Chocolate Company
Half Shell Dockside
Hole in the Wall
Tamara's Café
The Apalachicola Seafood Grill
Up The Creek Raw Bar
Carrabelle
Carrabelle Junction
Marine Street Grill
Eastpoint
El Jalisco
Family Coastal Restaurant
Lynn's Quality Oysters & Raw Bar
Red Pirate Family Grill and Oyster Bar
St. George Island
Aunt Ebby's Ice Cream
BJ's Pizza & Subs
Blue Parrot Oceanfront Café
Mango Mike's Sports Bar & Grill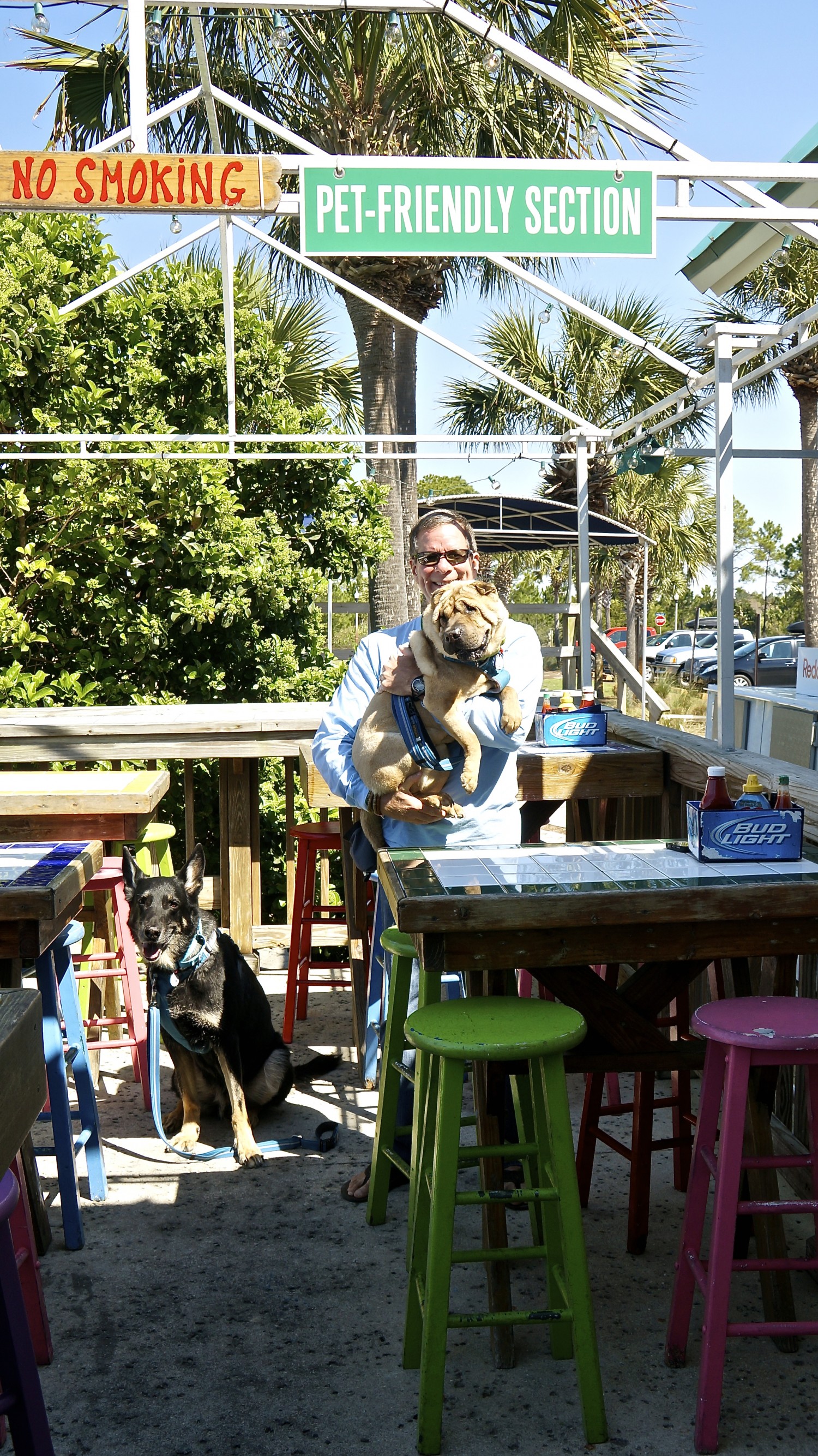 We know … exploring the beaches on the Florida Panhandle is a "ruff" job – but someone has to do it! The "Forgotten Coast" might sound a little sad, but we found it to be a wonderful place for a relaxing, dog friendly beach vacation. Hopefully our visit inspires you to plan a trip of your own.
(Visited 19,893 times, 1 visits today)