Can you really explore Voyageurs National Park with your pets? The national park system is known to have some strict rules around pets, and Voyageurs is no different. But the unique landscape and layout of this park make it more pet friendly than you might expect!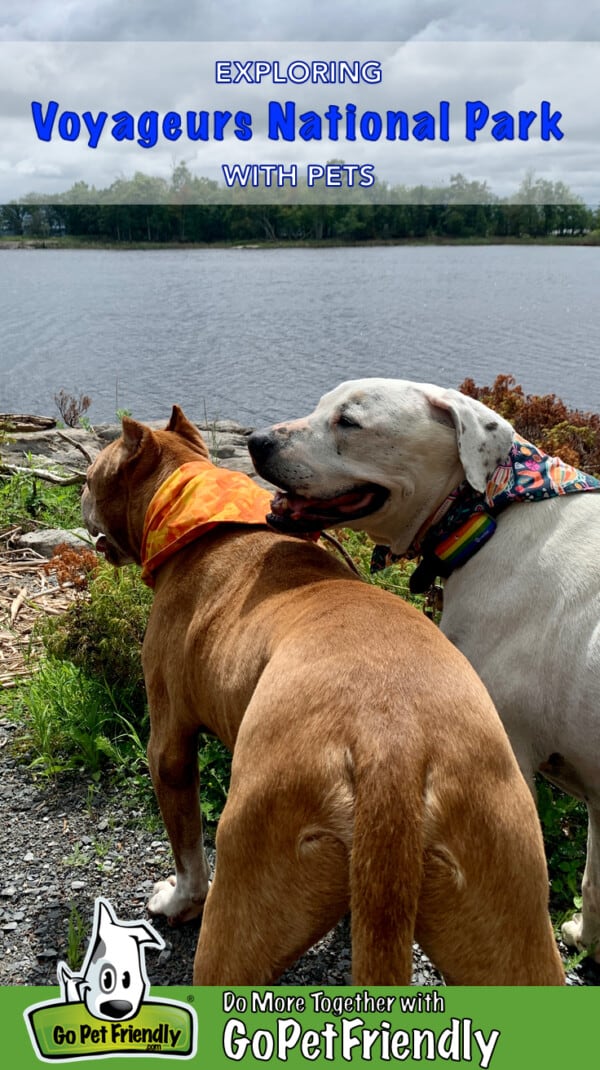 Cool Whip, Hercules, and I love exploring Minnesota and its many pet friendly attractions. We especially love northern Minnesota with places like Itasca State Park, Duluth and Lake Superior, and the many state and national forests that cover much of the land. So, it was just a matter of time until we ventured north toward the US-Canada border to visit Voyageurs. Here's everything you need to know about a visiting Voyageurs National Park with your pets.
Visiting Voyageurs National Park
Voyageurs became a national park in 1975. It is a rugged landscape of thick woods, exposed rock, and many waterways. Much of the rock is part of the Canadian Shield, a large expanse of volcanic bedrock that created the North American continent. Billions of years of erosion and the movement of glaciers broke down the volcanic mountains and carved out the lakes that exist today.
In addition to the unique landscape, Voyageurs National Park is special in that there is no fee to visit the park. Camping in the park requires reservations, but it's free to enter the park, hang out at the visitor centers, and explore!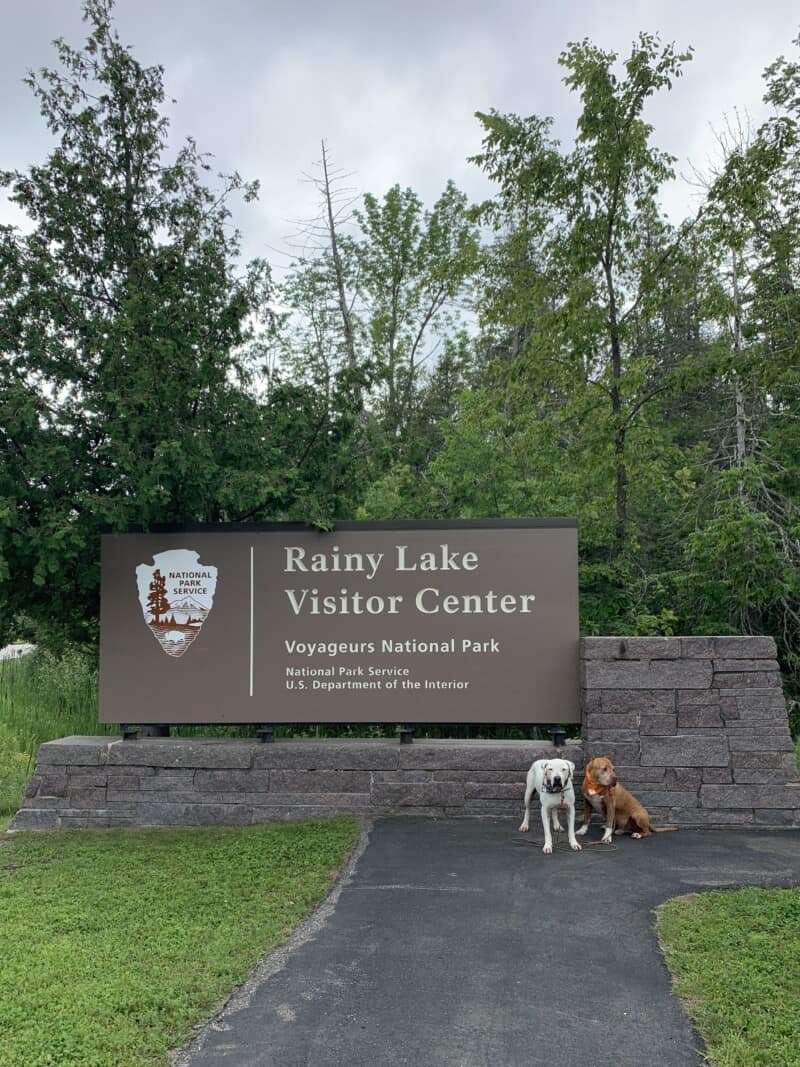 Voyageurs National Park is incredibly large and accessible from a variety of areas, so there are three main visitor centers:
Rainy Lake Visitor Center – This is the main visitor center and the only one open all year. You find a gift shop, educational displays, and plenty of picnic areas.
Kabetogama Lake Visitor Center – Traveling with kids? Definitely stop here! They have interactive displays that are fun for all ages.
Ash River Visitor Center – This visitor center caters mostly to the boat crowd, but you can still stop by for all things Voyageurs. The main building is a very cool old log home.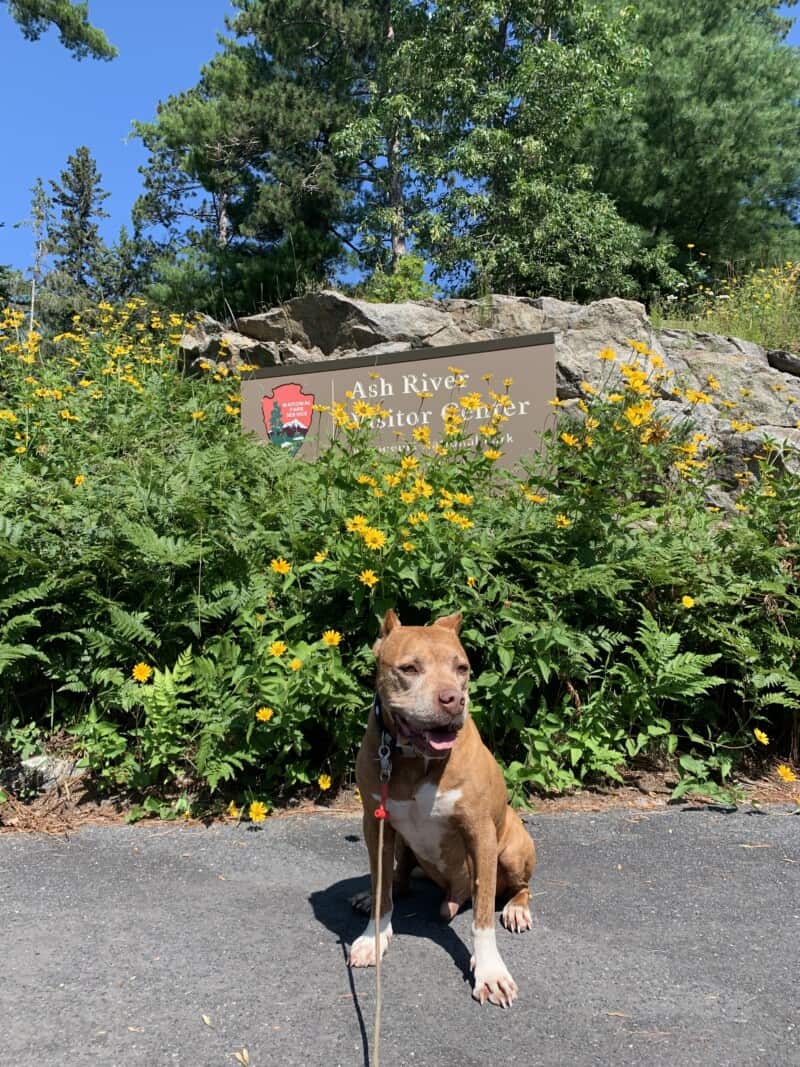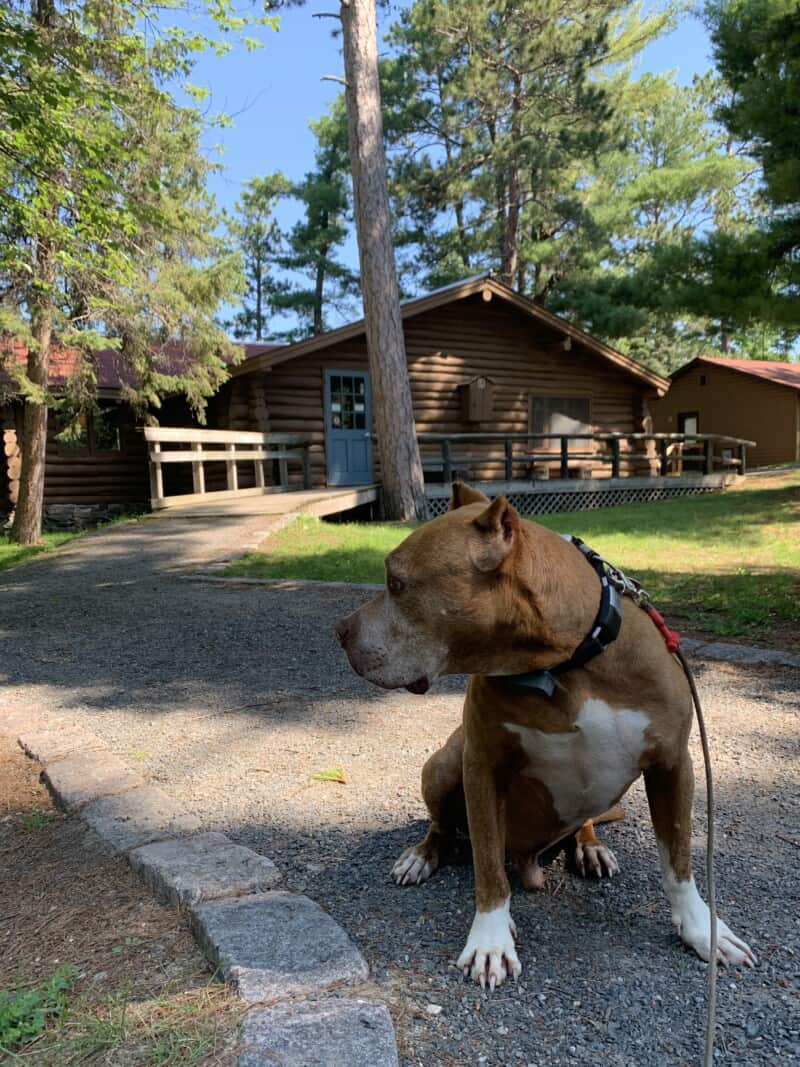 What Can I Do With Pets In Voyageurs National Park?
Voyageurs' Official Pet Policy:

Pets are allowed at the front country campsites, but not at the backcountry sites located within the Kabetogama Pennisula.

The 1.7-mile Recreation Trail, which follows County Road 96 from Hwy 11 to the Rainy Lake Visitor Center, is pet friendly.

Pets are allowed in the immediate visitor center areas and parking lots.
One of my first questions at any park is, "Where can I hike with my dogs?" Unfortunately, at Voyageurs, there is only one pet friendly hiking trail. However, it is a decent length and very pretty.
The 1.7-mile paved Recreation Trail starts at the Rainy Lake Visitor Center and follows Country Road 96 down to Highway 11 and the Voyagers National Park entrance sign.
If you miss the photo opp with your dog at the park entrance sign on your way in, you've got another chance here! Then you can head back to the visitor center or continue onto the Rainy Lake Recreation Trail, a 12-mile paved path that connects Voyageurs to International Falls.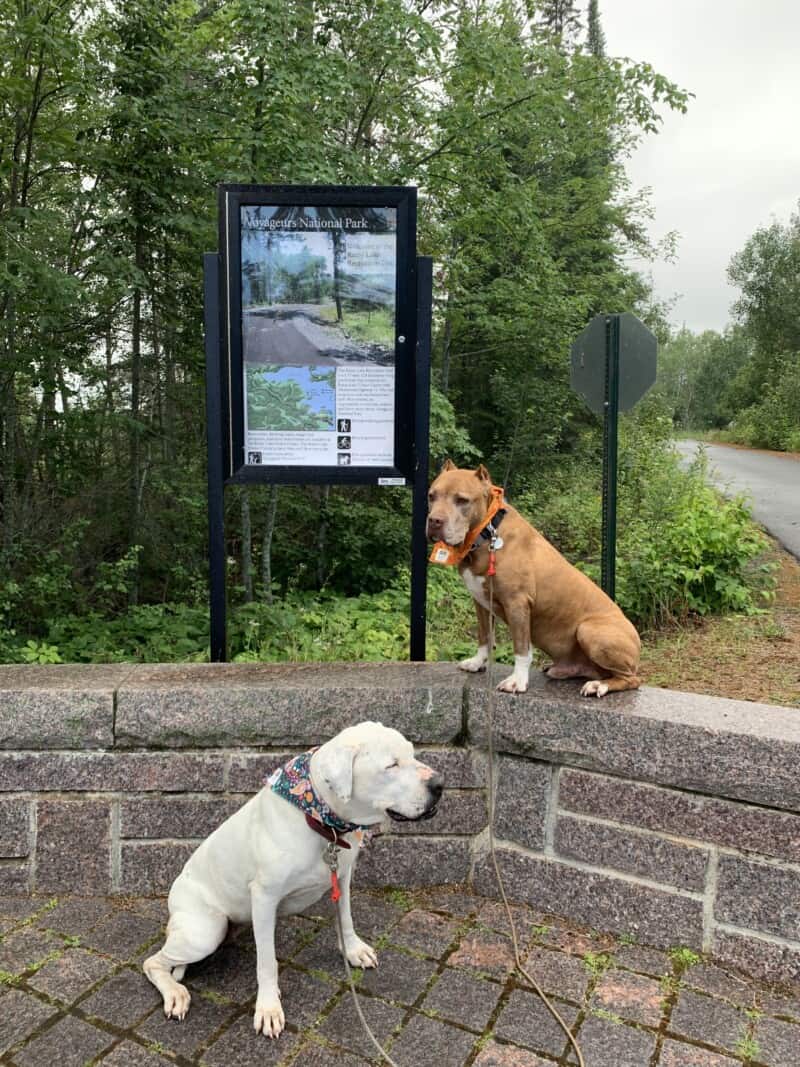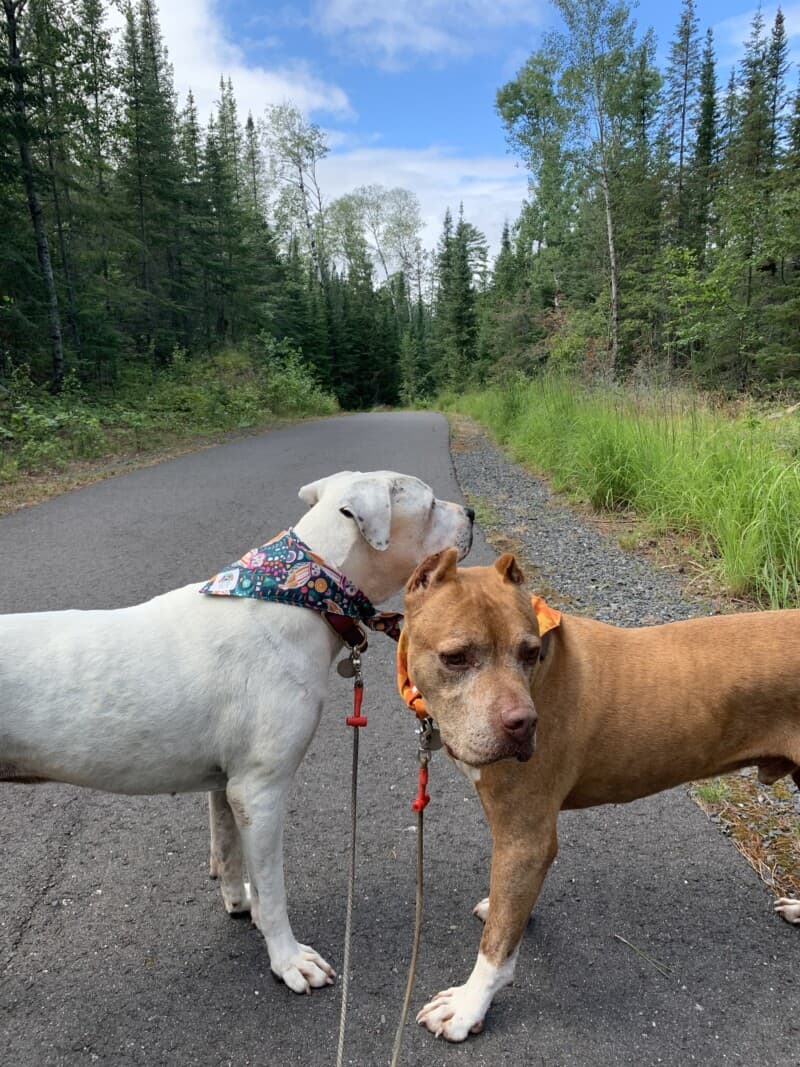 In addition to the Recreation Trail, dogs can visit the picnic areas around the visitor centers and the boating docks. Our favorite picnic areas were at the Rainy Lake Visitor Center where you can get a great view of the lake while you hang out. Hercules and Cool Whip loved catching all the interesting smells coming off the lake!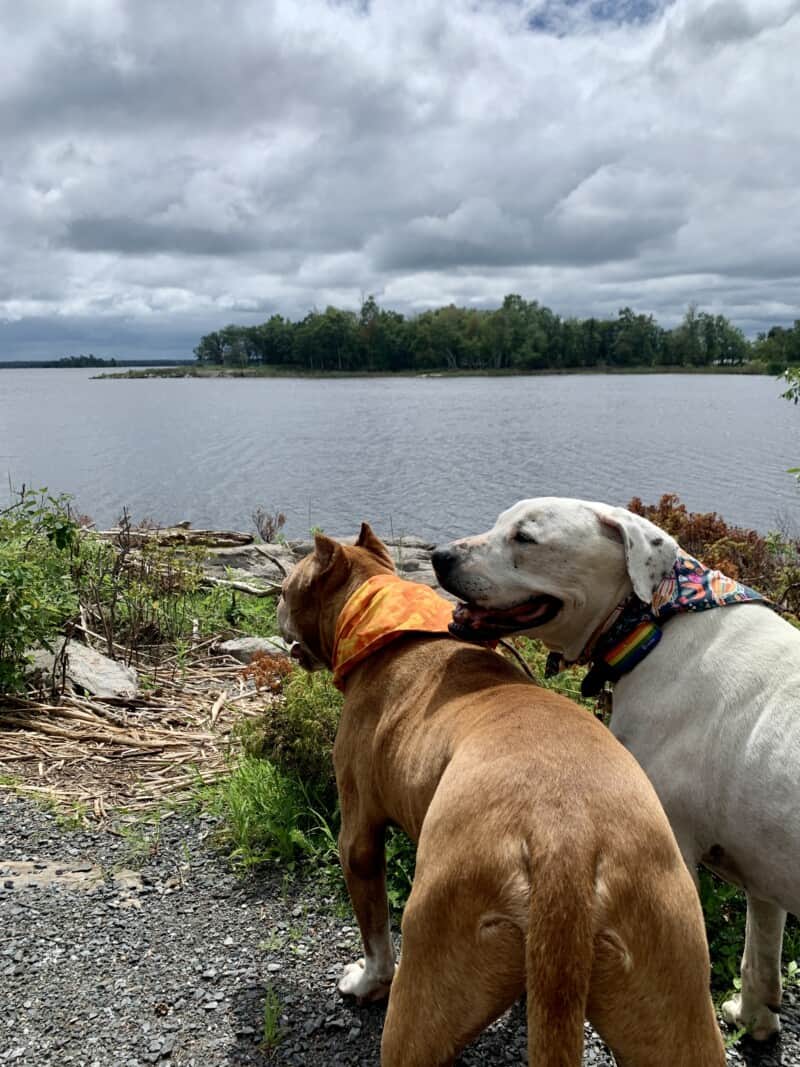 Camping With Pets In Voyageurs National Park
Like most national parks, dogs can visit and camp at the front country camping sites in Voyageurs. Also, as with other national park service areas, pets must always be leashed (6 feet or less) and can never be left alone. Pets are not allowed in the backcountry campsites.
Where Voyageurs is truly unique, however, is that the front country (and therefore pet friendly) campsites are not packed together in a campground near the entrance to the park. Instead, the campsites spread across the 218,054 acres of the park! As one park ranger told me, "You're camping in the heart of the park." Where else can you and your pet truly experience the interior wilderness of a national park?!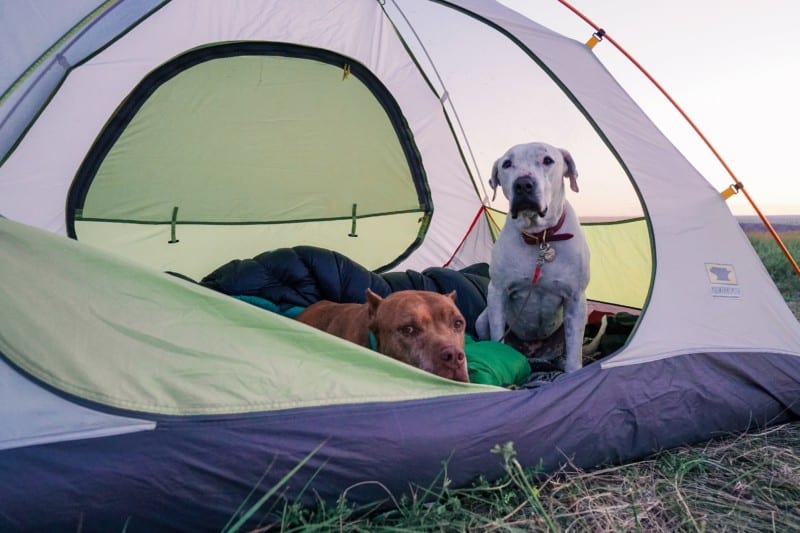 But there is a catch – you need a boat to access any of the front country campsites in Voyageurs. You can bring your own motorboat, canoe, kayak, etc., or you can rent one (and other camping gear) from an outfitter.
Another option is to hire a water taxi to get you where you need to go. Some of these companies also offer boat tours if you want to see the sights but aren't up for camping! Just be sure to verify with the rental or taxi company if they allow pets in the watercraft.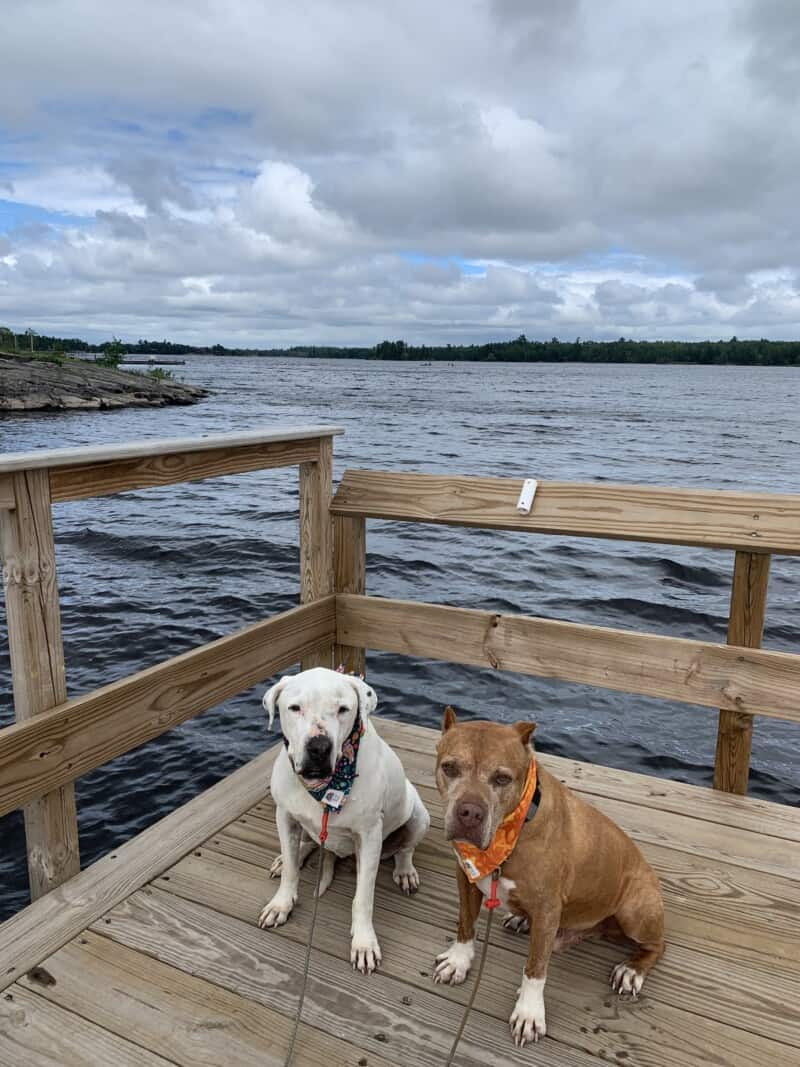 Houseboats In Voyageurs
What if you and your pet aren't up for camping in a tent? And you're not sure your dogs would sit still in a canoe or motorboat? Voyageurs National Park also has houseboat sites!
There are several companies that offer houseboat rentals from Rainy Lake down to Crane Lake. And most of the houseboats are dog friendly!
If you're like me, putting your dogs in a small boat sounds like chaos. Cool Whip would not enjoy being surrounded by water, and Hercules doesn't like unsteady motion. For those reasons, we chose not to camp in the national park.
However, on a houseboat dogs would have space to walk around and a bedroom where they could relax. Typically, houseboat rentals are for a minimum of three nights. You also need to purchase a Voyageurs National Park houseboat camping permit. And you'll likely have to pay an additional cleaning fee if you bring a pet along.
The benefits of renting a houseboat are that you can pack your own groceries, bedding, and other supplies (or have the houseboat company provide it for you instead for a fee). And you'll have the freedom to explore any of the lakes and waterways, docking at any open houseboat sites along the way. Throughout the park, dogs are allowed on shore, but must remain leashed.
We didn't have time to add a houseboat excursion to this trip, but it is absolutely on our must-do list for next time!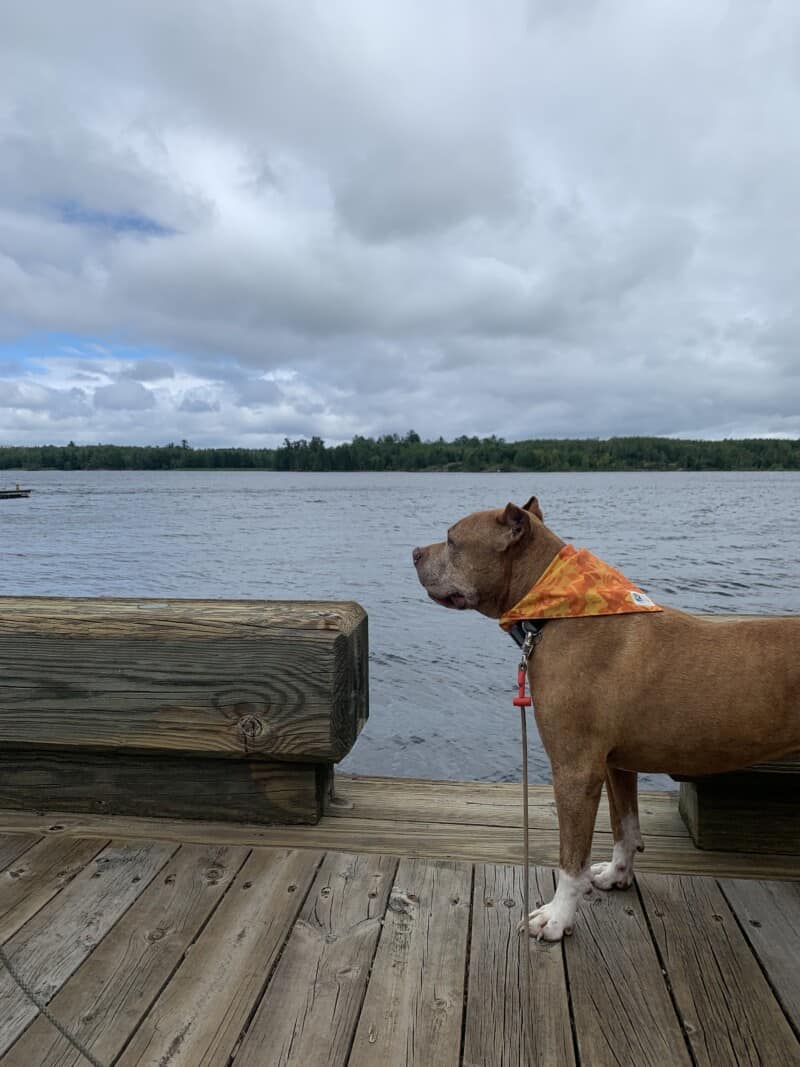 Pet Friendly Attractions Near Voyageurs National Park
If you're not planning to camp with your dog at Voyageurs National Park, should you still go? Absolutely! Especially if you're already going to be in northern Minnesota. There are a ton of state parks, national and state forests, and other pet friendly activities and attractions within a few hours of the national park.
International Falls, Minnesota
This little border city and its neighboring towns are a fantastic area to visit. International Falls get so cold in the winter that it is known as the "Icebox of the Nation." Thankfully we were visiting mid-summer!
Our first stop was to check out the 26-foot Smokey the Bear statue in Smokey Bear Park. It's an iconic spot in town. And once you get your photo, there are plenty of other pet friendly things to do.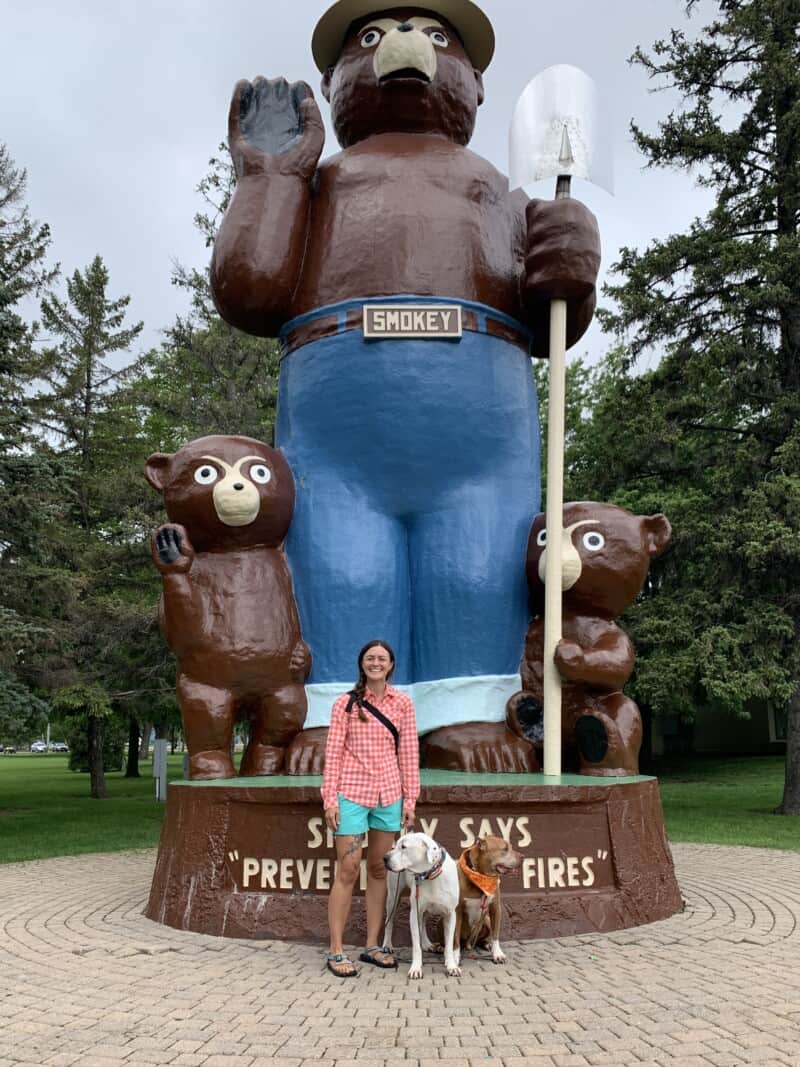 International Falls has many shops and restaurants along the shores of the Rainy River, which serves as the border between the United States and Canada in this area. Most of the restaurants have dog friendly patios. Later, you can grab some homemade ice cream and relax on the docks for a scenic sunset.
This town hosts a lot of visitors, so there is a nice selection of pet friendly lodging options— from hotels and Airbnbs to lake-side resorts or RV parks. This is also a great spot to get groceries and gas up your vehicle when you pass through on your way into Voyageurs and the surrounding wilderness.
Ready to get active with your pup? Hop on the Rainy Lake Recreation Trail mentioned earlier—a 12-mile paved trail connecting International Falls to Voyageurs. Head to Tilson Creek for a 1.3-mile hike on the north side of Highway 11. Then, on the south side, take the Tilson Creek Bogwalk, a short wooden boardwalk trail at the start of the winter ski trails.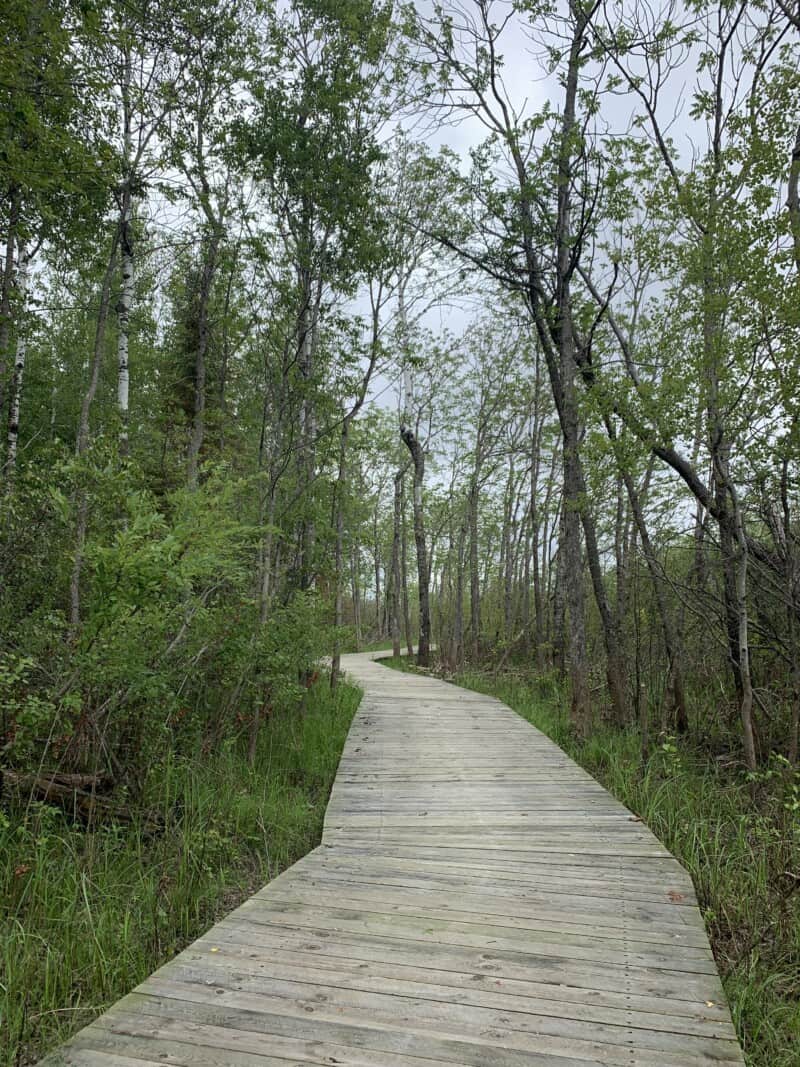 Ely, Minnesota
Ely is another cool, outdoor-focused city to explore in northeast Minnesota. From here you can access the Boundary Waters Canoe Area and many trails for hiking in the summer or skiing and snowshoeing in the winter.
Ely has a variety of shops downtown, as well as several museums, the American Bear Center, and the International Wolf Center. While not all of these places welcome pets inside, there are a couple of dog daycares and pet sitters around town, if needed.
Duluth And Lake Superior
Duluth and the parks along the North Shore are must-see visits for all travelers. The North Shore has beautiful waterfalls and many hikes to explore with your pet, and Duluth is an incredibly pet friendly city. Some of our favorite stops in the area include Duluth's Lakewalk along Lake Superior, Split Rock Lighthouse State Park, and Tettegouche State Park.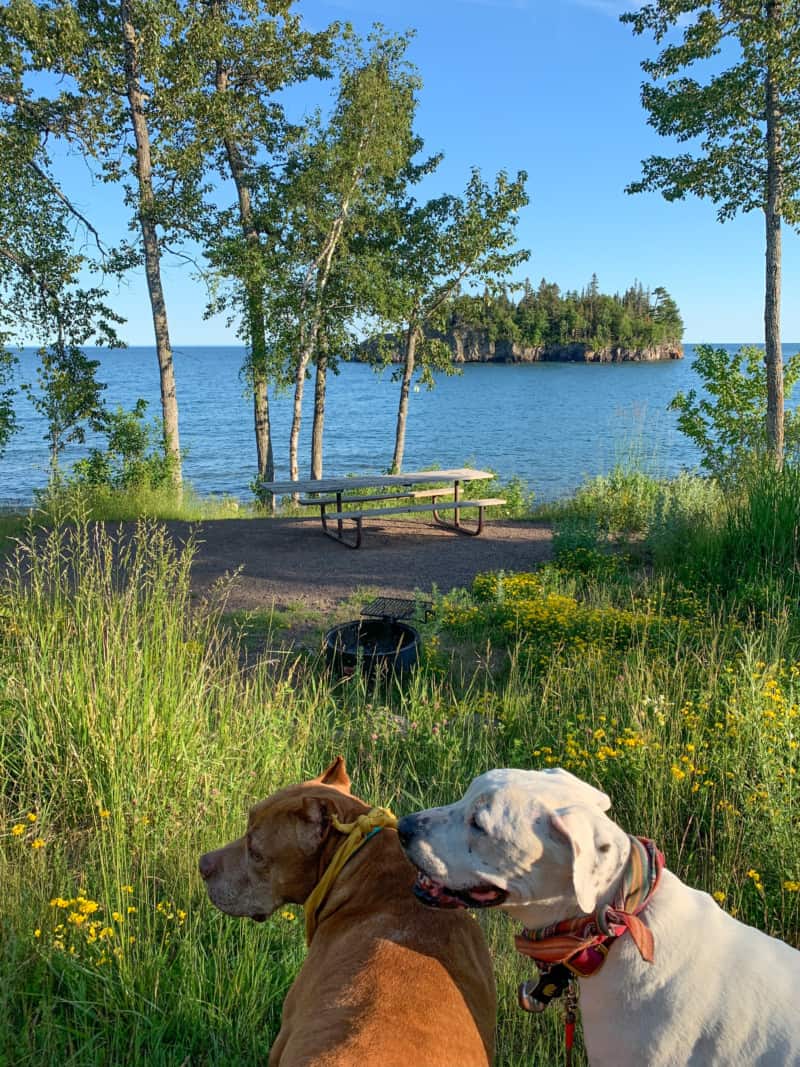 Superior National Forest
National forests are some of our favorite places to visit. They are typically very pet friendly with plenty of hiking trails, campgrounds, and other adventures. Here are a few pet friendly highlights in the Superior National Forest near Voyageurs National Park:
Echo Lake Campground And Lake Jeanette Campground
Echo Lake and Lake Jeanette Campgrounds are about an hour from the Ash River Visitor Center. They are convenient if you want to explore Voyageurs and some of the local towns, like Ely, Minnesota — without having to boat to your campsite.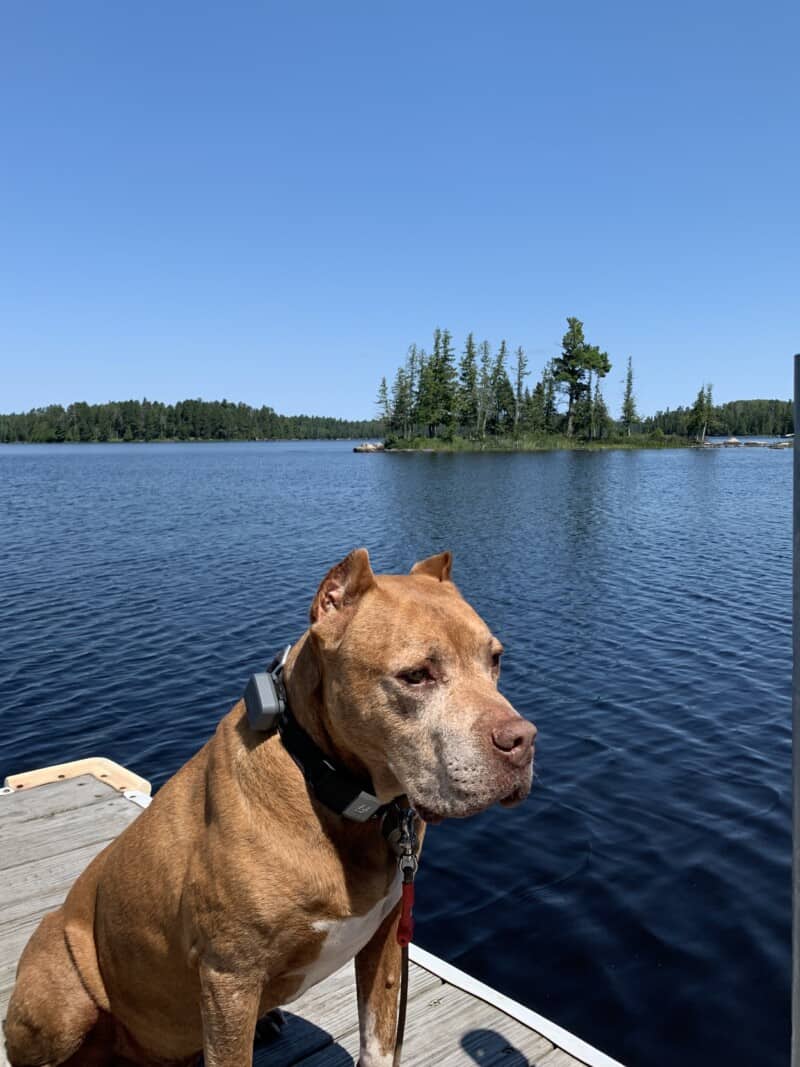 Astrid Lake Trail And Maude Lake Trail
The Astrid Lake Trail is accessible from the Lake Jeanette Campground or the Astrid Lake parking area on Forest Road 200. The trail is 7 miles long and connects four lakes. Along the trail, you can see carnivorous pitcher plants in the bog and huge boulders left behind by the glaciers.
The Maude Lake Trail is also accessible from the Astrid Lake parking area. It's an easy half-mile hike that takes you down a shaded trail ending at a tiny "beach" on Maude Lake.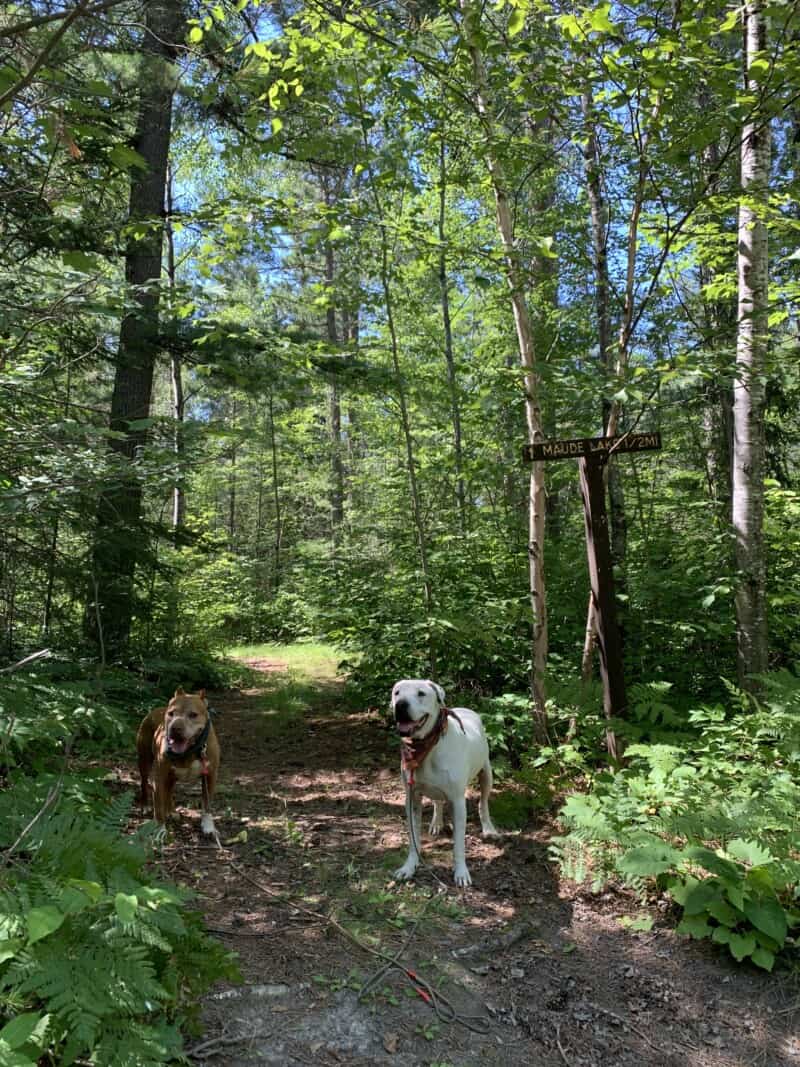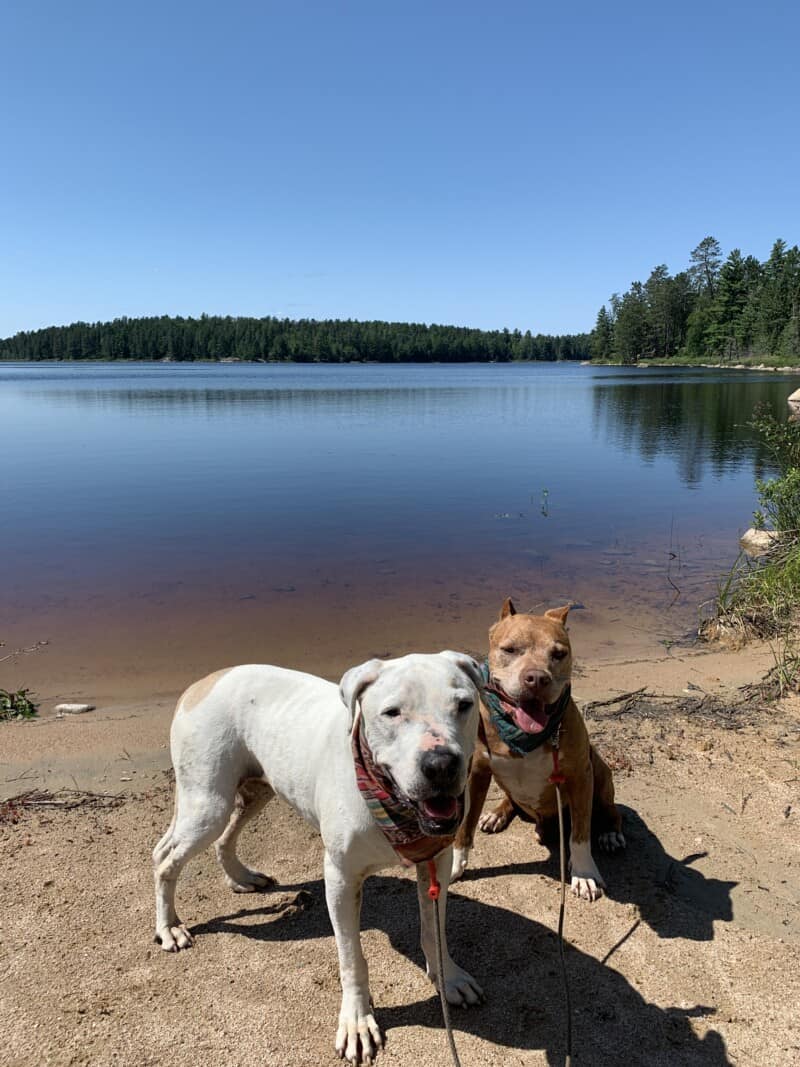 Vermillion Falls Overlook
About 15 minutes from Crane Lake you'll find this little picnic area. The hike to the falls overlook is short and easily accessible. Watching the water power through this gorge is astounding. It was the perfect pitstop for our lunch break.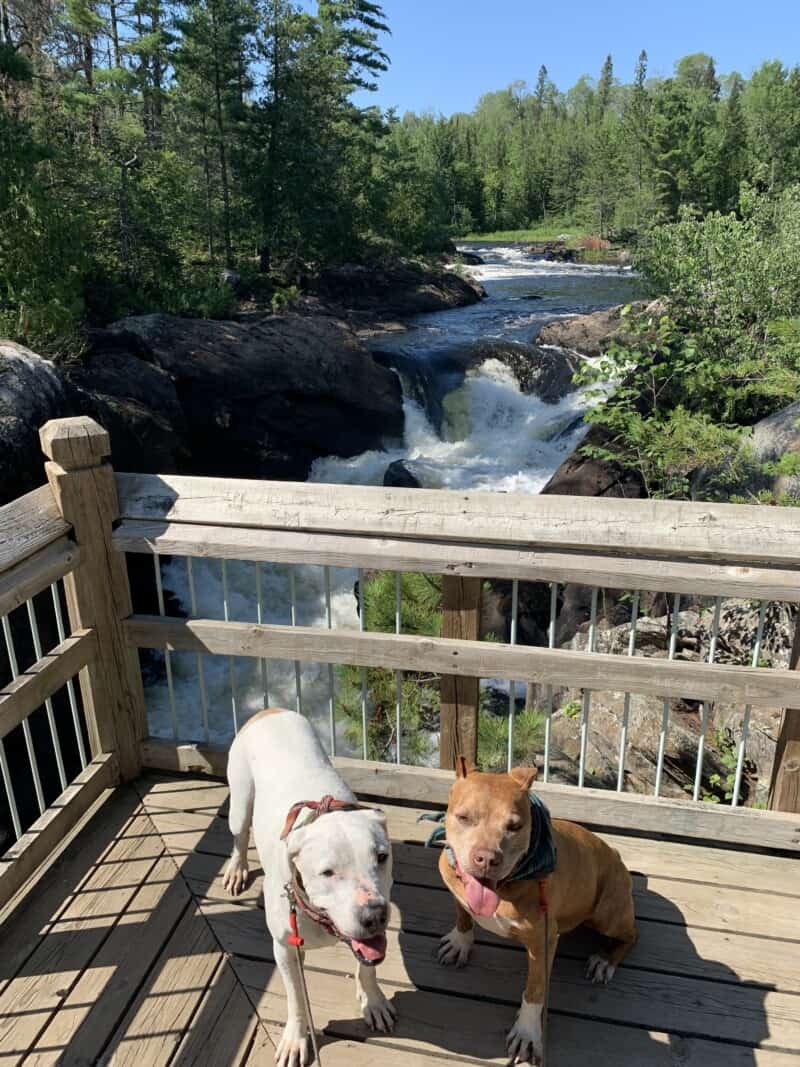 Boundary Waters Canoe Area (BWCA)
If your dog loves canoeing or kayaking with, plan a trip here! The BWCA is a remote boreal forest with a vast system of waterways. There are 1,200 miles of canoe routes, 12 hiking trails, and 2,000 designated campsites. A permit is required to enter the BWCA and dogs must be leashed.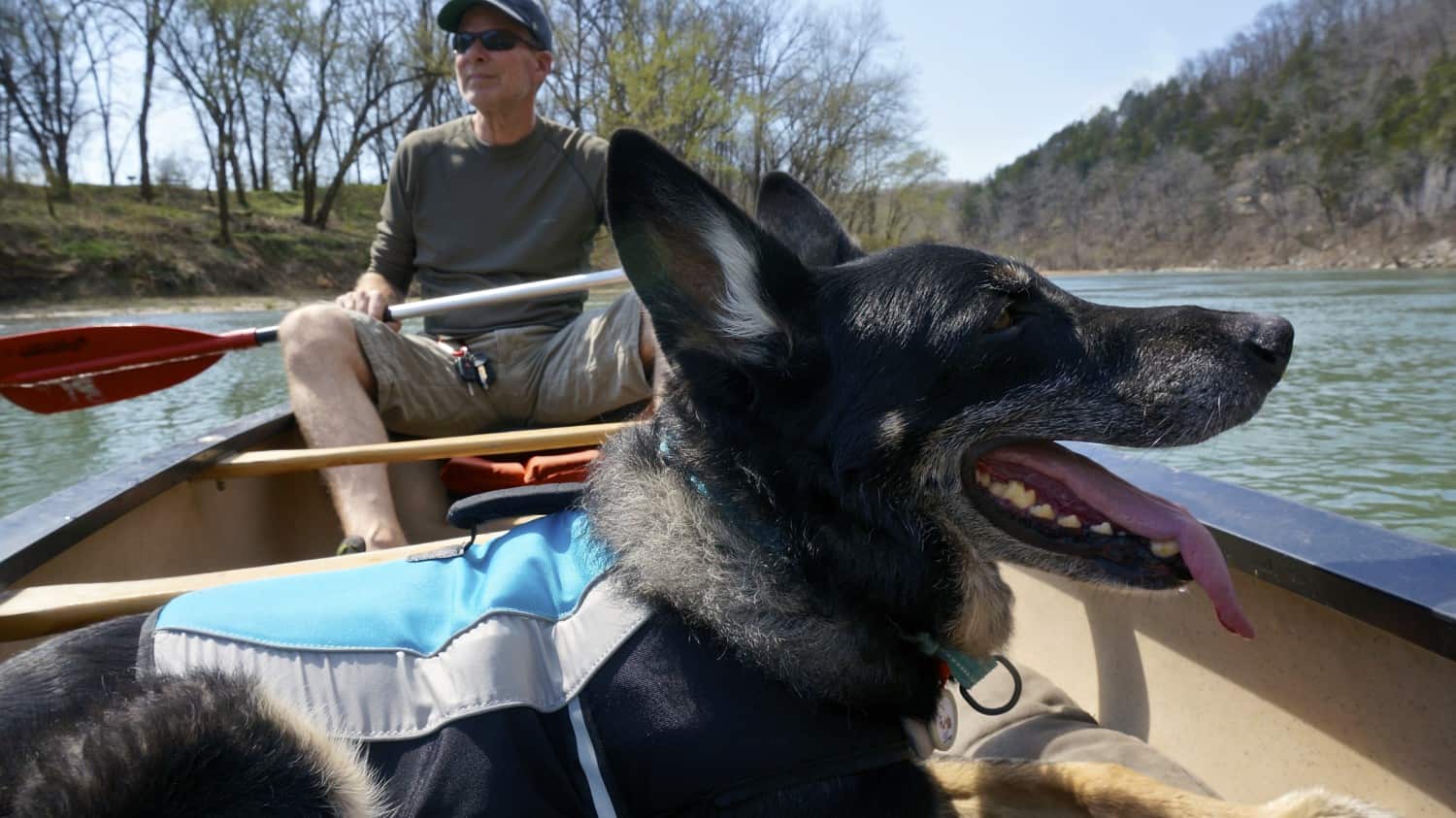 Kabetogama State Forest
If you want to camp close to Ash River, check out the Ash River Campground. It's just 10 minutes from the visitor center. Each campsite is first-come, first-served.
Wooden Frog Campground and Day Use Area is where we spent most of our time in the Kabetogama State Forest. It is the most centrally located campground near Voyageurs National Park — 50 minutes from the Rainy Lake Visitor Center, 10 minutes from Lake Kabetogama, and 30 minutes from Ash River. Both campgrounds are $17 per night.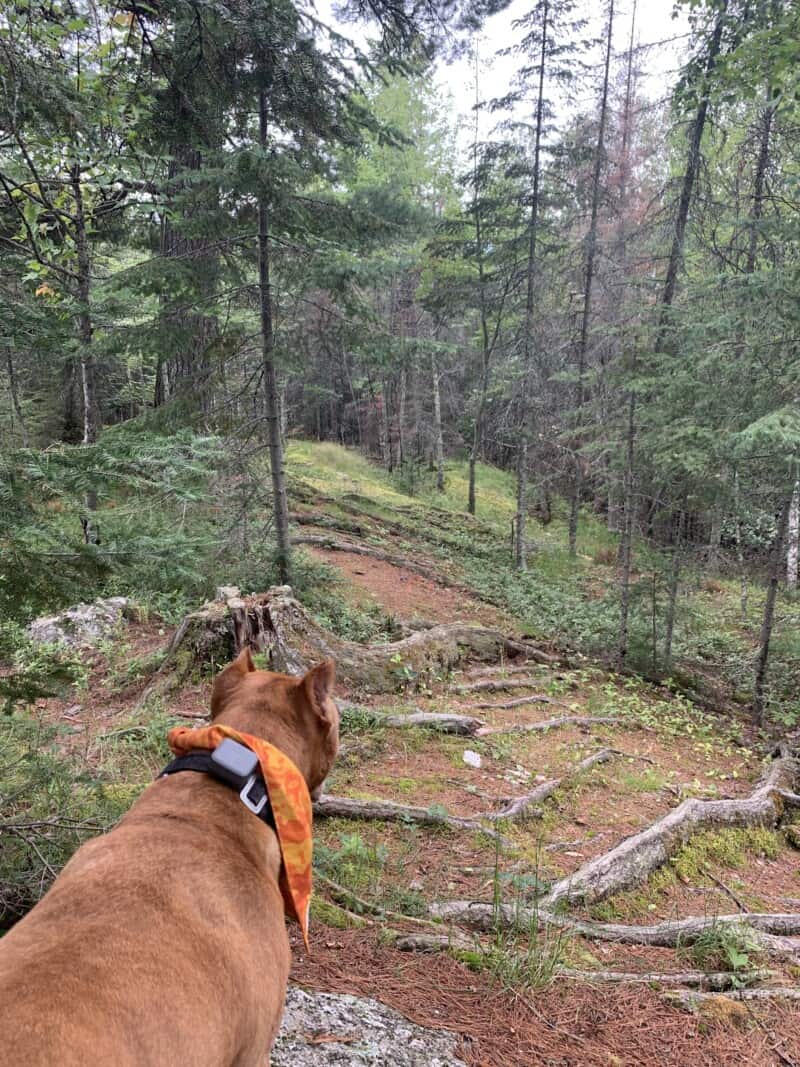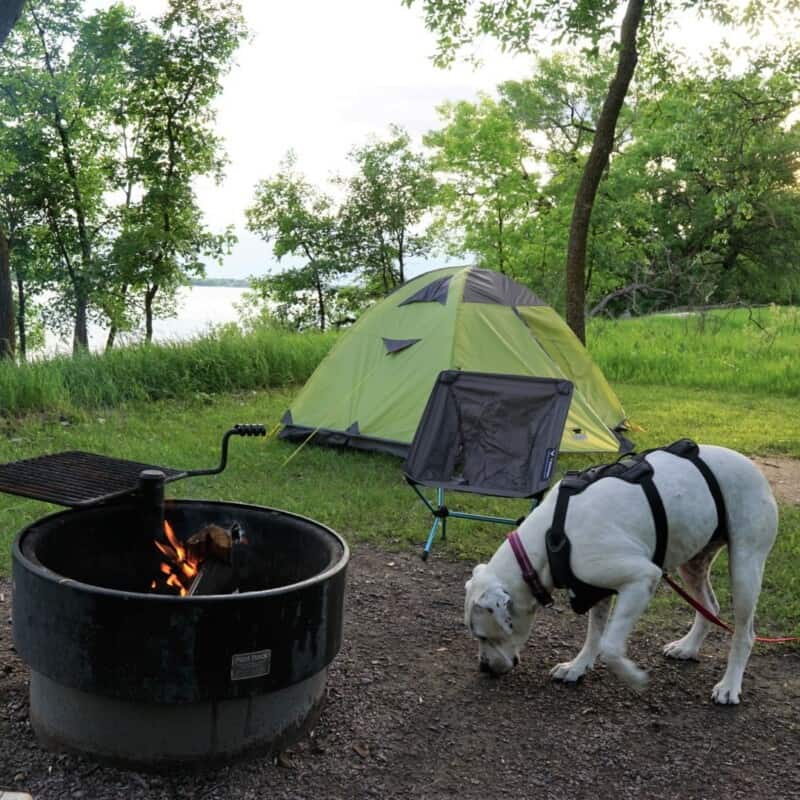 Minnesota State Parks and Recreation Areas
Northern Minnesota is home to quite a few state parks and recreation areas. All of the following are within three hours of Voyageurs National Park.
Franz Jevne State Park
This park sits right on the border of Minnesota and Canada, one hour from the Rainy Lake Visitor Center. It has two and half miles of pet friendly trails and is the perfect spot for peace and quiet.
Big Bog State Recreation Area
A bog? Yes! Big Bog is two hours from Voyageurs and very pet friendly. The recreation area is split into two sections about 14 miles apart. The south unit has the campground, visitor center, fire tower, and an interpretive trail.
The north unit has several trails, including the Big Bog Boardwalk, a one-mile boardwalk in one of the largest peat bogs in the contiguous United States. This was our favorite hike of the trip!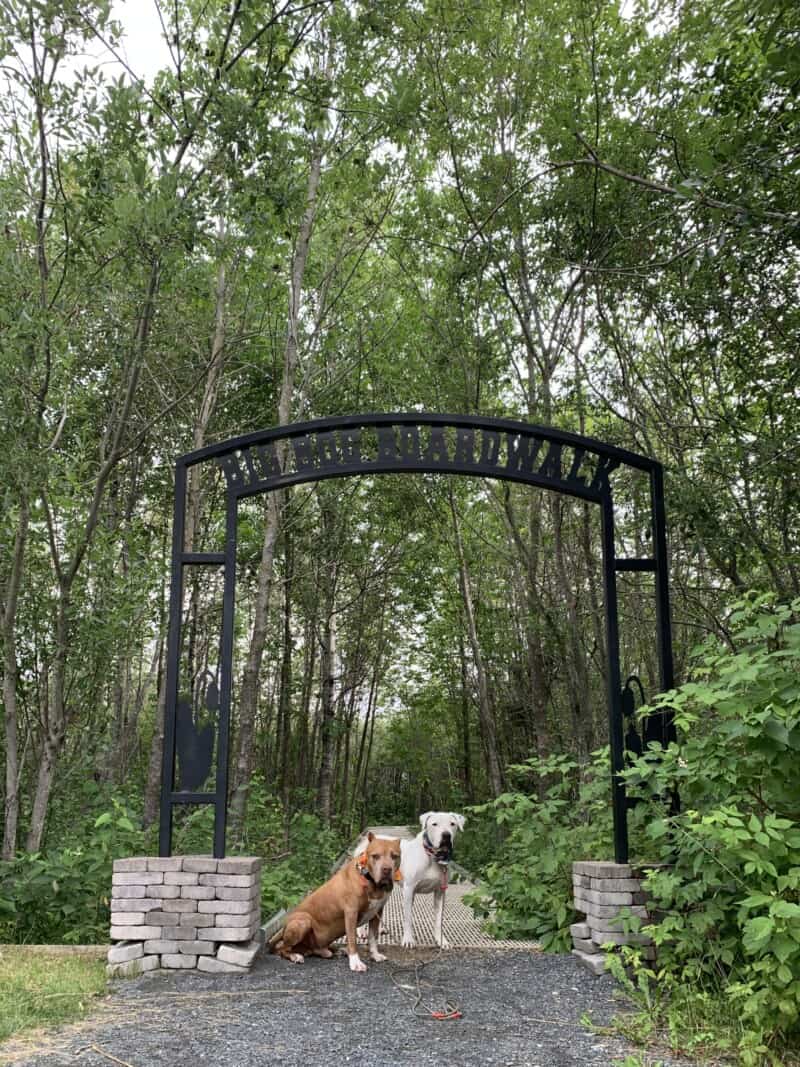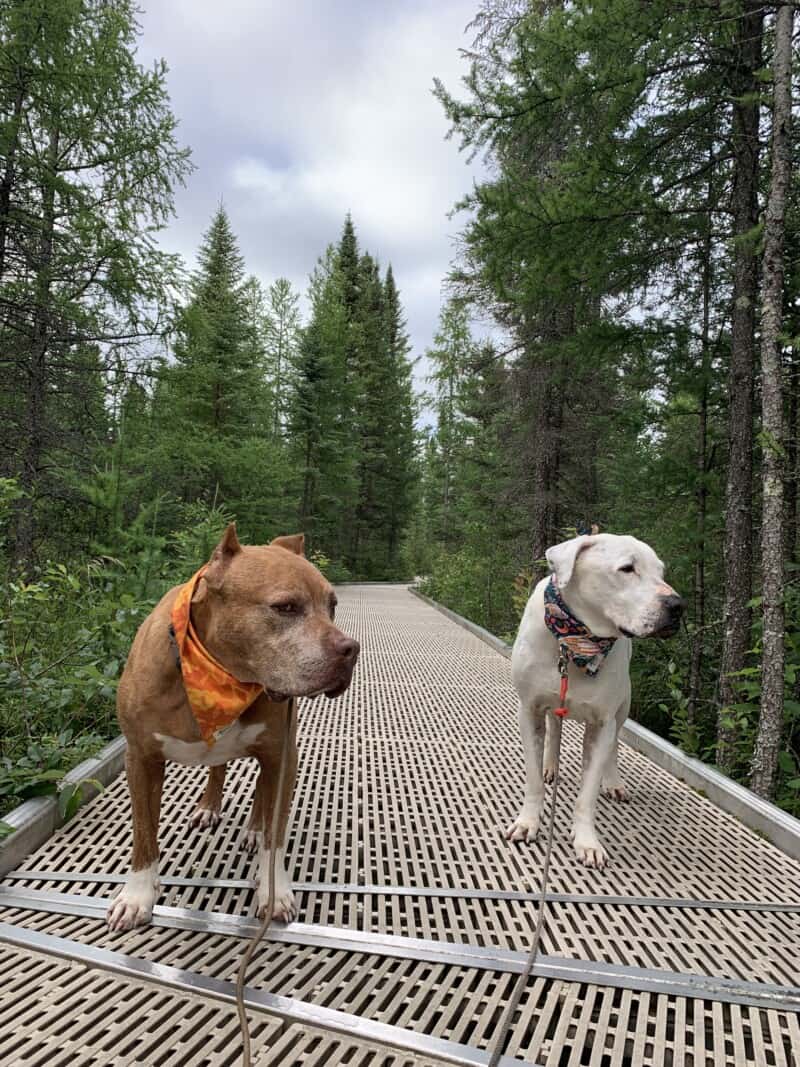 Lake Vermillion-Sudan Underground Mine State Park
This park is home to the Sudan Underground Mine, Minnesota's first iron mine. Visitors can tour the mine by going down 2,341 feet via a cage elevator. Pets cannot go into the mine, but there are plenty of trails around the park to explore. Lake Vermillion-Sudan is two hours from Rainy Lake and ninety minutes from Ash River.
Bear Head Lake State Park
Bear Head is essentially just across the road from Lake Vermillion-Sudan. This park is popular for bass, walleye, trout, and crappie fishing. You can also access the Taconite State Trail here, a 165-mile pet friendly multi-use trail for hiking, horseback riding, and mountain biking.
Itasca State Park
Itasca State Park is incredibly pet friendly, and about three hours from Voyageurs. You and your pup can walk across the headwaters of the mighty Mississippi River and hike many pet friendly trails.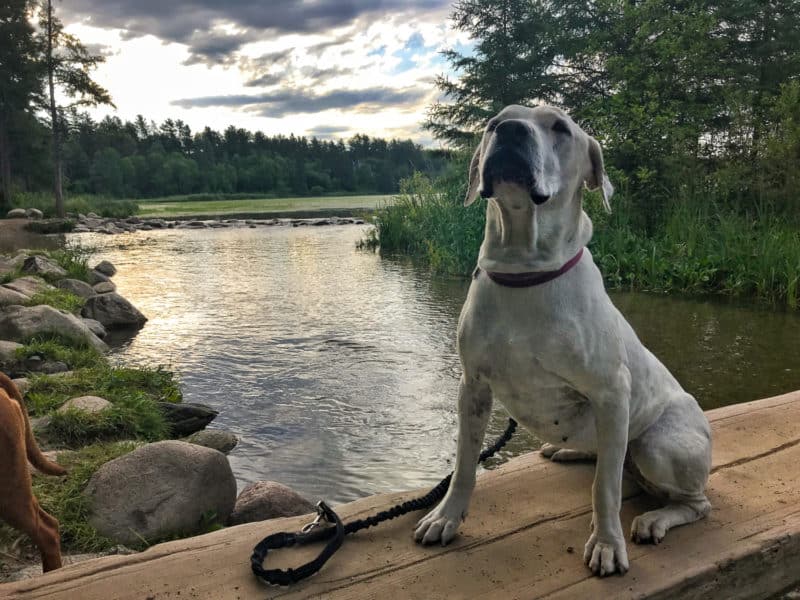 Adventuring With Pets In Voyageurs National Park
As you can see, Voyageurs National Park doesn't have many dog friendly hiking trails, but it is an extraordinary place to camp with your dog. Plus there are many other beautiful, pet friendly places to check out in the area. The northern Minnesota landscape is rugged and beautiful and definitely worth exploring with your pet.
Have you visited Voyageurs National Park with pets? Tell us in the comments about your adventures and favorite places!
Amazon Affiliate Disclosure: GoPetFriendly.com LLC is a participant in the Amazon Services LLC Associates Program, an affiliate advertising program designed to provide a means for website owners to earn advertising fees by advertising and linking to amazon.com, audible.com, and any other website that may be affiliated with Amazon Service LLC Associates Program. As an Amazon Associate, the owner of this site earns a commission from qualifying purchases.
(Visited 1,494 times, 1 visits today)