Where would you go if you could go anywhere?
It's a big question, and a bit daunting – especially when you face it a couple times a month. Deciding where to go is one of the most exciting and difficult parts of living full-time in the motorhome. So today let's take a look at how we choose our destinations.
The Big Picture
If you've been following us for long, you know that we prefer to travel without a plan whenever possible. That's not to say that we don't start out with a general concept of where our travels might take us each year … we just know it's a loose concept that's flexible as things come up and new ideas hatch.
This year our plan was to stay mostly in the West and spend part of the Fall in Vancouver. As it turned out, we had so much fun in the Mid-west that we spent a good chunk of the summer there. And when we got invited to attend Canine Companions for Independence's DogFest event, we nixed Vancouver for this year, and explored Colorado for several weeks instead.
Since we barely crossed the Mississippi this year, we're planning to head east early next year. Despite hopping around like a couple of lunatics our first two years on the road, we've concluded that rotating east and west every other year is more enjoyable, allowing us time to get more familiar with the places we stay.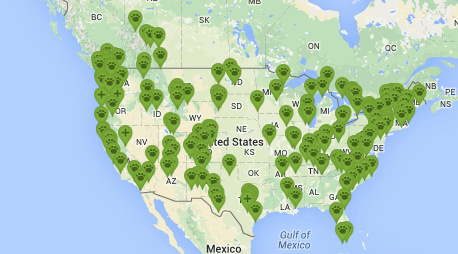 Courting Mother Nature
The weather is a major factor in our decision making process. Being able to get out and do things with Buster and Ty means aiming to hit places when the temperatures are comfortable and there's not a lot of rain. But Mother Nature's fickle, and she doesn't always cooperate with our plans. For instance, we planned to spend this week in Moab but, with lows ten degrees below normal and snow in the forecast, we scrapped that and scurried to the warmth and sunshine of Lake Mead instead.
Rotating Priorities
Once we've nailed down our general trajectory and taken the weather elements into consideration, there are four other primary factors that influence our decision  making and their relative importance is constantly shifting.
Seeing Friends and Family
It still stuns me that we've made more close friends RVing than we did in all the years we lived in houses. When we started out I imagined this would be a solitary life, but now it's not uncommon for us to arrange to get together with family or friends once or twice a month. During our visit to the Tetons this year, we stayed in the same campground as three couples we've become friends with since we started RVing!
Researching Pet Friendly Travel Options
We're always looking to take the dogs on a new adventure, and share it with you here on the blog. Though we're in our sixth year of travel, there's still so much to see! And we have a good list of places we'd like to visit again – like this year when we returned to Yellowstone National Park to dig deeper and report back on the pet friendly activities in the area.
Scheduled Appearances
In the past two years, I've gotten invited to share what I've learned about traveling with pets with new audiences. Speaking engagements, like Winnebago's Grand National Rally, are a great way to meet new people and spread the word about GoPetFriendly.com – so we try to make as many as we can. We already have a couple on the schedule for 2016!
Proximity to an Airport
It doesn't happen a lot, but occasionally Rod and or I need to jump on a plane to travel for business. And when you need to fly, it's nice to be close to an airport. Finding a place that allows us to visit with friends or family, or explore something new, AND be close to an airport when we need it is ideal, but it doesn't always work out that way. Once in a while, the airport is the overriding priority.
These shifting priorities keep us on track, giving us enough structure to avoid analysis paralysis, while allowing us the flexibility to  collect the experiences we've set our hearts on in this lifetime.
Planning a pet friendly trip of your own? We'll make it easy:
Pet Friendly Hotels | Pet Friendly Destinations | Pet Friendly Activities
Amazon Affiliate Disclosure: GoPetFriendly.com LLC is a participant in the Amazon Services LLC Associates Program, an affiliate advertising program designed to provide a means for website owners to earn advertising fees by advertising and linking to amazon.com, audible.com, and any other website that may be affiliated with Amazon Service LLC Associates Program. As an Amazon Associate, the owner of this site earns a commission from qualifying purchases.
(Visited 260 times, 1 visits today)