Having a reliable RV internet connection in our motorhome is absolutely vital. Without it, we couldn't travel full-time while running our businesses. And we're far too addicted to this nomadic lifestyle now to ever go back! So, making sure our internet connectivity is topnotch has become a bit of an obsession.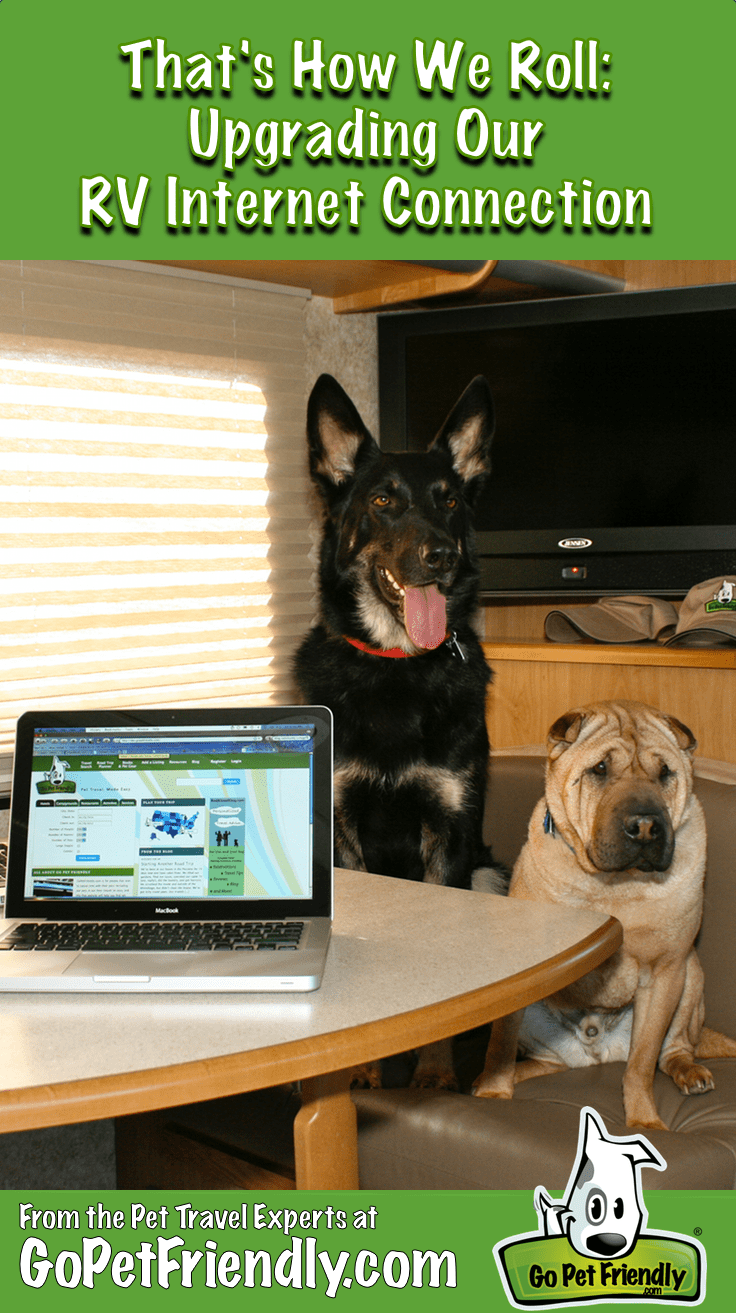 * This post contains affiliate links. Thank you!*
Update
Hold the phone! We wrote this post in 2016, and that means it's O. L. D.
Reusing some of the equipment described below, we did another RV internet upgrade in 2018. You can get all the details here >> Another RV Internet Upgrade
Setting the Foundation
It's been a few years since we've made any major improvements to our mobile internet solution. Given the changes in technology and our evolving needs, it was time to completely overhaul our RV internet.
The cornerstone of our new system is a CradlePoint MBR1400 broadband router. In our previous configuration, a Verizon JetPack operated as a make-shift router. It allowed us to connect up to fifteen devices to the Internet. And it provided a WiFi network that allowed some communication between devices, like our wireless printer/scanner.
The new CradlePoint router allows us to establish our own local area network and connect all our WiFi enabled devices. But it offers the additional benefits of using ethernet connections for faster data transfer and utilizing both 2.4GHz and 5GHz WiFi bands. (The 5GHz band tends to be much less crowded in RV parks where there is a concentration of mobile devices).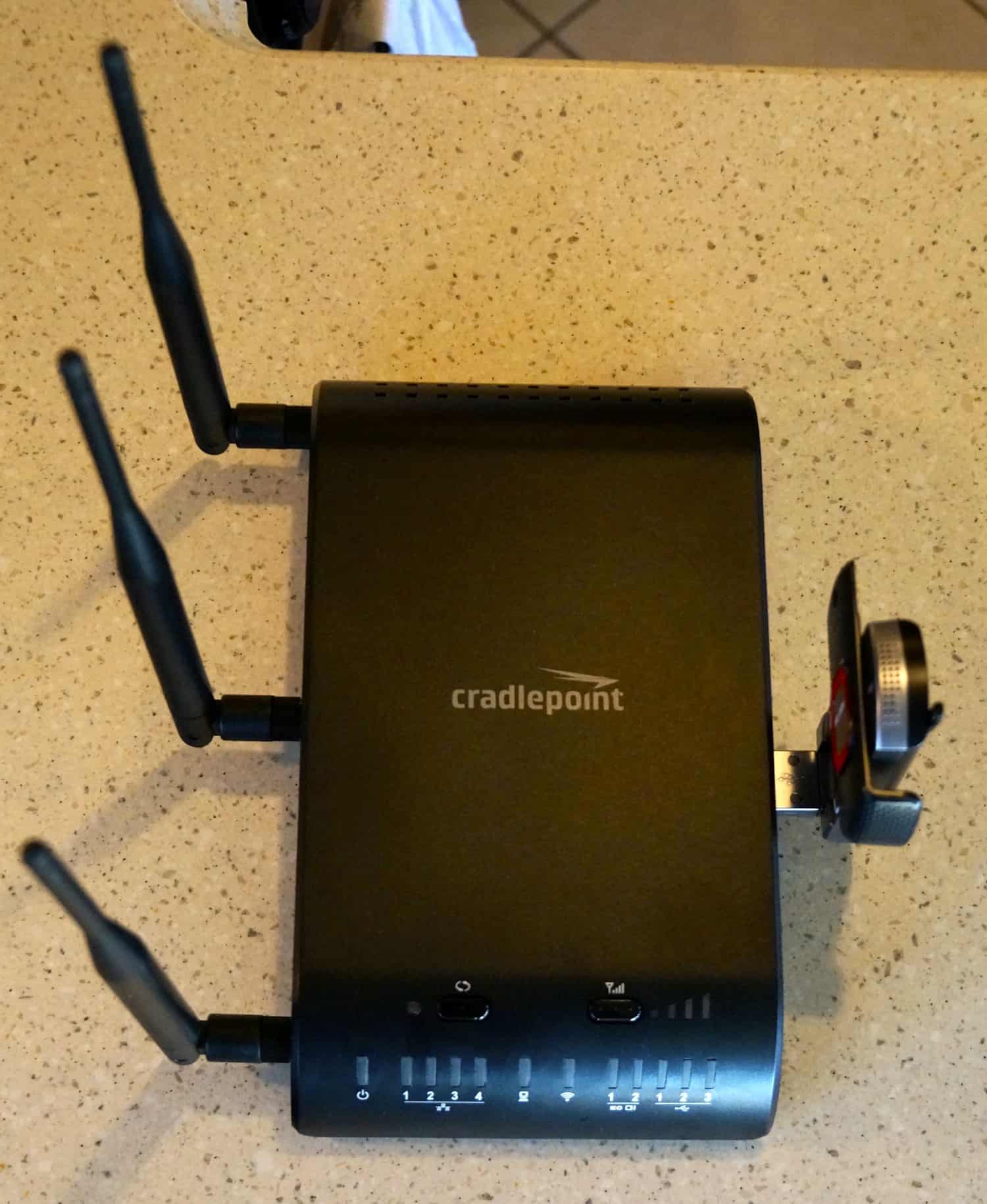 Of course, we still need to be connected to a cellular signal, and now we're using a Verizon Pantech UML290 4G wireless modem. We were able to pop the SIM card out of our old Verizon JetPack and, using an adapter, put it into the new modem. So, there was no need to set up a new contract. And, with the SIM card installed, the modem slides into the router, and viola, we have internet!
READ MORE ⇒  Tips for RVing with Pets
Rooftop Antenna
You can use your modem without an external antenna, but when we're in areas with weaker cell signals, it's better to have an external antenna. For that, we went with a Wilson 311119 RV / Trucker Roof Mount Cellular Antenna.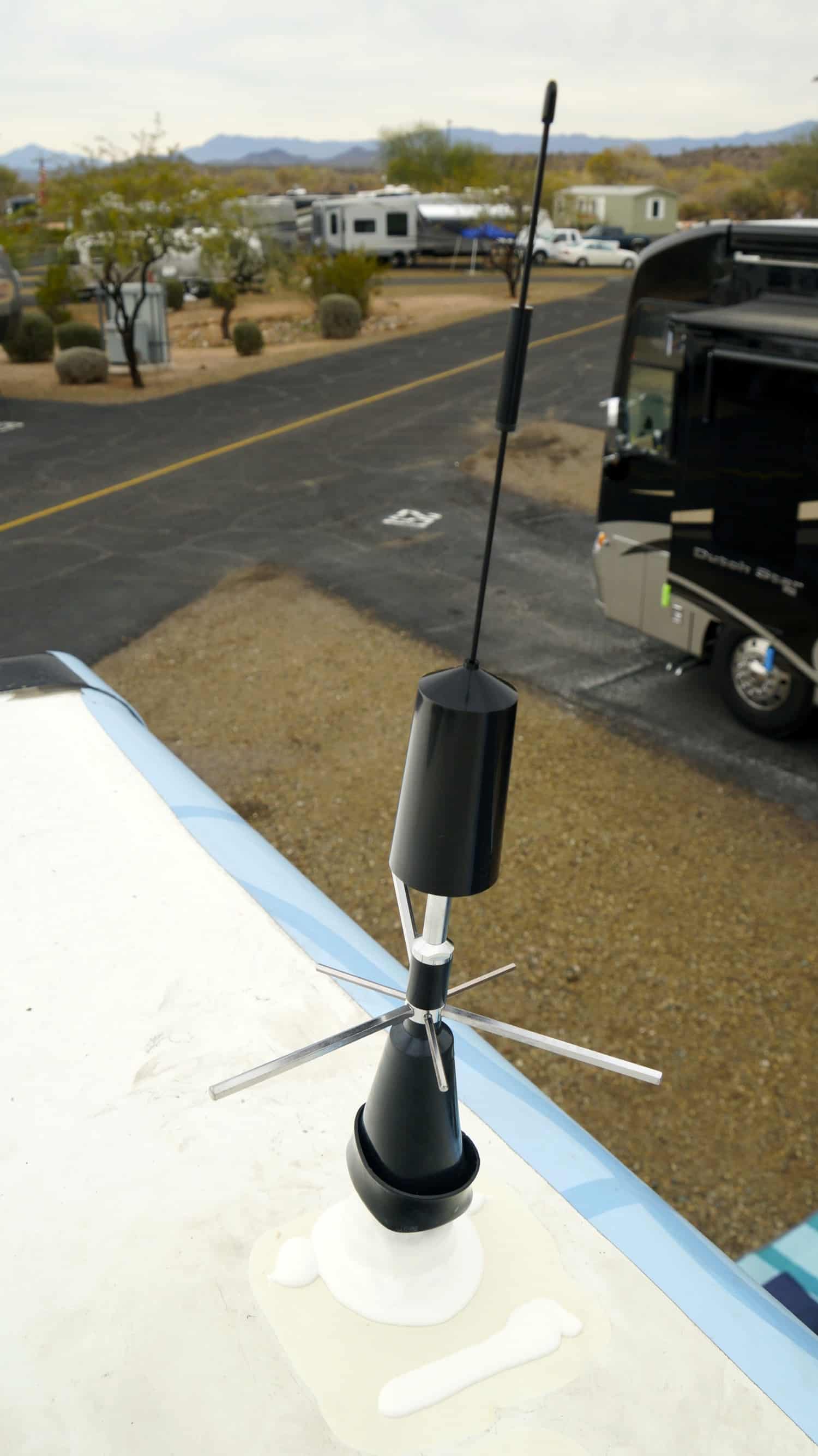 It looks similar to the rooftop antenna we had previously, but over time the cellular carriers have expanded their transmission frequency bands. The new antenna is designed to pick them up.
To connect the rooftop antenna to our new modem we used a small pigtail adapter that's also sold by Pantech.
Technically, we could have stopped there … but when you're on a roll, why not go for the bells and whistles!
Bells and Whistles
Wilson Sleek 4G Signal Boost Cradle
We had the Wilson signal boosting cradle from our previous setup, and we've repurposed it to improve the signal to our cell phones. By disconnecting the rooftop antenna from the modem and connecting it to the cradle we can give our phones a boost.
That comes in especially handy when we're streaming Netflix. Using a lightening-to-HDMI adapter, it only takes a second to connect our iPhones to the television, and watch programs on the bigger screen.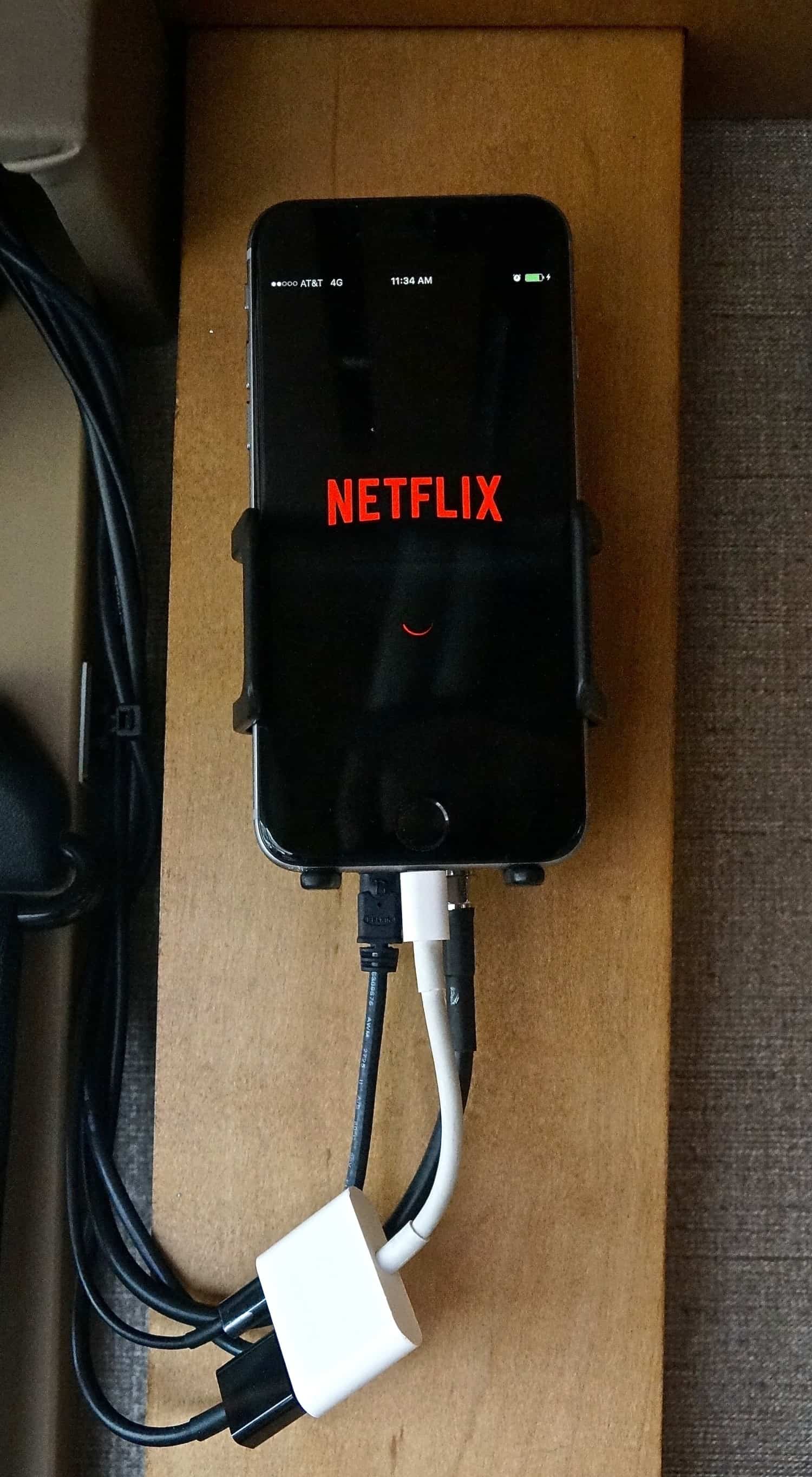 chromecast
Our motorhome came with four televisions, which seems like overkill for two people and two dogs. For a while we had a white board covering one of the televisions, but now we've upgraded one with chromecast.
Connecting chromecast to the local network turns the television into a computer monitor. We can "cast" any tab from our Chrome Internet browsers to the television screen wirelessly. Chromecast also has a lot of streaming options, but it's easy to run through your data plan quickly if you're not careful.
Apple Airport Express
Most of our electronics equipment is located in a cabinet over the passenger seat. It has convenient access power outlets and was the best spot to install the rooftop antenna. But that means our network signal isn't as strong back in the bedroom.
We do a lot of reading on our iPads from bed, so we installed the Apple Airport Express in a cabinet in the bedroom. It's wired via ethernet cable to the router, and gives us a speedy 5 GHz connection when we're downloading books or catching up on current events.
NanoStation loco M2
If you're counting on campground WiFi … don't. The free WiFi provided by campgrounds is unreliable, slow drops connections, and is congested to the point of being unusable. But what if you could change that?
UBiQUiTi Networks makes an indoor/outdoor antenna that picks up the campground WiFi signal, amplifies it, and connects by ethernet cable directly to our router. It's not going to magically make Tengo useable, but it does improve the speed of other campground WiFi systems considerably.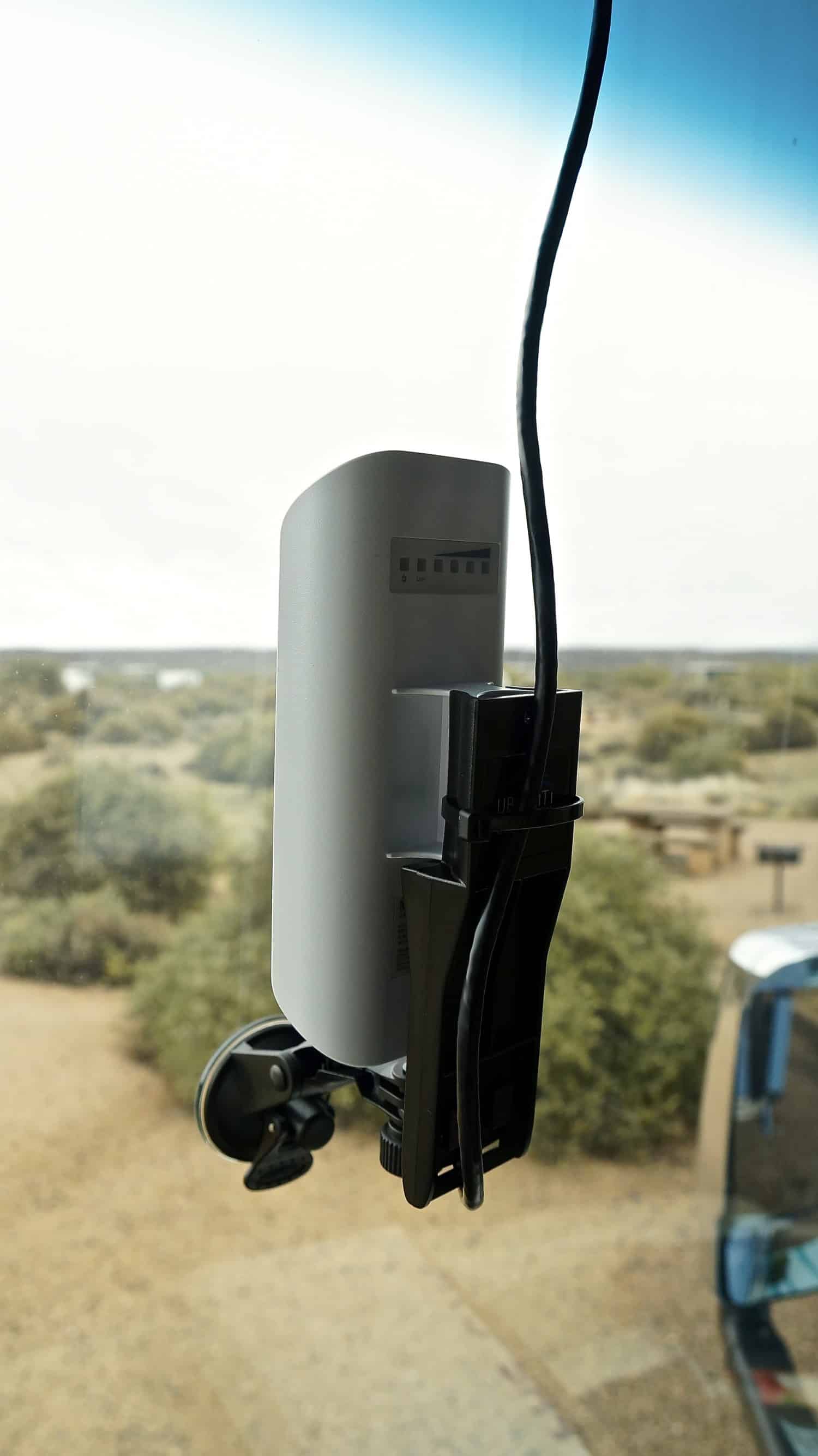 We currently have a 30 GB data plan with Verizon, and we're bumping up against that limit nearly every month. This antenna will allow us to use more free campground WiFi, reducing the draw our plan with Verizon, and possibly saving some money!
Combine it with the UBiQUiTi Window/Wall Mount Kit, and you can attach it to your windshield or window with a heavy-duty suction cup that can easily be removed and stowed when it's time to hit the road.
The Man Behind The Curtain
We could not have done all of this without our friend, Scott Ueland, otherwise known as Techie4Hire. After a few calls to understand our needs and explain the options, Scott took care of ordering all the components. Then he installed everything when we met up at an RV Park near Fountain Hills, Arizona.
I can't say enough great things about Scott and the quality of his work. If you're in the market to upgrade the technology in your RV, shoot him an email at [email protected].
We're loving our new setup and feel like we've made a good investment to reduce the frustration and time wasted with slow or spotty internet connectivity. Hopefully this allows us to get our work done faster, so we can get out and have more fun with the boys!
Amazon Affiliate Disclosure: GoPetFriendly.com LLC is a participant in the Amazon Services LLC Associates Program, an affiliate advertising program designed to provide a means for website owners to earn advertising fees by advertising and linking to amazon.com, audible.com, and any other website that may be affiliated with Amazon Service LLC Associates Program. As an Amazon Associate, the owner of this site earns a commission from qualifying purchases.
(Visited 210,545 times, 6 visits today)