It's June 1st and our second blogiversary!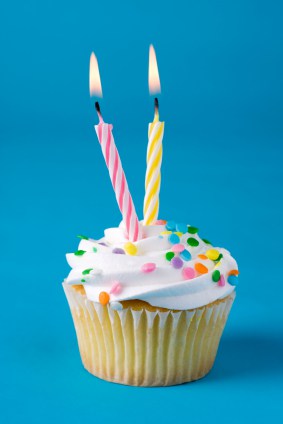 It seems that the older I get, the faster time goes. My dad confirmed that this phenomena is not in my imagination. When I noticed time speeding up, I began thinking deluding myself into believing that at some point – maybe retirement – I would be less busy and time would slow back down … like the never-ending days of summer when you were seven.
Unfortunately, further research has revealed that this is not the case. Quite the opposite in fact. Time is like a snowball rolling downhill without a terminal velocity – going faster, and faster, and faster, until … SPLAT!
Honestly, it scares me a bit. Right now I'm thinking, "Where did the last two years go?" In the blink of an eye I'll be wondering, "Where did the last TWENTY years go?" It's one of the reasons I love this blog so much.
I've never been much for keeping a diary or journal. I learned young that putting your most private thoughts to paper could quickly work against you when your mother got a little too curious. But, when my memory begins to fade, this blog will be here to remind me of exactly where our time was spent.
I've also gotten to know many of you – people with whom I'd likely never have crossed paths but for this url on the world wide web! For that, I'm forever grateful.
A lot has happened in two years! We've been remembering the elation of launching the site just as Travel Season 2009 arrived, and reminiscing about the places we've been since. Combining those thoughts, we want to give you a list of our ten favorite pet friendly vacation destinations (so far!) to help you plan your summer travels. Whether you're going for a weekend or two weeks, these places will not disappoint. In alphabetical order, they are:
1. Austin, Texas
2. Charlevoix, Michigan
3. Cody, Wyoming
4. Custer State Park, South Dakota
5. Finger Lakes, New York
6. Lake Powell (Page), Arizona
7. Niagara Falls, Ontario
9. Yellowstone / Grand Tetons, Wyoming
10. Washington, DC
So, what will Year 3 bring for the GoPetFriendly team? As loathe as we are to plan ahead, we do have a general idea. This summer and early fall will be spent traveling up the west coast. Some of the highlights we're looking forward to include (in no particular order):
Glacier, Yosemite, and Crater Lake National Parks
San Francisco, California
Wine Country, California
Portland, Oregon
Seattle, Washington
The Idaho Panhandle
Vancouver and Victoria, British Columbia
Early December will find us in southern Florida, and the holidays will likely be spent back home in Pennsylvania with Rod's mom. Before we are frozen solid, we'll head back south and spend a chunk of the winter in Austin. Come spring, we're planning to visit New England. By next June 1st … well, let's not get too far ahead of ourselves.
We hope you're looking forward to traveling along with us! And if you have any suggestions for places we should be sure not to miss on our west coast tour, please leave a comment and let us know.
Planning a pet friendly trip of your own? We'll make it easy:
Pet Friendly Hotels | Pet Friendly Destinations | Pet Friendly Activities
Amazon Affiliate Disclosure: GoPetFriendly.com LLC is a participant in the Amazon Services LLC Associates Program, an affiliate advertising program designed to provide a means for website owners to earn advertising fees by advertising and linking to amazon.com, audible.com, and any other website that may be affiliated with Amazon Service LLC Associates Program. As an Amazon Associate, the owner of this site earns a commission from qualifying purchases.
(Visited 183 times, 1 visits today)