Take Paws is a showcase for people having fun with their pets – and sharing YOUR pet travel experiences may be the nudge someone else needs to pack up and head out with their own best friend! Brendon McLaughlin and his pups, Dorian and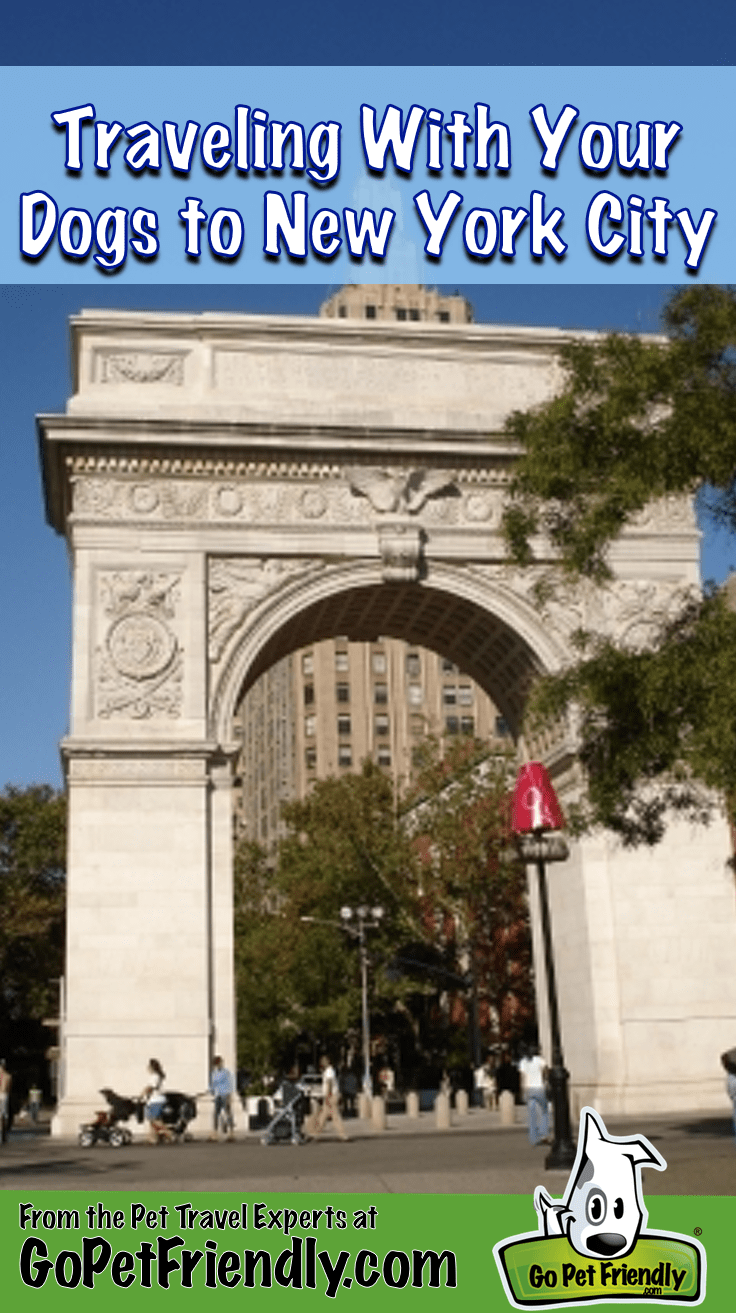 Rex, love to travel, and Brendon has shared their pet friendly experiences in Kansas City, Minneapolis, and New Orleans with us. Now this dynamic guest-blogging trio is taking on the Big Apple, so fasten your seat belt!  
***
New York City is one of my favorite cities. I visit at least one weekend a year while Dorian and Rex stay with friends or family. Many of the activities I like to do there are dog friendly, such as checking out the architecture, walking through the parks, and dining on outdoor patios. I also love long scenic hikes, so when Letchworth State Park in New York won a best state park reader poll last year, a pet friendly road trip was soon in the works.
Letchworth State Park
This park is just three hours from our home in Toronto, and about 5 ½ hours from NYC. It runs along the beautiful Genesee River Gorge, and features with three major waterfalls. When we arrived, we had to stop almost immediately to take in the stunning views. After admiring a few more overlooks, I parked near the Middle Falls, and we hiked to the Upper Falls before heading back down to the Lower Falls.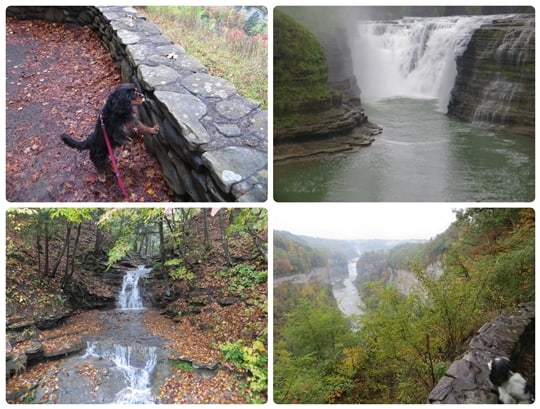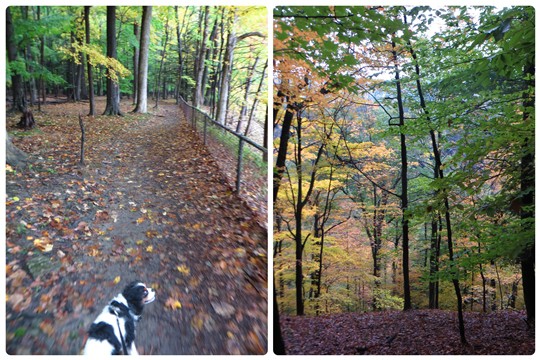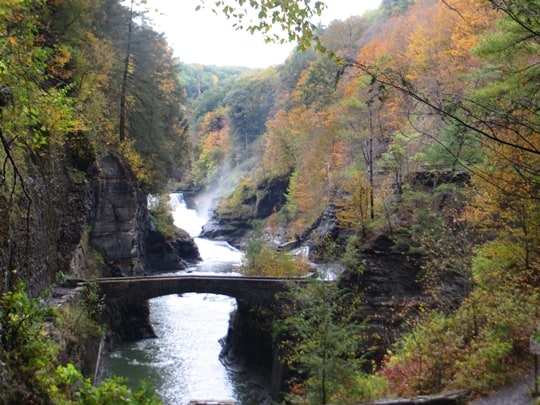 The views were spectacular on the way to the Lower Falls – even when the gorge could not be seen, the fall foliage was fantastic. Around the Lower Falls, we crossed the bridge to hike on the other side. On our way back, the sky cleared up from the cloudy morning, and I was able to get some better photos.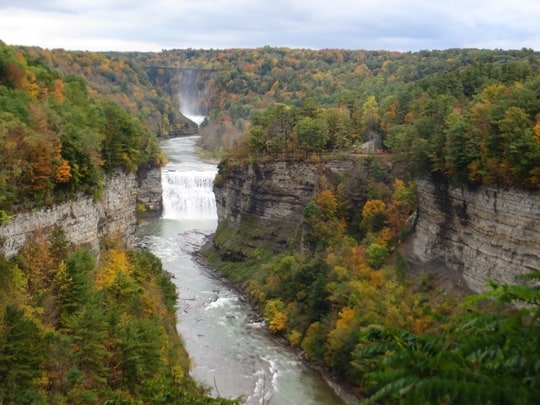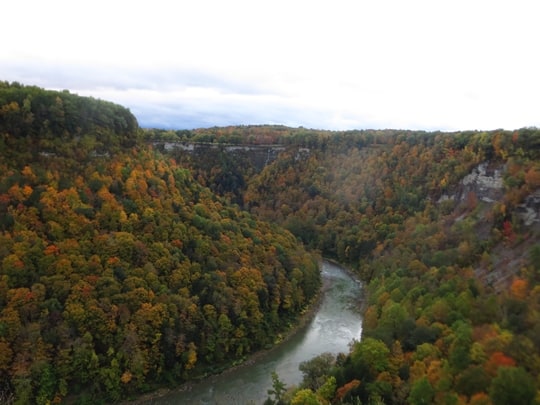 We had a full day of hiking in Letchworth, and still didn't get to see everything, so it is definitely a place we'll return. The sun was starting to set by the time we left, but we caught a few nice views from the overlooks before nightfall.
Nothing feels better after a day in the great outdoors than a comfy bed, and we were all bushed when we left the park, so I stopped at a Motel 6 in New Jersey and called it a night.
Getting into NYC
A car is more of a hindrance than a help in getting around NYC, so I parked at the Liberty State Park Marina in Jersey City, and took the ferry into Manhattan. Leaving the car meant a backpack full of dog food, water, and clothes, but it was worth it! It costs just $7 per person, and dogs do not need to be in a carrier. Taking a Metro North or NJ Transit train are other options if you want to avoid driving in the city, though the latter requires carriers for your pets. Unfortunately, you won't get these views from the train!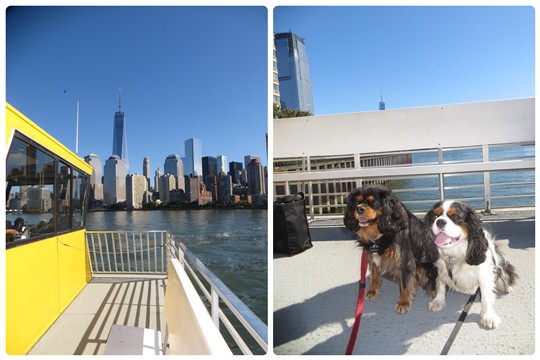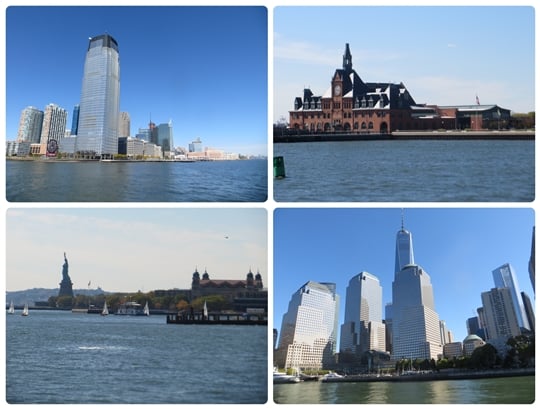 Exploring the City
In Lower Manhattan, my favorite thing to do is to walk around and admire the architecture. It's even more fun taking pictures of Dorian and Rex along the way!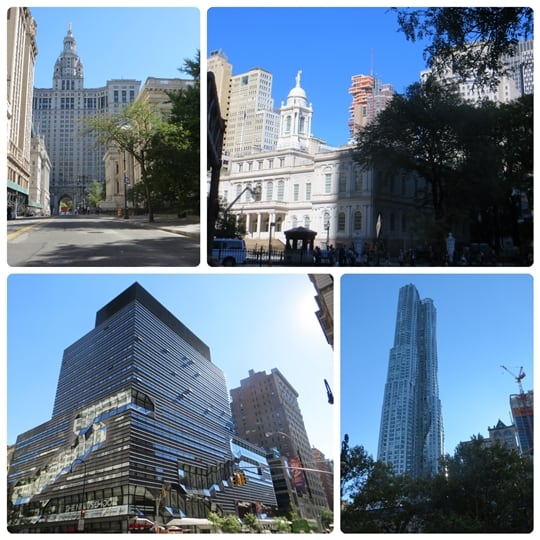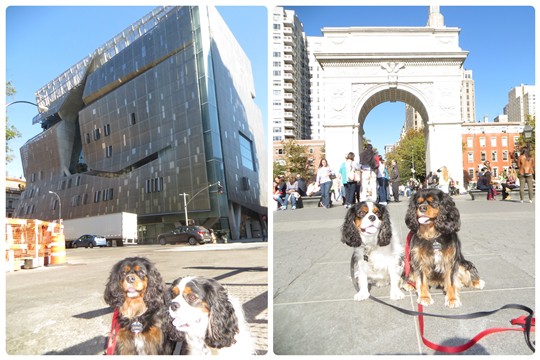 Of course, Dorian and Rex's favorite part was running in the Washington Square Park dog park.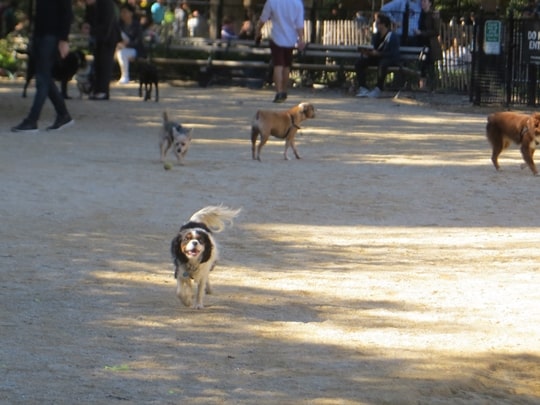 Another thing I love about NYC is the street food options – at home in Toronto, legal restrictions limit us to mostly to hotdogs and sausages.  So, it's a real treat to grab lunch from a Halal street cart and eat at an outdoor table at New York University.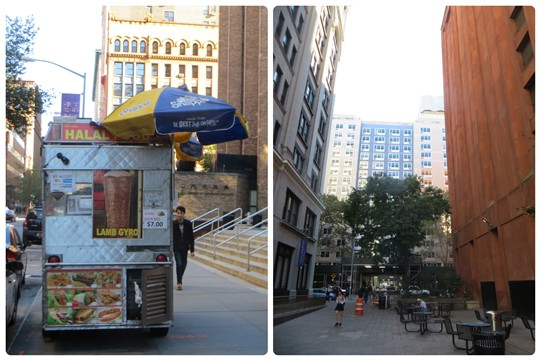 Heading to Brooklyn
From the NYU campus, we took a walk over the Brooklyn Bridge to meet a friend and check into the La Quinta hotel I chose for this trip. Crossing the Brooklyn Bridge provides some spectacular views, but also means large crowds. I think the crowds bothered me more than the dogs though.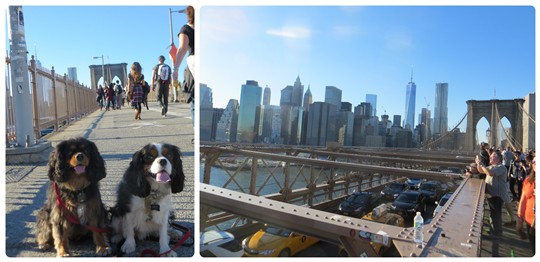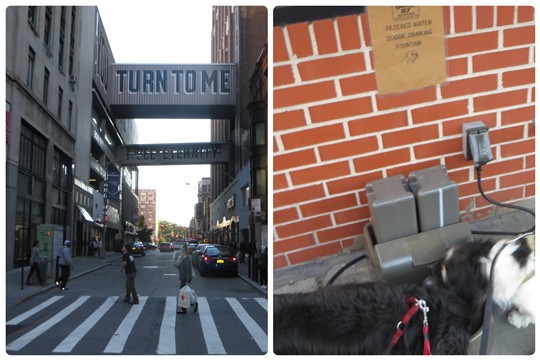 On the way to the hotel, a filtered water dog drinking fountain at Table 87 caught my eye, so after checking in and meeting up with my friend, the four of us headed back there for dinner. The calzones were delicious!
A Day Trip Up the Hudson
The next day, we took a half-hour train ride on the Metro North from Grand Central to Tarrytown. The original plan was to take the train a little further for some hiking in Bear Mountain, but I got moving a little to late to make that plan worthwhile. It worked out for the best, because Tarrytown was a great place to spend the day. There are numerous dog friendly patios with great food, and just north of Tarrytown is the famous Sleepy Hollow. We didn't make it into the famous cemetery on this trip, but Ty and Buster checked it out last summer on their visit to the Hudson Valley.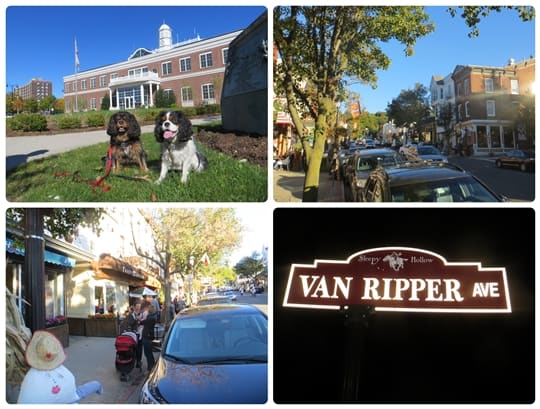 Back in the City
Back in Manhattan that night, I couldn't resist a little more sightseeing.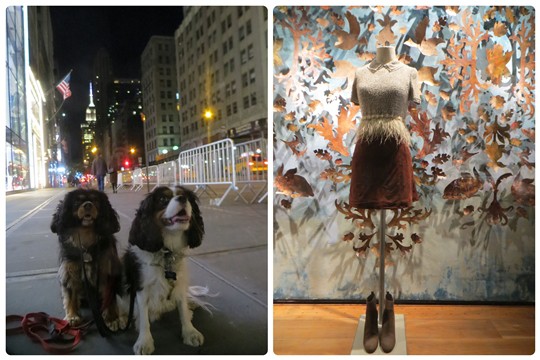 After a good night's sleep, the next morning we set out to explore Prospect Park in Brooklyn.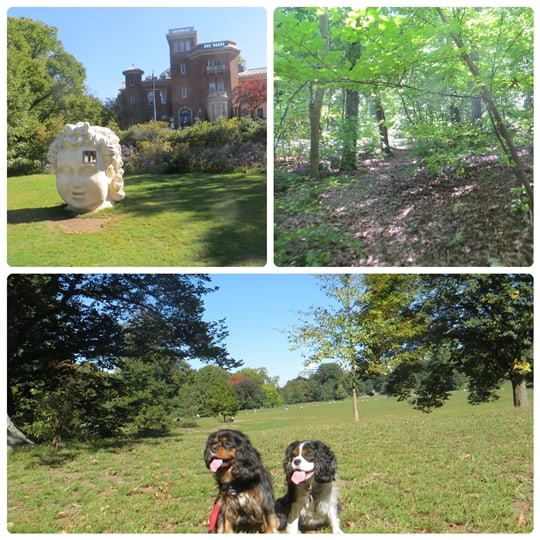 Exiting Prospect Park in the northeast corner, we stopped by the Soldiers' and Sailors' Arch, and then passed a number of restaurant patios walking through Brooklyn's Park Slope neighborhood. We finally decided on Broccolino, across from the Barclay's Center.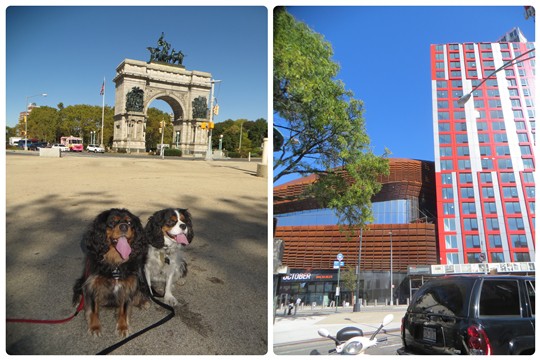 After a delicious pizza lunch, my friend caught a train at Atlantic Terminal and Dorian, Rex, and I caught the subway to Central Park. Central Park is one of my most visited places in NYC, no matter what the season. On this trip, we were lucky to catch the Central Park Dance Skaters Association performance while Dorian and Rex had their dinner, and then  it was time to begin thinking about the drive back home.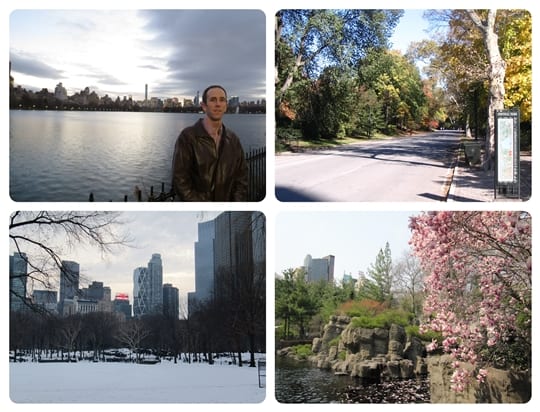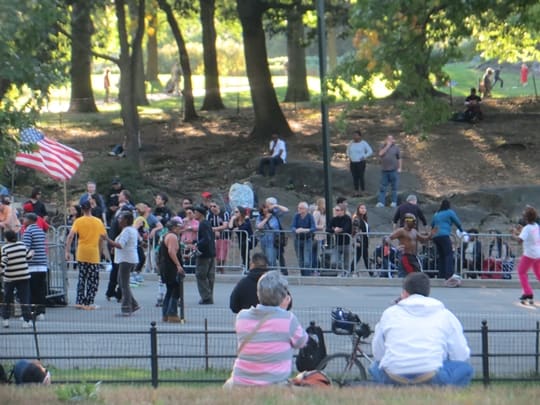 Making our way out of the park, Dorian was anxious to climb up the rocks to get a photo with Balto. After her photo op, we walked through Midtown before ultimately taking a subway back to lower Manhattan and catching the ferry back to Jersey City.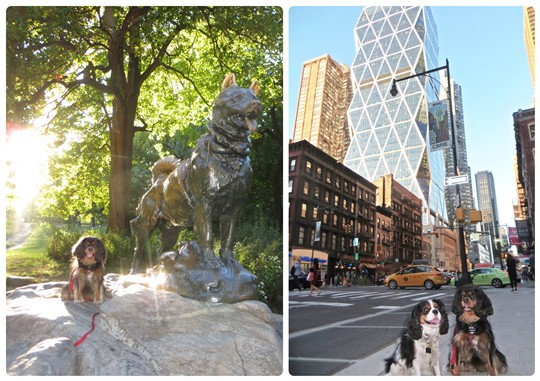 More Sightseeing Options
There are so many wonderful places to see around NYC that you really can't fit it all into a weekend. Here are a few more options for your trip:
Newark, New Jersey
You may be tempted to skip over Newark, NJ on the way into NYC from Newark Liberty Airport or elsewhere, but it is worth a stop. Seeing the Cathedral Basilica of the Sacred Heart is a must, as is a stroll through the Ironbound neighbourhood, which has excellent Portuguese food. For a dog friendly option, pick up takeout from Ferry St. Barbecue.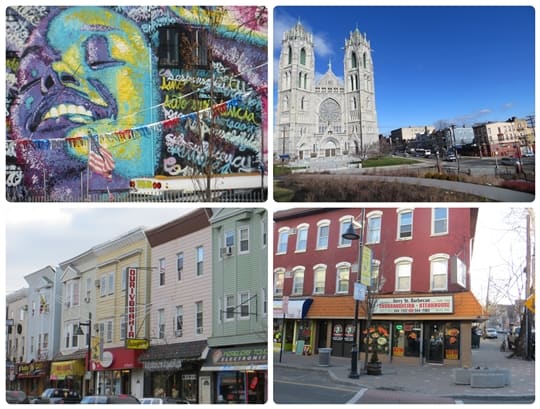 Williamsburg, Brooklyn
Williamsburg, Brooklyn is one of my favorite neighborhoods. There are great places to eat and drink, as well as all sorts of shopping from vintage clothing, to art, to unique décor items to antiques. I've not explored how dog friendly the stores are, but many are small, and it would be easy to take turns popping into a few. It's also an interesting place if you like graffiti and murals.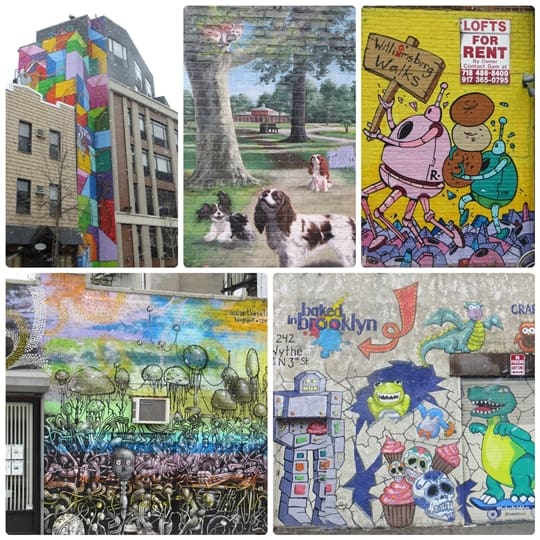 Long Island City
Long Island City in Queens has always been one of the best places to see NYC skyline, but it is now also a great place to go for food and drink. Even if you can't find a dog friendly patio, getting something to go would be perfect if you want to take in the views across the East River.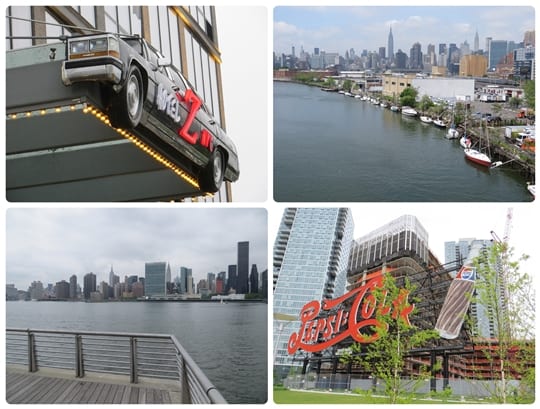 About the Author: Brendan lives and works in Toronto, Ontario and is the proud owner of two King Charles Cavalier Spaniels, Dorian and Rex.
Planning a pet friendly trip of your own? We'll make it easy:
Pet Friendly Hotels | Pet Friendly Destinations | Pet Friendly Activities
Amazon Affiliate Disclosure: GoPetFriendly.com LLC is a participant in the Amazon Services LLC Associates Program, an affiliate advertising program designed to provide a means for website owners to earn advertising fees by advertising and linking to amazon.com, audible.com, and any other website that may be affiliated with Amazon Service LLC Associates Program. As an Amazon Associate, the owner of this site earns a commission from qualifying purchases.
(Visited 4,591 times, 1 visits today)